There were a few close shaves. Kenneth Troyan's job was to fix radios in Vietnam and he sometimes heard mortar fire near his post. He was lucky to come home in one piece.
Some of his comrades were less fortunate. Troyan knows many veterans struggling with post-traumatic stress disorder and he's privately wished for a way to help them. Recently, he found it.
Troyan, a McNabb retiree and lifelong musician, has launched a local chapter of Flutes for Vets, a not-for-profit entity that provides veterans with wood flutes and free music lessons. Troyan had long known that playing music reduces blood pressure and heart rate and was intrigued to learn it can alleviate PTSD, too.
"I've been playing the flute for three years now and have learned the calming effect of it," said Troyan, whose arthritic hands welcomed the switch from a guitar to the six-hole American woodwind flute.
"The flute has a unique voice, which is very calming, soothing," he explained. "It's not a loud instrument at all."
Flutes for Vets was founded in Tucson, Arizona, and its founders have encouraged chapters in other states, recognizing the prevalence of PTSD as well as the difficulties in treating it. Troyan agreed veterans generally, and Vietnam vets specifically, have trouble opening up about their difficulties, much less seeking help.
Troyan founded the first Illinois chapter in May and has spent the past four months drumming up interest in the program — "It's a lot of networking, a lot of calls" — and has yet to hand out a single flute. He thinks he's still a few months away from sufficiently getting the word out to start holding clinics.
For those willing to try it, the American woodwind flute has relaxing properties obvious even to a non-musician. The instrument produces sonorous tones that lower stress — loud instruments such as trumpets, Troyan said, are less effective — and the act of playing keeps the mind positively engaged.
Troyan has pitched the program to veterans groups and advocates and encountered more curiosity then skepticism. Christa Hammers, for one, was all ears.
Hammers is assistant superintendent of the La Salle County Veterans Assistance Commission, moved recently from Ottawa to Peru. She thought Troyan's proposal was intriguing and agreed to help him reach out to struggling veterans.
"We thought it was a unique and exciting idea," Hammers said. "We'd never heard of anything like that before and decided to have something different to offer our veterans."
Hammers said the VAC alerted their social media followers to Flutes for Vets and the posts were widely shared. If Troyan does not yet have a list of signups, the interest in music therapy is percolating — and certainly the need for PTSD services is extensive.
"You can't even put a number on it," Hammers said of the volume of afflicted veterans. "We have a multitude of veterans coming in every day suffering (from PTSD) and not only them but the family members who care for them."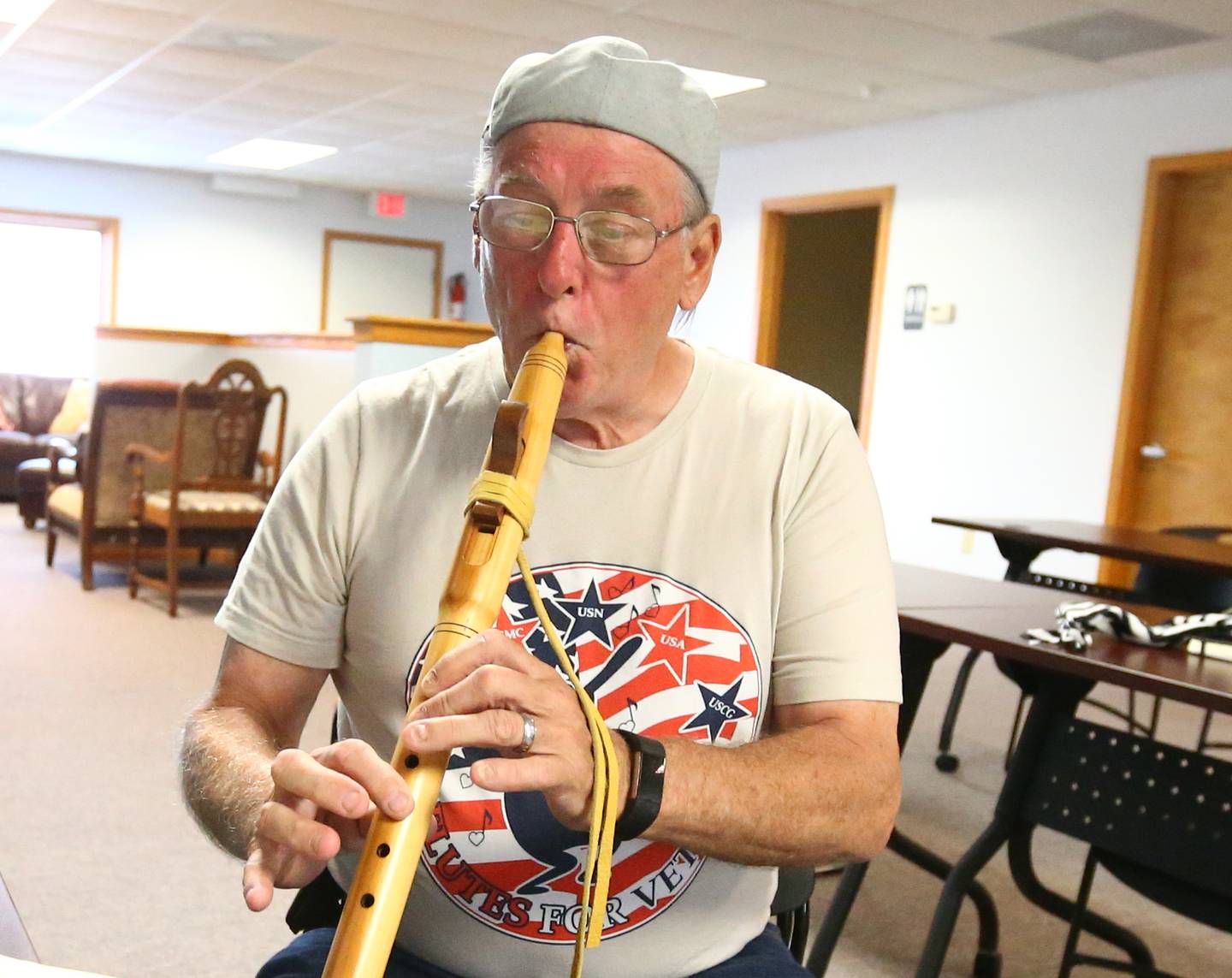 Troyan is eager to help but he won't simply hand out flutes on street corners. Interested veterans should be prepared to show proof of military service, such as discharge papers or a veterans group membership card.
"Flutes for Vet is strictly designed for veterans with mental health issues," Troyan said. "As long as I can verify that and they show a real interest, they'll get a flute that day."
Troyan recommends 30 minutes of practice a day, every day, to not only hone skills but to keep stress levels down with regularity. Those benefits might not materialize immediately as first-timers fumble with an unfamiliar instrument.
"There's going to be frustration," he allowed. "I want everybody to go slow and easy with it. Take something, play it, repeat it, go back, play it again – and then go on to the next step."
Troyan plans to offer free, 12-week courses in which he teaches fingering and scales as well as simple and familiar melodies such as, "You are my sunshine."
Though the program is therapeutic and Troyan harbors no hopes of discovering a hidden James Galway, he's prepared to encourage veterans to take advanced lessons or pick up trickier numbers through YouTube, for example.
Eventually, Flutes for Vets will have a website and paywall. Until then, Troyan said he would gratefully accept donations mailed to his home at 3433 E. 1550th Road, McNabb, IL 61335