Ninety-degree weather didn't slow down Dean Troutman as he walked from Dixon to Woosung and then from Woosung to Polo. In fact, the 92-year-old from Princeville embraced it.
"Air conditioning?" he asked, laughing. "If it is turned off, it's pretty good."
Troutman left Princeville on May 21, starting his current Troutman Trek, a 350-mile quest to raise money for St. Jude Children's Research Hospital.
Born near Effingham on Jan. 6, 1931, he moved to Princeville, population 1,738, in Peoria County in 1949. He and his wife, Dorothy, had four children. He managed a farm supply store before retiring in 1976.
He started his trekking career in 2014 at age 84 to raise money for Troutman Park, in memory of his late wife. That initial walk raised $70,000 through donations.
He started walking for St. Jude's in 2015 from Princeville to St. Jude Children's Research Hospital in Memphis, Tennessee, raising $10,000 along the 500-mile trip.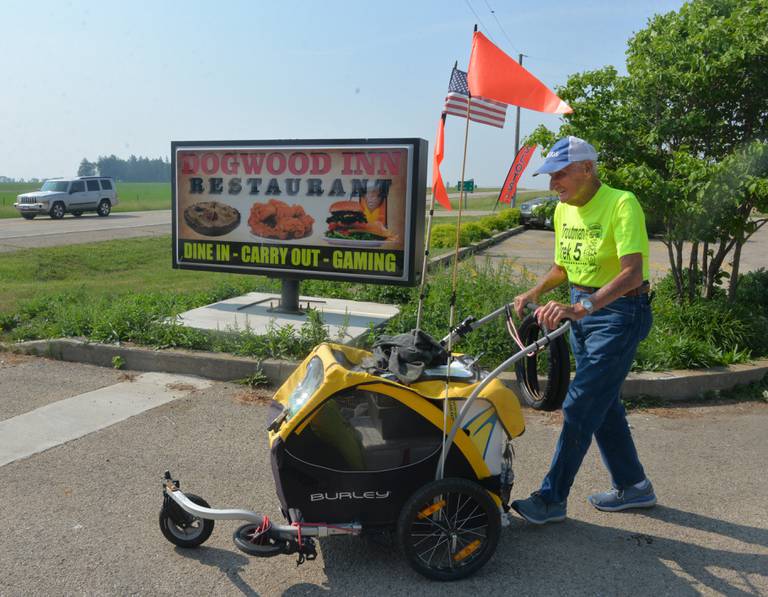 "I was only 84 then, and I could do 30 miles a day. Now I am down to 10 and under," he said, smiling. "I walked a year before that for a different cause. Then I walked from Princeville to Memphis, and I walked right up to St. Jude's front door. I told myself then if I did any more walking it would be for St. Jude's. I've walked a total of 2,000 miles and most of it has been for St. Jude's.
"When you have a big hospital like that it is not that much, but even a little bit helps."
Those steps have been very fruitful for the children's hospital. In 2016, Troutman headed out again, aiming for 15 states with a plan to spend one year on the road sharing the St. Jude's mission. Although he did not complete that entire walk because of an injury, his many supporters stepped up.
I got all summer to get it done. If it takes me longer, it takes me longer."

—  Dean Troutman
"Two years ago he was going to walk from Princeville to Texas, but he was injured and the EMTs told him he should stop," said Carrie Christ, Troutman's granddaughter. "He was bummed because he couldn't walk anymore and felt he had let everyone down, even though he had walked around 300-400 miles already.
"We were able to rally his supporters and asked them to do daily walks and send me their miles, and that's how we were able to get to $70,000."
Christ lives in Cincinnati, Ohio, and corresponds with St. Jude officials, directing donations directly to them. Her grandpa has her cellphone number taped on the back of his phone, along with his son Jeff, who is a firefighter who tries to connect his dad with fellow firefighters along the trek.
Troutman pushes a modified wheeled cart that originally was designed as a pull-along pet carrier meant to be pulled behind a bicycle.
He pushes the cart in front of him as he traverses highways, preferring those with wide paved aprons for safety reasons. Two 6-foot fiberglass poles are mounted on the back, one with an orange flag and the other sporting an American flag.
"I've got all my survival gear in there," he said pointing to his cart.
That survival gear includes food, clothing, water, his cellphone and his sleeping bag.
"I've got about 2,000 miles on this one. I had 1,000 miles on my other one before it got hit by a car," he said.
Troutman was walking along a road in Kentucky when he saw the car heading toward him. "I saw it coming and I was able to get off on the shoulder, but the car kept coming and hit the cart."
The impact made the cart inoperable. "Someone heard about it and they got me a new one and had it delivered to me in Kentucky," he said.
He walks only during daylight hours, starting at sunrise each morning. "I don't go after dark," he said, noting that traffic tends to be his only concern.
Troutman stayed at the Dixon fire station Thursday night and then at the Mary Biggerstaff residence in Woosung – camping out under her lean-to.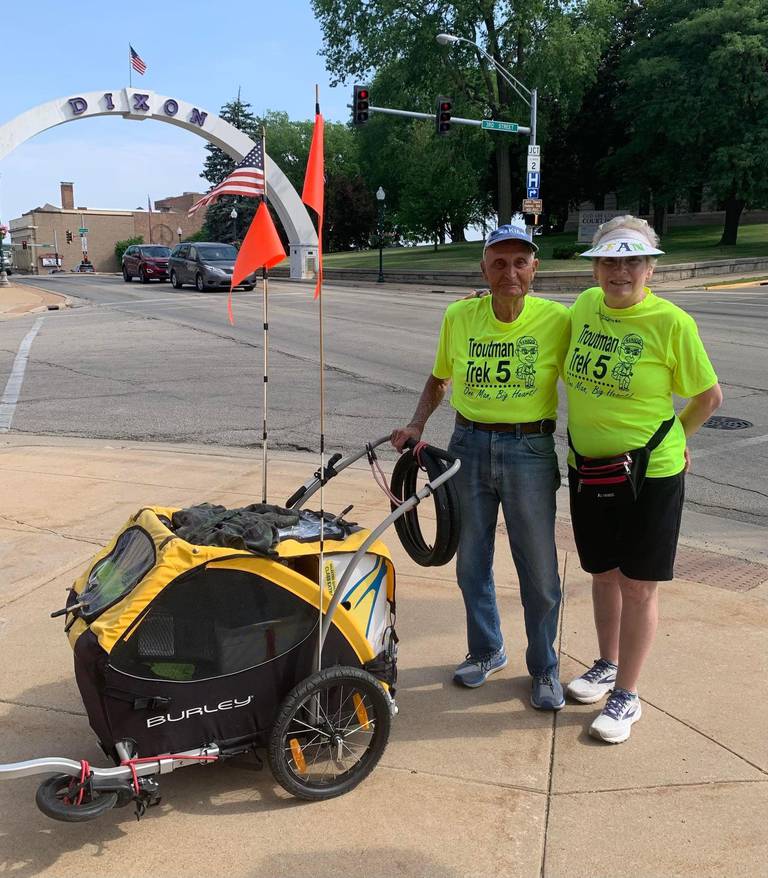 "Last night, I stayed at the fire station in Dixon and tonight I thought I'd just camp along the road, but then someone knew Mary and she said I could stay here," he said. "I won't go into private homes to sleep or shower. I just don't feel comfortable doing that."
Troutman does not mind camping alone at night. "I love just laying out in the woods, hearing the coyotes and sometimes hearing a big old hoot owl right above your head. You can't find a more peaceful place. I love people walking along with me. It helps the miles do faster when someone is with you."
Kathy Woodward of Galesburg was Troutman's walking companion from May 31 through June 4.
"I will stick with him until Sunday, and then he'll be on his own," Woodward said. "I started following Dean in 2021. It was on his Trek 4 and I said 'Yep, I'm going to start walking with him.' We've just developed a nice friendship."
Woodward's husband Gene followed along in their vehicle and provided transport after the walking concluded for the day. On Friday night, he drove them to get something to eat, making sure he got Troutman back in Woosung by 9 p.m. – his chosen bedtime.
When he doesn't have a companion walking with him, Troutman likes to start walking by 5:30 a.m. and has to make sure he has plenty of food and water.
"Sometimes, there isn't any place to get anything to eat so I have to carry my own food. I eat peanut butter and jelly sandwiches. It helps keep me going," he said. "I had one today."
He keeps in shape during his "non-trekking" months by walking around his small woodworking shop at home. He also credits a good pair of walking shoes as one of the keys to his success.
How do his children feel about their father's treks? "To a certain extent, I get a lot of static before I start," he said, smiling.
Troutman has his route planned out, but he is not concerned with meeting a timetable. He received a police escort from the Polo Police Department when he and Woodward arrived just outside the city limits on Saturday afternoon.
Polo firefighters presented Troutman with an award reserved for those who perform above the call of duty, and he also was given a ride in the department's antique fire truck.
He slept at the ambulance station that night and the next morning, at 6 a.m., he and Woodward headed north along state Route 26 to Forreston. They stopped midway at the Dogwood Inn for a hearty breakfast.
"Well, this is a lot more than I normally eat," he said. "It's very good."
The walking duo then left for Forreston, arriving at the fire station Sunday afternoon.
Monday, Troutman was back on the road, headed north to Freeport.
His planned route will take him into Wisconsin and then back where he will walk west and then back south along state Route 78 through Morrison and Prophetstown.
His upcoming in route in Illinois includes Freeport, Cedarville, and Oneco and then then Monroe, Brownstone, South Wayne, and Gratiot in Wisconsin before heading back in Illinois through Warren, Stockton, Pleasant Valley, Mount Carroll, Morrison, Prophetstown, Hoople, Annawan, Kewanee, Toulon, Wyoming, and Princeville.
He hopes to end this walk in July.
"I got all summer to get it done. If it takes me longer, it takes me longer."
How to donate
Pledges can be made directly to St. Jude through Troutman's fundraising page, troutmanstrek.pbworks.com, or at https://fundraising.stjude.org/site/TR/Challenge/Events?pg=entry&fr_id=146117.
Checks, made out to St. Jude, can be mailed to St. Jude Event-Dean Troutman Walks for St. Jude, Attn: Alex Fountain, 501 St. Jude Place, Memphis, TN 38101.
You also can follow Troutman's progress at Facebook.com/troutmanstrek3.