CRYSTAL LAKE – Crystal Lake Central worked tough at-bats and put runners on base in six of seven innings, but Prairie Ridge freshman pitcher Reese Mosolino, making her first postseason start, never seemed all that bothered.
Each time the Tigers threatened to score, the Wolves' ace came through and trusted the defense behind her.
It was a big difference from the last time she faced Central and was chased after allowing seven runs in four innings.
"She's not the type of girl who wants to get pulled from a game early," Prairie Ridge coach Scott Busam said. "She left something out there against the Tigers ... and I think she came back out here today with something to prove."
Mosolino finished with seven spotless innings, stranding 12 baserunners, and made an unearned run in the top of the sixth stand as the Wolves beat the Tigers 1-0 in a Class 3A Crystal Lake South Regional semifinal.
Prairie Ridge (14-13) moves on to face Woodstock North in the regional championship game at 4 p.m. Friday. The Wolves last won a regional title in 2016 and were knocked out of the playoffs by the Thunder last season.
Mosolino gave up six hits over her seven innings with five strikeouts and five walks. She struck out Tigers No. 6 hitter Taylor Roggenbuck on a riseball for the final out after Central (13-14) had put runners on first and second after two quick outs in the seventh.
"I was a little nervous but I knew my teammates had my back. I think I've grown a lot as a pitcher and a person this season, because the people behind me are really good people."

—  Reese Mosolino, Prairie Ridge freshman
It was the fourth time Wednesday that the Tigers threatened with multiple runners on base. Mosolino got out of two bases-loaded jams – one in the third and one in the sixth – and had two runners on in the second and seventh.
Mosolino had a strong defense behind her with first baseman Chloe Lieurance making two tough plays in the fourth to help her pitcher. She recorded the first out of the inning with a running grab against the dugout fence and later made a diving catch in the infield.
"Just focus on the batter and don't worry about anything behind you," Mosolino said of her mentality. "I was a little nervous, but I knew my teammates had my back. I think I've grown a lot as a pitcher and a person this season, because the people behind me are really good people."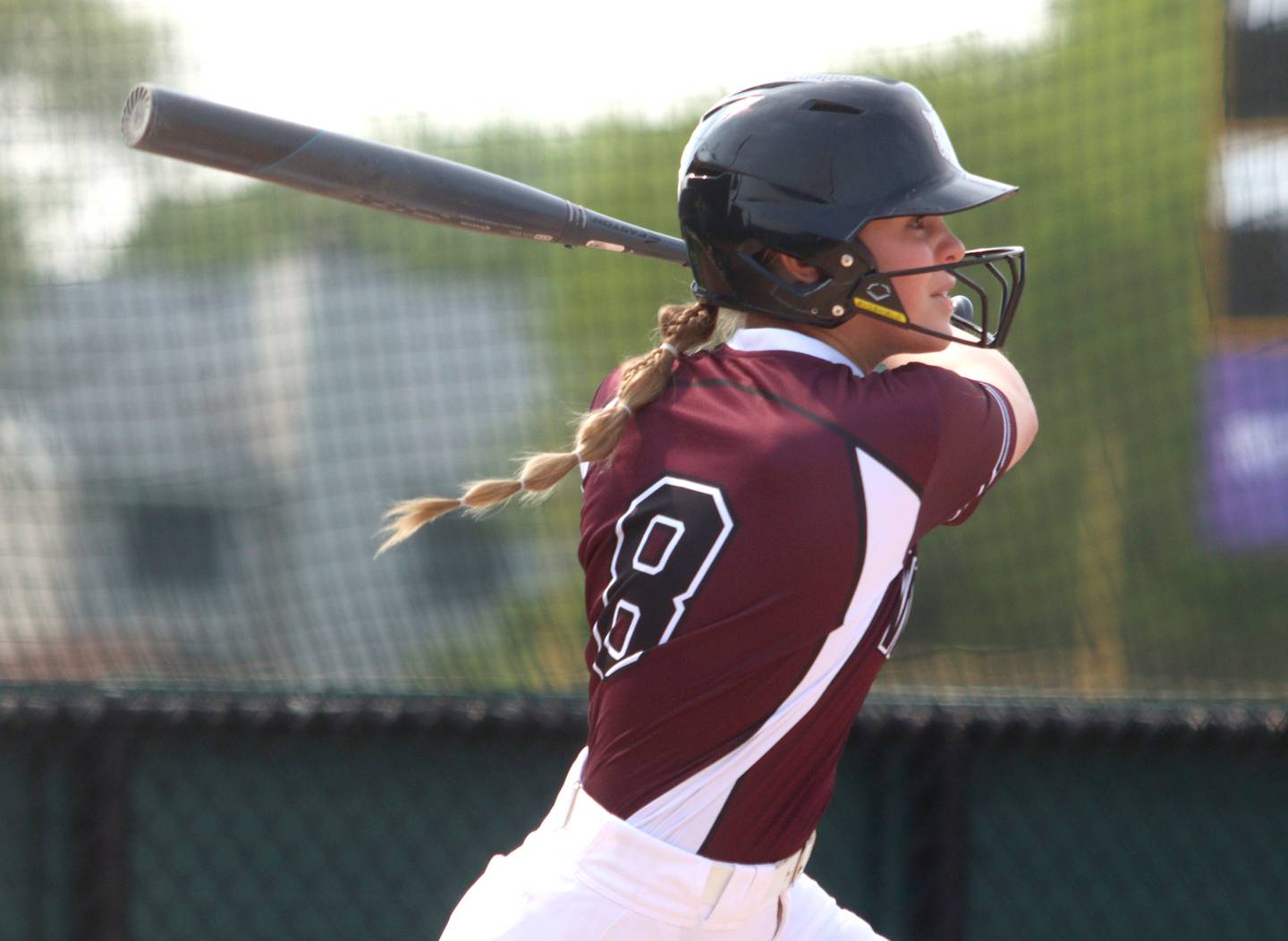 Crystal Lake Central senior pitcher Katie Svigelj had a strong game herself, with the only run scoring in the top of the sixth. Wolves sophomore shortstop Ady Kiddy hit a one-out double to the left-center field fence, moved to third on a wild pitch and scored on a fielding error with two outs.
Busam said Kiddy has a knack for coming up with the big hit.
"I never have anything but confidence in Ady Kiddy," Busam said. "She's a pretty stoic player. In a situation like that, it's hard to tell it's a big moment for her."
Svigelj allowed only three hits in seven innings with three strikeouts and a pair of walks. Svigelj, Gianna Carone, Giada Motto, Makayla Malone, Roggenbuck and Avery Bechler had hits for Central – all singles.
Svigelj, who will play softball next year at Loras College in Dubuque, Iowa, and Carone, who will play at Concordia University Wisconsin, will be missed as the Tigers' lone seniors.
"This is going to be really tough to see them go," Central coach Brian Strombom said. "They always came to play. ... They're intelligent players, they have class, and they're just the types of players you wish would never leave."
Kiddy finished 2 for 3 to lead Prairie Ridge, and Autumn Ledgerwood had the Wolves' other hit with a single.
Kiddy is excited for another chance to play Friday, and to possibly make up for last year's regional final loss to the Thunder.
"They knocked us out last year, so we definitely want to get the next one," Kiddy said. "It's kind of redemption for us. We've all worked really hard, and I'm excited to get this opportunity with my teammates."