Brandon Stryganek has seen and worked with numerous elite athletes, both as an athlete himself at the University of Illinois and as a speed coach at Tom Nelson Training in Mount Prospect.
Prairie Ridge senior Rylee Lydon is unique to Stryganek, with whom Lydon has trained for 2 1/2 years.
"When Rylee first started doing heptathlon we thought she could be a potential All-American caliber athlete," said Stryganek, director of the TNT Track and Field Academy. "But what she'd doing now is simply special, the versatility and range of Rylee is remarkable.
"In coaching her and working with her and her high school coach (Sarah Long), working through the uniqueness of her skill set is awesome. For me, coaching, it's so much fun because you don't get athletes like that. You don't get athletes with that range and versatility."
Lydon's range was on display last week when she won the girls pentathlon at the Adidas High School Indoor Track and Field National Championships on Friday, March 17 at Virginia Beach, Virginia.
Lydon not only won the event, she blew away the rest of the field with 3,844 points, 516 ahead of the second-place finisher and the best debut ever recorded and one of the top five scores in U.S. history. Lydon, who won a Class 3A 400 meters title at the 2021 IHSA Girls Track and Field State Meet and took the high jump state championship last year, reacted to the win with her normal humility and self-criticism.
The versatility and range of Rylee is remarkable."

—  Brandon Stryganek, TNT Track and Field Academy director
"Overall, I'm really happy with it being my first pentathlon," she said. "To be honest, four out of the five events, I feel like I could have done a lot better in, but it was eye-opening to get that top-five spot and not be completely satisfied for the future. That makes me excited for what I can do once I get more experience and all five of those events all come together.
"Overall, I'm really happy with that score as my starting point going into college and comparing that with other scores. Not mad about it, got the national title, I'm really proud of that."
Lydon won the women's 17-18 heptathlon at the USA Track and Field Junior Olympic Championships in Sacramento, California last summer. The indoor pentathlon is comprised of the 60-meter hurdles, high jump, long jump, shot put and an 800 meters. The heptathlon, in which Lydon will compete at Texas A&M next year, adds a 200 meters race and javelin throw.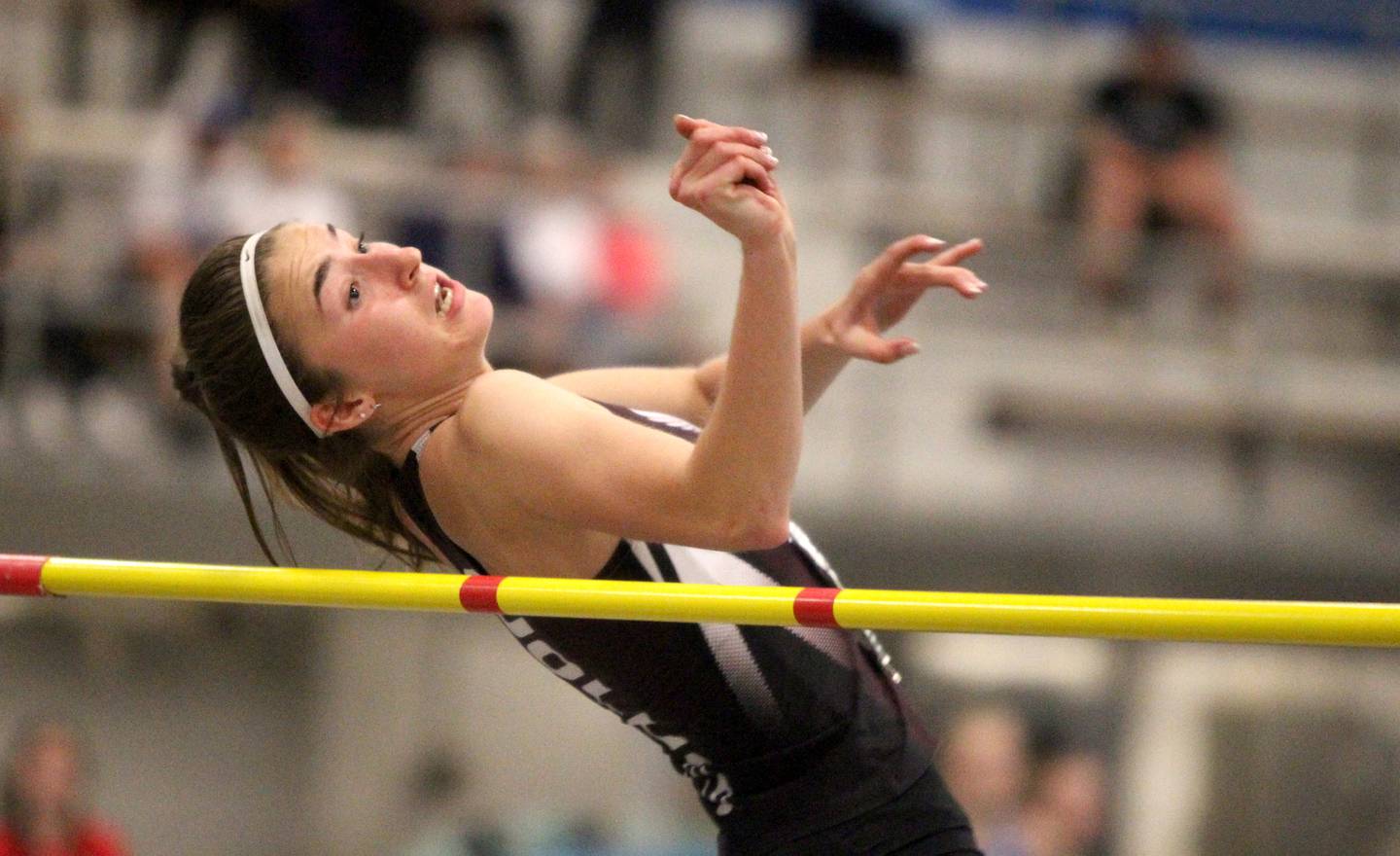 Lydon won the high jump at 1.75 meters (5-8 3/4), tying her personal-best effort, won the long jump at 5.57 meters (18-3 1/4), won the shot put at 10.54 meters (34-7) and won the 800 in 2:19. She was ninth in the 60 hurdles in 9.47.
As dominant as her performance was, Stryganek was on the same page with Lydon. He was not in Virginia since his wife Kelly will give birth to twins this week. They have a date planned for he birth.
"It was surprising about how Rylee and I both felt about it when it concluded: We talked on the phone after the pentathlon and that was probably the best performance I've seen with such a, 'Eh, that was OK' type demeanor," Stryganek said. "That was the funny part. The first thing we talked about was the points we left on the board there and what could have gone better.
"That's just who Rylee is. Tim and Niki (Rylee's parents) raised a great young woman. That's just how she is. She wants to attack every day. She's an athlete that is an elite-level talent, but she acts like she isn't. That's what makes her great."
Long sees that all the time with Lydon's high school competitions.
"I'm always so excited for her. She doesn't really shock me with things like that anymore, she's such an impressive athlete," Long said. "It's really cool for her to have two national titles. She was focused, she was ready to go. The girls behind her didn't really even touch her.
"There was strategy involved because you're not going to put up personal records in all your events when you're competing in a multi. She had a good day in all five of her events and her high jump was great. I asked her and she said, 'I did fine.' She's humble as always. It's cool to celebrate her and see her progress."
Lydon competed in two heptathlons last summer and will do the same this summer. For high school, she likely will do high and long jumps, and run the 200 and 400 in bigger meets. For smaller meets, there will be some heptathlon preparation this season.
"I'll definitely do more 'off' events such as hurdles and throws to get ready for next year," said Lydon, who had a shot put of almost 37 feet last summer. "I've been more consistent with my long jump, I hit 19-9. My hurdles have improved. The shot put hasn't been super consistent, but I've been around 34 or 35 recently.
"I love (the multi events). I like being busy at meets, I don't like sitting around a lot. Even in middle school I did four events and would switch my focus on different things so I don't get bored. It's fun and fast-paced, it's a really good event for me and I've had a lot of fun with it."
Long figures Lydon has worked so hard through her career that the focus as a senior should be a little different.
"The goal is two-fold: Give her an opportunity to really enjoy her senior season. This one's for fun," Long said. "She's done the hard work, she knows what she's doing next year. Last year was kind of a grind. This year is about having fun and getting her prepped and confident for going to Texas A&M next year.
"We'll move her around a little bit and give her an opportunity to hurdle and throw shot, things she doesn't have as much experience with."