HUNTLEY – Huntley hasn't trailed much in Fox Valley Conference games this season but found itself down early Monday against a Hampshire team determined to hand the Red Raiders their first FVC loss.
Huntley, however, seemed to always have the right answer. Raiders shooters sank four consecutive 3-pointers near the start of the third quarter after a tight first half, and Huntley pulled away for a convincing 57-39 victory against the Whip-Purs.
The win kept Huntley (22-4, 13-0 FVC) undefeated in conference play with five games remaining, extending its FVC winning streak to 23 games. The Raiders have won 30 of their past 31 FVC games overall.
Huntley held on for a 51-48 win against Hampshire when the teams met in early December. No other FVC team has come closer than 13 points to the Raiders.
Girls hoops: Huntley 50, Hampshire 29, end 3rd. All Raiders in the second half. Jessie Ozzauto with a buzzer beater 3 after Morgan McCaughn gets the offensive board. pic.twitter.com/x5uiXyEaZf

— Alex Kantecki (@akantecki) January 31, 2023
"We were very excited, very nervous," Huntley senior guard Morgan McCaughn said of Monday's critical FVC game. "Definitely high stakes. It was fun going into it. You really felt the energy during warmups."
Hampshire (17-9, 11-2) took the lead early, grabbing an 11-4 lead in the first quarter. But the Raiders cut the lead to 11-10 at the end of the quarter after a Sammi Campanelli putback and four free throws in the final 12.5 seconds of the quarter.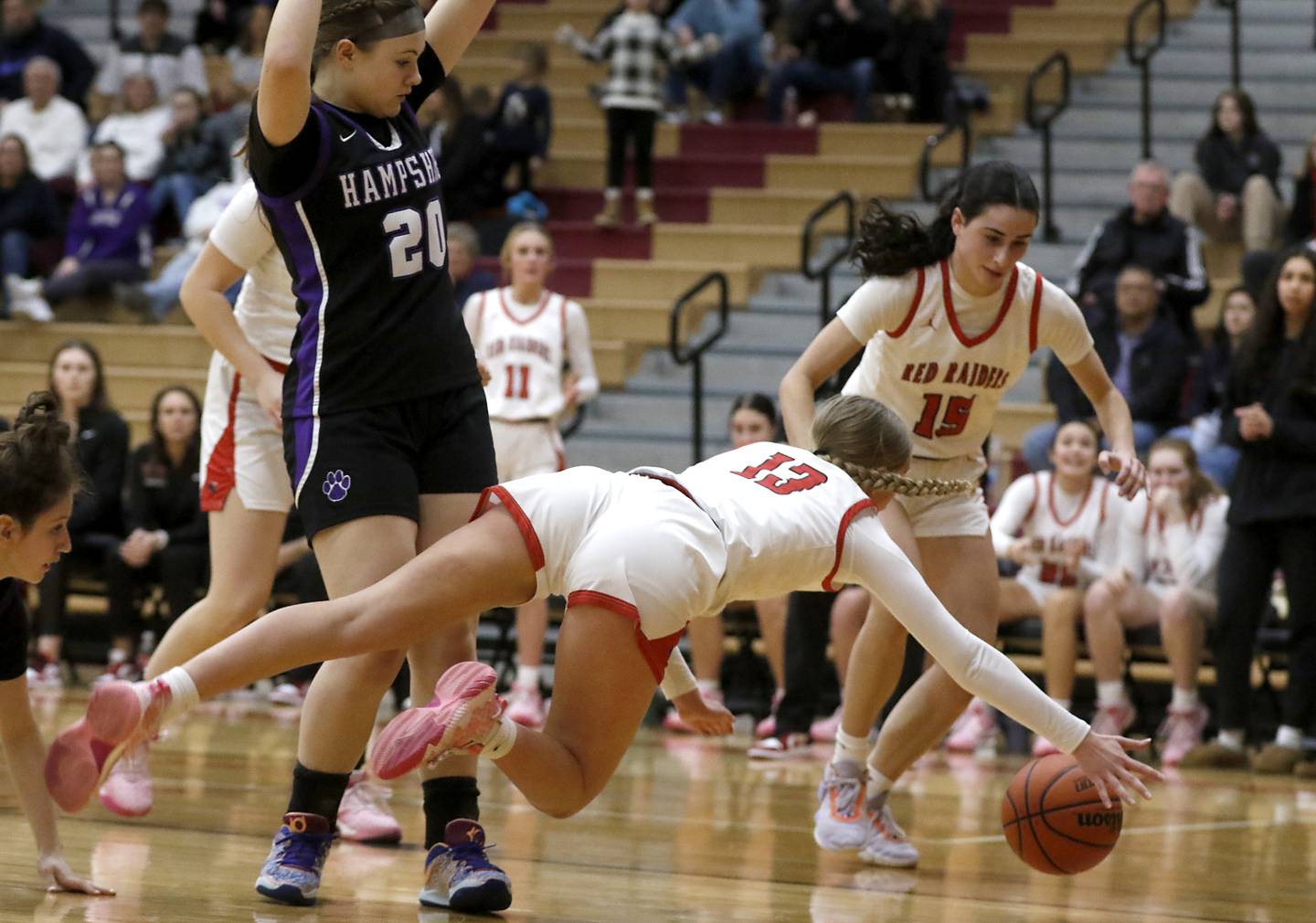 Anna Campanelli had a steal near the end of the first quarter, leading to a 3-point try by Jessie Ozzauto. Ozzauto was fouled on the shot and made all three of her free throws. Ozzauto then hit a 3 to start the second quarter, giving the Raiders their first lead.
Huntley never trailed again.
The Raiders forced 18 turnovers and turned the ball over only four times through three quarters. Ozzauto said Huntley never panicked.
"We didn't let it get to us," said Ozzauto, who led all players with 22 points on 7-of-14 shooting, hitting four 3-pointers. "Shots started to fall, and we moved the ball well. We were rebounding well and just pushing it in transition. ... All those little stops we got, they all added up."
Huntley outscored Hampshire 22-6 in the third quarter, holding the Whips to 2-of-10 shooting from the field. The Raiders led 50-29 after three.
Sammi Campanelli had 19 points, two 3s, and eight rebounds for Huntley. Anna Campanelli had eight points and three steals, while Ashlyn Horton and Mallory Winters each made a 3 for the Raiders.
Huntley coach Steve Raethz felt his players responded well to the early deficit.
"They did a great job on both ends of staying calm and not panicking," Raethz said. "Early on, Hampshire did a good job of running actions that got them some open looks."
Hampshire was led by Ceili Ramirez with 10 points and two 3s, all in the second quarter. Kaitlyn Milison had five points, while Chloe Van Horn, Whitney Thompson and Ashley Herzing had four points each.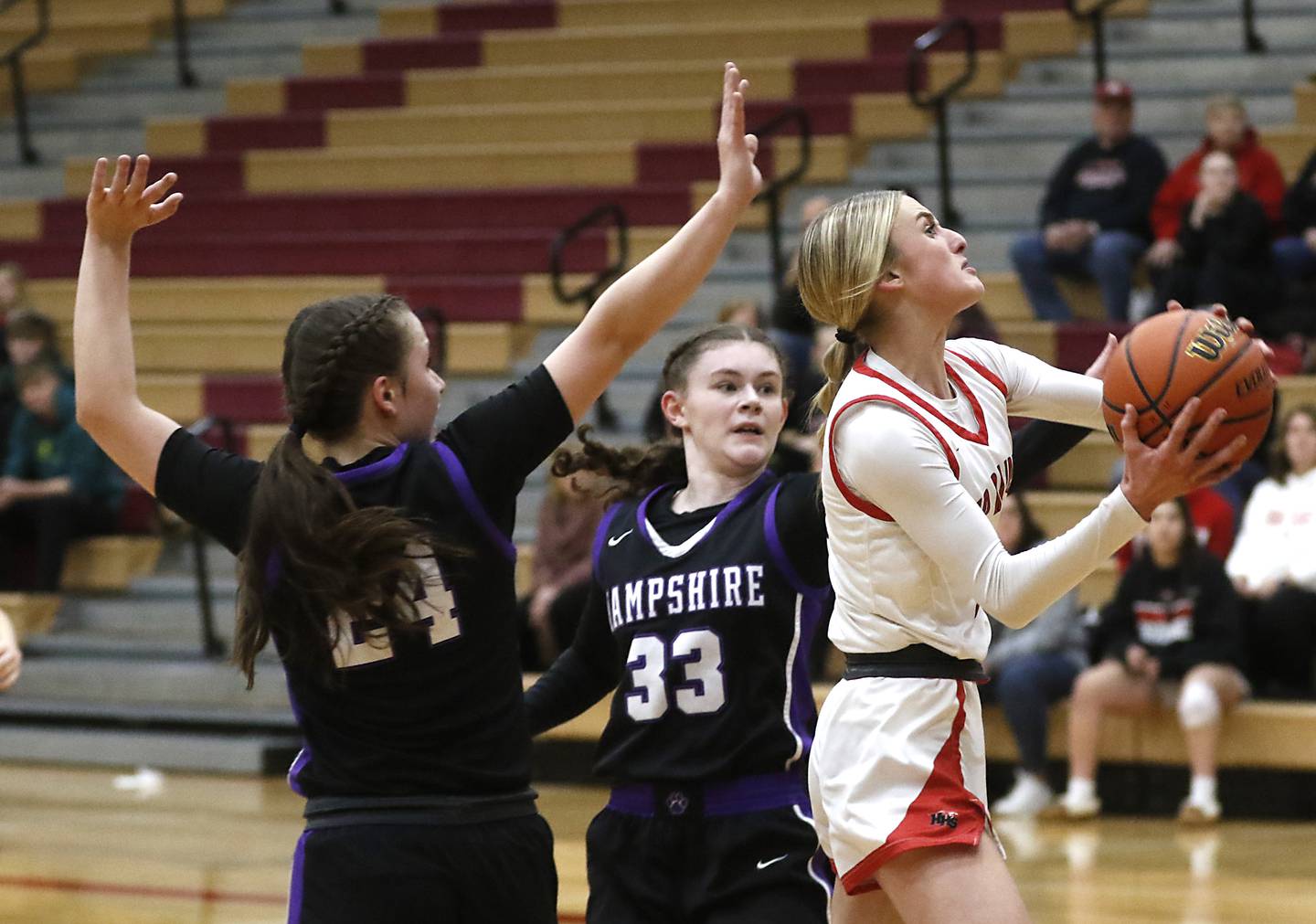 Herzing, the Whips' top scorer this season, picked up her third foul with 3:25 left in the first half and didn't get on the court again until the final couple of minutes of the third quarter.
Hampshire coach Eric Samuelson felt his team never backed down.
"I thought they fought in a pretty hostile environment," Samuelson said. "We didn't get calls tonight. I was really proud of how hard they played and battled. They just didn't quit. We're not done yet."
Huntley's last FVC loss was more than a year ago – a 47-39 loss to Prairie Ridge on Jan. 21, 2022. Ozzauto said the Raiders never look too far ahead.
"It's exciting," Ozzauto said. "It's kind of cool to look back on that and just see that streak. We're going to try to keep it going but take it one game at a time, one practice at a time."