ALGONQUIN – January can be a grueling month during the wrestling season, but nights like the one Crystal Lake Central had Thursday make it easier.
The Tigers won their first six matches against Jacobs to set up a 59-17 Fox Valley Conference win on a night when they made improvements in preparation for the postseason.
"It feels good," Central senior Ben Butler said. "I kind of expected this one, but we just need to keep going throughout the weeks and get more."
After Central (15-4, 6-1 FVC) took an 18-0 lead with three forfeit wins at 182, 195, 220 pounds, Leo Diaz's quest for revenge at 285 started the dual on the right note. Diaz had his match against Rocco Sauer circled after Sauer beat out Diaz to place at the Dvorak Invitational in December.
On Thursday, Diaz quickly set the tone when he took a 2-0 lead before getting Sauer on his back and pinning him not even a minute into the match.
"He was out to prove something tonight," Central coach Justen Lehr said. "Obviously, we saw that."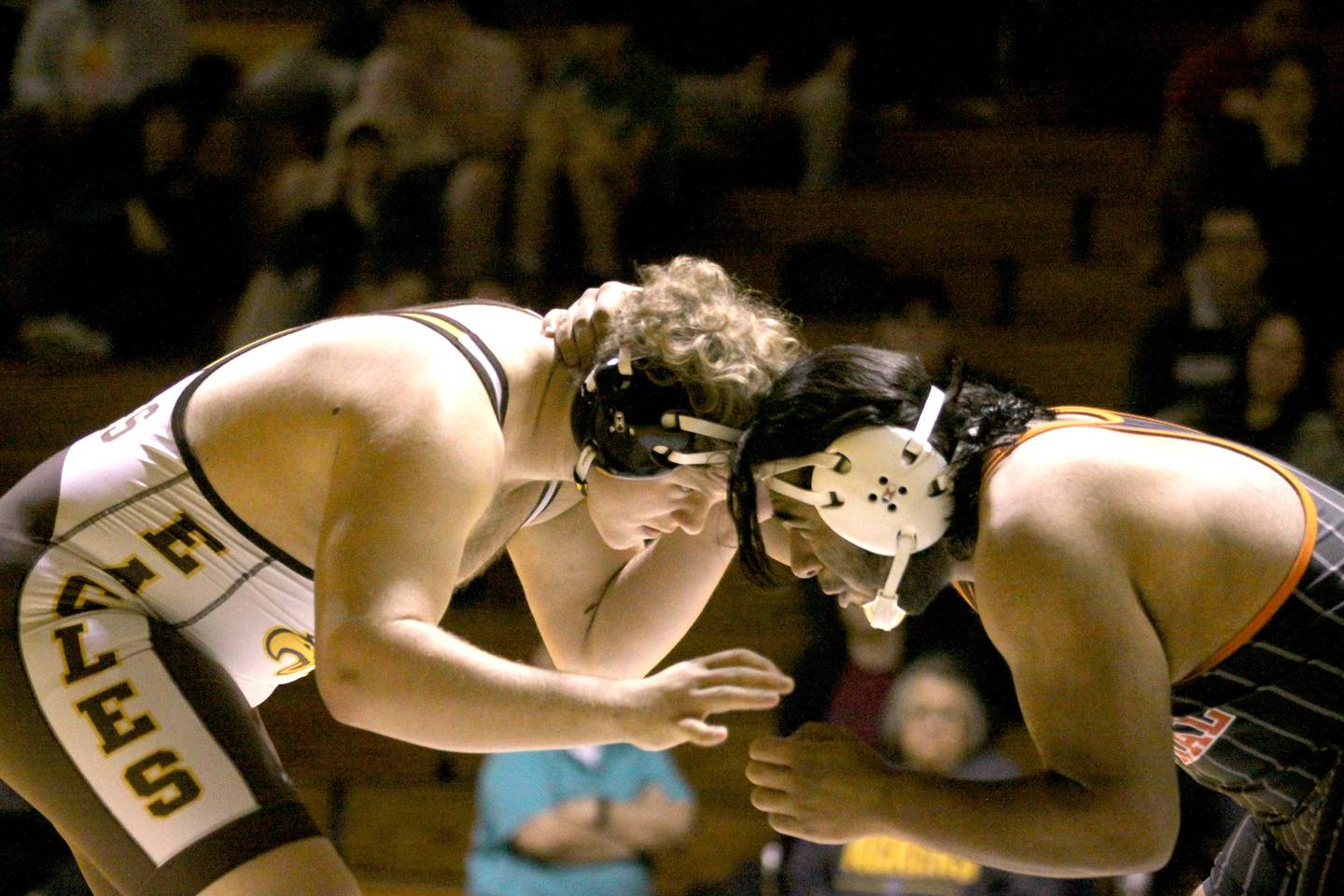 Payton Ramsey (113 pounds), Greco Rendon (126) and Cayden Parks joined Diaz with wins by fall, while Brandon Carbone (106), Elliot White (132), TJ Metz (182), John Aguillar (195) and Tommy McNeil (220) each won by forfeit. Butler won 16-0 by technical fall after two periods.
Lehr said he used Thursday to teach the Tigers in real time as opposed to going through simulations during practice. Lehr hopes those moments, in win or losses, will prepare the Tigers for the postseason.
"I said I don't care if you get pinned, let's work to get better," Lehr said. "Keeping it close, nobody wins, they don't win, you don't win. I thought we battled even in the matches that we lost."
Jacobs' stars shined once again Thursday. Dominic Ducato scored the Golden Eagles' first points of the night when he earned a win at 120 by fall after running out to a 12-2 lead in the first period. James Wright (138) held on to win 16-5, Evander Lands (152) won 12-0 and Billy Albrecht (160) overcame a 2-0 deficit in the first period to win 4-2 in overtime.
Duals can be tough for a team like Jacobs (3-13, 1-6) that doesn't have a full lineup, but coach Gary Conrad was proud of the way his team battled and continued to grow as they also made preparation for the playoffs.
"They're a good team and have a full lineup, we don't," Conrad said. "We're missing some people, but we had some people wrestle tough tonight."
The Golden Eagles will travel Saturday to compete at the Batavia Invitational, while Central will stay active Saturday by hosting Elk Grove, Grayslake North and South Elgin for a quad.
"We're just trying to take care of business," Lehr said. "Everything is toward regionals right now."