CRYSTAL LAKE – Crystal Lake South's Gabrielle Toussaint enjoys sharing the basketball with teammates.
In the third quarter against McHenry, the Gators' senior guard was needed to do a little more.
Toussaint tossed in the final seven points of the third quarter after the Warriors had taken their first lead, and South held on to defeat McHenry 38-34 in their Fox Valley Conference game on Tuesday at the Swamp.
"I struggle with keeping my composure at times," Toussaint said. "So if I can keep my composure, I know I can be better for [my team] regardless if I'm scoring or not. I'm more about the team. I like to assist. As long as someone's getting the bucket and we're getting the win, I'm happy."
Toussaint also came up with a big defensive play late. Leading 36-34 with 8.4 seconds to go, Toussaint poked the ball out of bounds as McHenry was attempting to get off a shot. The Warriors had another chance for a shot but threw the ball away with about a second remaining.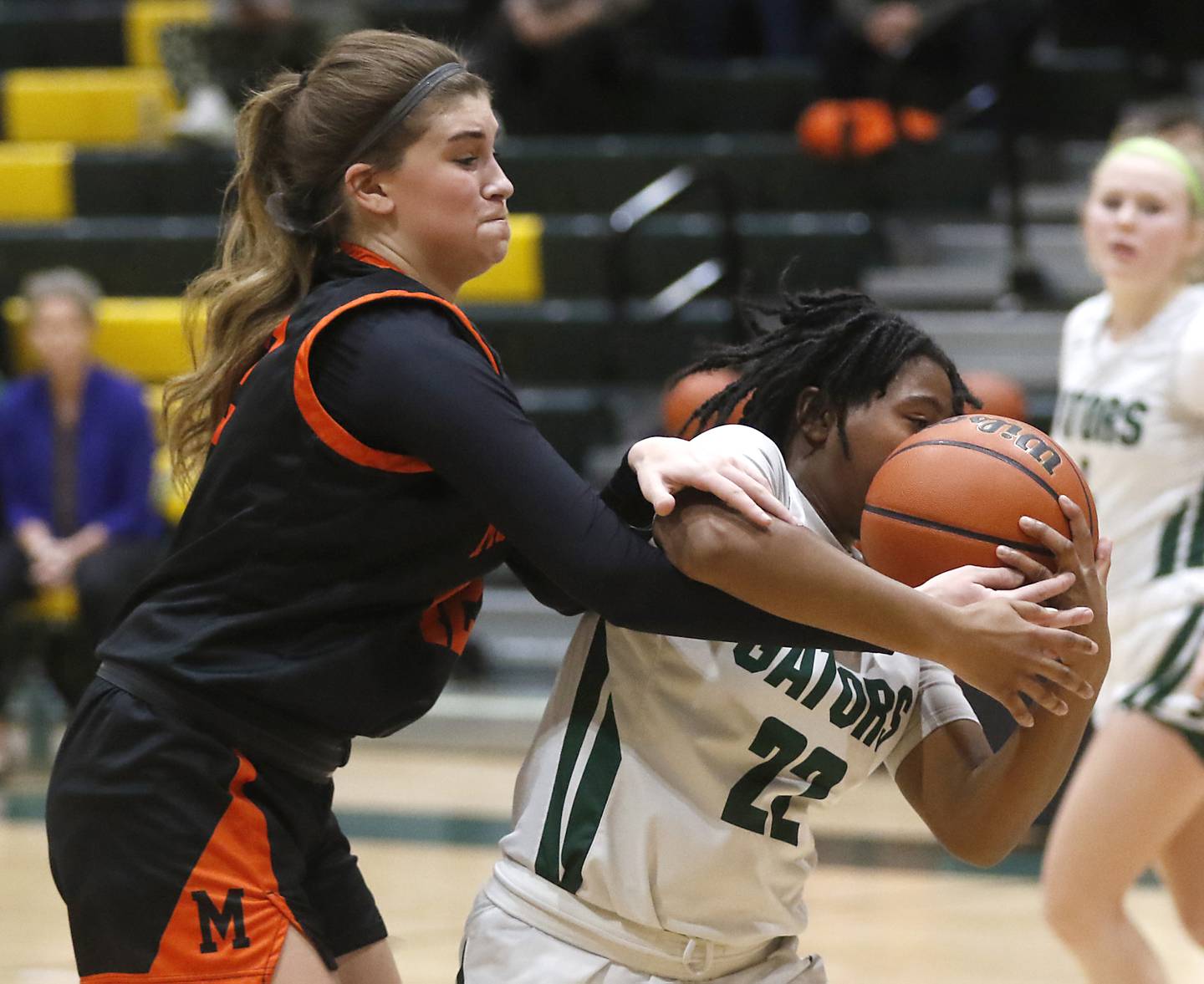 South's Laken LePage finished off the game by making two free throws for the final score.
Gators coach Mark Mucha felt his team's senior leaders took control of the game late.
"Hanna [Massie], Addie Alexander, Nicole [Molgado], Toussaint all stepped up," Mucha said. "I think in past years, we lose that lead and the wind kind of goes out of our sails. They're growing, they're maturing, they're getting better. It's good to see that senior leadership.
"They took it and said, 'Hey, we're not going to let this happen.' "
McHenry (3-15, 1-7 FVC) took its first lead against South (5-11, 2-5) on a corner 3 by Reese Kominoski to go up 23-22 with 4:18 remaining in the third. The lead was short-lived, however, with Toussaint scoring the final seven points of the quarter for the Gators.
Massie had a double-double with 12 points and 17 rebounds for South, while Nicole Molgado had 10 points and 10 rebounds, also getting two blocks. Molgado helped the Gators to a 10-2 lead after the first quarter, scoring eight of her team's points on 4-of-5 shooting.
Massie controlled the boards on both the offensive and defensive end.
"She's just all over the floor," Mucha said of Massie. "Full court, she's just constantly moving, constantly in motion. She cleans up the glass big time. It's very huge for us, either to get a stop on defense and a second opportunity on offense. We needed every one of those [rebounds]."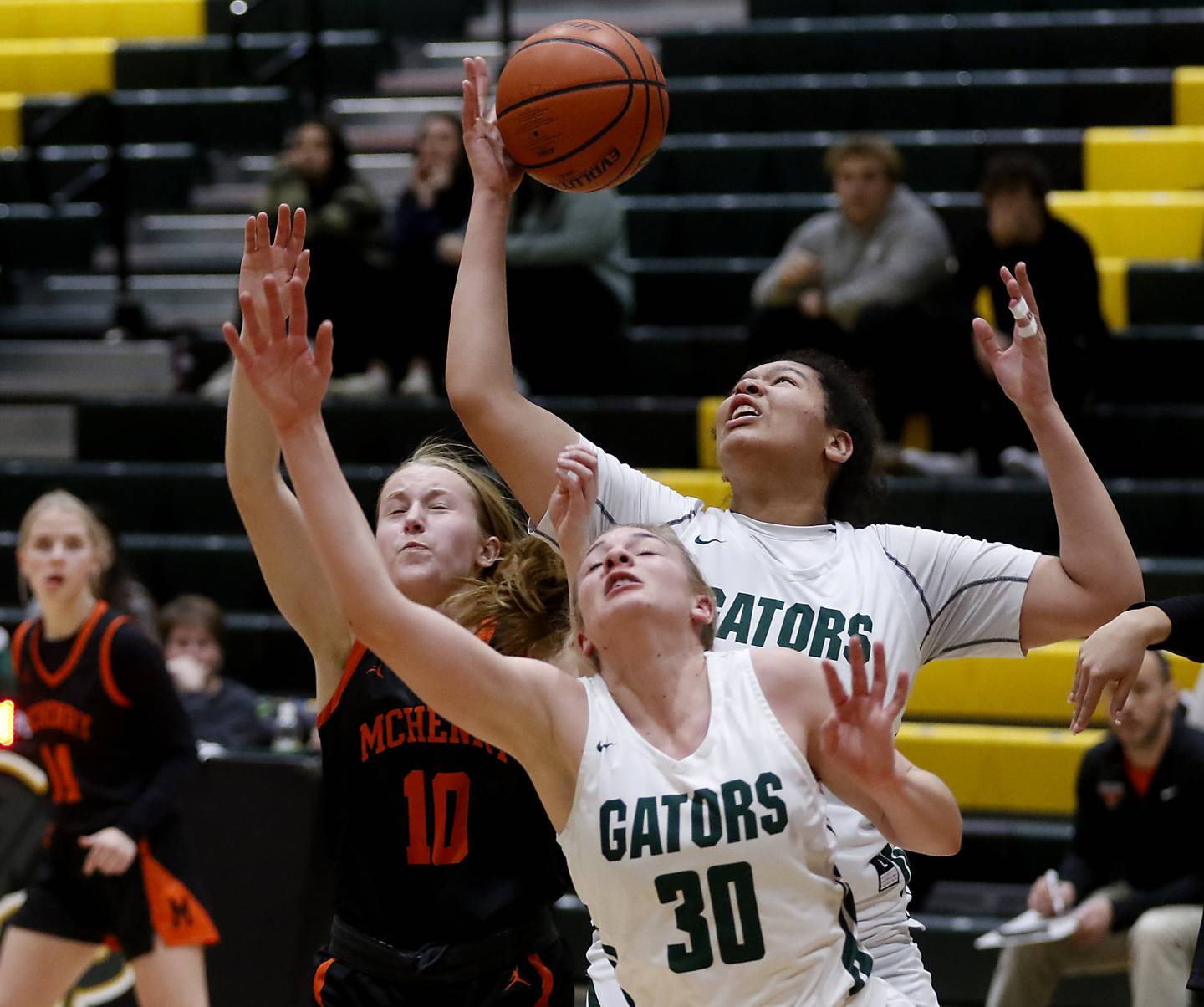 Maddi Friedle scored 21 points for the Warriors to lead all scorers. The senior forward scored eight points in the fourth quarter and three times brought McHenry within a basket of tying or taking the lead.
Emerson Gasmann and Kominoski each tallied five points for McHenry, while Gasmann held LePage to six points, all on free throws.
McHenry coach John Lunkenheimer felt the Warriors competed much harder in the second half.
"I kind of challenged them at halftime to compete on the boards," Lunkenheimer said. "What we executed was our defensive plan. We were doubling and jumping back in the zone. All the things we worked on in practice, we executed. We had good looks in the first half, we just executed more in the end. I think it's really important to play together, and I think we played together tonight."
Massie said the difference late was South's hustle.
"I felt like we all had to pick each other up," Massie said. "I was getting down on myself, and my teammates really picked me up. I think we're going to get a lot better. We had a tough start. We've been having a lot harder practices and playing harder. We're getting better and better every game."