HAMPSHIRE – McHenry knew it needed to continue its business-like approach against Hampshire on Thursday if it wanted to stay undefeated in the Fox Valley Conference.
The Whip-Purs presented the Warriors with their second-toughest conference challenge of the season, but McHenry breezed to a 47-24 victory, staying perfect without their best wrestler.
"To beat them the way we beat them felt really good," McHenry's Pedro Jimenez said.
McHenry (11-4, 6-0 FVC) competed without senior Chris Moore, an Illinois commit who finished second at the state tournament last season and is one of the state's best wrestlers at 170 pounds. Warriors coach Dan Rohman said Moore had been going pretty hard this season but that he would be back in action soon.
The Warriors showed off their talent without Moore, winning their first two matches by pins and running out to a 41-0 lead. McHenry had three pins before Hampshire scored a point.
Ryan Hanson (106 pounds), Jimmy Norris (113), Lucas Van Diepen (132) and Jesse Saavedra (285) each pinned their opponents, while Frankie Pichl (126) won by forfeit. Ryan Nagel held on to win 3-2 at 138, Jimenez made it 35-0 with a 15-2 win at 145, Ruben Melgarejo took 152 with a 13-6 win, and Armand Paglini won at 160 with an 11-7 decision.
Rohman knew the Warriors would have a tough task at the upper weights but was impressed with his team's fast start, which was too much for the Whip-Purs to overcome.
"I've been on that side of it as well," Rohman said. "I understand when a team can get up like that, it's big on both sides."
Hampshire (8-5, 3-3 FVC) broke the shutout when Niko Skoulikaris quickly won by fall at 170. Dimitri Skoulikaris (182), Tyler Boyd (195) and Will Ardson (220) each pinned their opponents to help the Whip-Purs make up 24 points.
Whip-Purs coach Matthew Todd was proud of the way his team kept battling despite the large deficit.
"We've got a lot of work to do," Todd said. "Being on break is always a tough time with schedules, kids not being in school, their normal routine. But we know we need to get back into the wrestling routine and get back to work."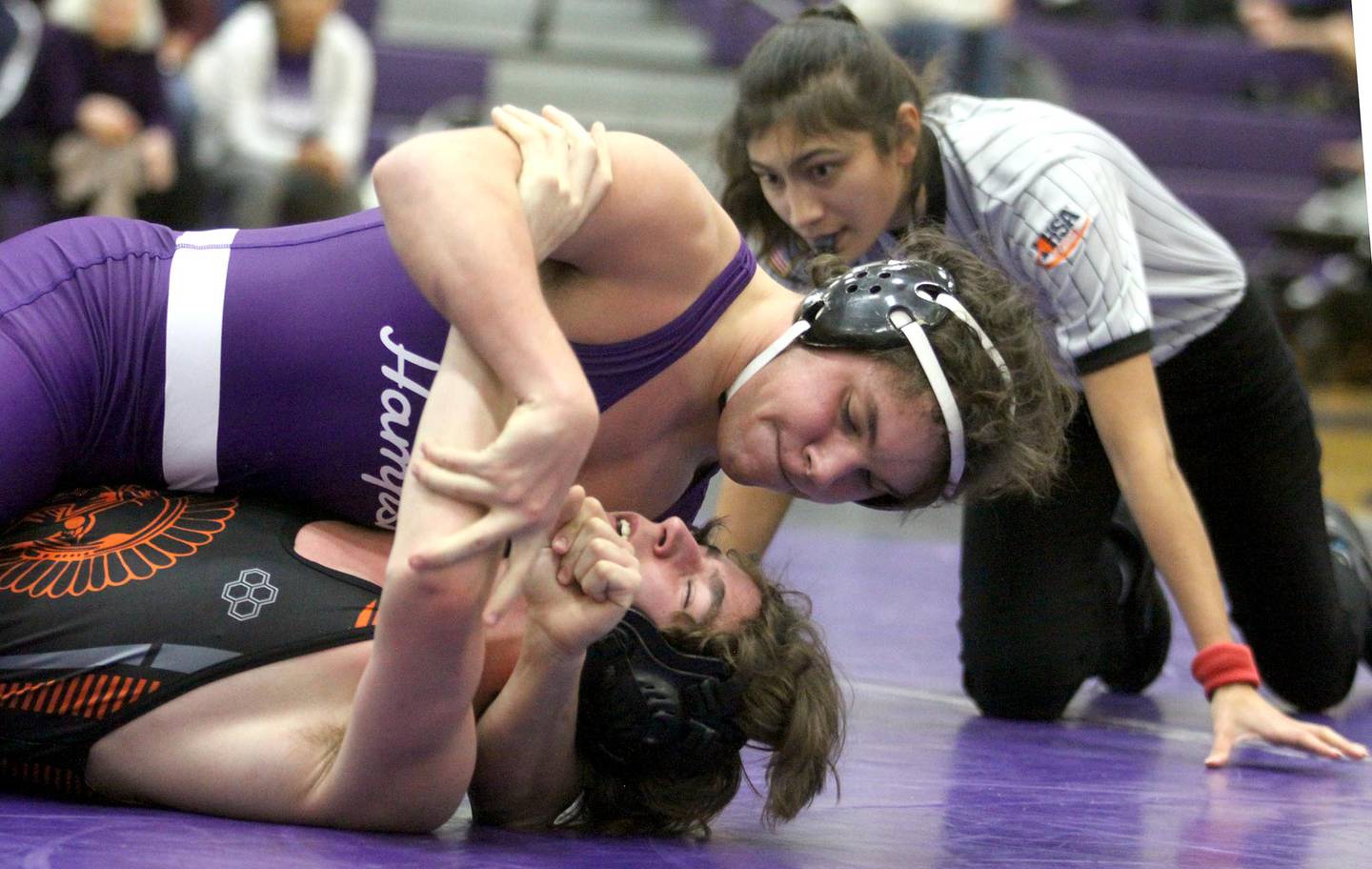 Both teams will travel to the Sycamore Invitational on Saturday before Hampshire resumes FVC competition against Prairie Ridge on Wednesday, while McHenry will host Crystal Lake South on Thursday.
The Warriors are going to keep their business-like approach heading into the final month of the season, but they like the way things look heading down the stretch.
"The parts of the puzzle are starting to come together at the right time for us," Rohman said. "It's very important as we approach that second half of the season and the state tournament."