CHARLESTON – As strange as it might seem, Richmond-Burton's 4x400-meter relay team was both satisfied and disappointed at the same time.
The Rockets' Tristan Rockwell, Joe Miller, Sean Rockwell and Jack Verdoni ran their best race ever, finishing in 3:21.03 in the Class 2A finals on Saturday at Eastern Illinois University's O'Brien Stadium.
That was satisfying and thrilling.
The disappointment came from the fact it was not quite good enough for a state championship. Kankakee's Jyaire Hill and Verdoni battled to the finish line step-for-step with the Kays winning the race in 3:21.01, a margin difficult to determine in real time.
"To lose a state title by .02, it's crushing, but you have the best team in the state going against you," R-B coach John Osmanski said. "Jyaire Hill is fantastic. That's his eighth event in two days, the guy's a stud.
"We put ourselves in great position. We got caught in traffic with Miller, but that's racing. That is what happens. It's state and that's why it's so special. We're .02 away from state champions."
R-B was that close to winning the first track and field state title, in boys or girls competition, in school history.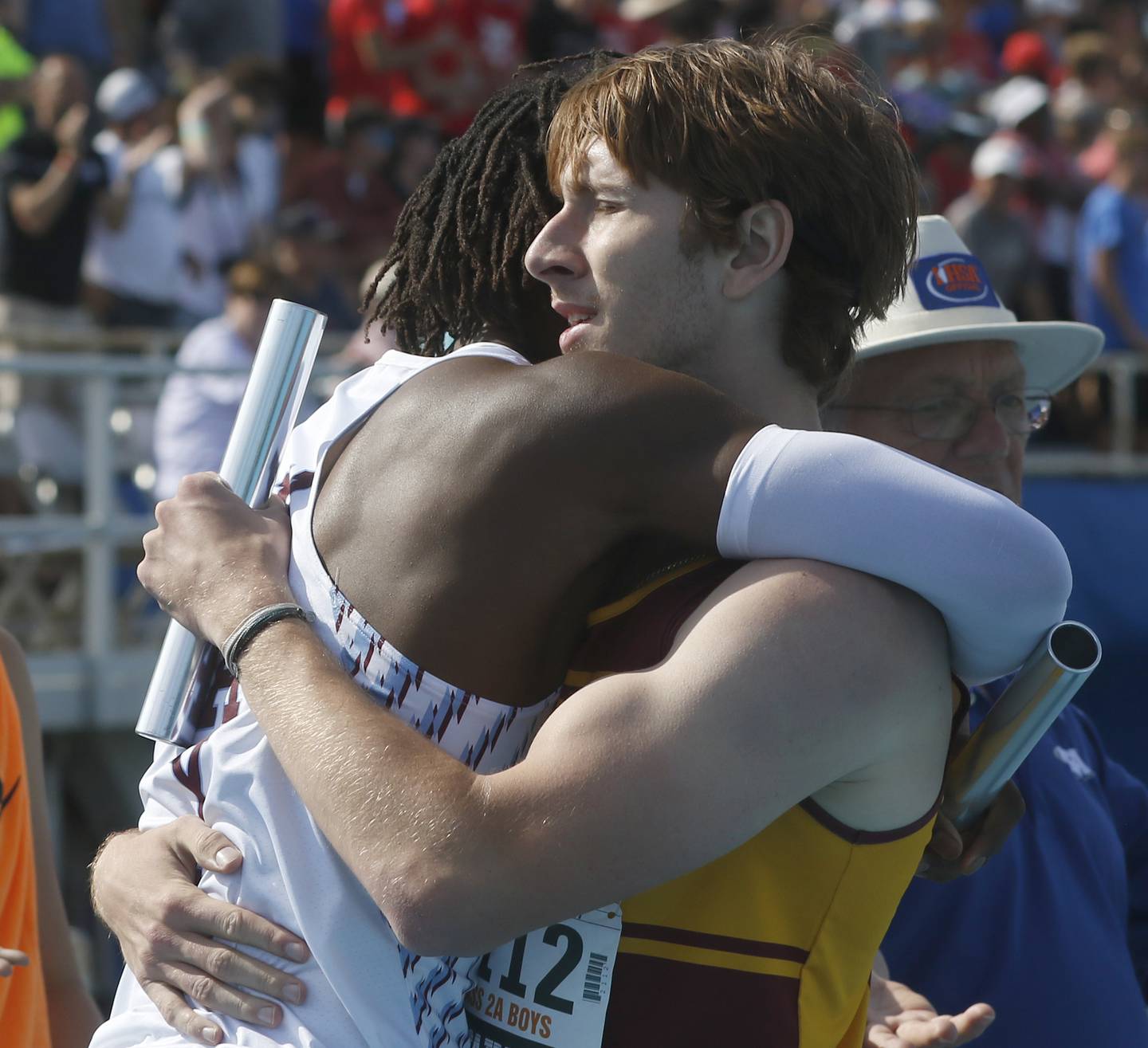 "It's heartbreaking," Verdoni said. "We come out here and put all this work in. We dropped a (personal-best time), they dropped a PR. There's nothing you can do about it, everybody's giving their all out here. Second, but I'm happy with what we've done."
That same R-B group took ninth in the 4x200 relay.
Other local Class 2A athletes who medalled on Saturday were Burlington Central's 4x200 relay team of Alec Zaccario, Dylan Stahl, Gavin Sarvis and Nolan Milas, which took fourth in 42.66.
Burlington also had medal finishes from Zac Schmidt in the 400 (fifth) and Yusuf Baig in the 3,200 (sixth) and 1,600 (seventh). Woodstock's Tim Maidment improved three places in the long jump to take eighth.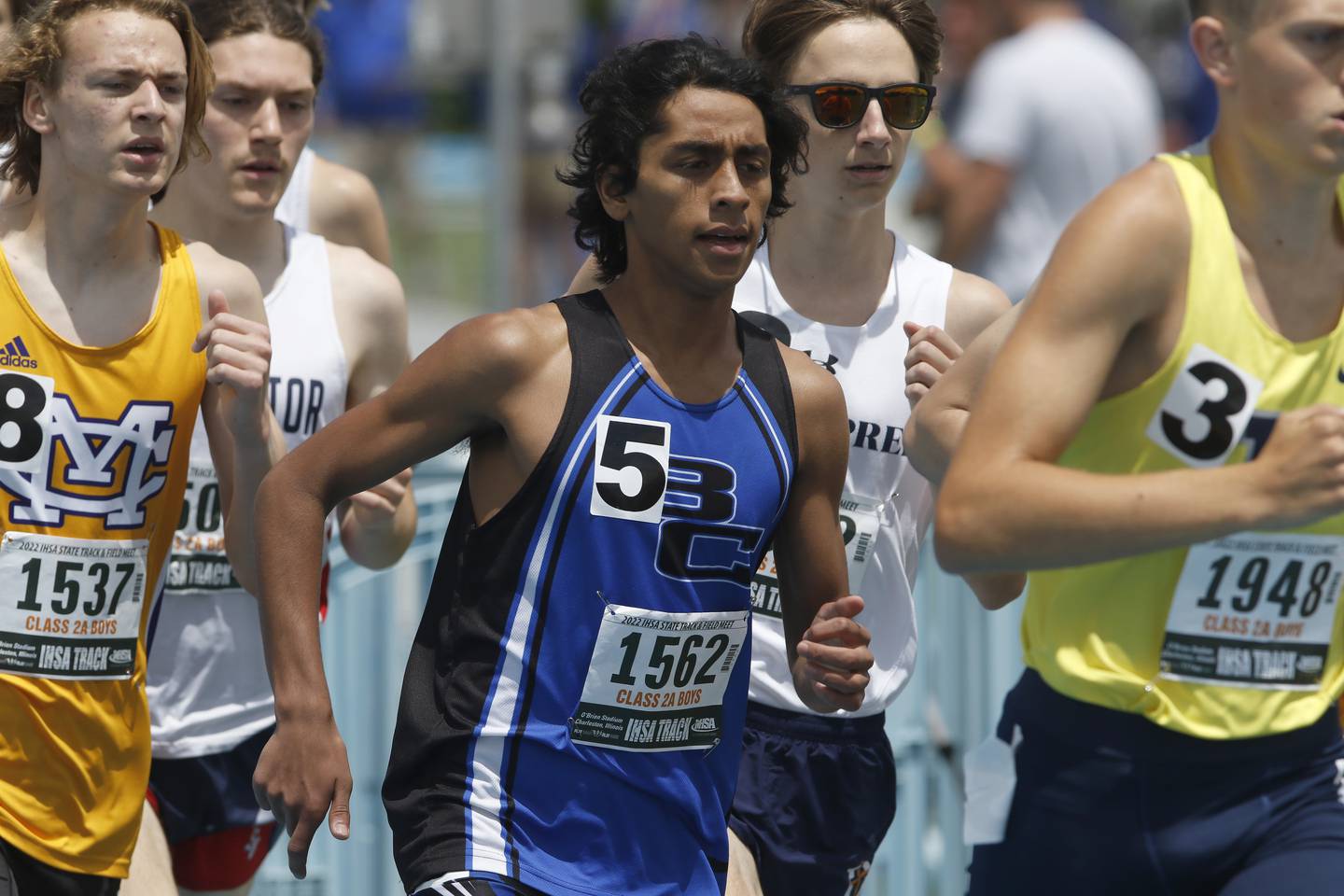 In Class 3A, Cary-Grove senior Zach Petko took eighth in the shot put and Hampshire's Devin Yeats, Tyler Chanthavee, Tyler Fikis and Jack Rummell were ninth in the 4x200 relay.
R-B ran a 3:22.96 to qualify more than 2 seconds faster than the next team from Friday's 4x400 qualifying. The Rockets' only other 4x400 loss in indoor or outdoor came at the Illinois Top Times Indoor Classic, again to Kankakee.
Miller was a little frustrated at some congestion in the second lap of the 4x400. He had to make his move a little later than planned, although he still got the baton to Sean Rockwell for the third leg in first place.
"Around the 120 mark I was able to get out of that," Miller said. "I gave Sean the lead. It's disappointing. We came out here wanting to do something. I feel like we did. We ran our PR, school record, it's disappointing we lose by .02.
"I'm super-proud of these two seniors, Jack and Tristan. We've all bonded over this past season. Those two seniors really led us and brought us all together as a team."
Osmanski understood that what happened to Miller is part of the sport.
"(Miller) needed to slow down for a second and got boxed in and then he went around, then he opened it up," Osmanski said. "That's your .02, but that's racing. That's the sport of track and field and the 4x4, which makes the 4x4 awesome. State is tough and it's tough to win a state title.
"I'm proud of what we accomplished this season. We've only lost one 4x4 indoor state and one outdoor, to Kankakee. Kankakee's just .02 better than us. I cannot complain at all."
Burlington Central's 4x100 team was thrilled at its finish.
"That was, by far, my favorite race of the year," Milas said. "We've been talking all year about how we wanted to go sub-43. Our coach wanted us in 42.7s and we saw the 42.6 and it felt amazing getting fourth."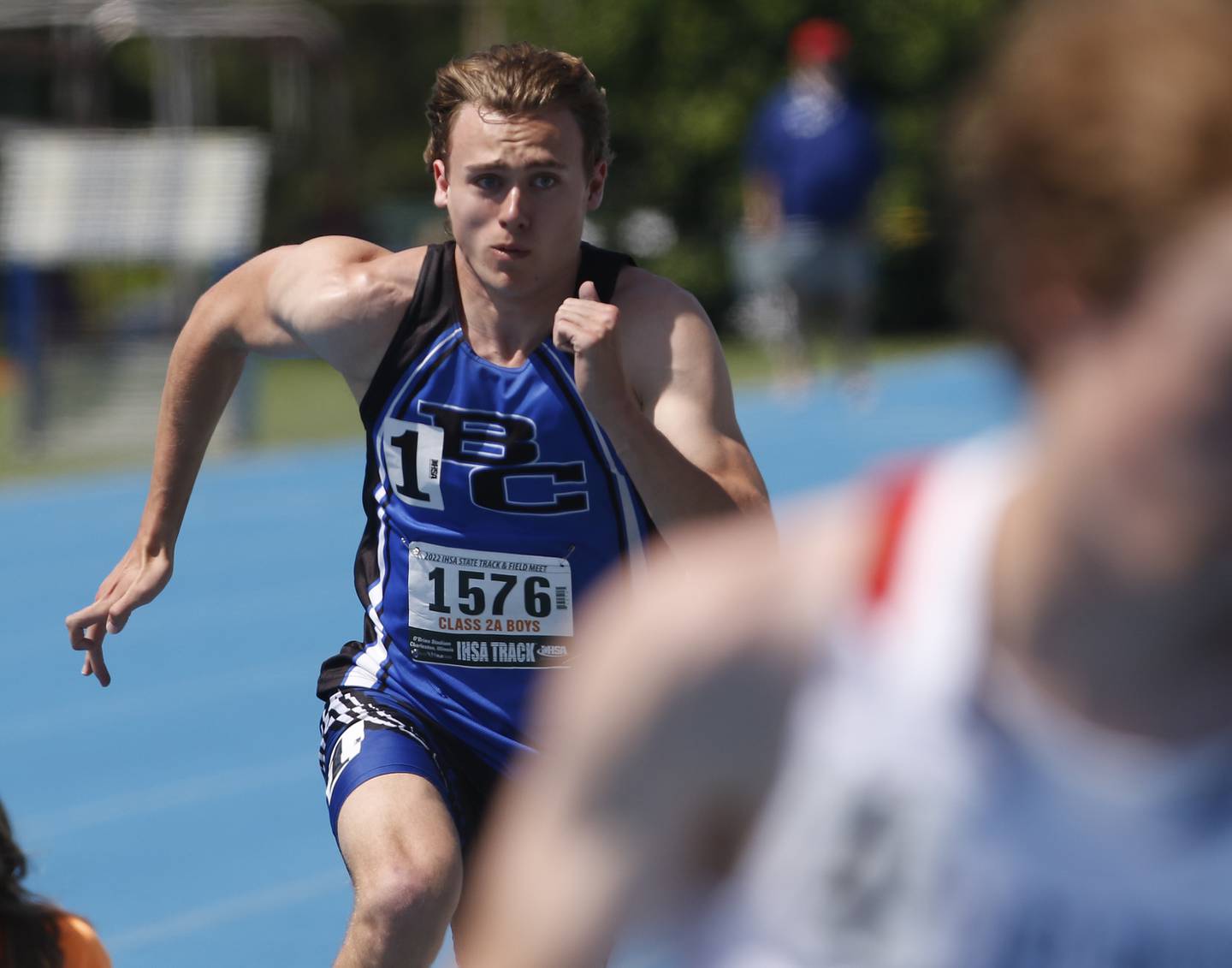 Schmidt got into the 400 finals with the last of nine qualifying spots and moved up four in the finals.
"Going in as the 9 seed, any improvement I was happy with," Schmidt said. "As long as I left everything out there, I was happy. Not too happy with the time, but I will not complain about how I did today."
Baig spent five days before Friday's prelims sick with the flu and did not even travel to Charleston with the team. At the last moment, he decided he had to give it a shot.
"Even if I don't medal, I wanted at least a shot," Baig said. "I wasn't at my best today. I just recovered, maybe today. Yesterday I was throwing up 10 minutes before my race. It's unfortunate, I had to battle through it.
"Friday morning I was in bed and like, 'All right, I got to go.' Didn't come with the team. I was happy to come out and medal in both events."
Maidment entered the 2A long jump in 11th place and hit a leap of 6.54 (21-5 1/2) on his final jump to move up three spots.
"I didn't have a good start," Maidment said. "If I wanted to get a medal, I had to do it now. By my third jump I was really motivated. I thought it was pretty bad when I came out of the sand. It turned out pretty well."
In 3A, Petko improved his shot put throw, but lost one spot in the standings. Still, the 17.00-meter throw (55-9.25) was a good way to finish. Petko was disappointed in not qualifying Friday for the discus finals after finishing sixth last year.
"In disc, I fouled my first throw, took a 50% throw on the second to get my confidence up and I actually had a good third throw but I pulled it out of the sector," Petko said. "After what happened in disc, I really mentally was not there. I was trying to clear my mind and I throw my best in shot. It's not my best, but it's still a decent mark and it got me a medal, so I'm happy with it."
Hampshire's 4x200 medal was the Whip-Purs' first relay medal in school history.
"Coming into the weekend, not a lot of people expected us to do much here," Yeats said. "We came in with our heads on straight and really showed what we can do. We could do better than what we did this weekend, which means a lot of growth coming to Hampshire. We (seniors) are leaving a great legacy here."
Class 2A State Meet
Local finals results
4x100 relay: 4. Burlington Central (Alec Zaccaria, Dylan Stahl, Gavin Sarvis, Nolan Milas) 42.66.
3,200 meters: 6. Yusuf Baig (BC) 9:39.66, 20. Dylan Hanson (Woodstock) 10:22.95, 23. Ryan Kries (BC) 11:01.07.
4x200 relay: 9. Richmond-Burton (Tristan Rockwell, Sean Rockwell, Joe Miller, Jack Verdoni) 1:30.29.
400 meters: 5. Zac Schmidt (BC) 50.12.
1,600 meters: 7. Baig (BC) 4:26.94.
4x400 relay: 2. Richmond-Burton (T. Rockwell, Miller, S. Rockwell, Verdoni) 3:21.03.
High jump: 12. Jack Novelle (Wdk) 1.85 (6-1).
Long jump: 8. Tim Maidment (Wdk) 6.54 (21-5.5)
Class 3A
Local finals results
3,200 meters: 18. Tommy Nitz (Huntley) 9:32.46, 22. Will Gelon (Prairie Ridge) 9:57.58.
4x200 relay: 9. Hampshire (Devin Yeats, Tyler Chanthavee, Tyler Fikis, Jack Rummell) 1:30.91.
400 meters: 10. Evan Gronewold (Huntley) 50.25.
Shot put: 8. Zach Petko (Cary-Grove) 17.00. (55-9.25).
High jump: Hayden Stone (McHenry) 1.85 (6-1), 20. McKale Hood (Hunt) no height.