BEIJING, China – All three men's Olympic ski jumpers from Norge Ski Club in Fox River Grove plus a fourth American competitor breezed through Saturday's normal hill qualifying rounds, advancing to the final day of competition scheduled for Sunday morning.
U.S. ski jumpers Kevin Bickner, 25, of Wauconda, Casey Larson, 23, of Barrington, and Patrick Gasienica, 23, of McHenry, scored top-50 finishes in Friday's qualifying jump along with fellow American Decker Dean of Colorado.
"My trainings have been really good and my result today was not up to my standard," said Larson, who led the four Americans with a 69.8 score of out of a possible 120 points, good for 41st place out of 53 ski jumpers. "Thankfully getting through qualifying today was not too difficult."
Gasienica, making his Olympic debut, recorded the longest jump of the night for the Americans at 81.5 meters. But judges determined that Larson's combination of distance, arial style, wind resistance and landing was worthy of the best score among the the U.S. men. Gasienica's score of 61.2 was good for 44th in the stacked field of the world's best ski jumpers, while Bickner's 61.8 tally placed him 43rd overall.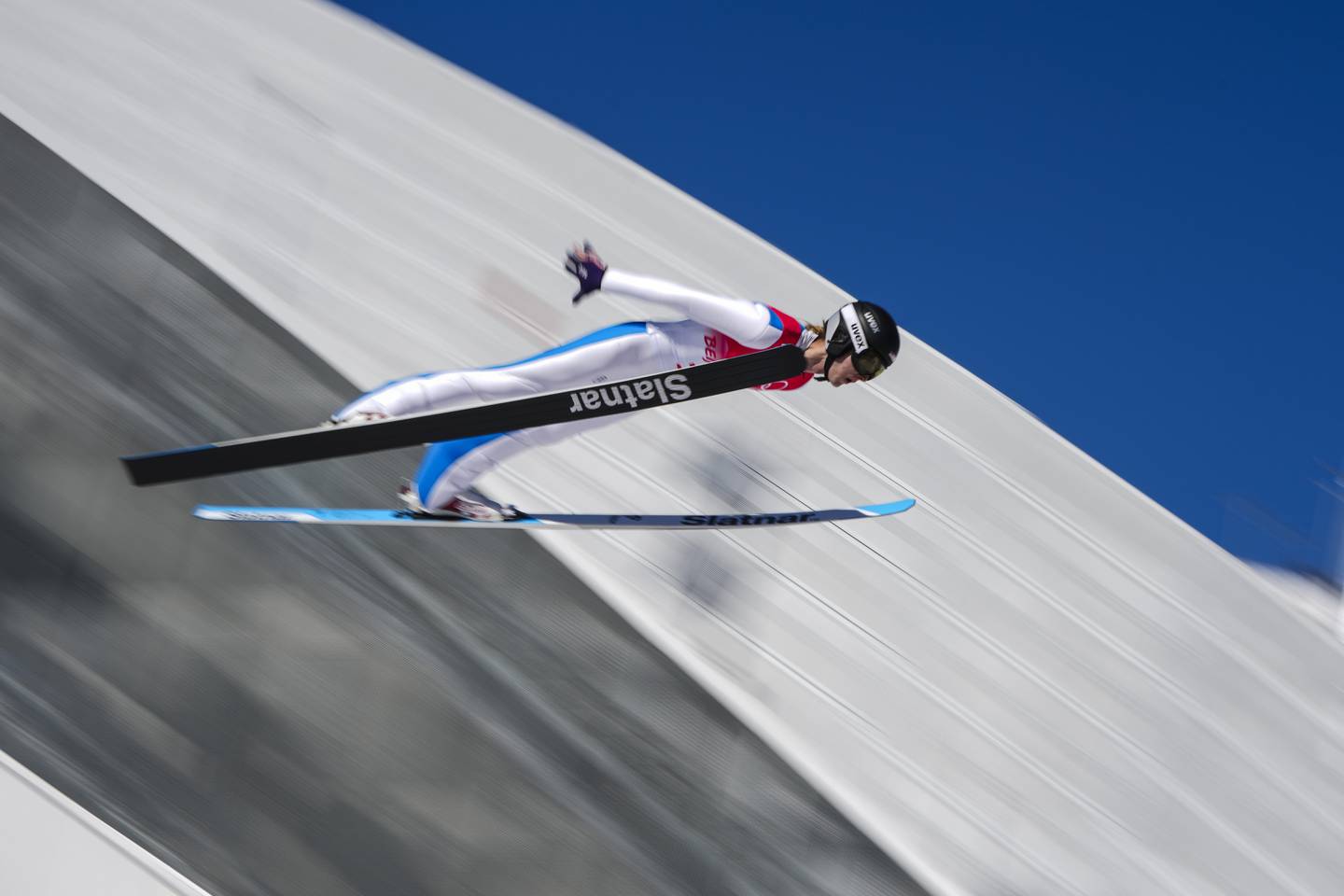 Bickner, in his second Olympics, notched the top score for the U.S. in each of the qualifying and championship events during the 2018 PyeongChang Games. On Saturday, he was adamant that he's not living in the past. Walking with his head down through the mixed zone, he shrugged his shoulders while speaking about his qualifying jumps.
"It was windy out there today and it definitely affected my balance at takeoff," Bickner said. "I'm getting a better feel with each jump and I'm expecting a higher score tomorrow."
Qualifying-round leaders Marius Lindvik and Robert Johansson of Norway recorded jumps of 100.5 and 103 meters, with Lindvik earning more points despite the shorter jump due to wind.
Saturday's results will not be factored into Sunday's final rounds other than setting the order of the jumpers. Saturday's 50th-place finisher, Sergey Tkachenko of Kazakhstan, will jump first on Sunday and Lindvik will jump last.
Sunday's championship rounds will stream live starting at 6:00 a.m. on NBCOlympics.com with a final qualifying round followed by the normal hill's first competition round, which will narrow the field from 50 to 30. The final jump to determine medalists will follow, and the event will likely finish just before 9:00 a.m.
For Larson, who along with Bickner is competing in his second Winter Olympics, a strong showing in Sunday's final rounds can help make up for a "frustrating" experience four years ago in PyeongChang. Despite feeling well-rested and pretty well in control of his nerves, Larson acknowledges his performances on the world's biggest stage have so far been underwhelming.The Barrington native said he's capable of jumping "with those guys at the top." The Beijing Olympics are just getting started, and he'll have plenty more chances to prove himself in the coming weeks.
The local trio of ski jumpers, all of whom began at Norge as children, will also compete individually in the large hill event beginning on Wednesday and in a team event starting on Feb. 14.