Weeks later, the public still knows next to nothing about plans for modifying Richmond's historic Memorial Hall.
Thanks to the recently released minutes from a special board meeting April 10, we know that owner Sam Everly wants to create a venue for "weddings, parties and village community events." We also know he would like to host food trucks and a weekend farmers market.
Last month, Everly predicted construction would begin this summer, but interior renovations began almost immediately after closing on the property. Concept design drawings, which, according to the minutes, have been in the village's possession since mid-April, still have not been made readily accessible.
At the very least, that is disconcerting. At most, it could be disastrous – especially with the recent onslaught of development proposals suddenly before the Village Board. Marc Busala, new owner of the former Hunter Country Club off Route 173 and an unsuccessful bidder for Memorial Hall, is talking about setting up a craft spirits operation. A craft brewery also was rumored to be an objective for Memorial Hall.
The Community Development Committee, which is charged with ensuring uniformity in the downtown historic district, canceled its May 17 meeting.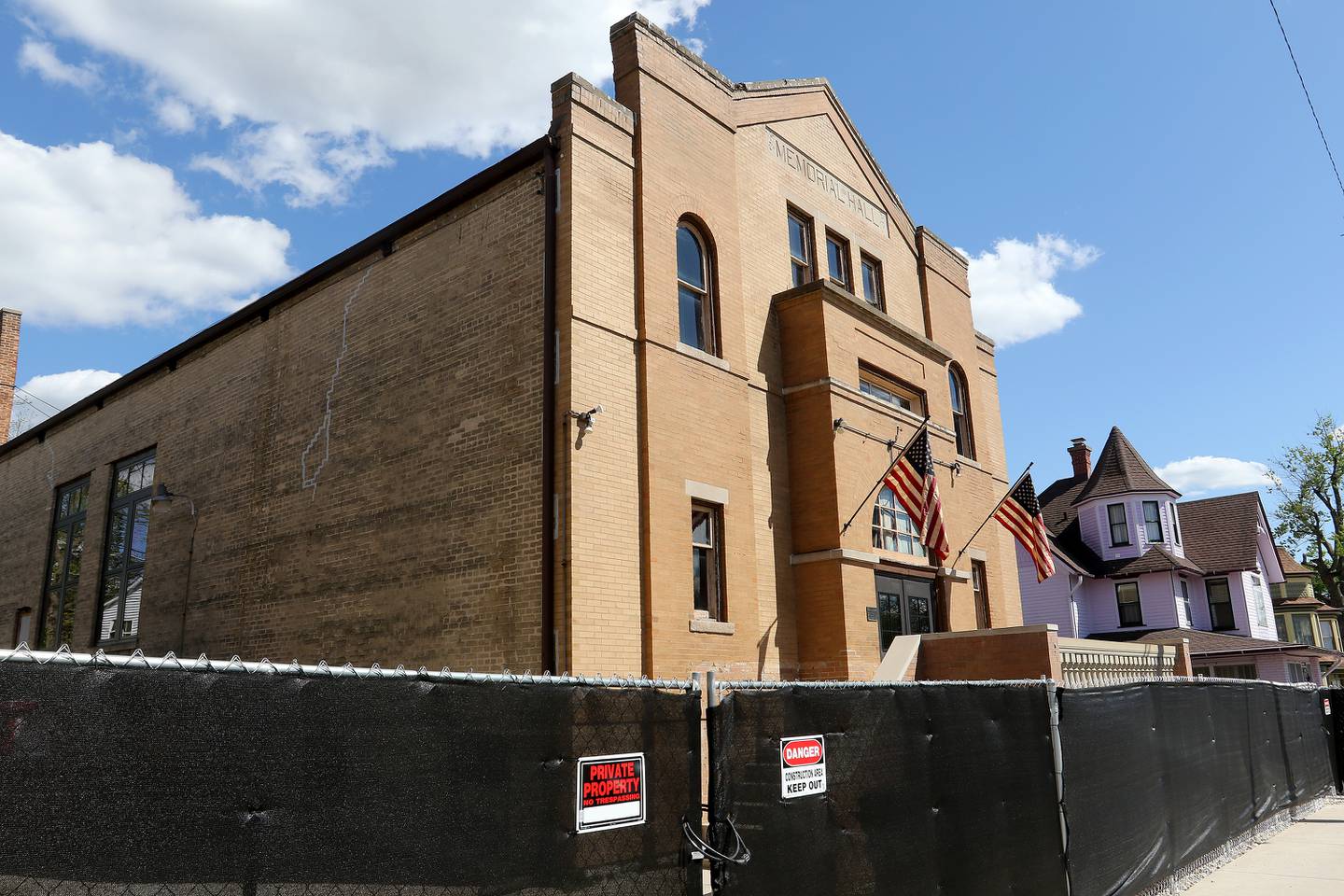 Allison Kessel Clark noted in her "What Can Happen in Seven Days' Time" submission to the Village Board:
"In seven days, the Richmond Village Board called a special emergency meeting – during which time they unanimously passed a resolution to sell Richmond's historic Memorial Hall. … In seven days, the Richmond Village Board signed the sales contract – while neglecting to include any provisions or historical covenants to protect Memorial Hall's historic stage. That unique stage was one of only a few in the entire country. … In seven days, a dumpster rolled up to Memorial Hall, and truckloads of unused furniture and media equipment faced a sudden fate of trash – because the Richmond Village Board neglected to contact any churches, schools or community organizations in need.
"As our community moves forward with our heads held high – proud at how hard citizens, neighbors and friends fought together to retain the town's legacy, proud at how connections were made with one singular goal in mind, proud of our small town's history – none of us will forget what the board took away from Richmond's community in those seven short days."
It is time – indeed, way past time – for village officials to disclose what residents will receive in return.
• • •
Much of the wrought-iron fence surrounding one of the earliest burying grounds in McHenry County has been removed because of its deteriorating condition. Cary Village Administrator Jacob Rife said the ornate arched entrance and the corner pieces – which help define the estimated 2-acre Cary Cemetery at First and Pearl streets – will remain. However, the estimated $50,000 needed to fix the fence was deemed too expensive.
Patty Baumann, a Cary resident for more than 50 years, fears this is yet more of an example of the village abdicating authority and severing a tangible link to the past. After all, the community's founder, William D. Cary, is buried there.
"I feel the fence ought to be replaced," Baumann said. "People park on the edge of the cemetery, and without a fence, those graves are going to take a beating. That [fence] is what makes it feel like the oldest cemetery in Cary."
Burials in the cemetery, which has been under village control since 1965, began in 1839. However, Rife said the village is discussing putting a moratorium on selling any more plots. In 1986, it was landmarked by the McHenry County Historical Society. And a year later, donors bought the fence from the Peterstown Cemetery in Mendota and restored it, re-creating the original 600 feet of fence that enveloped it before World War II.
"With its historic burials, ornate headstones and peaceful scenery, the Cary Cemetery is one of the most revered properties in the village," according to the village's website.
If you think village officials should walk the talk, speak up.
• • •
Every year in May, preservation groups across the country celebrate Historic Preservation Month. This year, the National Trust for Historic Preservation showcased the depth and diversity of our nation's history by highlighting sites on the National Register of Historic Places that celebrate defining actions by women and people of color.
An example is Susan La Flesche, the first Native American doctor in the nation. The 24-year-old graduated in 1889 from the Woman's Medical College of Pennsylvania and then spent more than 20 years serving patients living within the 1,350-square-mile Omaha reservation in Nebraska. In January 1913, she oversaw construction of the reservation's first hospital, the privately funded Dr. Susan La Flesche Picotte Memorial Hospital. The building now is on the list of America's 11 Most Endangered Historic Places.
• Kurt Begalka is administrator of the McHenry County Historical Society and Museum in Union. He can be reached at kurt@mchenrycountyhistory.org.