Renae St. Clair said she's normally talkative, but after winning the Educator of the Year Award on Saturday, she didn't know what to say.
"For once, I'm a little speechless," she said.
After having created the Medical Academy in 2011 at Huntley High School, along with helping Crystal Lake-based Community High School District 155 start one too, St. Clair has provided an opportunity for students to receive training and job shadowing experience, as well as, in some cases, find work in the field.
"The most important thing to Renae is what is best for the students," said Jan Welch, St. Clair's friend. "A lot of students come back and tell her how she impacted their life. For her, I think that's the best thanks she can get."
St. Clair was one of nine winners and 40 total nominees who were recognized Saturday night at the Educator of the Year Awards at Hickory Hall in Crystal Lake. In its second year, the event was put on by the McHenry County Regional Office of Education in partnership with the Community Foundation for McHenry County.
Those who won included preschool teacher Julie Zay at Greenwood Elementary School in Woodstock; Margaret "Maggie" Hoffman at Chesak Elementary School in Lake in the Hills; Richard "Rick" Rohde at Heineman Middle School in Algonquin; Dan Schirmer at Marengo High School; John Beerbower and McHenry High School; Vanessa Haase at North Elementary School in Crystal Lake; Ashley Buckingham at Westwood Elementary School in Woodstock; and Brynn Dixon, a paraprofessional in Crystal Lake Elementary School District 47.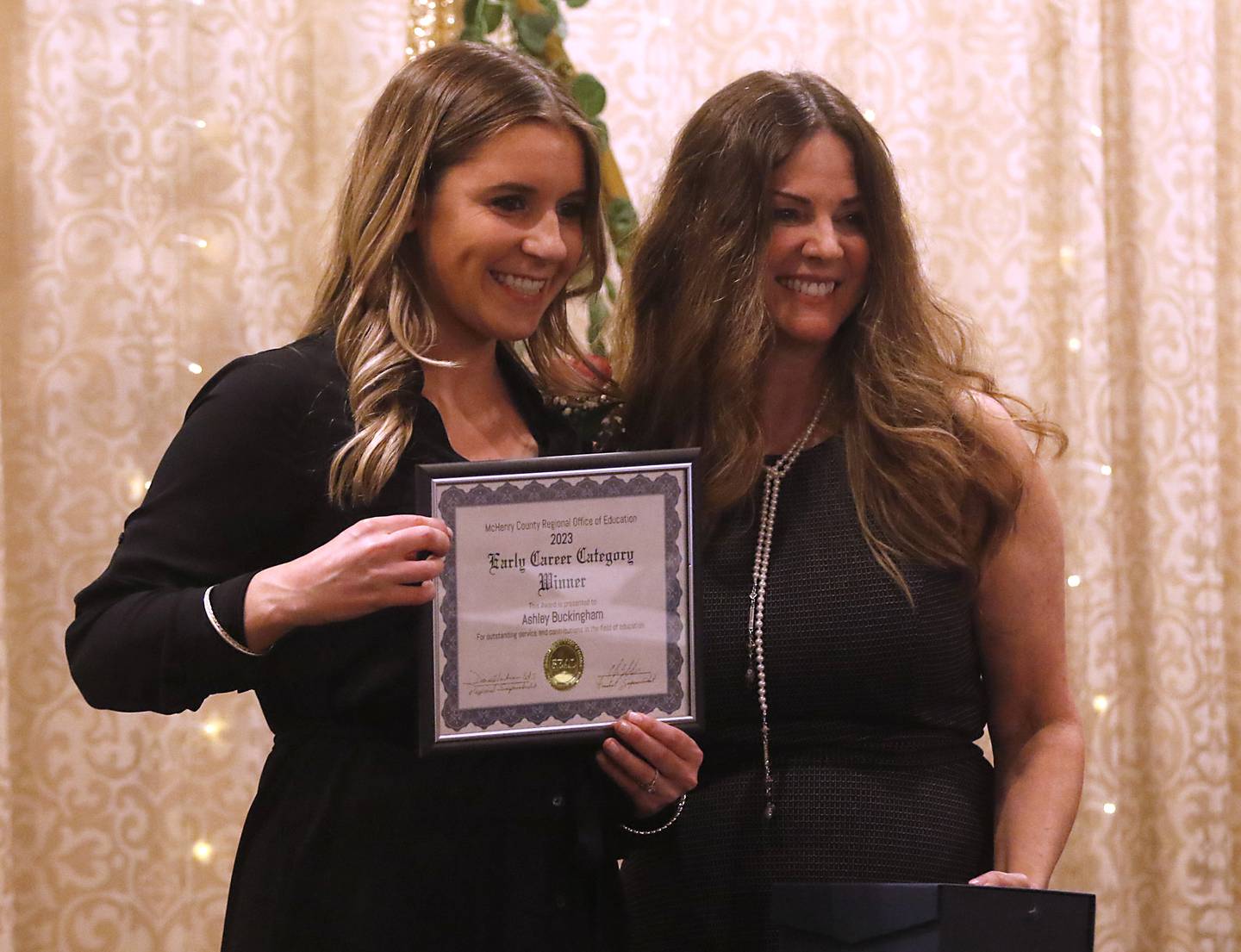 The office of education started the tradition last year in an effort to highlight special things teachers are doing across McHenry County, Regional Superintendent of Schools Diana Hartmann said.
With the "ups and downs" the profession has dealt with in light of the COVID-19 pandemic – including teachers leaving the profession and those who stay being caught in the middle of political issues, Hartmann said – there's a need to recognize "as many people as possible who are doing good things."
"There's ways to recognize those in the profession, but teachers don't often seek it," Hartmann said.
As part of its second iteration, the event saw an expanded number of categories and nominees. Last year saw all the teachers recognized together, along with categories for administration and special services.
This year, teachers from each level of schooling – preschool, elementary, middle and high school, as well as early career – along with student support, administration and service personnel – such as bus drivers, paraprofessionals and custodians – were recognized among the categories.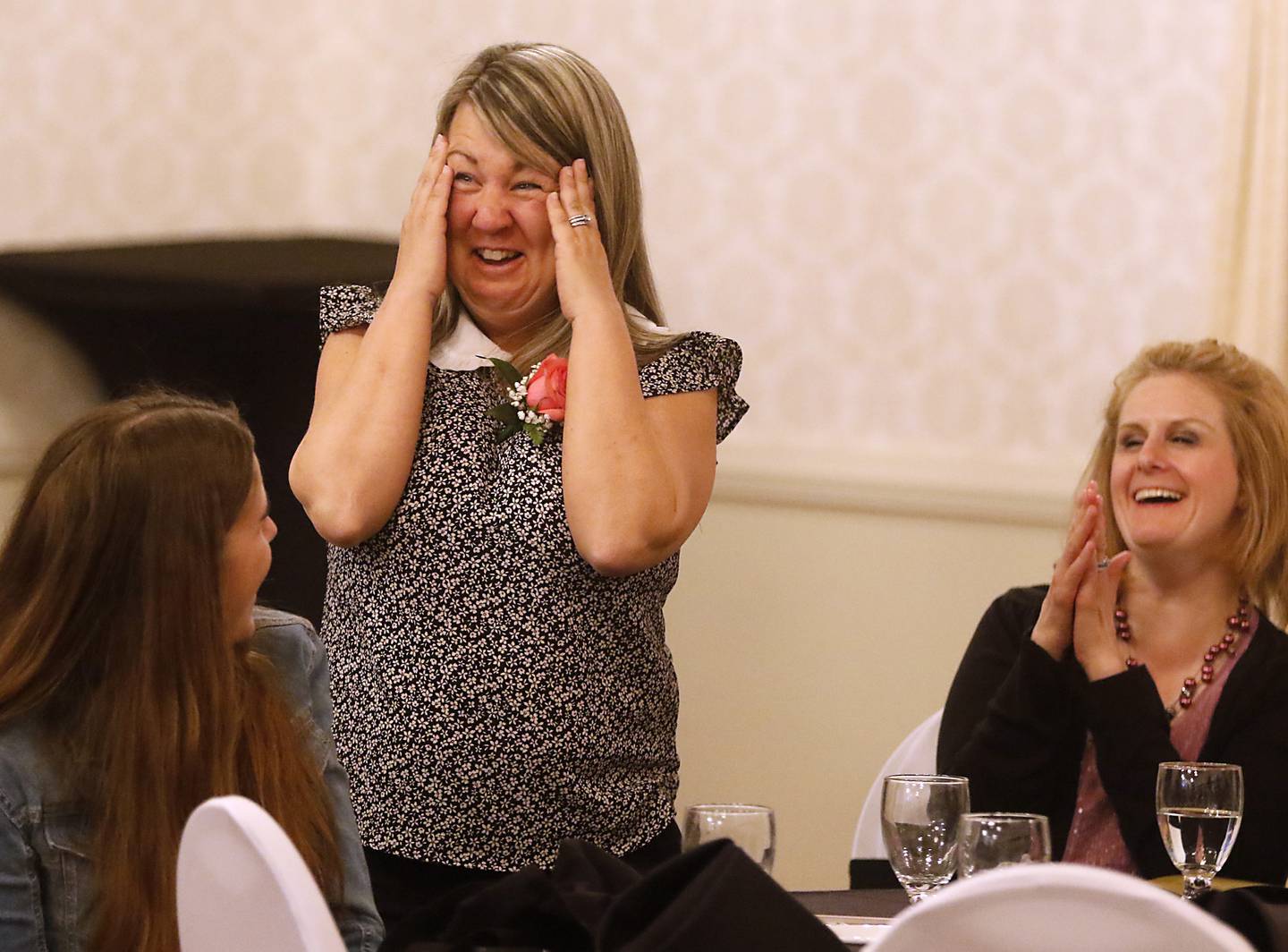 After being announced as the winner in the student support category, Haase was emotional about the win. She said she wasn't expecting it, but that it felt great and "overwhelming."
"I love what I do," she said. "My students bring out the best in me. When I found out I was nominated I was like, 'I just do my job every day. I try to be their champion.' I'm just so grateful."
Schirmer, who teaches automotive, welding and small motor engines at Marengo, said it's all about the relationships built with students. It was the same sentiment Beerbower shared after he won.
"If you continue to put people first and serve, good things will happen," Beerbower said.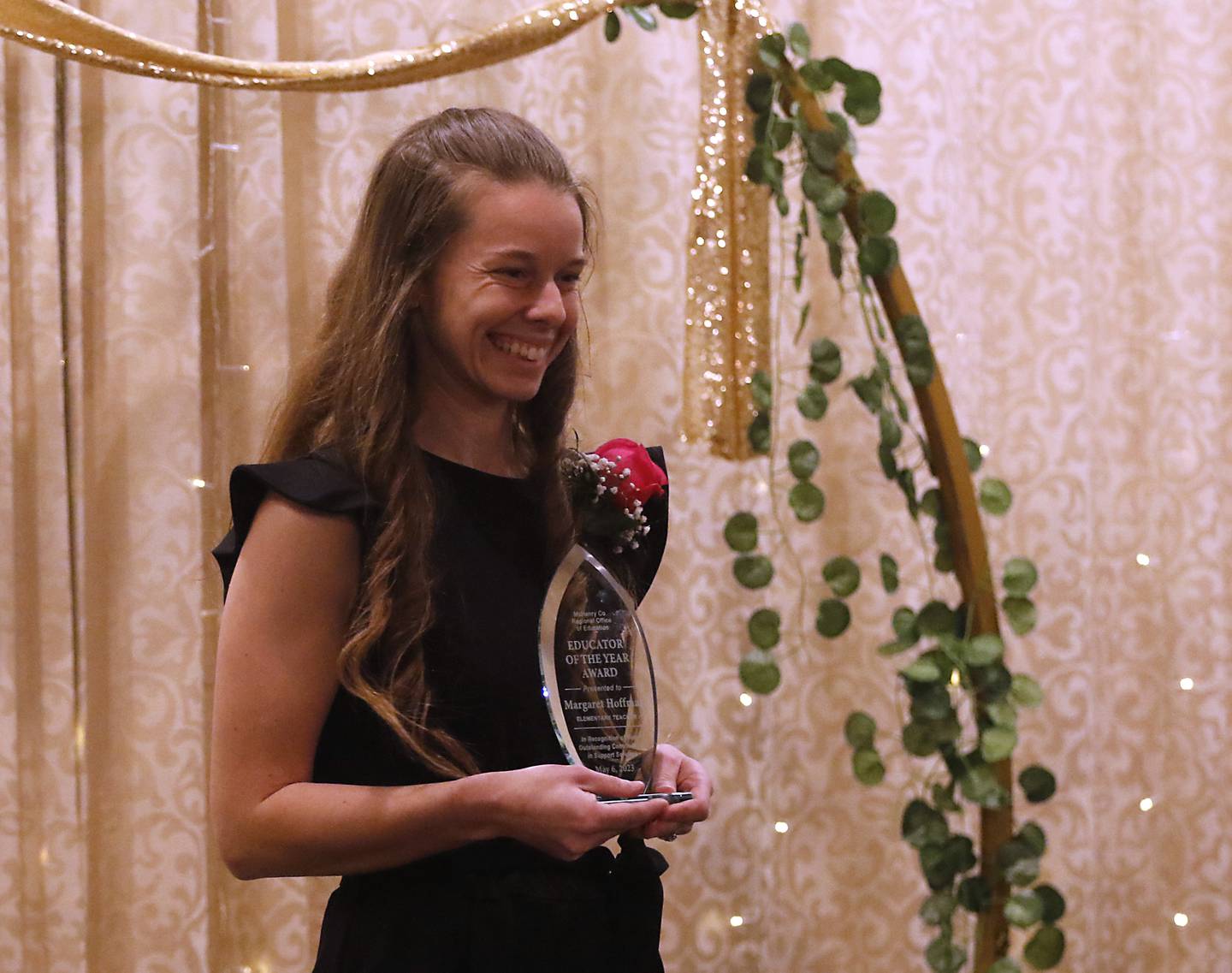 Husmann Elementary School physical education teacher Jill Kuhns, who won the award last year, hit on the themes of being a "world changer" in her remarks, and talked about doubt as a teacher, bringing it back to the nominees who may be dealing with many of the same challenges.
"You've changed someone's life," she said. "Regardless of those doubts, keep on doing what you're doing because you are changing the world in spite of those doubts."