When Barbara Christ's father and his cousin started B&K Power Equipment in 1970, they mostly sold farm machinery to dairy farmers.
Over the years, as McHenry County farms made way to housing developments, the business changed too, Christ said.
"There was a dairy farm every quarter-mile," she said. "There are what, two or three left in the county now? That was our bread and butter."
As the farms closed, the clientele changed.
"The people who came in and bought ... were all in construction, building houses," Christ said.
So the business refocused on the equipment needed by construction companies: lawn equipment and skid-steer loaders. B&K also ordered the parts clients needed and did the repairs and maintenance for everything it sold. Later, it moved from a rented location in Huntley to a building it owned in Marengo.
Now, 53 years after she started working in the business founded by her father and his cousin, Christ is hanging up her parts apron.
"At 77, and the way the last couple of years have gone with COVID and it's hard to get parts and equipment ... we decided to close this year," Christ said.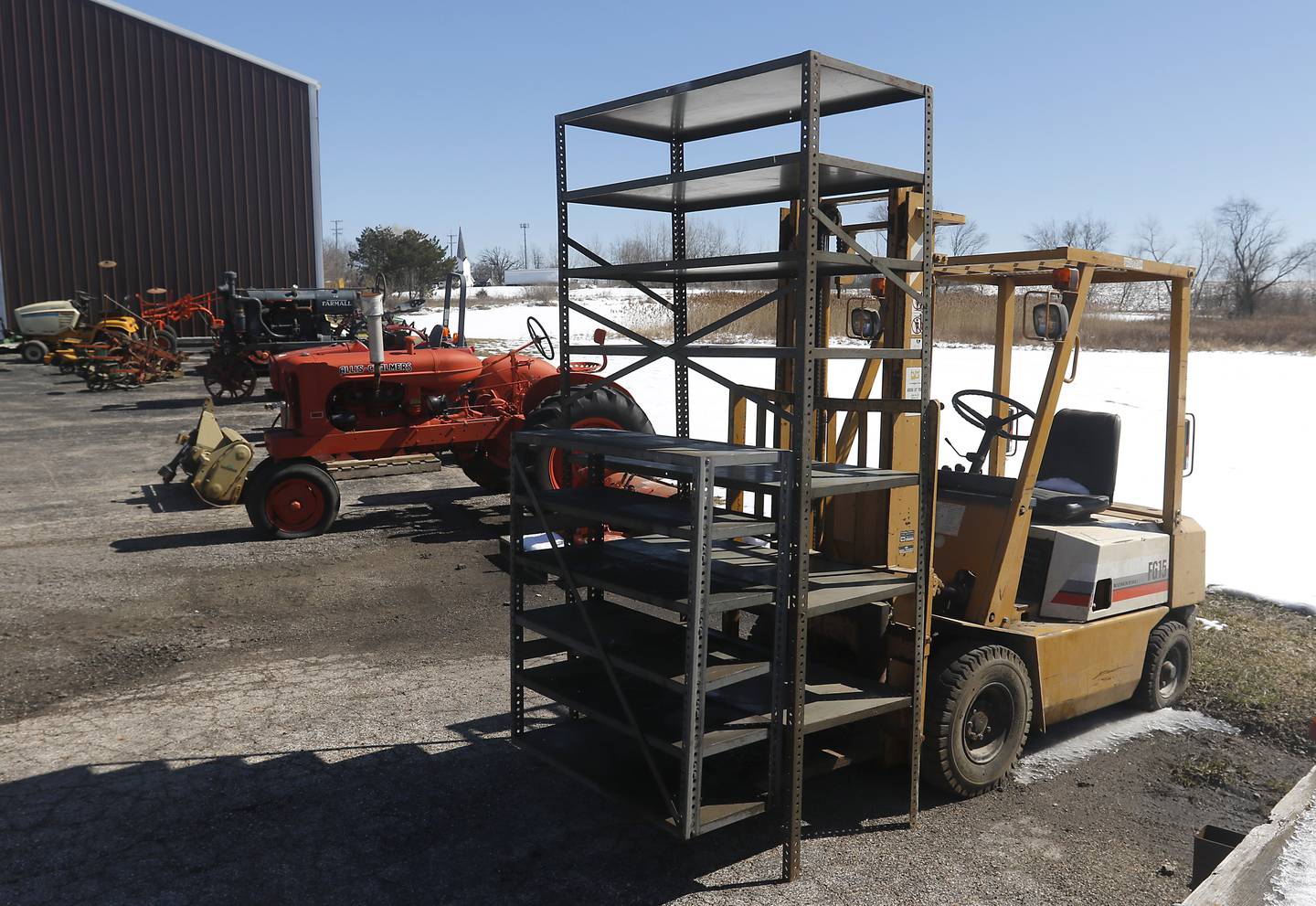 She thinks hers was the last, single-location, family-owned farm and construction implement dealership in McHenry County.
She might be right, Associated Equipment Distributors President Brian McGuire said. Based in Schaumburg, AED is a national association for farm and construction implement dealers and manufacturers.
Implement dealers "have been going through consolidation for a number of years" as larger organizations buy up the small, family-owned businesses, McGuire said.
Christ never really planned to get into the implement businesses. But at age 24 and with a 2½-year-old daughter, she was widowed and needed to work.
"I didn't know a bolt from a bearing," Christ said about when she started.
She learned on the job and sold her first skid-steer loader when she was 42 years old in 1988.
I had to prove myself. I didn't have a choice.

—  B&K Power Equipment owner Barbara Christ
Five decades in, Christ still has to convince some customers that she knows what she is talking about when it comes to parts and repairs. But for her, that wasn't a bad thing.
"I had to prove myself. I didn't have a choice," Christ said.
As the business moved away from farm equipment – hay balers, choppers, manure spreaders and hay racks – and into skid-steers, sprayers and lawn equipment, Christ also built a following.
She, along with service manager Bob Keller, built a client base that ranges from southern Wisconsin to St. Charles and from Lake Michigan to Galena, Christ said.
Lloyd Goebbert, of Goebbert's Farms of South Barrington and Pingree Grove, was one of Christ's customers.
"They were always very helpful to please, service and take care of you," Goebbert said. "It is hard to get that kind of service. They would do whatever you asked," including finding parts for both older and newer equipment.
Now, Goebbert will have to go a little further afield to find businesses to repair or get parts for the equipment.
The agri-business community "keeps condensing all of the time," he said.
It is sad, auctioneer Steve Almburg said, "when somebody who has been in business as long as them, as a family-owned business, are not in an area that is agricultural anymore."
His company, Almburg Auctioneers of Malta, is running the auction, which is set for April 14 and 15 at the B&K building, 17009 Harmony Road, Marengo.
"It is an emotional thing," Almburg said. "The little guy isn't around anymore."
In the past decade, he's done auctions for other implement dealers that were either bought out by a larger dealer or "sold out much the way Barb is," Almburg said. Often, the larger company either takes over the location or moves unsold equipment onto its own lot.
"You are selling John Deere combines, and the farmers are selling farms for subdivisions. The dealers move into other areas to keep the business going," McGuire said.
The manufacturers prefer the larger dealers to have more goods available for buyers, he said.
Part of that desire to consolidate is because of the technology now found in both construction and farm implements, McGuire said.
"These [construction] machines are reporting data back to the dealership when they need to have their oil changed or when a transmission is about to go out," McGuire said.
On the agricultural side, with GPS and other technology hard-wired into the machine, "we are approaching autonomous equipment, especially in the [agricultural] sector," McGuire said.
There also is a shortage of qualified technicians who can maintain and repair the technology-heavy machines. His organization plans to invest $10 million "to address the technician shortage by increasing the number of colleges that offer diesel [technology training] and high schools to have programs to feed into" college programs, McGuire said.
Even getting the parts and equipment has been harder since the pandemic started, Christ said. Like any other industry where silicon chips are part of the machine, they were hit by supply chain issues, she said. Equipment ordered in the fall for a spring delivery were delayed long into the summer.
One paving company couldn't find the machines it needed and ended up buying used equipment in Minnesota, Christ said.
"They kept having problems with them, and I made money off the parts," she said.
It was late last summer when Christ decided that she'd had enough of struggling to get parts and keep mechanics.
"I am not gong to outlive this or be able to turn around what is going on now" throughout the industry, she said.
Her pastor asked her on a recent Sunday morning what she planned do to next.
"I have no idea," Christ said. "That is the answer you should have. Most people have everything planned out."