1. Before Valentine's Day hits on Monday, different venues around McHenry County are celebrating Galentine's Day.
Participating downtown Crystal Lake's businesses will offer Champagne and chocolate from 5 to 8 p.m. on Thursday as shoppers pursue their goods during the event.
This is the first year the event is taking place, said Lynn Reckamp of A-Z Interiors, one of the organizers.
Among the participating businesses are Dalzell Jewelers, A-Z Interiors, Shay for You and Your Home, Jude's, Cantina 52, Mellie's Chocolate & Co., Out of the Box and mum117, Reckamp said.
River Street Collective, a boutique collective at 324 N. River St. in East Dundee, will host its 2nd annual Galentine's Day Sip and Shop event 6 to 9 p.m. Thursday.
The event will be pay-what-you-can with donations going to Go With The Flow, a nonprofit provides those experiencing homelessness or financial hardship in Kane County menstrual products, new underwear and toiletries.
In addition to monetary donations, products also will be accepted. Go With The Flow is in need of maxi-pads, tampons, personal wipes, deodorant and underwear in girls and women's sizes. Donations of travel size toiletries, dental care and new to gently used handbags also are appreciated.
The Quarry Cable Park and Grille, 5517 Northwest Highway in Crystal Lake, is rolling out its first-ever Galentine's Day event on Saturday.
Chair massages will be offered by TLC Massage from 5 to 8 p.m. A mini-market and the establishment's kitchen will be open 5 to 9 p.m. Live music from Jimmy Marquis will take place 6 to 9 p.m. The bar will remain open until 11 p.m.
2. Bike Haven Woodstock Group Rides is hosting a pedal-and-pint get-together Friday evening "to get everyone excited for this year's coming up group rides," organizers said.
The pedal-and-pint bike group is a seasonal outdoor bike group that takes a 24-mile road ride at 6 p.m. every Thursday as weather allows. An "A" group keeps an 18 to 20 mph pace while the "B" group is a no drop ride that keeps a 15 to 17 mph pace with all riders welcome.
This Friday's get-together will start at 6 p.m. at Ortmann's Red Iron Tavern, 101 E. Church St. in Woodstock.
3. The Crystal Lake Home and Garden Show returns this Saturday and Sunday to the Holiday Inn Hotel & Conference Center, 800 S. Route 31 in Crystal Lake.
The home improvement event has free admission and free parking and offers homeowners a way to "find the ultimate in savings and convenience and find inspiration for their upcoming projects," according to a news release.
The event takes place 10 a.m. to 5 p.m. Saturday and Sunday.
For information, go to www.CrystalLakeHomeShow.com or call 630-953-2500.
4. The Wauconda WinterFest returns this Saturday and Sunday with winter sports, kid activities, a selfie trail through Cooks Park and a snowman building contest.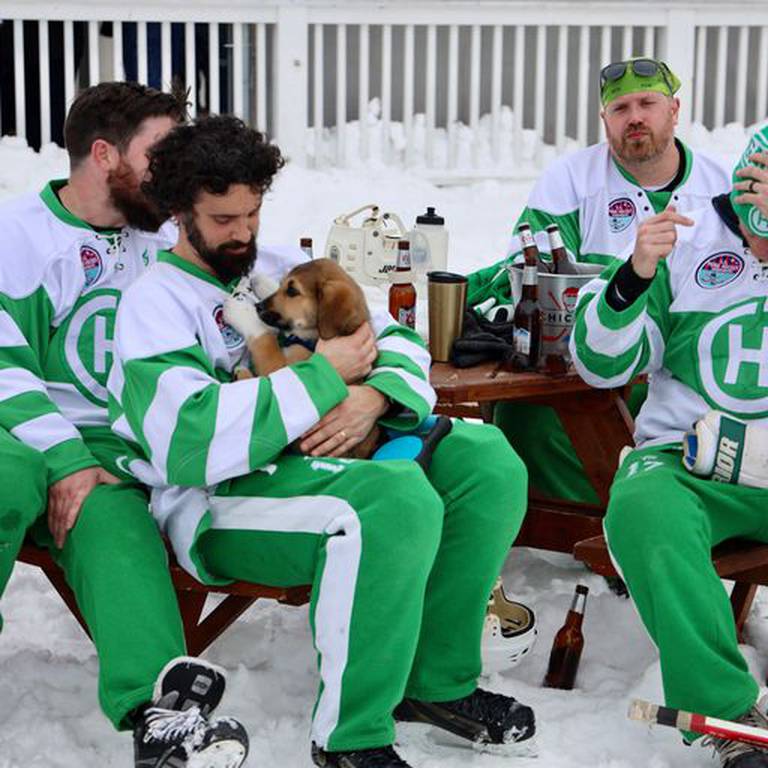 The festival runs 11 a.m. to 5 p.m. Saturday and 11 a.m. to 4 p.m. Sunday on Bangs Lake and at Lindy's Landing, 115 Park St.
A number of tournaments are scheduled to take place, including adult pond hockey and burling on Saturday and hockey skills, the Fat Bike Ride and bottle golf on Sunday.
Kid zone activities – including visits by Marshall and Chase from the Paw Patrol – will be available noon to 3 p.m. each day.
Attendees can help pick the winner of this year's Soup Smackdown by enjoy a "flight" of all of the contestant soups between 1 to 3 p.m. Sunday while supplies last and then picking their favorite. Donations go to the Wauconda/Island Lake Food Pantry.
Contestants include Lindy's Landing, Bulldogs Grill, Uncle D's Bar & Grille, Slyce Coal-Fired Pizza Company and Side Lot Brewery.
Ice fishing demonstrations will take place 1 and 2 p.m. both days and the Snowflake Selfie Trail also will be available each day.
Wauconda Park District's Beach Park, located next to Lindy's, will offer open skate, Ring Around the Snowman and a hula hoop contest.
For a full lineup of activities and more information, go to waucondawinterfest.com.
5. The Lakers and Sno-Bugs annual Radar Run will take place 10 a.m. to 2 p.m. Sunday at Wonder Lake.
The 30-year-old event features a 1,000-foot run on, if weather permits, snow and ice tracks. The cost is $5 for one run or $10 for three runs. Trophies will be awarded.
A kiddie run – a timed trail on a groomed, if weather allows, track – also will be offered. The cost is $2 for one run and $5 for three runs. Trophies will be awarded for each age group.
For information, go to bit.ly/RadarRun2022.
Would you like your event featured in this weekly feature? The first step is submitting your events to the Northwest Herald's community calendar at shawlocal.com/northwest-herald/local-events/ where they are then considered for inclusion in this feature.