About eight years have passed since artist Eric Dowdle, whose paintings have been designed into countless puzzles sold through retail giants like Walmart, had to change flights around to make his destination Woodstock in order to celebrate Groundhog Day appropriately.
There was some confusion about where he should head for the most accurate reenactment of the 1993 classic "Groundhog Day" starring Bill Murray as a TV reporter who, after covering the groundhog Punxsutawney Phil's emergency from his burrow, relives the same Feb. 2 over and over again.
While the movie is set in Punxsutawney, Pennsylvania – where a real-life groundhog's annual decision on whether to stay out of his hole or quickly return has become a national media event – it was actually filmed in Woodstock 30 years ago now, in 1992.
Dowdle early last decade made a habit of putting on old and familiar movies in the background while he painted, and often settled on Murray's "Groundhog Day," said Dowdle's assistant, David Halling.
One year, Dowdle decided he wanted to take part in the celebration Murray's character covered again and again.
But after booking a trip to Pennsylvania, he had to change his plans and head to Woodstock after he heard that's where the movie was actually made.
"They changed their flights and everything," Halling said. "From the moment they hit the ground, they just loved it. They loved the look of the city. It's all these epic locations from the movie."
Dowdle and his companions on the trip quoted some lines from the movie and acted out some of its scenes as they made their way through downtown Woodstock, recognizing buildings and street corners from the film.
The trip led to Dowdle painting a piece that has become a 500-piece puzzle depicting the bustling historic Woodstock Square, where the Groundhog Day celebration has been held annually by the city to commemorate its role in cinema history since the filming. The work features the mayor of the city holding a groundhog before the crowd amid the area's historic downtown architecture, as well as Murray's character in a window.
Dowdle decided to return to Woodstock this year to celebrate Groundhog Day next month and mark the 30 years since the city was enshrined into one of the most enduring comedies of the 1990s.
He was drawn back in part because the nonprofit organizer of the local event, Woodstock Groundhog Days Committee, incorporated a replica of Dowdle's puzzle inspired by the city's winter festival into the pamphlet for this year.
"He saw the pamphlet that had his artwork in it and he was like, 'I'm going in,'" Halling said. "Eric just loves the film, loves the city and we wanted to come out and be a part of it."
As a way to make the most out of Dowdle's interest in this year's festivities, the Groundhog Days Committee is going to host a a puzzle contest for teams of two to four people, likely at the Stage Left Cafe at the Woodstock Opera House, from 2 to 4 p.m. Feb. 1.
Dowdle also will be available to sign puzzles starting at 10 a.m. Feb. 2 at the Read Between the Lynes bookstore, where his puzzles are also sold.
"With [COVID-19], puzzles got a new life. They became much more popular the past two years with people being stuck at home. We're going to do a jigsaw competition with Eric Dowdle's puzzles," said Rick Bellairs, chairman of the Groundhog Days Committee.
The festival will kick off as usual with the welcoming of the groundhog, whose name is Woodstock Willie, at 6 p.m. Friday, at the Opera House, followed by groundhog trivia at 6:30 p.m. at the Opera House.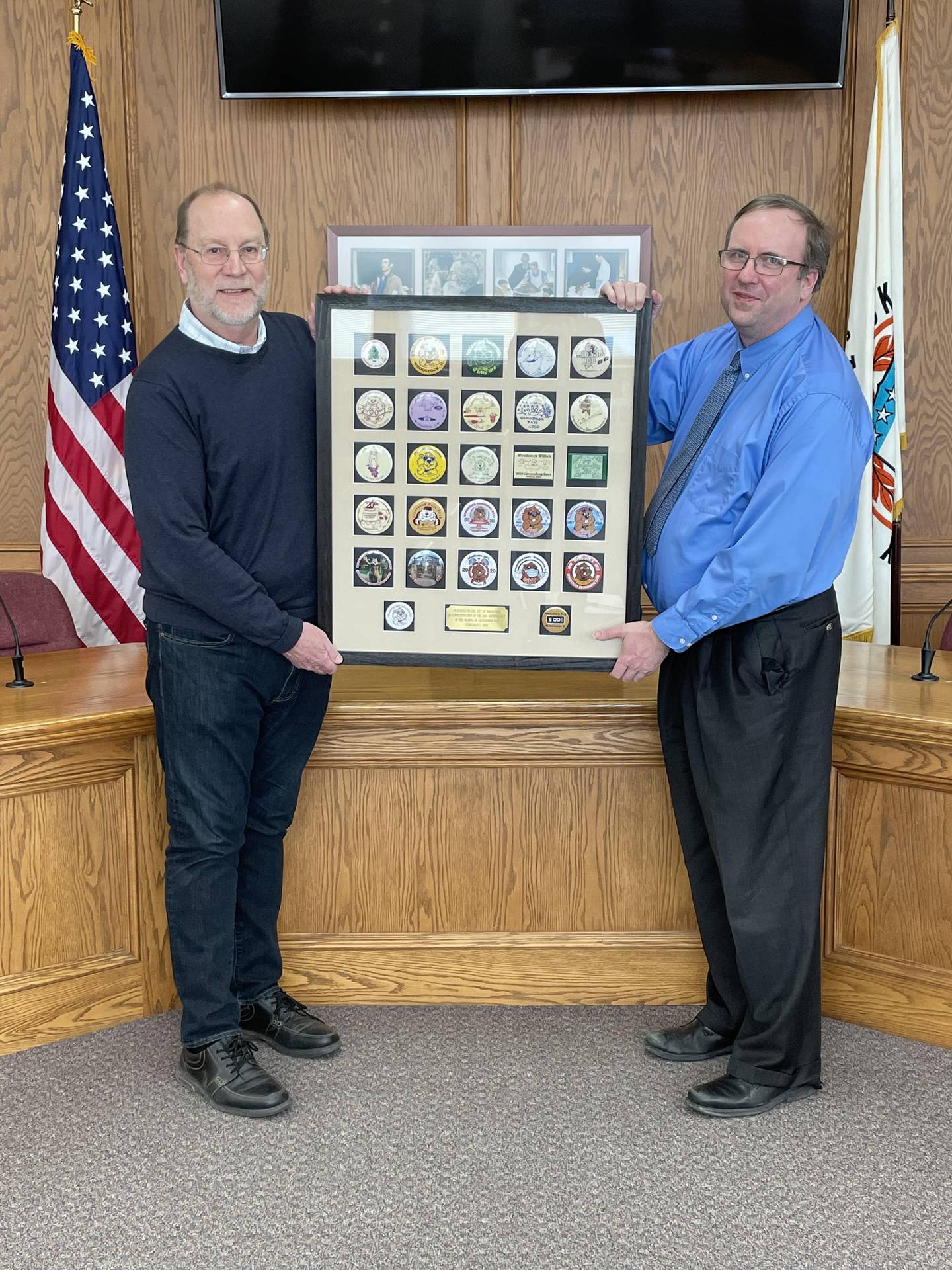 Also starting at 6 p.m. Friday is the Groundhog Day Dinner Dance at the Woodstock Moose Lodge No. 1329, 406 Clay St., where there will be a meal served and live music from 8 p.m. to 10 p.m. for $24 per person. Tickets for entry into the dance portion of the event are $10.
The following Saturday will include a bags tournament, the normal walking tour of filming sites, a Groundhog Day bingo game and a pub crawl.
Plus, local storyteller Jim May will share family-friendly tales at 7 p.m. Jan. 31 at Stage Left Cafe, and Classic Cinemas' Woodstock movie theater will have showings of the 1993 film throughout the week leading up to Feb. 2.
Feb. 2 will be when Willie makes his prognostication – the weeks' main event, starting at 7 a.m. in the Square where hundreds will brave the cold – to determine if spring weather will arrive early or six more weeks of winter are in store.
Polka music will accompany the prognostication, and, starting at 7:30 a.m., attendees can head to the Woodstock Public House, where, in the movie, Bill Murray and Andie MacDowell "drink to world peace."
Those who toast to world peace can get a souvenir shot glass, and the Moose Lodge is hosting the official Groundhog Day breakfast following the prognostication from 7:30 a.m. to 9 a.m.
With longtime former mayor Brian Sager no longer in office, it will be Mayor Mike Turner's first time presenting Willie to the crowd during the prognostication – assuming he avoids getting scared back into his den by his shadow and is up for being shown to hundreds.
"Top hat is on order," Turner said.