Five-year-old Eden Gomez was a bit nervous Friday afternoon as she awaited her first dose of the COVID-19 vaccination for children.
She worried the shot was going to hurt but ended up barely noticing it.
Her parents, Brian and Amy Gomez of Carpentersville, said they didn't hesitate at all in scheduling an appointment for their daughter's shot once a Pfizer vaccine was approved for 5- to 11-year-olds early last month.
"I'm definitely more relieved now that she's gotten the first dose," said Amy Gomez, who also has a newborn who can't yet be vaccinated.
She said that's partly why it was important Eden get vaccinated, as she attends kindergarten and the family wants to take all precautions to prevent the baby from catching COVID-19.
"The benefit of the vaccine far outweighs the risk of the vaccine," said Dr. Barry Altshuler, a pediatrician at the Advocate Medical Group clinic in Crystal Lake where Eden got her shot. He also is the secretary for the Barrington School District 220 school board.
At first, the clinic had at least 200 children on its waiting list before they even had vaccine doses for them last month, he said, but now there is plenty of supply.
"I think kids are getting vaccinated," said Susan Karras, director of public nursing for the McHenry County Department of Health. "We're hearing a lot of positive things. Pediatricians' offices are saying that they're getting a fairly good response."
McHenry County is seventh among Illinois counties in terms of the share of 5- to 11-year-olds who have received at least one dose of the COVID-19 vaccine, according to the Illinois Department of Public Health. An estimated 19.38% of the county's 5- to 11-year-olds had received one dose as of Tuesday, which is just below the statewide rate of 21.17% for the age range.
Champaign County is leading the pack with 32.66% of its 5- to 11-year-olds having received at least one dose, trailed closely by Lake County at 32.13% as of Tuesday. Chicago has just more than 26% of its young children vaccinated with at least one dose, while the rest of Cook County is sixth among the other counties in the state at 24.32%. Dozens of counties are sitting at less than 10%.
"If all the people around your pre-kindergarten child are vaccinated, he or she is going to be much more protected," Altshuler said, adding he worries that parents may use the emergence of pills that can treat COVID-19 as an excuse to not get vaccinated.
He said even people who come down with COVID-19 and can be treated with the new drugs are taking on more risk than they would be with the vaccine.
"You're still rolling the dice, and you're still going to spread it to others," Altshuler said.
For Arlo and Grey Lacasse, ages 9 and 7, the vaccine has given them the chance to again play the athletic activities they love. Arlo enjoys "everything" about gymnastics, and Grey is quickly making progress in tae kwon do.
But when the COVID-19 pandemic hit and restrictions went into place, sports became harder to participate in.
Without a COVID-19 vaccine for kids, Arlo and Grey's mom, Kate Lacasse of Algonquin, said she wasn't comfortable with them doing indoor sports.
"I was really disappointed because gymnastics is probably one of my favorite sports that I do," Arlo said.
Getting Arlo and Grey vaccinated was a "no-brainer," Lacasse said.
"It's only going to help us," she said. "We were just waiting, waiting for the day. And it's here."
Both of Lacasse's children are asthmatic, and she's immunocompromised. Her parents and in-laws are older, making the vaccination even more important to Lacasse.
"It's not just about us," she said. "It's about everyone else around us as well."
Parents the Northwest Herald talked to during a pediatric COVID-19 vaccine clinic at the McHenry County Department of Health's Woodstock office last month were relieved that their children were finally able to get the shot.
For some, it has been a long wait, as the adults and teens in their family had all been vaccinated for months. The inoculation wasn't approved for kids younger than 12 until this fall.
The first batch of COVID-19 vaccines for kids – the doses for those ages 5 to 11 is one-third of an adult' – received by the McHenry County health department totaled 4,000 doses, some of which were distributed to pediatrician's offices in the county.
With pediatricians the focal point of the rollout, the health department is seeing less of a demand for its clinics, Karras said. Appointments filled up the first week they were available, though not as much in following weeks, she said.
The McHenry County health department encourages kids to start the vaccine series as quickly as possible, Karras said, noting that parents who are wondering if their 11-year-old should wait to get the adult dose once they're 12 should have a conversation with their pediatrician or primary care provider.
With more kids vaccinated, the number of students needing to quarantine because of COVID-19 exposure at school could fall. Under the Centers for Disease Control and Prevention guidelines, those who are fully vaccinated do not need to participate in screening testing and do not need to quarantine as long as they don't have any symptoms.
Pamela Lu, of Woodstock, said her daughter, Jordan Cheng, was the last in the family to get vaccinated as she's the youngest.
Their family was a little more cautious during the pandemic, Lu said. Jordan had to miss out on some social events, like sleepovers with friends, for a while, and Lu said they got to know the families of friends her daughter was hanging out with really well to ensure they were being safe and had gotten their vaccinations.
Lu and Cheng haven't been out of the country since the pandemic started, meaning they also haven't seen extended family members of theirs who live in Canada and Europe in a couple years.
With borders opening up and Cheng fully vaccinated, they now can travel for the upcoming holidays, Lu said.
That's what Cheng said she was looking forward to, now that she got the jab: "Getting to see family and not being stuck at home."
"I think it's a priority that everyone should be vaccinated," Lu said.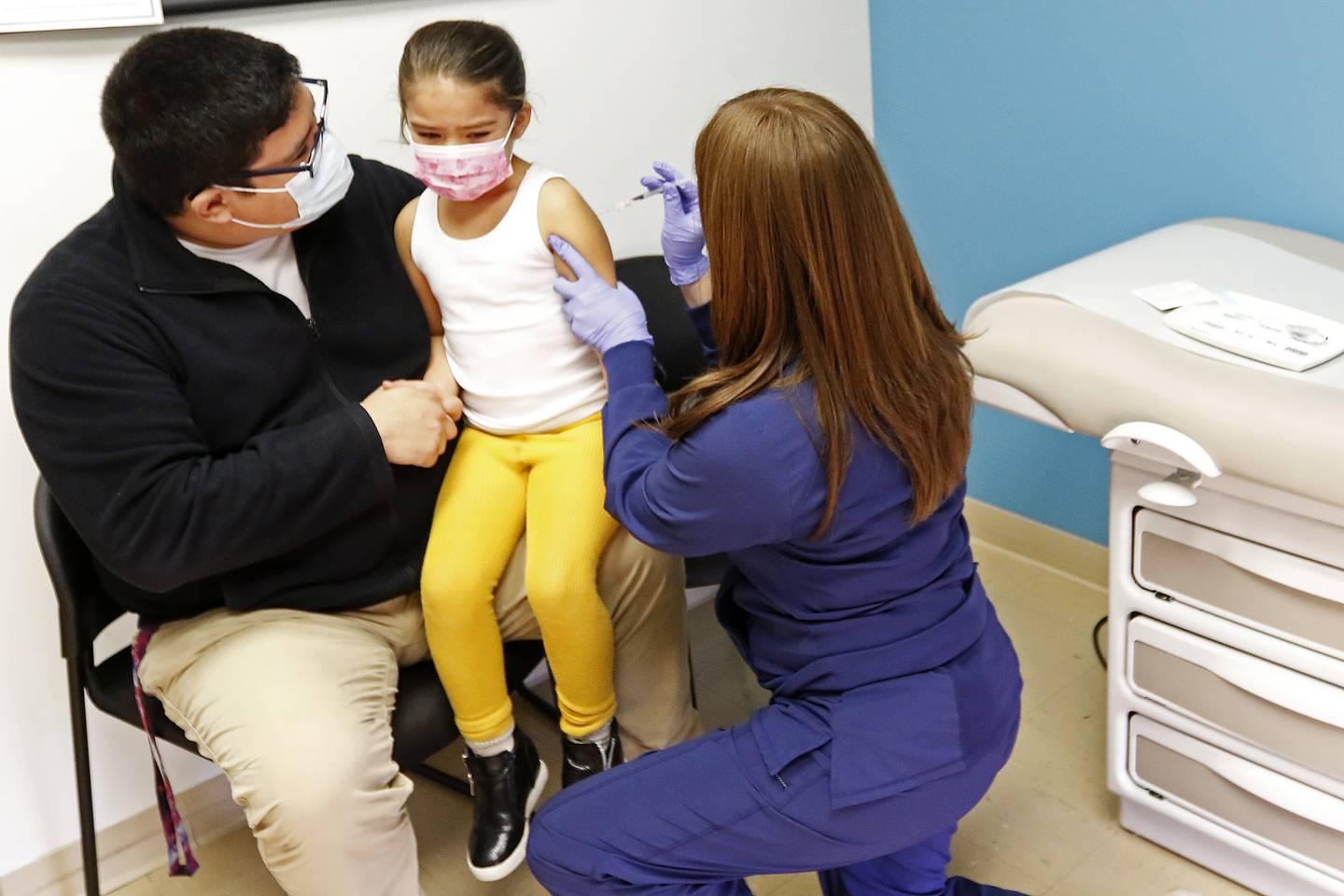 Anthony Ward, of Crystal Lake, also had to limit some activities for his son, Eliot, 10, during the pandemic. They've just started to loosen up on the restrictions, with Eliot playing Little League in the summer and doing wrestling now.
Social distancing in a contact sport is challenging, Anthony Ward said, so they "definitely wanted to get [the vaccine] as part of our keeping him safe."
Getting Eliot vaccinated felt good, Anthony Ward said, "but it'll feel better after the second dose."
Eliot said the shot wasn't as bad as he thought it was going to be, although his arm was a little sore afterwards.
"It's a little bit nerve-wracking, but then when you get it, it's not very long and it's not half as bad as you think it's gonna be," Eliot Ward said. "It's just really quick."