The holidays, for many, are a time of cheer and celebration. But for military families, the holiday season can come with a tinge of sadness if they have loved ones overseas.
"They may be able to call, but it's not the same," Crystal Lake resident Donna McAnally said. "These families live for those very short, very static-filled phone calls from a battlefield halfway around the world."
McAnally knows what this is like. She has one son, Franklin, who's currently in the Army, and another, Brock, who is a U.S. Navy veteran. After seeing pictures in military mom groups of different towns that had banners up honoring active duty service members, McAnally in 2016 asked then Crystal Lake Mayor Aaron Shepley if the city could do the same.
The first banners were displayed along Route 14 in 2017, including signs for each of McAnally's sons. These banners have the person's name and branch of the military written on them in blue font with "The City of Crystal Lake Honors" and a large blue star.
New banners are put up on Route 14 between Dole and Keith avenues every year and taken down when Crystal Lake puts up its Christmas decorations.
The banners, along with a vehicle sticker and certificate of appreciation, are given to the family of the military member at no cost.
At 7 p.m. Thursday, in City Hall, a presentation ceremony will be held to give the banners to family members of this year's honorees. Current Mayor Haig Haleblian will be giving a short presentation as well, McAnally said.
"We are very proud that we raise funds to purchase these banners for the families because it's something they're so proud of and they'll keep forever," said McAnally, who is the chairperson of Crystal Lake's Blue Star Banner program.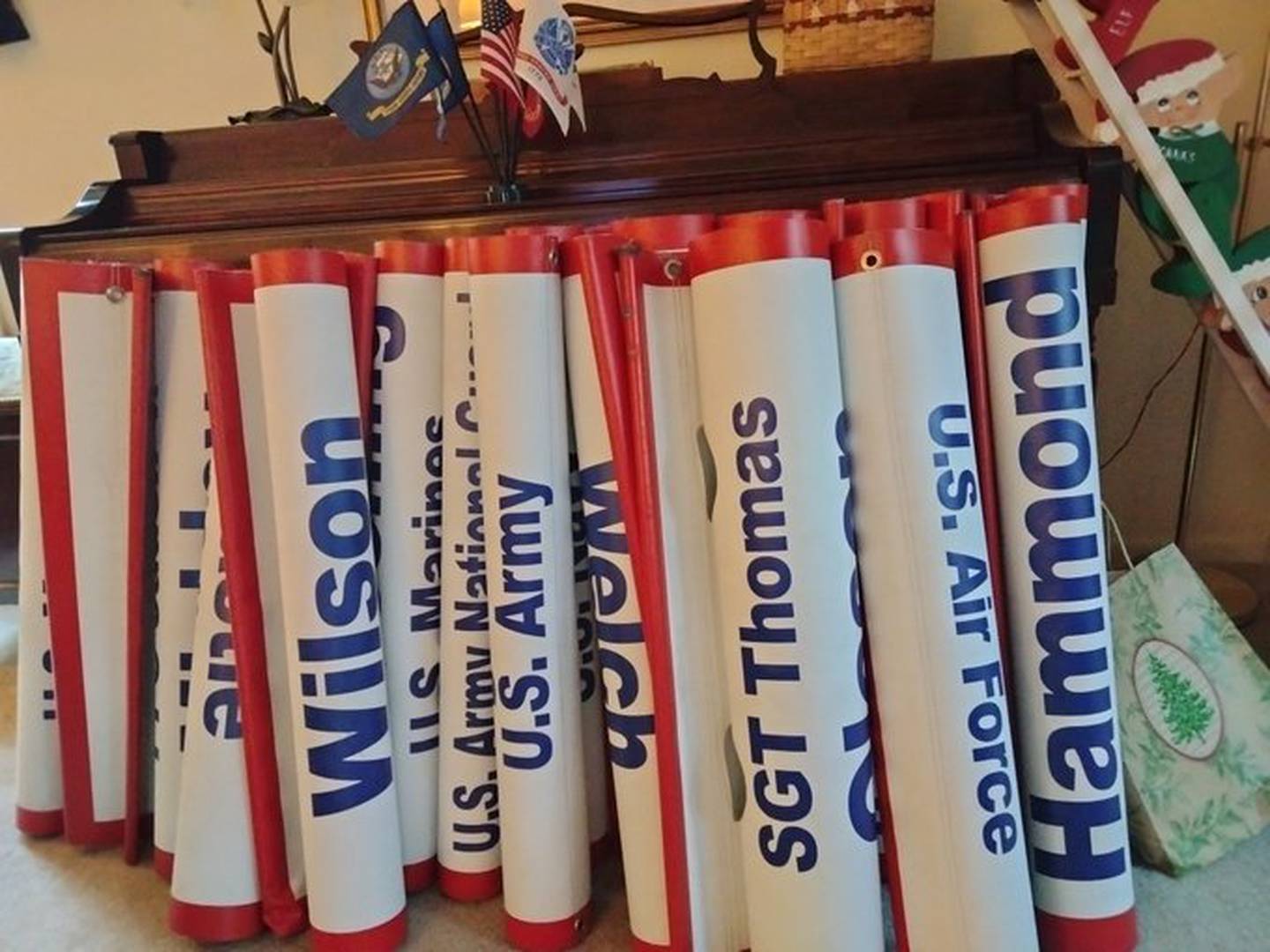 Without a personal or familial connection to the military, McAnally said, most people don't know what the troops go through. These banners help to bridge that gap between the military and civilian community, she said.
"To the committee, the most important impact that we can have on the community is to remind them in this visual way, with the banners, that we have Crystal Lake residents serving our country, hometown men and women that give so much of their time away from their families and their friends," McAnally said.
When McAnally's son's banners went up, back in 2017, she made it a point to go down Route 14 whenever she could, although it is a busy street.
"It brought a tear to my eye every time I saw them," she said.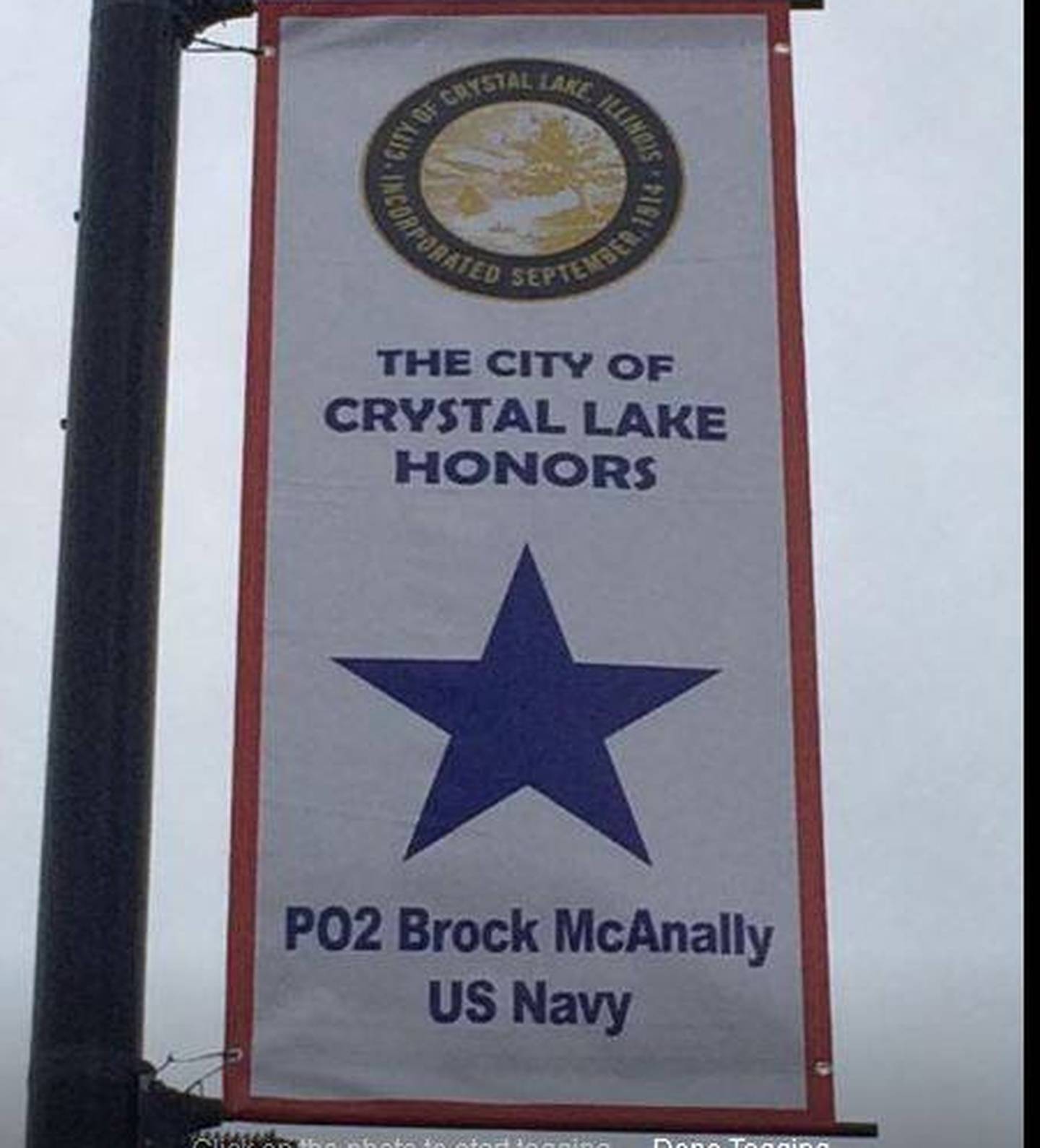 To nominate someone for a banner, people can go to the city of Crystal Lake's or the Chamber of Commerce's website. McAnally said she also plans on creating a website for the Blue Star Banner program.
Once the Blue Star Banner program committee receives the form, it is reviewed and vetted by committee members, who are local veterans and family members of service members.
Most of the time, only the families of the military member can attend the presentation ceremony, as the honoree is deployed in a different place. But when military members see their banner, "they're thrilled," McAnally said.
"It's usually a surprise to them," McAnally said. "The families have not told them, so they send them the video or pictures. ... [The service members] have all told me they were so honored to find out that they had a banner there."