Even with some new requirements because of COVID-19, McHenry County residents heading to Chicago for Lollapalooza were enthusiastic about attending the music festival after its cancellation last year.
Many McHenry County festivalgoers opted to take Metra to get to Chicago's Grant Park, where Lollapalooza is being held this year.
"It just makes things feel normal again," said Crystal Lake resident Brody Schutz, who was waiting at the downtown Crystal Lake station with Angie Colatorti, also of Crystal Lake.
Colatorti was headed to Lollapalooza for the first time.
"We both like going to concerts, so I wanted to go this year," she said.
On their agenda for Thursday was seeing Playboi Carti. On Friday, Colatorti and Schutz plan on checking out Polo G's set.
Rockford resident Taylor Doane, whose aunt lives in Crystal Lake, was waiting for the Metra to take her to Lollapalooza for her fifth time.
"It's just a fun environment and the wide range of artists is nice," she said.
Saying she likes their individuality and how they don't care about outside influences, Doane was especially excited to see her favorite artists Megan Thee Stallion and Tyler the Creator.
"It was a bummer" that Lollapalooza was canceled last year, Doane said, although she also expected it would be in light of COVID-19.
This year, festival attendees need to bring their vaccine card, vaccine record or negative COVID-19 test in order to enter, according to Lollapalooza's website. Doane, who already is vaccinated, opted to also take a COVID-19 test to be extra safe.
"I'm a little bit [nervous] just because it's the first big gathering, but I feel like they're probably taking relatively good safety precautions," Doane said.
Public health officials and others have raised concerns large gatherings like Lolla risks turning into a super-spreader event.
A smaller music festival in the Netherlands with similar safeguards to Lollapalooza's led to nearly 1,000 cases of COVID-19, , the Associated Press reported.
Dr. Emily Landon, head of the University of Chicago's infectious disease prevention and control program on Wednesday, tweeted out a picture of a sign Lollapalooza put out on its property saying those who attend "voluntarily assume all risks related to exposure to COVID-19."
"An inherent risk of exposure to COVID-19 exists in any public space where people are present," the sign noted.
Medical experts also have advised that it's only "a matter of time" before suburban COVID-19 transmission rises to the level at which face coverings are advised in all public indoor locations.
As the Daily Herald reported, DuPage and McHenry counties joined Will County Wednesday with enough disease spread to trigger the universal indoor mask-wearing advice set by the U.S. Centers for Disease Control and Prevention the day before. But Landon told the Daily Herald that it's "inevitable" that will happen in the rest of the suburbs and Chicago.
However, the AP reported that Dr. Allison Arwady, commissioner of the Chicago Department of Public Health, said she feels comfortable with Lollapalooza going ahead as planned because of the precautions organizers are taking, saying they have gone "above and beyond."
In addition to the entry requirements, organizers have looked at air ventilation for any indoor spaces, made sure backstage workers are vaccinated, will make masks available and will test ticket-takers, the AP reported.
"I would not feel comfortable moving ahead with Lollapalooza without COVID protocols in place," Arwady said.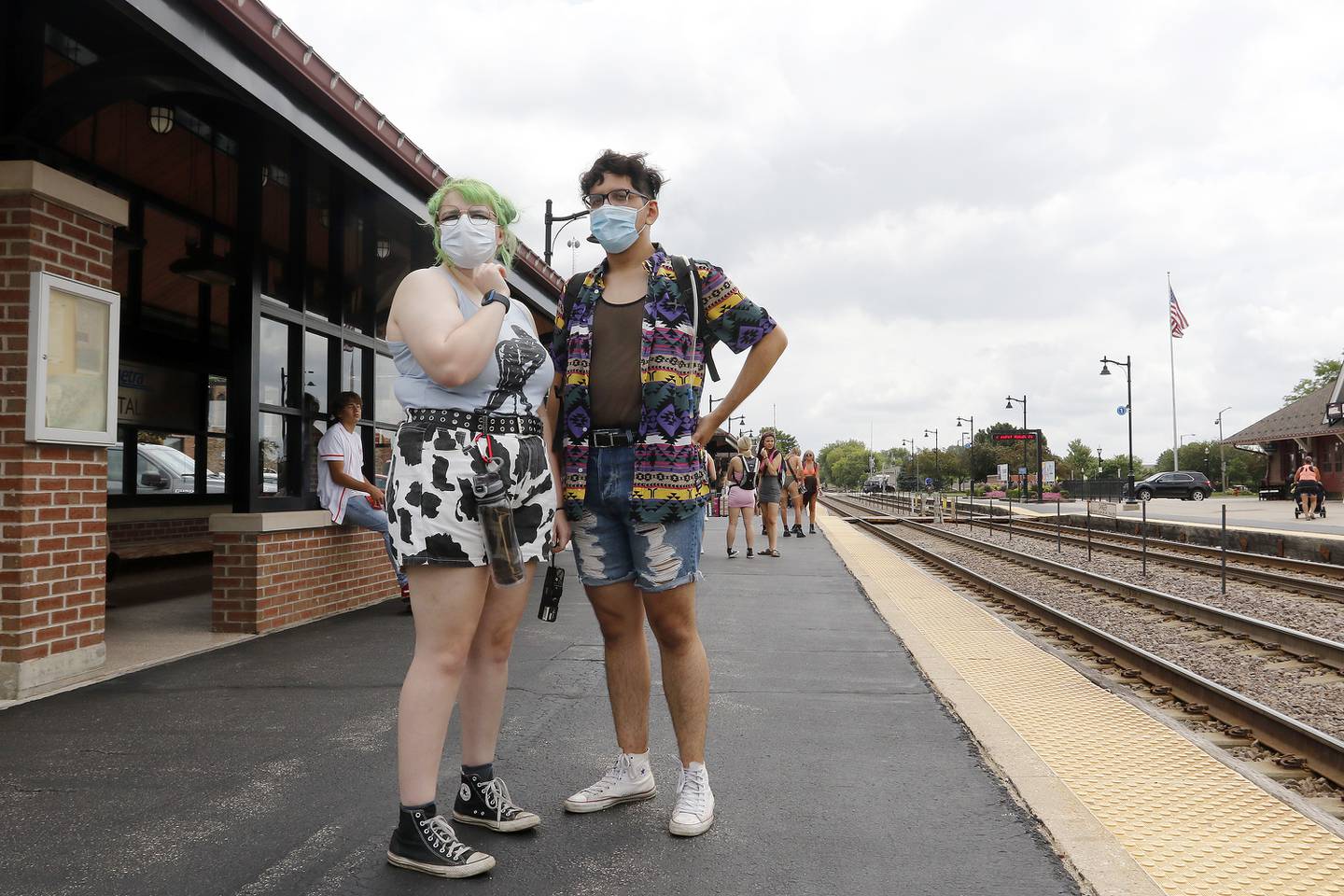 Doane said she plans on trying to stay outside of the crowds and wear a mask as much as possible while at Lollapalooza.
Huntley resident Lanie Napientek, riding the Metra with Alyssa Kelly and Alan Talic, both of Algonquin, said this is her first crowded event since the pandemic began.
"My favorite thing about Lolla is the environment," she said.
The registration process, even with new COVID-19 precautions, was not stressful at all, Kelly said.
"They explained it really well through the website, what you need to do what you need to show," she said.
In fact, Napientek had gotten her negative COVID-19 test and result that very morning.
"It was very easy on the website to navigate," Napientek said.
The process was even easier for Talic, who said he already was vaccinated.
The Daily Herald and Associated Press contributed to this report.