Bradie Tennell fondly recalls, as an aspiring young figure skater, meeting her hero, Michelle Kwan, for the first time.
The moment, backstage at a skating show Tennell attended, was everything she hoped it would be.
"I was like, 'Oh, my gosh, I can't believe I'm meeting Michelle Kwan,' " Tennell said. "I will never forget meeting her for the first time. She was so nice and down-to-earth, everything you want in a role model for a young kid. I always wanted to be like that."
Tennell is getting the chance now to be like Kwan. Tennell, who grew up in Carpentersville, lives in Cary and trains in Colorado Springs, Colorado, won the ladies title at the U.S. Figure Skating Championships this month in Las Vegas.
Kwan won nine U.S. titles between 1996 and 2005. Tennell, who turns 23 on Jan. 31, now has two titles in four years and is becoming a face with which young skaters are familiar.
"It is really a cool position to be in," Tennell said. "I totally remember being that little kid, watching those skaters on TV and going, 'I want to do that one day.'
"Now to be living my childhood dream is absolutely crazy to me. I love it when kids come up to me and tell me they love my skating or they love my dress or they love watching me. It gives me a little happy bubble inside. To be a source of inspiration is so cool to me."
Tennell won the short program at nationals with a 79.40 score. She won the free skate the next night with 153.21 for a 232.61 total, winning the overall title by 17 points and earning a spot in the 2021 World Championships, which are scheduled to take place March 22 to 28 in Stockholm, Sweden.
There are concerns with the COVID-19 pandemic, but indications are the worlds competition will go on. Tennell was sixth at worlds in 2018 and seventh in 2019.
"I was very pleased with how I skated," the 2018 Olympian said. "It was pretty much exactly how I have been training for the past month. I was so excited to go out and compete because we haven't had many opportunities this year. I was very excited to show everybody what I've been working on and perform, to be back in that competitive atmosphere. I love competing."
Tom Zakrajsek, who became Tennell's full-time coach last summer, expected that kind of success for her at nationals.
"She trained gold-medal short and long programs, and she got to Las Vegas and delivered them," Zakrajsek said. "I'm not surprised she's the 2021 U.S. ladies champion."
A big change
Tennell technically still is an Illinois resident, living with her mother Jean in Cary. But she spent most of her time since last summer in Colorado Springs working with Zakrajsek. Tennell, who worked with coach Denise Myers for several years, sought out Zakrajsek to help her with her jumps.
Tennell was there for a couple of weeks and enjoyed working with Zakrajsek.
"Once I got there, I found I liked it a lot and couldn't really picture myself going back to what I had been doing," Tennell said. "I really enjoyed the atmosphere and environment. I found the way he taught was easy to understand, and we worked really well with each other.
"This was what I felt I needed to do for myself to get where I want to go. It was not a decision I took lightly. It was something I felt, deep in my bones, I needed to do for me."
Zakrajsek trains 16 skaters at Broadmoor World Arena in Colorado Springs. Tennell became his fifth U.S. senior champion skater.
Zakrajsek received an email from Tennell in early July. They had known each other from skating competitions and from Tennell competing against Zakrajsek's skaters. Tennell expressed disappointment in what was a good season and wanting to be better. She wanted to work her way to performing a triple axel.
"I would never ask someone to be their primary coach," Zakrajsek said. "That was totally driven by her. She came to me in the middle of the second week and said how everyone was so nice. Back home, the other skaters were younger than her and in high school. Here, she felt like she was at a university. Everyone's an elite athlete and so mature."
Jean Tennell went to Colorado Springs with her daughter as she consulted with Zakrajsek. Jean was in close touch with Bradie, as well as Zakrajsek, about her progress.
"I'm always proud of her, no matter what," Jean Tennell said. "She looked strong. She looked like she had her confidence back. I knew she was ready. She was focused on what her goal was. I'm excited for her."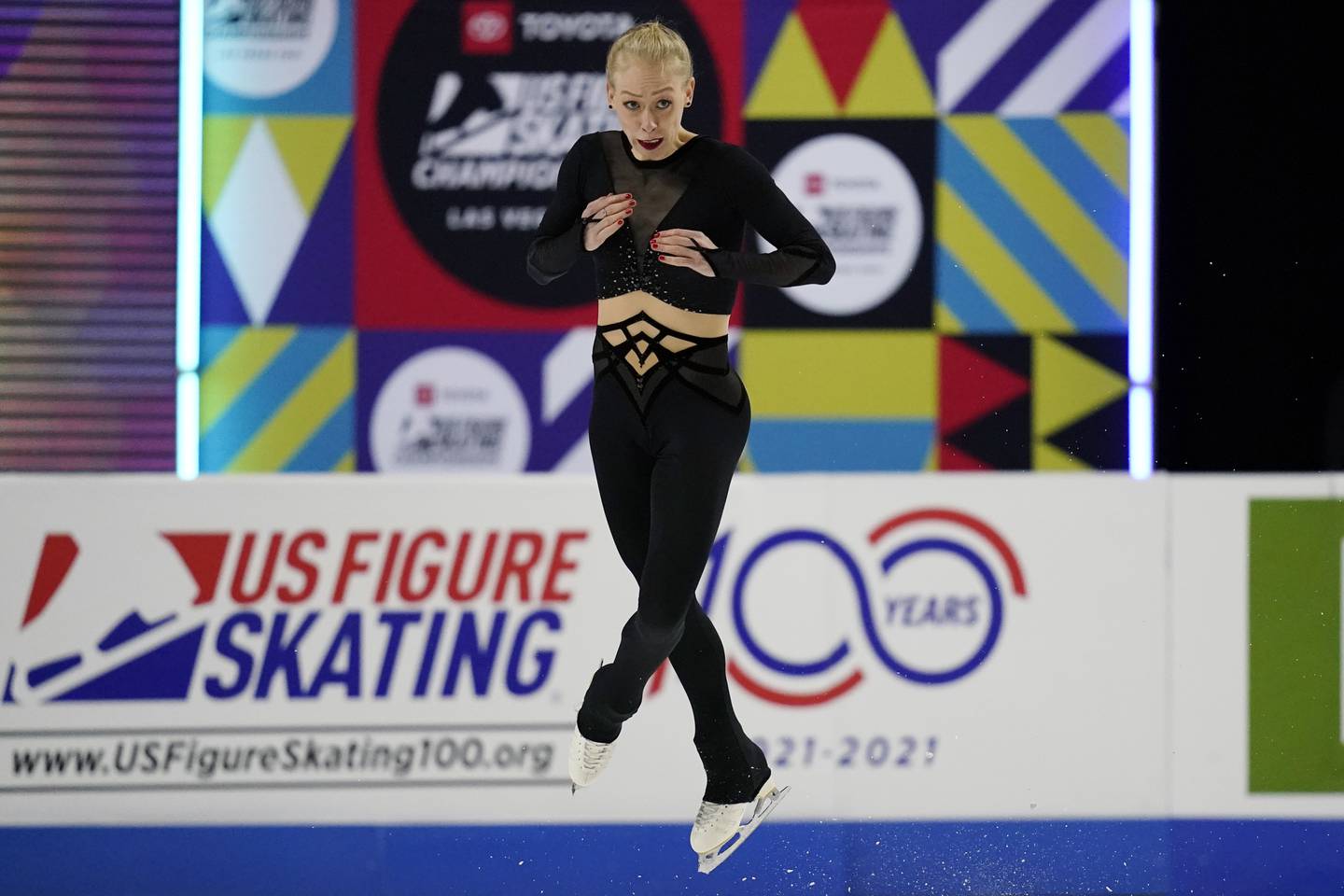 All-out training
Zakrajsek calls Tennell's training a gold-medal run-through. In addition to the hours on the ice, there is working out, dancing, working with her choreographer and video analysis.
It is a full-time job, one that Tennell embraces.
"The time on the ice varies every day, as well as the time working out," Tennell said. "I take dance lessons to help with the overall movement and connection with the music. It all depends on what point of the season we're at and what the training period looks like for that month."
Tennell took a week off after nationals to return to Cary and her mother and two younger brothers (Austin and Shane). She went back to work in Colorado Springs this week.
"It's been so easy to work with her," Zakrajsek said. "She's a decorated athlete as an Olympian. She's a national champion already. But she's so open, and that's unusual. I've tried to work with other high-level athletes before, and generally when they've had success, they think about what they did and try to stick with that. Bradie has been the exact opposite. She is totally open to new ideas about jump technique."
Zakrajsek said it is on- and off-ice work that has helped Tennell elevate on her jumps. She has been training a triple axel for months but has not yet done it in competition. Zakrajsek hinted it will be an option for the worlds.
"I said, 'If you have the desire and want to improve the height of your jump, you'll be able to do it. You're very athletic,' " Zakrajsek said. "She's been training the triple axel every day since July, with a few exceptions. Whether that's in her program for the World Championships would depend on whether that's clean. If the jump isn't clean, there's no sense in doing it."
A real connection
Zakrajsek is amazed at how quickly he and Tennell connected.
"Sometimes you can work with an athlete for 10 years and not have that," he said. "After a few weeks, I felt like Bradie [understood] me as a coach, and, certainly, I have tremendous respect for her as an athlete. It seemed very easy for us to work together toward her goals."
Zakrajsek offers this anecdote to show how much they are alike.
Zakrajsek could not attend nationals after coming down with the coronavirus, but the talked after the competition to compare notes.
"I told her, 'I watched your nationals programs from 2018 when you won in San Jose and rewatched this year's programs, and what a difference, right?' " Zakrajsek said. "She said, 'Oh, my God, I did the same thing.' We kind of chuckled. That's what it's been like for me to work with Bradie: very easy. Many times we're thinking the same things. It seems like a natural fit."
Tennell has almost two more months before the World Championships, if the competition is not rescheduled. She will hone her routines every day and keep working the triple axel. And she should head to Stockholm with a confident outlook.
"If I put two strong performances the way I did [at Nationals], I would be very pleased," she said. "Myself and [Karen Chen], our goal together is to place well enough to get the third spot back for the Olympics. As long as we go out there and skate our absolute best, I think that's all we can do."