The McHenry County Sheriff's Office is on track to have six full-time social workers on its payroll by the end of next year under a program it is developing with other McHenry County police departments.
The social workers would work with police officers to connect residents to resources in areas, such as mental health and domestic violence, according to a news release, and sometimes assist on calls requiring a mental health response.
"Social workers are another tool in the tool box for police officers," McHenry County sheriff Sgt. Aimee Knop said.
The program is not designed to replace police officers with social workers on calls, Knop said. Residents can still expect to receive a police, medical or fire response when they call 911.
"It's going to help increase the amount of services the police are able to provide," McHenry County coordinator Chalen Daigle said. "The police will still respond to any sort of 911 call. But if the police show up and they realize there's no law being broken and the person doesn't need to be arrested or isn't harmful to other people, that is an instance they may call in a social worker to help with whatever sort of crisis they're going through."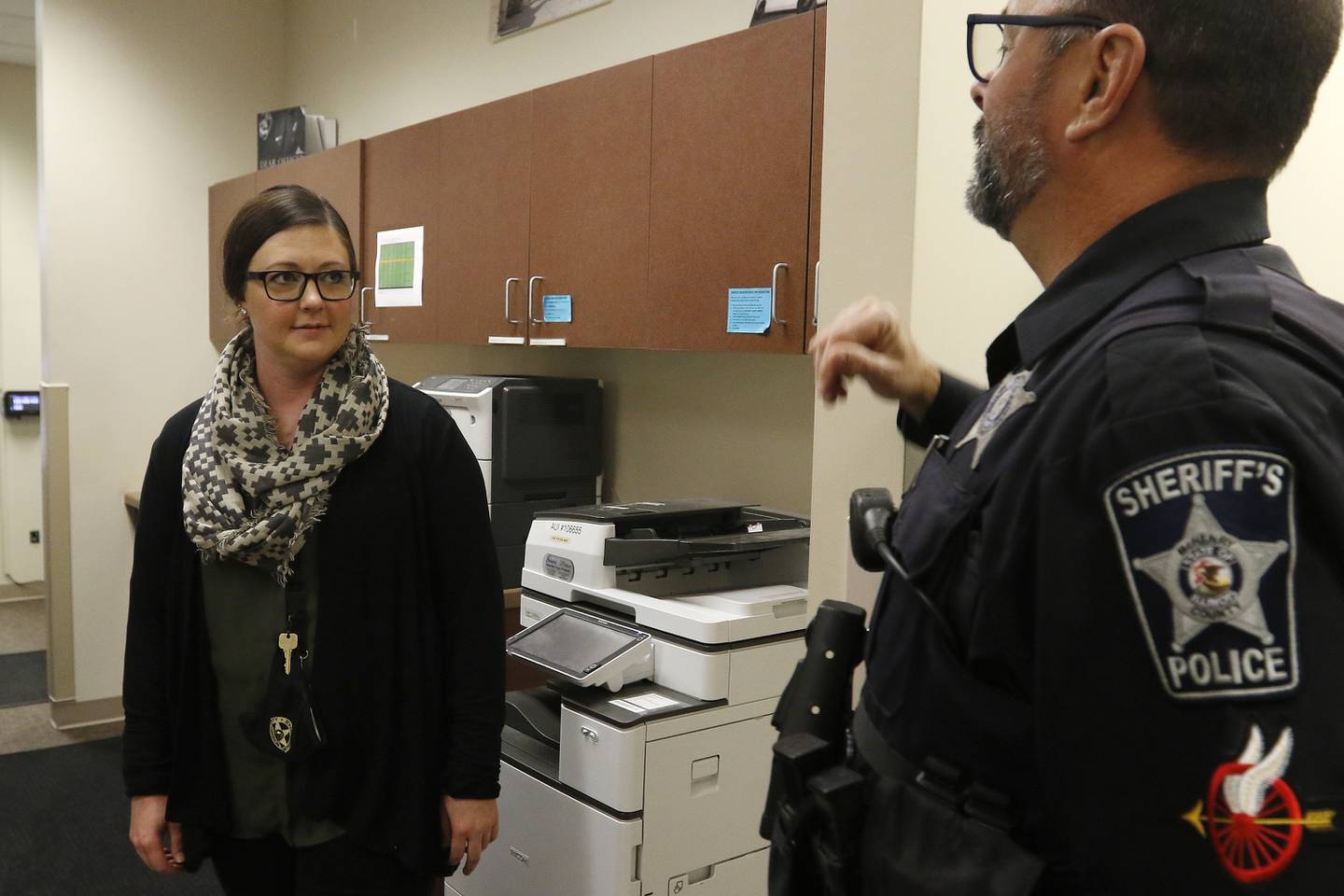 Cary Police Chief Patrick Finlon said his department already has two part-time social workers who assist his officers.
"It's another tool for us to have to refer people to and not have some of our staff dealing with an issue that isn't related to our direct mission," Finlon said.
Finlon said his department is considering the partnership with the sheriff's office.
"I've always thought we're better in law enforcement doing things together than separately. It's a good use of resources," Finlon said.
The sheriff's office has been presenting the new program to McHenry County municipalities over the last two months.
Woodstock Police Chief John Lieb voiced support for the program in a memo to City Council.
"Currently, as the community emerges from a period of a pandemic and social unrest, there are many citizens who will need mental health assistance," Lieb said in the memo.
The program would cost police departments between $2,500 and $35,000 depending on the size of their community, Daigle said. In total, she expects the program will cost about $900,000 when it is fully functional later next year, with the cost divided evenly between the county, local governments and the McHenry County Mental Health Board.
"The police social work program is a shining example of collaboration between government agencies in McHenry County," Daigle said.
The county still is working to craft an official agreement between communities, but Knop said interest has been strong and they expect the program to be fully functional with six full-time social workers later next year. A social worker also will be on call at all hours of the day when the program is fully functional.
The county currently has one social worker and another who works part time. Knop said the social workers will be supervised by a sworn police officer.
The sheriff's office plans to temporarily use space at the Community Foundation for McHenry County for training, developing the program, and office space, according to a news release.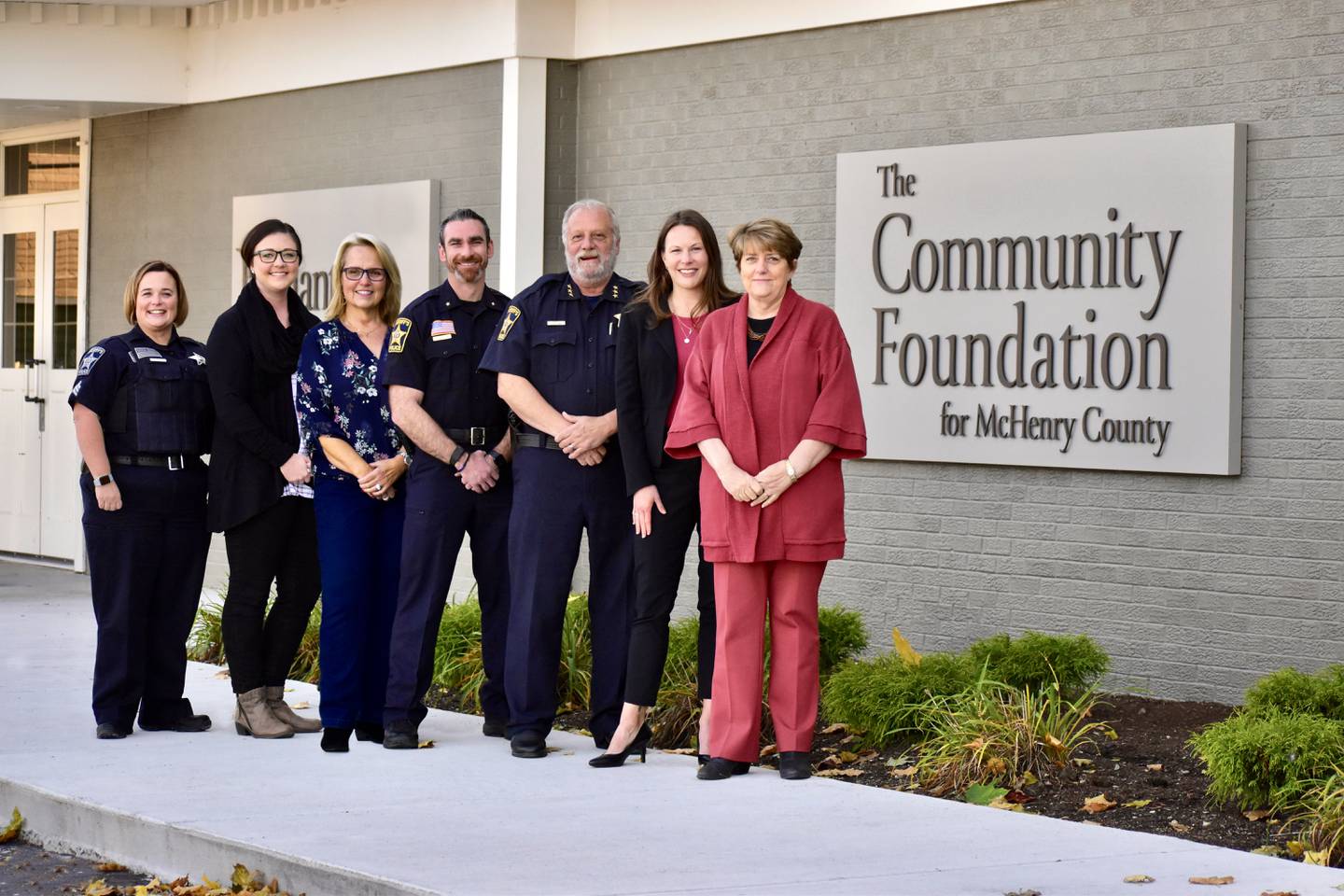 A large portion of the social worker's responsibility will be connecting residents with resources, Knop said. She said about 37% of the work their social worker does revolves around mental health, while other issues include substance abuse and resources for juveniles, seniors and people in domestic disputes.
"We need to make sure people's basic needs are being met," Knop said.
The sheriff's current social worker, Alana Bak, explained she also can respond to calls with police officers to assist them at scenes where the presence of a social worker would be helpful. Knop told Woodstock City Council members Bak responded to on Oct. 27 to both the standoff with a barricaded suspect at an Algonquin hotel and to assist a Johnsburg resident who was having a mental health crisis.
Having social workers readily available to assist police on calls and connect people with resources also helps law enforcement agencies meet new legal requirements, Finlon said.
"It is an outcome of all those issue people have had with law enforcement through 2020," Finlon said.
Gov. JB Pritzker signed House bill 2784 in August, which requires responders to a mental health call to have specific training for people suffering mental or behavioral issues. It specifically prohibits police from responding to a mental health call unless there is a crime or threat to someone's safety.
"Too often, law enforcement is the first contact for people in need of mental health services – people who need help," Sheriff Bill Prim said in a statement.
"By bridging the gap between law enforcement, citizens, and mental health resources, we help keep residents healthy and out of the criminal justice system," he said.
Funding for the program will begin on Dec. 1, but the sheriff's office will continue building the program up to its full size throughout the year by bringing county police agencies on board.