More than 100 people gathered to protest Cary School District 26′s masking requirements Tuesday afternoon in Cary-Grove Park, holding signs and encouraging passing cars to honk in support.
Organized by the Illinois Parents Union Cary, the protest was billed as a community rally aimed at removing masking requirements at local schools, primarily District 26. Isolated chants with blow horns, from "unmask our children," to cheers when cars would honk accompanied the two-hour event.
The protest came as the Joint Committee on Administrative Rules, a legislative panel in Springfield, met and voted, 9-0, to suspend the newest version of COVID-19 mitigation rules for public and private schools in Illinois. The rules were reissued as the current policy, passed in September, was set to expire after 150 days. The panel said in part the decision is based on the pending litigation tied to a ruling from earlier in the month.
District 26 was one of about 145 school districts, eight of them in McHenry County, named in a lawsuit challenging the governor's mask mandate and other COVID-19 mitigations for schools. After a Sangamon County judge issued a temporary restraining order saying only the legislature had the authority to issue such mandates, District 26 was one of two McHenry County districts that decided to keep the masking requirements for all but those named in the lawsuit.
In announcing the district's decision, the school board pointed to the children it serves with medical conditions that put them at increased risk of illness and staff and students who have family members at home with compromised immune systems.
"Our goal throughout the pandemic has been to ensure that we maintain a safe learning environment for all of our students, especially those who are most vulnerable," the board said a Feb. 6 letter to families.
The vote Tuesday by the Joint Committee on Administrative Rules means the rules, which detail policies for masking and face-coverings, vaccination, testing and quarantine requirements, will not go into effect for K-12 schools in the state.
At the rally, a few dozen elementary-aged kids were also in attendance, some holding signs. Cary-Grove High School, which sits right next to the park, let out halfway through the protest and some high school students joined in. Crystal Lake-based Community High School District 155, which includes Cary-Grove, recommends but does not require students wear masks.
"I'm out here for the children," said Nancy Swart, a 30-year resident of Cary. "This is not their fight, and they shouldn't have to fight it."
Signs at the event echoed her sentiments. Some specifically mentioned Gov. JB Pritzker, with one saying to "muzzle" him rather than the kids. Others said "stop harming our children," or said the district's masking policy came down to "money and control." Almost all called for masks to come off.
Cindy Johnson of Cary said she has grandchildren in Crystal Lake. She said the protest was based on freedom of choice and she believes the government has overreached. It doesn't make sense to her, she said, that high schoolers at Cary-Grove had the option to not wear masks, but younger students didn't.
While the event on the whole was a statement against the district's masking requirements, many in attendance said they weren't opposed to masks. They instead felt it should be a choice.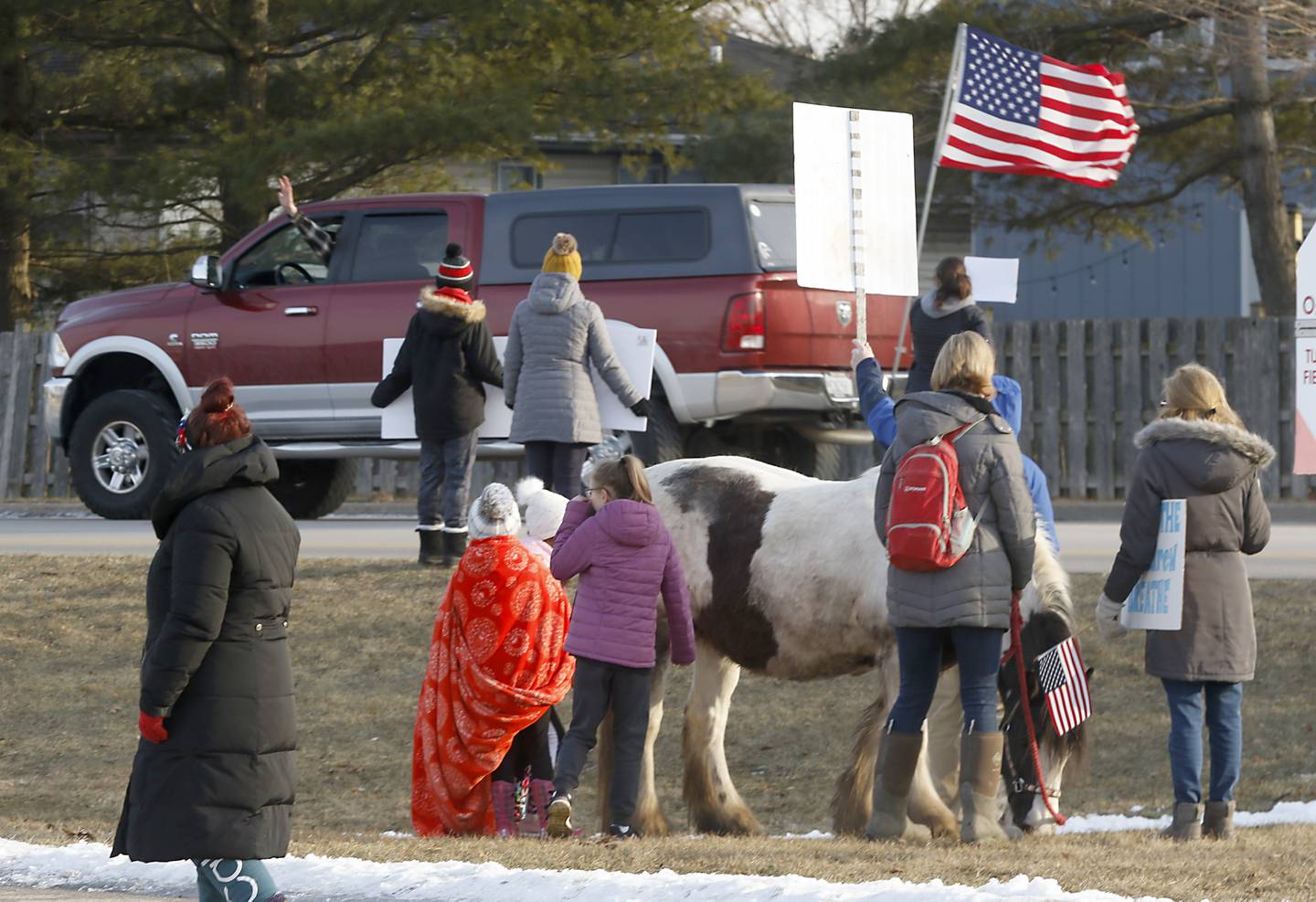 "I'm not here to force anything upon anyone," said Garrett Metzger of Cary. "It's been a rough two years for everybody. …. Everyone's had the time to evaluate everything. Personal preference, we're all for that."
Several attendees also took issue with how District 26 has handled public comments from residents related to masking.
District 26 has held remote meetings dating back to September. The change followed an incident at their in-person Aug. 30 meeting where police were called on a number of people for refusing to comply with the state's then-new indoor mask mandate.
Many at the protest said they felt the district's board members were ignoring their constituents, calling the access to board meetings limited. They said this has taken away their ability to provide sufficient public comments.
District 26 officials are planning to return to in-person meetings in March, according to its website.
"They're kinda being that Oz behind the curtain," Johnson said. "The only thing we can have is a Zoom call. …. We're taxpayers. They work for us."