For the past four years, Jerry Crowder has flown from Texas to spend a day in August on his daughter's Wonder Lake porch, playing the music he loves.
The trip is part of their celebration of International Play Music on Your Porch Day. Crowder's daughter, Karlee Crowder Yerkes, had heard about the event via a Wonder Lake-centered Facebook page and said she thought it would be something her dad would enjoy.
"It is so much fun - the people, the community – it's great," Crowder Yerkes said Saturday afternoon as neighbors stopped in, introduced themselves and sat on lawn chairs in her backyard while listening to her dad and his band play.
According to the website playmusicontheporchday.com, the day has been celebrated since 2014. "Musicians from across the globe, regardless of their differences, are finding common ground through music."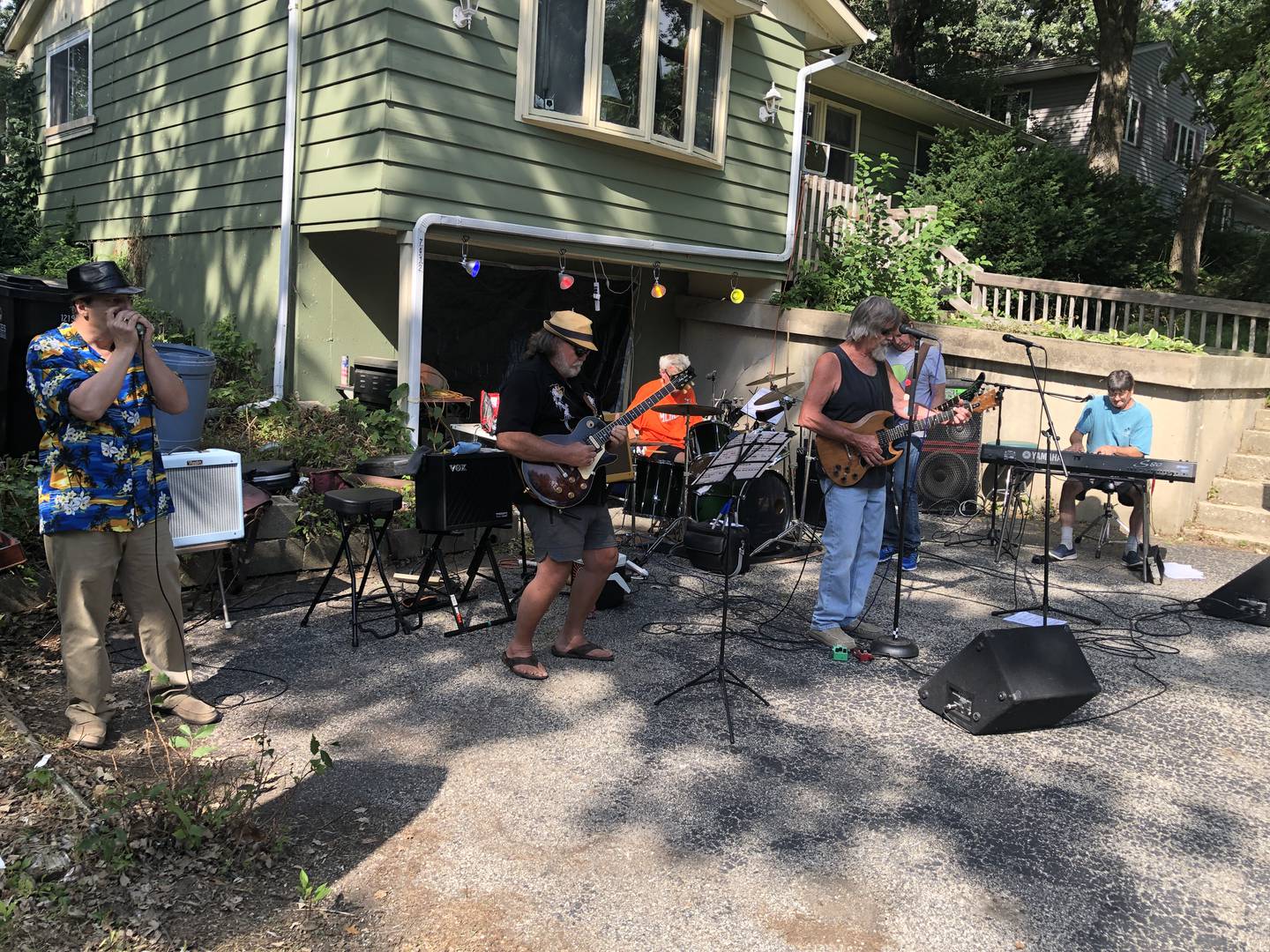 Crowder was joined on the porch by his brother-in-law Tom Harmon on drums. Friends – whom he met though friends – Dan Springer and Dale Joiner play banjo and bass guitar, respectively. Their music is a mix of country western and gospel music.
None of the band lives in Wonder Lake, however.
They played to a small crowd made up of neighbors, friends visiting from other towns and neighborhood children playing on Karlee Yerkes' swing set during their set.
Around the corner, George Klingelhofer did two sets on his ukulele and singing a mix of island calypso music. Neighbor John Biloz played percussion on a cajón drum.
"I'm meeting a few people I didn't know before, versus only the people in my subdivision."

—  Wonder Lake resident Ed Peters
Across the lake, Steve Schau was on bass guitar and sang lead vocals for his band, Only Tuesday, playing original rock and roll. Neighbors pulled up in their cars, sat on chairs across the street and listened for the band's planned set.
"I'm meeting a few people I didn't know before, versus only the people in my subdivision," Ed Peters said. He lives on the opposite side of Wonder Lake but made sure to stop in and listen at all three houses offering live music during the day.
He planned to end his circuit back at Klingelhofer's house, closer to his own home.
George Klingelhofer has played on the day for three years now, said his wife, Cindy Klingelhofer. The past two years, he played at their cabin on Wonder Lake, but now they also have a house nearby with more space to spread out.
She set up extra chairs for the neighbors who came to listen and visit, many of whom drove over on their golf carts.
"We love it. We get to see the neighbors and meet new people," Cindy Klingelhofer said.
"You never know what is going to happen" during the performances, she added, like the family cat racing into the garage with a bird in its mouth and trying to get into the house.
The cat dropped the bird and if flew away, much to Cindy Klingelhofer's relief.
Although Play Music on Your Porch is billed as a way to bring a community together, it also has brought together people from around McHenry County.
Shelly Eby lives in Woodstock, but her daughter-in-law is close with Crowder Yerkes. "I started coming last year. I just like the music and getting together with friends and neighbors," she said.
It is one of the events the Sunrise Ridge Association supports every year, said Mike Mapier, commissioner for the subdivision's parks. He also made the rounds of those playing on their patios, porches or driveways.
For Crowder, the visit is a chance not only to spend time with his children and grandchildren, but to continue one of his favorite hobbies.
He used to play the guitar and ride his motorcycle, Crowder said, but strokes in 2009 have left him legally blind.
"I started playing guitar a lot more" since then, Crowder said.
"Music is good for the soul," he said, adding he gets to play with the other musicians only twice a year or so. "We like hanging out and playing our favorite music."