Fox River Grove is considering updates to its park system, starting with preliminary discussions of what the future could looks like for two riverfront parks, Lions and Picnic Grove.
Picnic Grove Park could get a shelter overlooking the Fox River and maybe a band shell, while Lions Park could get new pickleball courts on its north side and updates to existing facilities.
The proposals were part of initial renderings presented by consulting firm Gary R. Weber Associations Inc. to the Fox River Grove Village Board at its meeting Tuesday night; the village also held an open house the week before to solicit public feedback on the plans.
The goal is to prepare a master plan for the village parks system that can be used to guide the next decade or more of improvements, Village Administrator Derek Soderholm said.
"If we want to put in a band shell, you want an idea of what the rest of the park will look like," Soderholm said. "You want the overall context."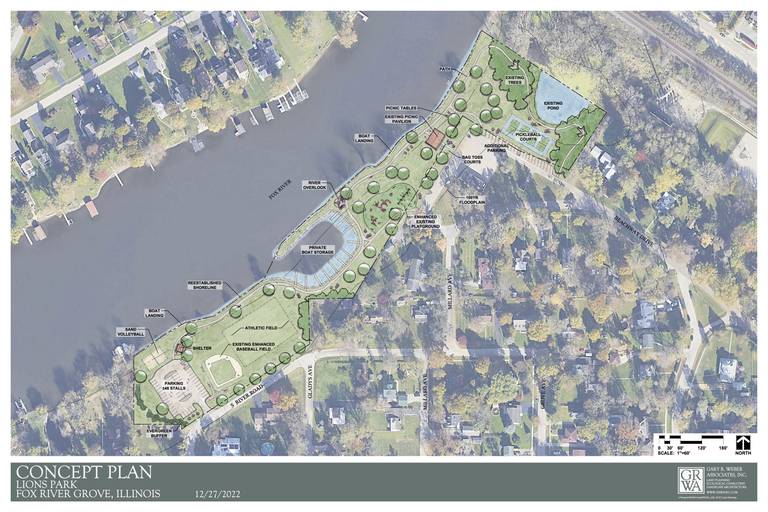 The board praised the initial designs overall, including the potential for adding connective paths for walking and biking. However, both trustees and residents raised concerns about how the parks can be redeveloped, including issues around parking and nonresident use of the parks, how to manage on-site trees and vegetation, and how to deal with erosion along the Fox River.
Rich Olson, principal landscape architect with Gary Weber, called the two parks "fantastic gems" that were "sort of hidden," with their entrances off of residential roads as opposed to Route 14.
"These are really cool spaces," Olson said. "Both parks have play equipment and things for recreation, but both of these plans represent another step up."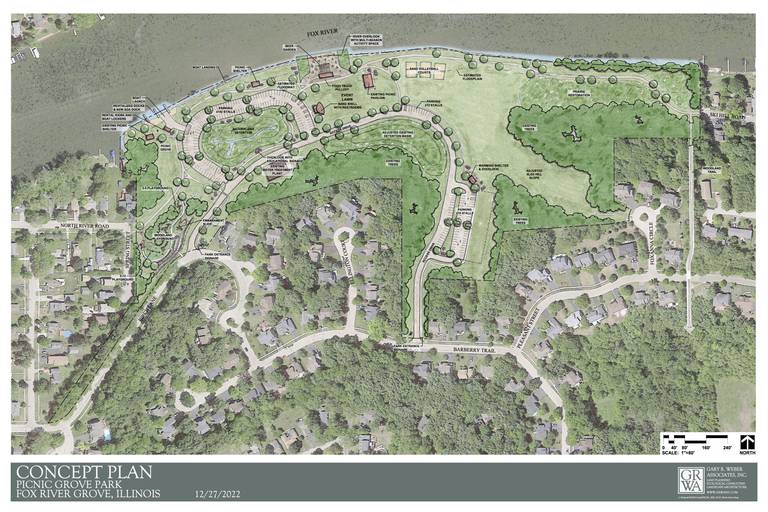 Trustee Sheri Sepeczi said she preferred maximizing natural spaces within the parks, adding that she didn't think amenities such as a band shell or event space were "what Fox River Grove is about."
Trustee Steve Knar added that he did not want a situation where Fox River Grove residents were constantly competing with out-of-towners to use the park or parking space.
Several residents who live near Picnic Grove also voiced concerns, including the potential for loud noise from live music and the cost of adding additional village staff, such as police, for expanded facilities.
Resident Karl Koenemann praised the ambition of the renderings but said he worried about funding and the possibility that adding certain amenities would come at the expense of the village's overall park system.
"I don't want to buy a car and not be able to put gas in it," Koenemann said. "We don't want watered-down parks, but when we make investments, we also need to maintain them after the fact."
Village President Marc McLaughlin cautioned that any park upgrades were "a big undertaking" and while he liked the plans, "there's no way this happens in a short period of time."