The FISH of McHenry Food Pantry had a few different homes over the years before McHenry Township helped it build a permanent location in 2012.
Now in its 50th year of helping area residents facing food insecurity, the food pantry is looking to expand again. The group wants to add a 1,200-square-foot pole barn to the building to address how its food is now distributed, post-COVID-19, said Cindy Chicoine, one the pantry's three co-directors.
In December, the group kicked off a $150,000 fundraising campaign for that addition.
The structure would give the pantry more storage, as well as a heated and secure area for distributing food to its clients, co-director Pam Peters said.
Since moving to its present location in Johnsburg across from the McHenry Township Senior Center, food was distributed in a consistent way: Clients would come in, fill out the required information, and wait their turn to pick food from shelves. That wait could be two hours, Peters said.
When COVID-19 came, changes to that distribution came, too. It is "so tight" in the building with up to 50 people on their distribution days waiting to take their turn to shop, Peters said. So, the group started using the outdoors.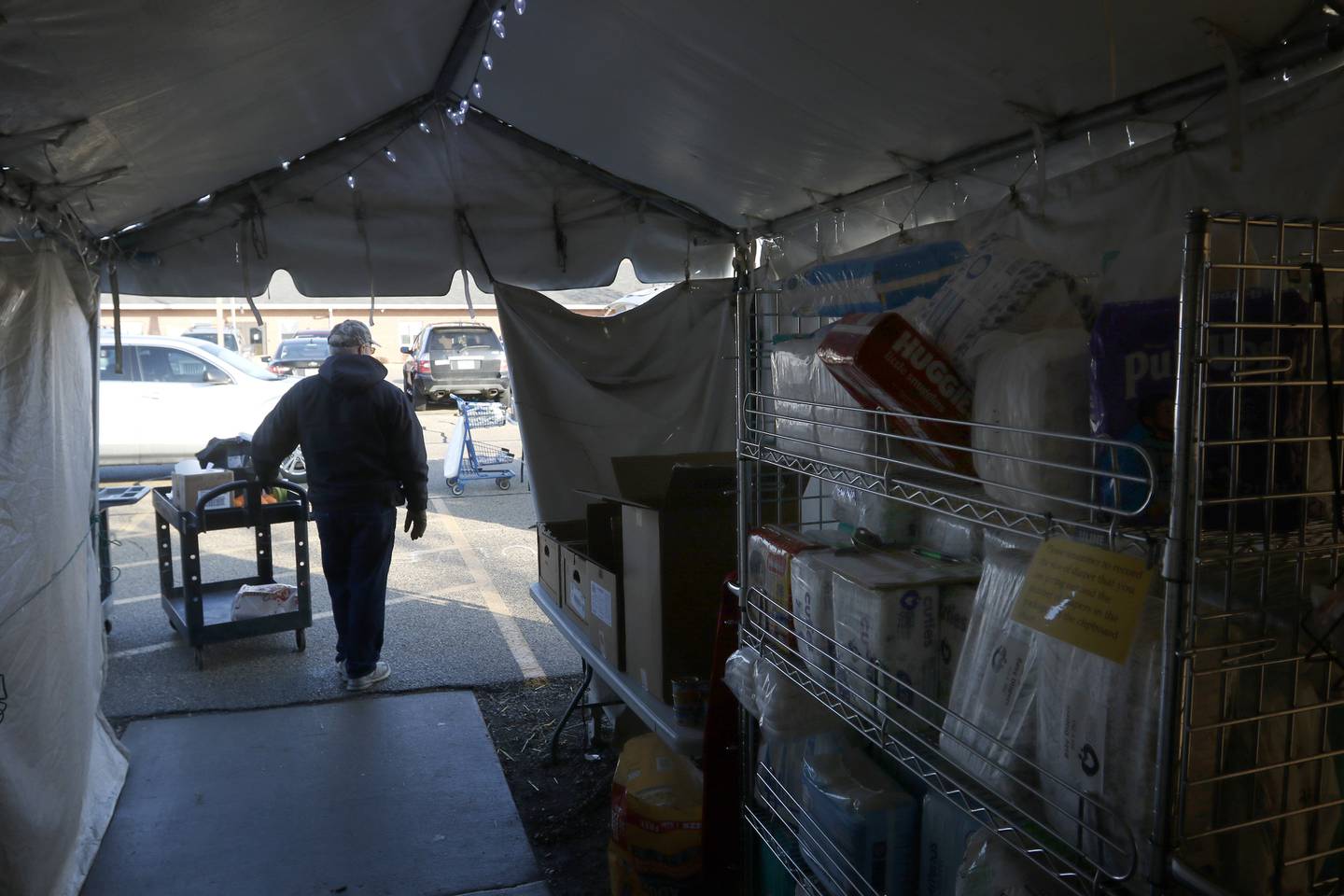 Now, cars pull up to the front door and a volunteer gives the clients a shopping list. It has two sections – one side listing basic staples to chose from, and another for list for perishable items. The list is split in two, with one volunteer taking either side.
Volunteers then pack a box, meet by the east doors, and take the food out to the client waiting in their car.
The new procedure makes the food distribution go faster. In a recent poll of volunteers and clients, both said they preferred it, Chicoine said.
But those eastern doors were open to the outside. The FISH food pantry board purchased a used outdoor tent to protect volunteers from snow, cold, rain and snow, and set up propane-fueled heaters to keep them warm.
But after nearly three years of use, the wind has shredded parts of the tent. Neither is it very secure, Chicoine said.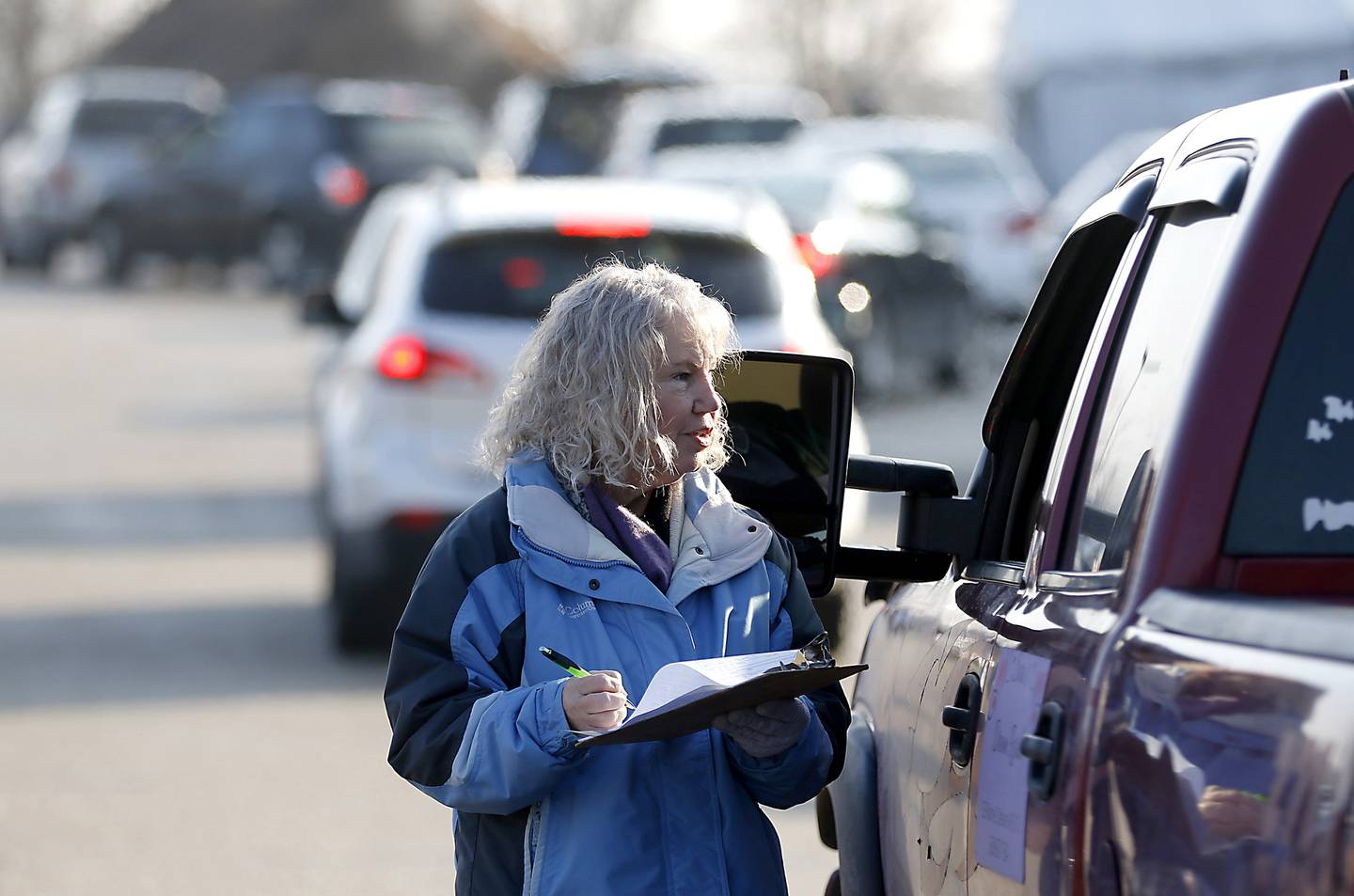 The addition would give the organization more storage space for the food and other household staples they give out, as well as protect those volunteers from the weather, Peters said.
The pantry is seeking grant funding for the addition, but both cash and tradespeople who may be able to help with construction are also needed, Chicoine said.
The hope to break ground this spring and have the addition ready by early summer, depending on donations and possible grants, she said.
In the meantime, the pantry continues to serve up to 50 families a week and 500 each month, Peters said.
In the first two years of COVID-19, their numbers remained very stable, she said. But going into the summer of 2022 and with increased inflation hitting pocketbooks, the food pantry started seeing more need.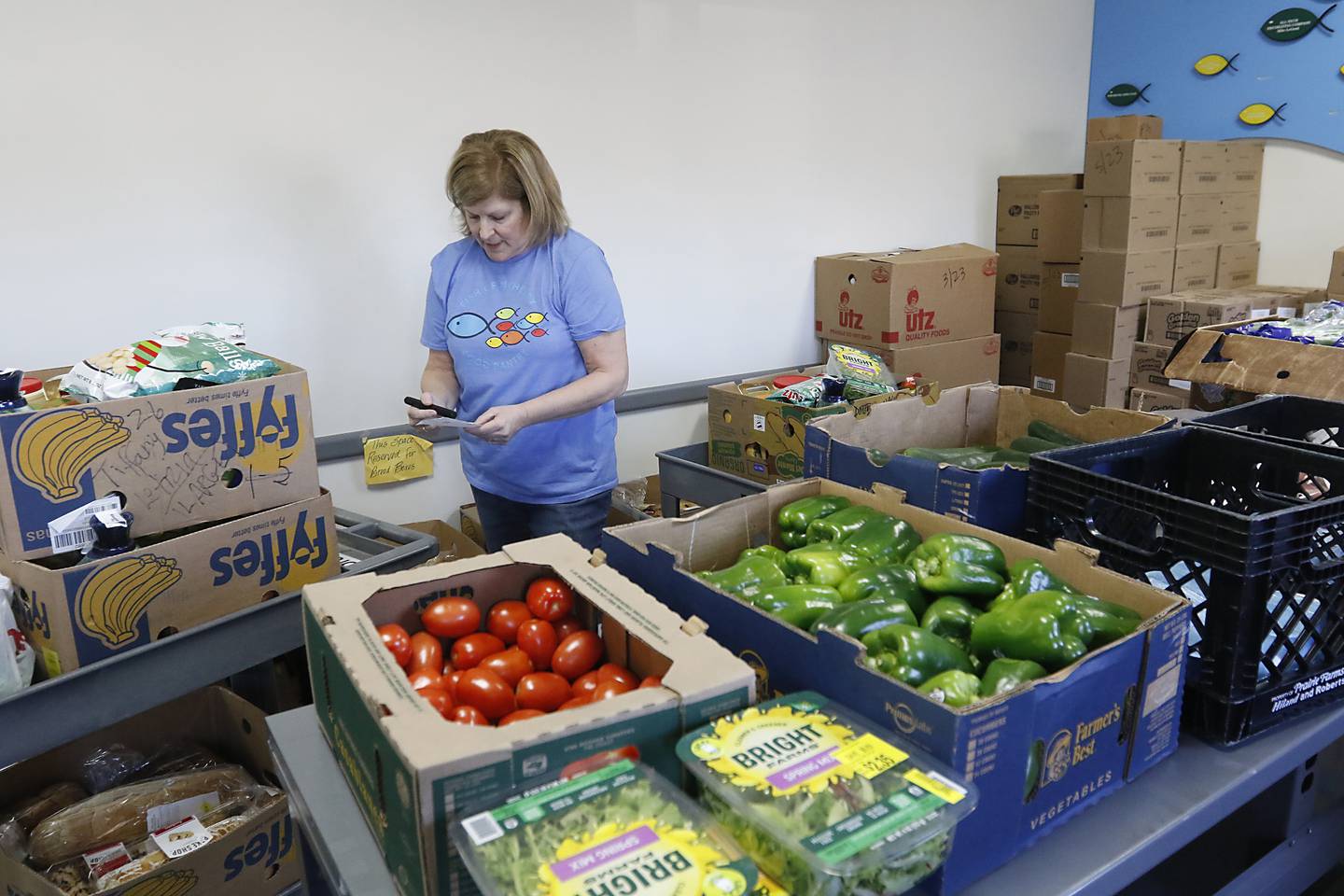 The Johnsburg pantry does not get outside funding, the directors said. It is partnered with the Northern Illinois Food Pantry, allowing them to purchase food at reduced rates.
Those rates are not as inexpensive as they used to be. "The supply-and-demand (problems) -- those have affected us. The food back can't get the items" it used to be able to, Chicoine said.
Where the pantry could order up to 15,000 pounds of food each week, sometimes it receives only about 5,000. Instead of giving clients two cartons of eggs, it can give out only one to each family because of the current prices and demand, Chicoine said.
Still, every $1 donated to the organization allows them to purchase about $8 in food.
While the food pantry does appreciate canned and boxed food drives, what the organization has found is that when volunteer groups set up outside a grocery store and tell customers what the pantry needs, those customers respond.
"They go in and buy it and drop it off in front" on their way out, Chicoine said.
The group has also been able to expand its outreach to people who do not have cars or who are otherwise homebound. A grant through the United Way of Greater McHenry County allows DoorDash to deliver food boxes to those clients.
Homebound clients are asked to call (815) 344-4717 or email fishinfo@fishofmchenry.org the day before either the Tuesday or Thursday morning distribution to request deliveries.