Parents with their children will be filing into schools this week across McHenry County and the lifting of COVID-19 restrictions in place during the pandemic means proper visits to the classroom on the first day back.
Multiple school districts in McHenry County are returning this week, and many parents and administrators say things feel back to normal after the past couple of years that saw significant upheaval thanks to the pandemic.
At Woodstock School District 200, grades K-12 went back to school on Monday. Prairiewood Elementary School on Monday morning had parents standing in a line that spanned outside the school.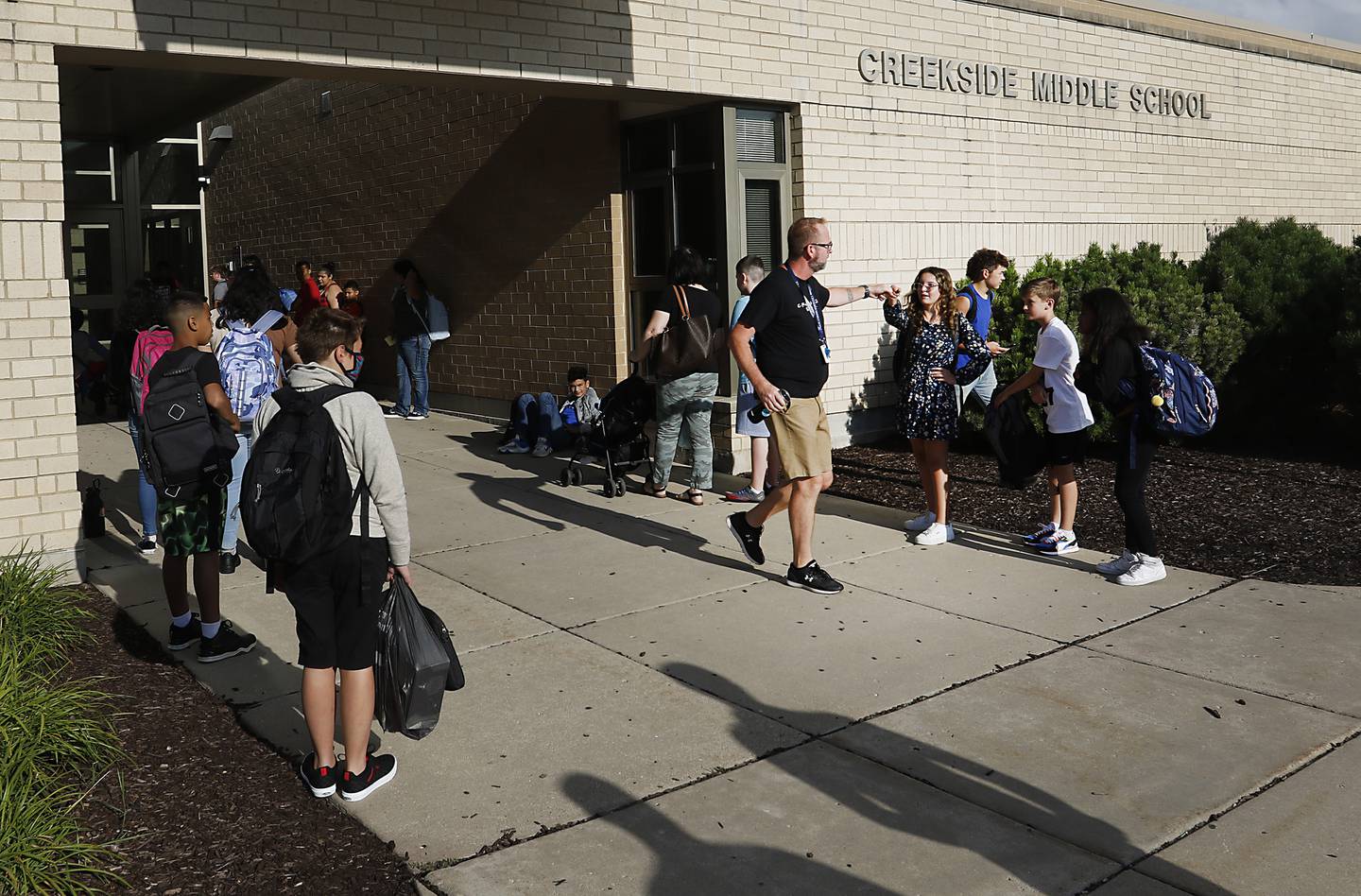 "Last year … we never saw the school until the end of the year," parent Alyssa Rosati, who was in the line, said. "The fact that we get to walk our kid to school, we did a meet-and-greet with the teacher, it was huge."
Prairiewood Principal Nikki Kunde, who is in her first year as principal but has been at the school in a few different roles, said being back to normal this year is what she's most excited about. Being able to have things like activities during and after school without having to worry about distancing will be a nice change, she said.
"We've had a lot of restrictions," she said. "It's going to be nice for teachers to get back to normal. … The energy is nice right now."
At Creekside Middle School in Woodstock, the sentiment is much the same. Last year, even with students back in the building, restrictions on a variety of things, from lockers and locker rooms, to students not being able to use bathrooms during passing periods, became a normal practice. None of that is returning this year.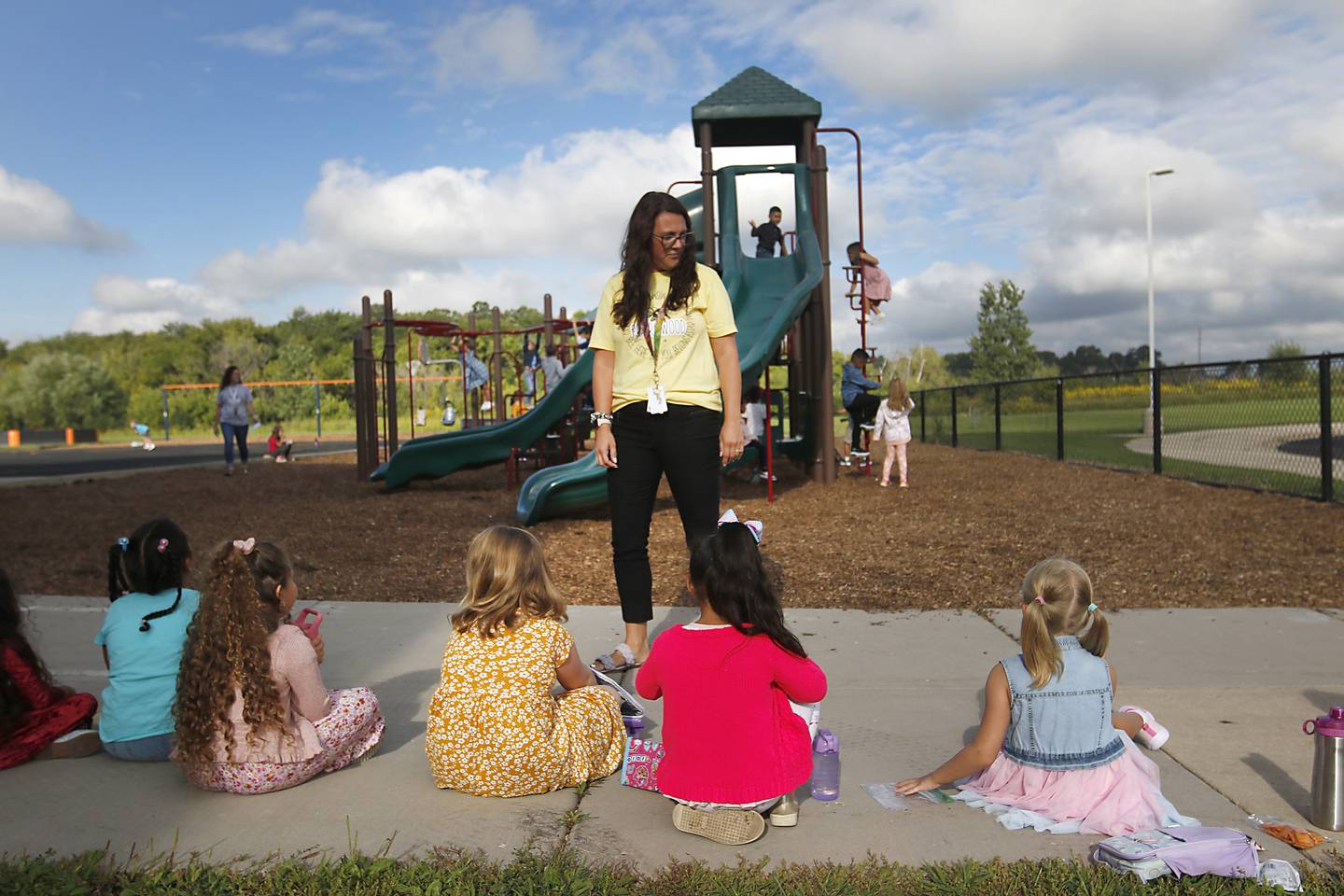 "I feel like we're back to normal," Creekside Principal Ryan Doyle said. "[Preparing for this year] was more student-focused. Last year was a lot of procedures and trying to get a handle on the COVID protocol."
At Creekside, teacher Jason Laidig said he expects students to be more engaged and excited since distancing isn't so much a factor, and the locker rooms are now open. Activities that required guarding, like basketball, should be a lot more fun, said Laidig, who teaches pyshical education and also is the school's dean of students.
"The effort, the energy, the intensity," Laidig said, "it's going to be a lot of fun to watch the kids give that effort."
Several school districts across the area are planning to start this week and next. McHenry Community High School District 156 also made the return on Monday.
Other school districts set to start this week include Huntley Community School District 158, and Marengo Community High School District 154, which goes back on Wednesday.
Crystal Lake Elementary School District 47, McHenry School District 15, Harvard School District 50, Nippersink School District 2, Fox River Grove School District 3 and Richmond-Burton District 157 also start back this week.
Next week, Marengo Union Elementary School District 165, Riley CCSD 18, Prairie Grove School District 46 and Cary School District 26 will return.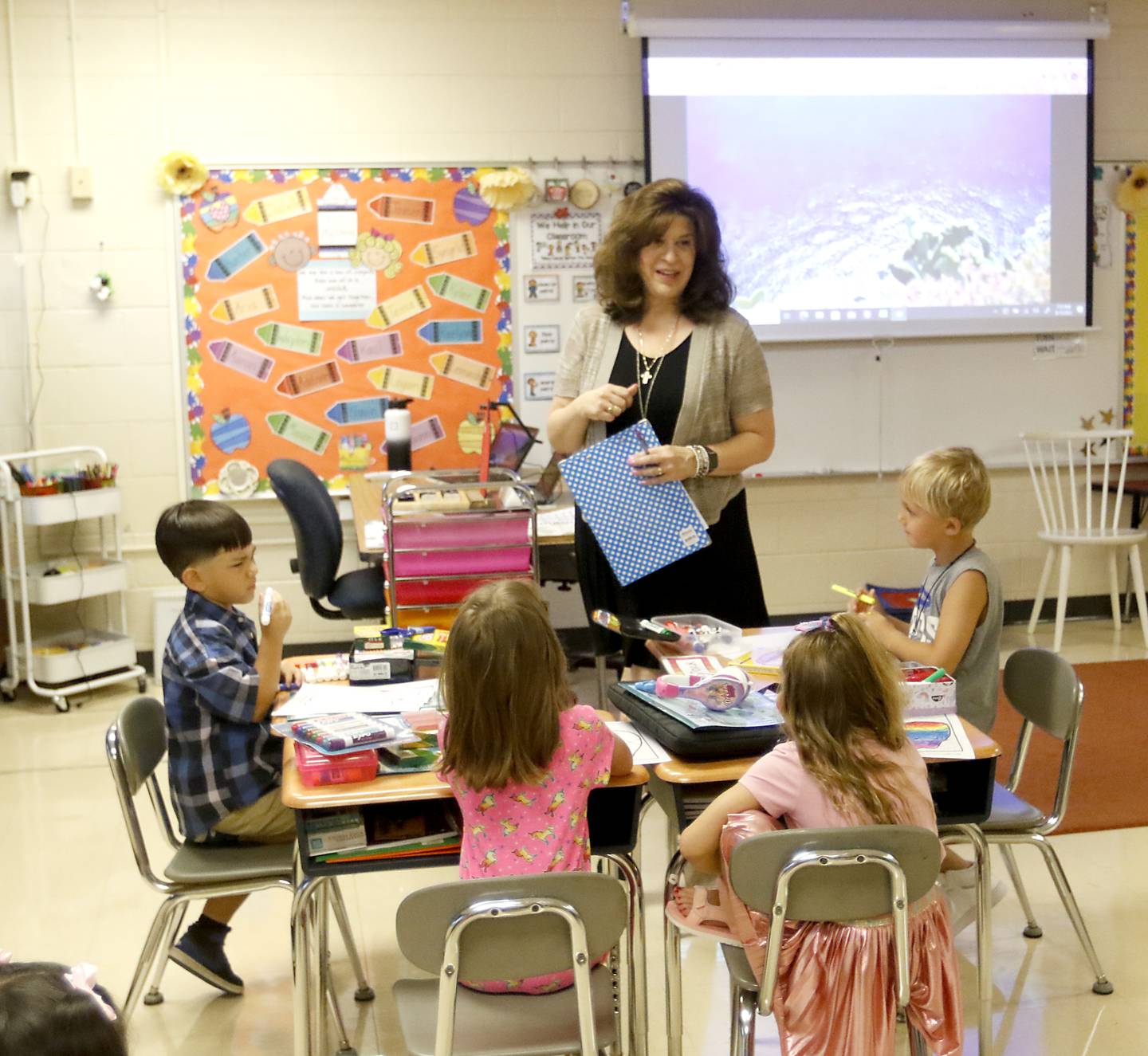 Johnsburg School District 12 also returns next week, on Aug. 23. Johnsburg Junior High School Principal Jamison Pearce said in an email Monday the school will be "rolling out the red carpet" for its students, with music and a round of applause for its students from its staff members.
"We are excited and hopeful for an awesome school year and we want to celebrate and recognize our first day of school," Pearce said in the email.
Crystal Lake-based Community High School District 155 started back last Thursday.
While schools will look more normal this year, some issues are still lingering from the pandemic. District 200 Director of Communications Kevin Lyons said the district, like many others around the country, are still seeing a shortage of bus drivers.
"Before COVID we were getting a decline in drivers," he said. "But then as COVID started, we had a lot of older drivers who chose to retire."
Sensing an "impending crisis" if something wasn't done, the district has staggered the times that elementary and middle school starts, giving drivers a chance to do multiple trips.
Despite bus drivers being in shortage, the district hasn't ran into many issues finding teachers and staff, Lyons said, saying they've been "pretty fortunate."
Summer coming to an end also means wrapping up many plans. But kids returning to school also makes it easier on both parents and students, with Rosati and parent Ben Geske saying it's a "relief" to get students back in the classroom.
"To have [my student] be able to interact face-to-face with a lot of those who aren't so close to home … he gets to see his friends every day," Geske said. "They're kids, they need that social interaction."
Going forward, helping students and families also is something Kunde said she wanted to focus on.
"A lot of people have been through a lot and we're prepared for that," she said.