Oakley, a 10-week-old golden retriever puppy, curled up on the floor next to a McHenry Police Department dispatcher on a recent Thursday morning.
The dispatcher was on the phone, walking a caller through administering aspirin to a family member experiencing chest pain. As she waited to hear that the ambulance had arrived, the dispatcher also stroked Oakley's head.
"What a better experience than that," Jason Sterwerf said after listening to the call and watching the dispatcher work.
Once the pup get's his American Kennel Club training and certification, Oakley will be the first police therapy dog in McHenry County, Sterwerf, the dog's handler, said.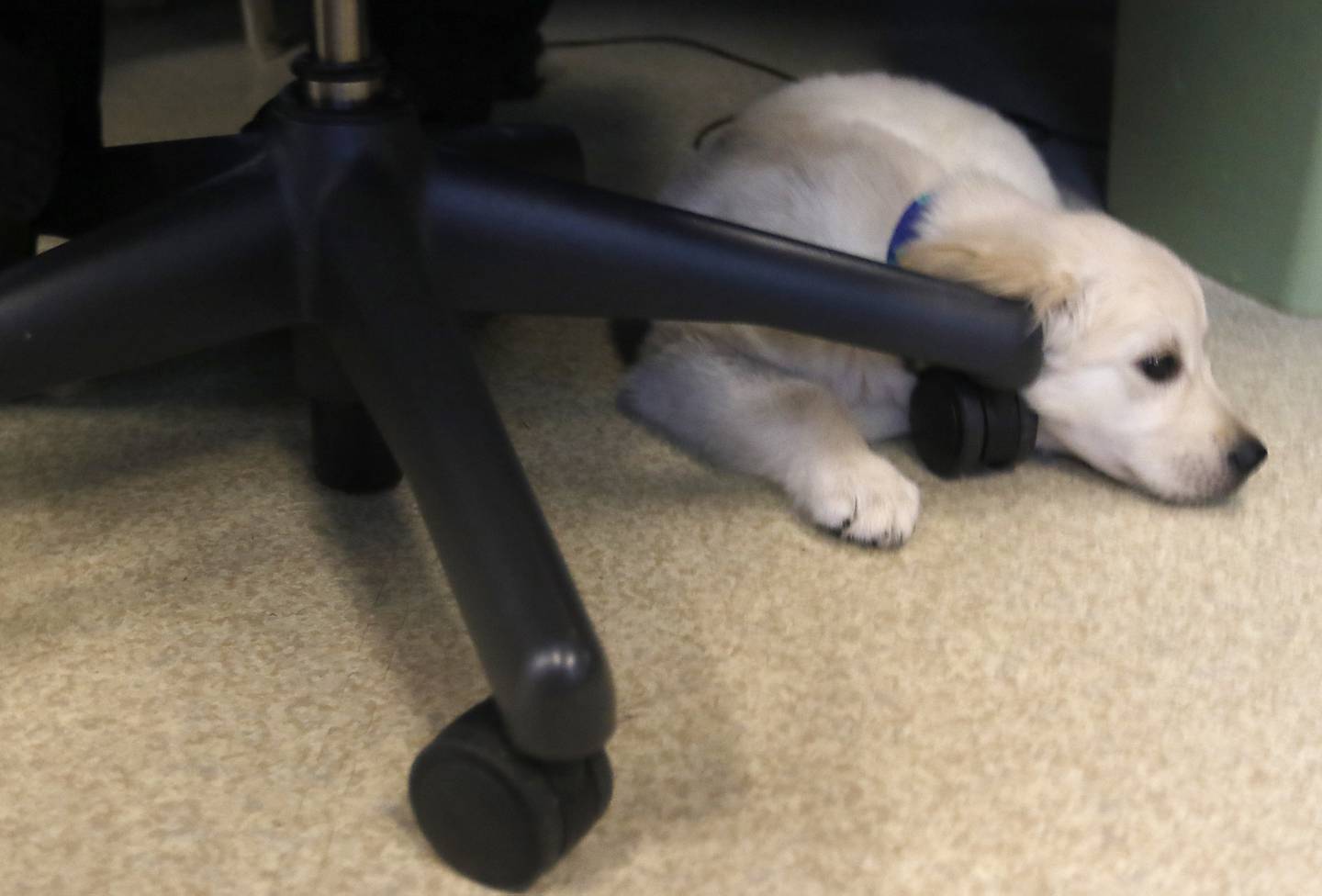 Sterwerf is the department's social services coordinator. Hired in April, Sterwerf has years of experience, holds a master's degree and is an Illinois-licensed clinical professional counselor.
He said he also is a dog lover and owner himself.
Even before he came on to the department, Chief of Police John Birk wanted a therapy dog added to the roster, Sterwerf said.
There are studies that show when people pet or interact with a dog, their blood pressure and heart rates come down. They can calm down and focus on their jobs, or telling an officer what happened to them or what they saw, Sterwerf said.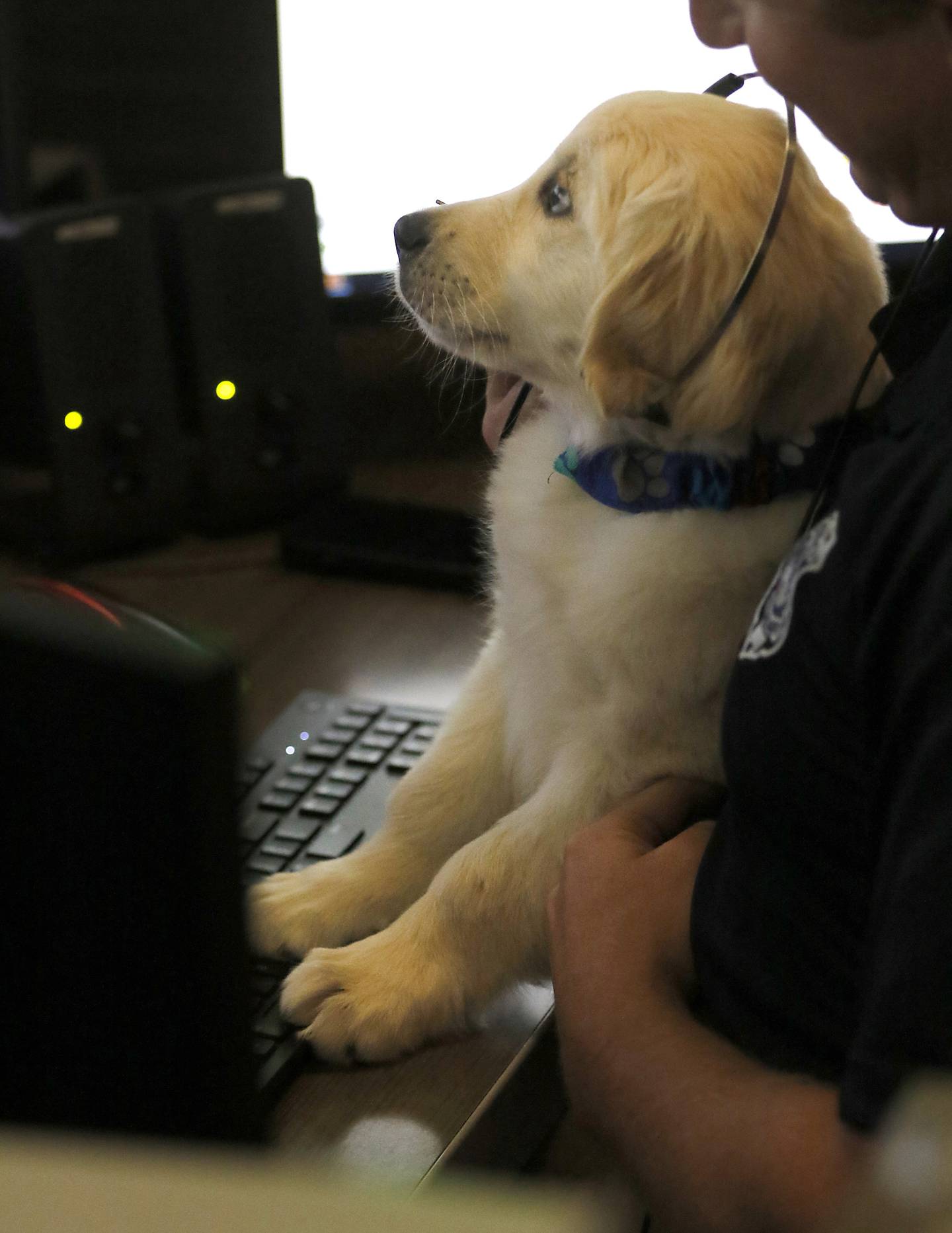 He has seen how comfort or therapy dogs can work in law enforcement and courts. The Lake County State's Attorney Office has two facility dogs.
"I saw the impact they had," Sterwerf said.
Oakley was paid for by a line item in the department budget and not through a grant. Once fully trained, the dog will be used as both therapy for officers and the public.
"He will be around the station to hang out with officers and dispatchers. After bad calls, on bad days, on a really rough day, he can lay with them while they write their report," Sterwerf said. "We will be in roll call, training and meet with officers before they leave. He will be here every morning and afternoon."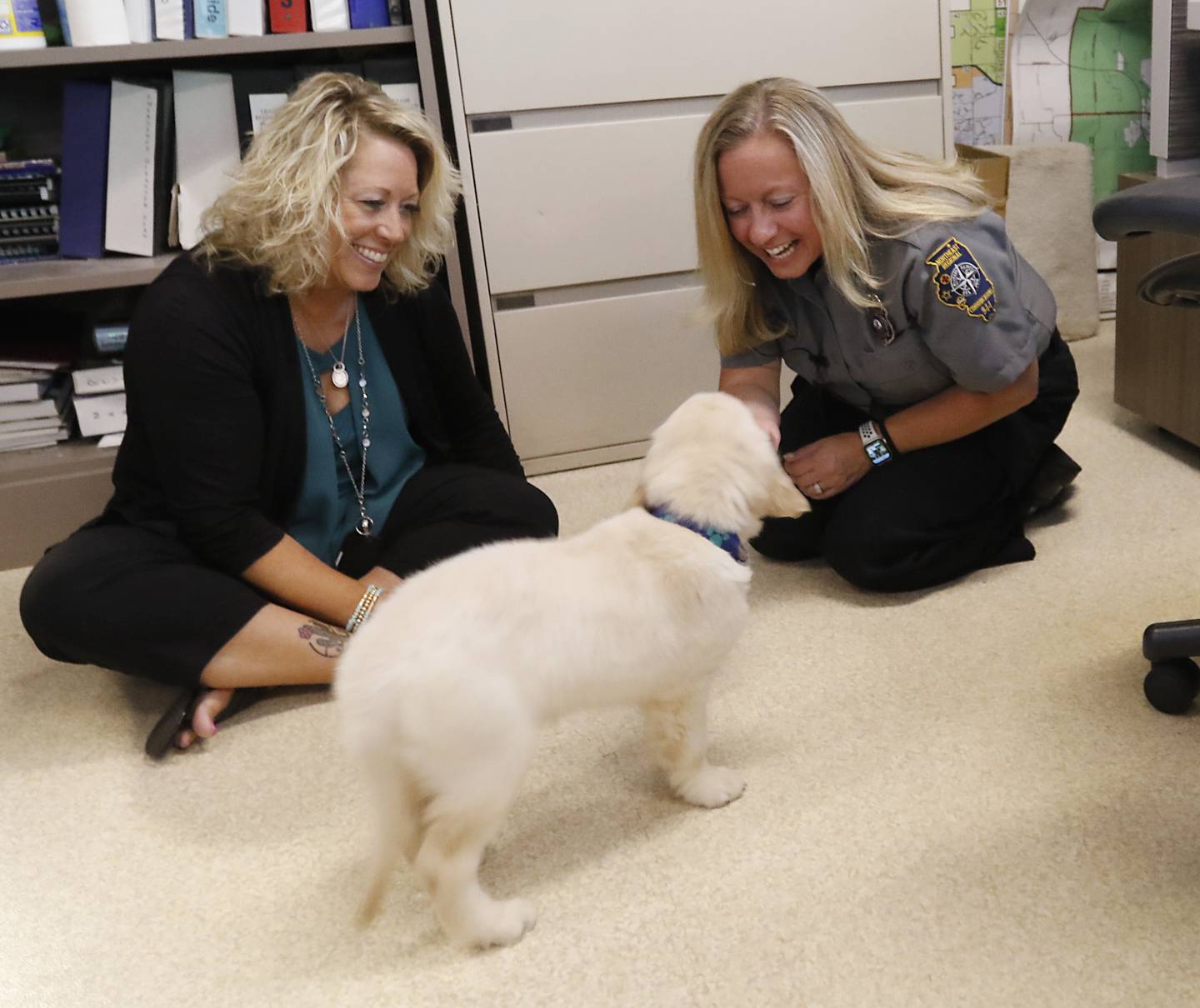 Jenny Synak, communications manager in the dispatch center, expects Oakley will be in their offices quite often. Dispatchers have written grants and made presentations for a therapy dog before, but Oakley is a first for them.
"It changes your channel mentally" to interact with a dog, Synak said.
In just the two days that Oakley was at the department, Synak said, she saw the difference he would make.
"Like most industries, we have staffing issues. My people are working a lot of overtime, 12-hour shifts and some are working 16 hours, and working on their days off. These people are managing crisis," Synak said.
Between calls, dispatchers can smile, play with the dog and refocus before taking that next call, she said.
What makes Oakley a therapy dog and not a comfort dog is the level of training he will receive, Sterwerf said. Once the certification is approved, Oakley will be able to visit schools, hospitals, nursing homes and be in the community for special events.
Oakley will go hand-in-paw with Sterwerf, working the same 9 a.m. to 5 p.m. shift, Monday through Friday, with other times on an as-needed basis.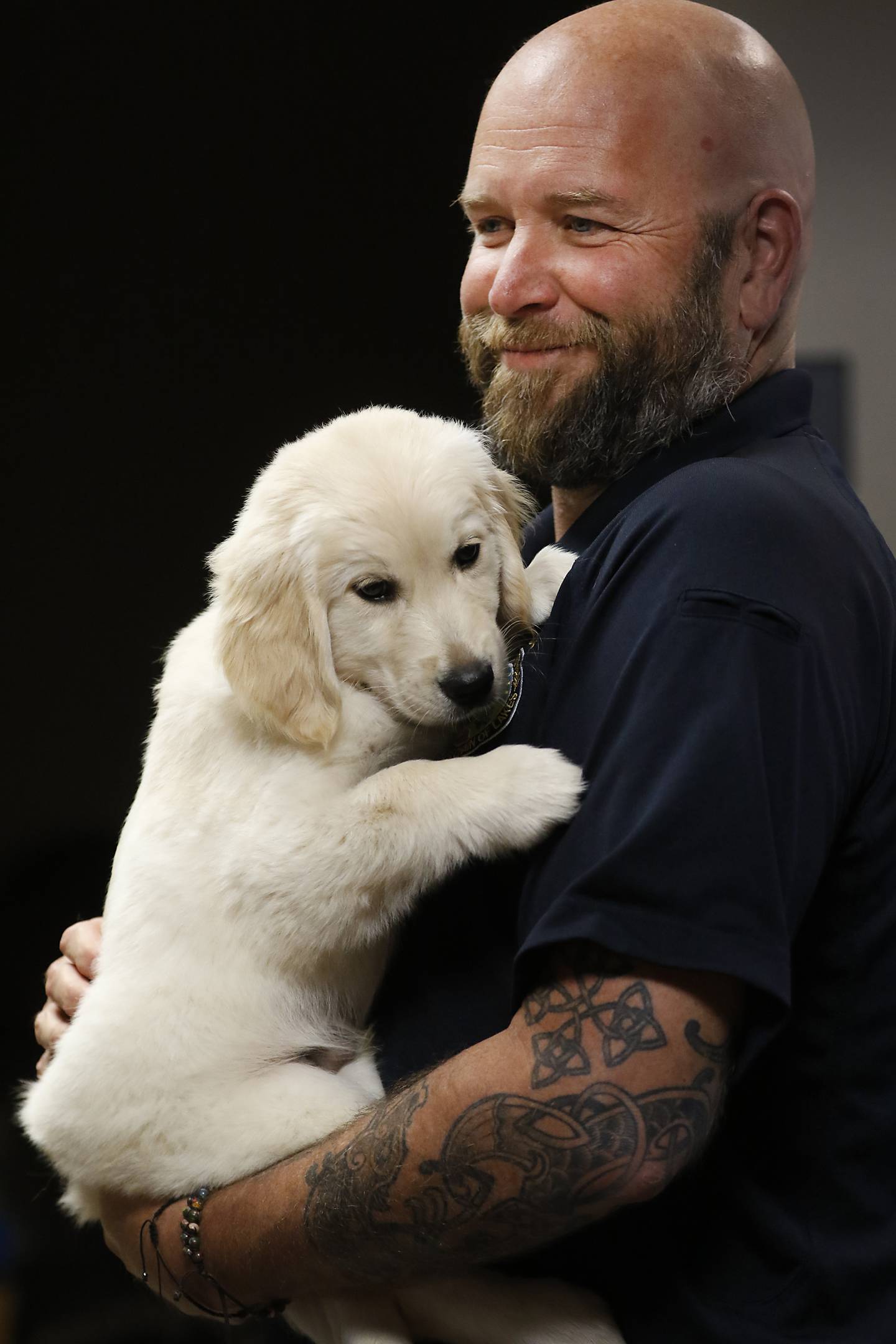 Sterwerf's job, he said, is "linking people in the community to resources and the resources to the community, whatever the might be."
He is also the in-house mental health professional for officers and dispatchers.
The hope, Sterwerf said, is to get residents the help they need before law enforcement is called in.
Oakley and his own position in the department is a work in progress. All of it is to have better interactions between police and residents, he said.
"The community, and not just in McHenry but the community in general, is asking law enforcement to make changes," Sterwerf said. "This is a good to start making those changes."