If Terry and Barbara Ptak saw what they think they saw in their Johnsburg yard, it was a rare sight; maybe 1 in 20,000, according to a Field Museum evolutionary biologist.
They saw two house sparrows, one all white and one mostly white with pinkish legs and a yellow bill. Both hatched in one of their birdhouses this summer, Terry Ptak said.
He wasn't able to get close to the all-white bird before it flew away and out of his yard. It has been back a few times, but always flies off before he can get a camera, Terry added. He's been unable to tell if the white one has pink eyes, beak and legs.
If the bird has pink features it is a true albino, said Jo Fessett, interim executive director at the Illinois Audubon Society.
If it has normal, dark eyes, the both birds have leucism. According to the Audubon Society website, leucism is caused when the birds produce melanin but cannot deposit it into their feathers.
John Bates is the bird collection curator at Chicago's Field Museum. As an evolutionary biologist, the Ptak's photos excited him. He studies how genes express in birds and bird populations.
He was almost more interested in the bird sitting on the picnic table. With its pink legs, yellow beak and darker eyes, it was showing signs of albinism and leucism.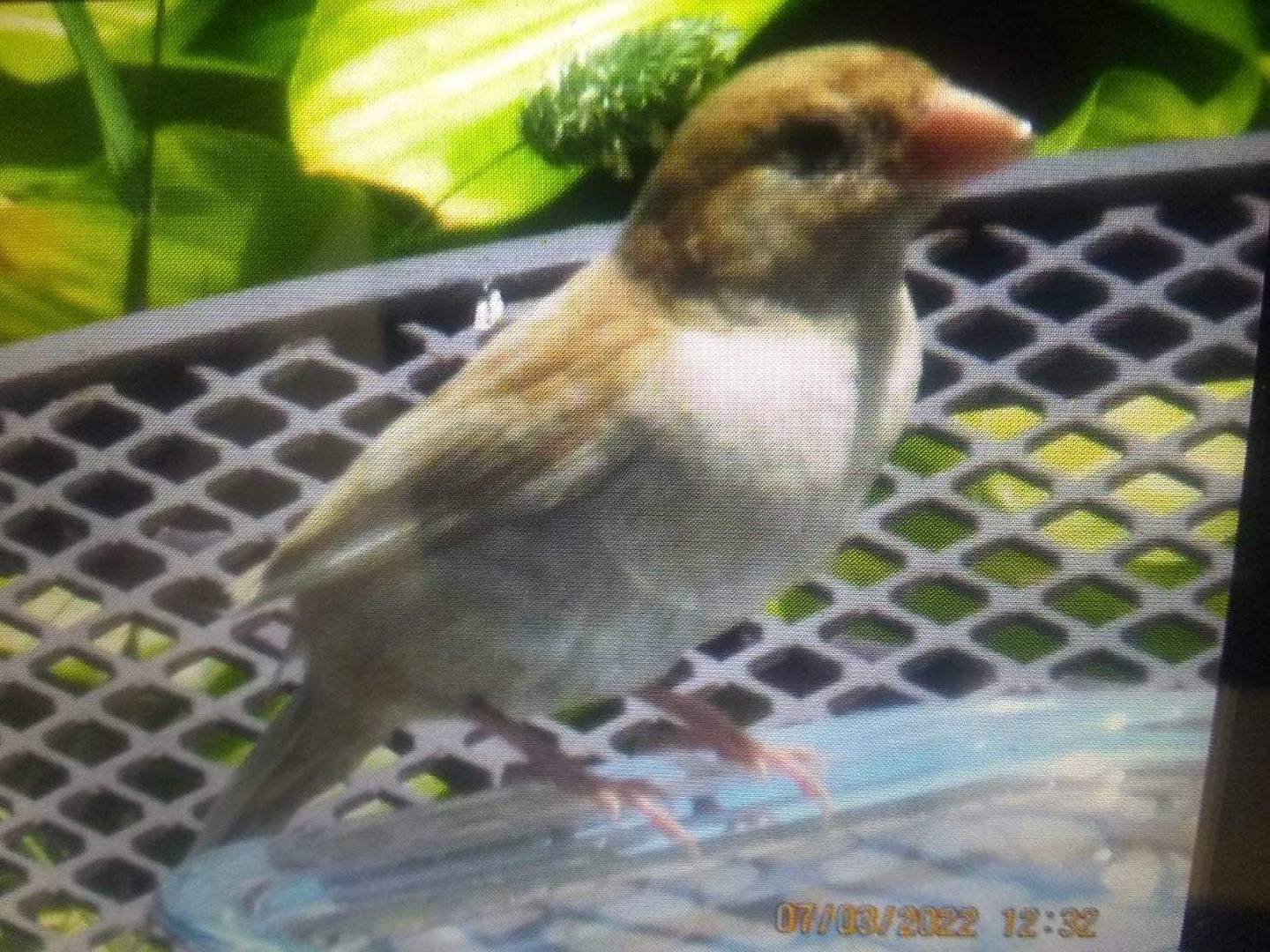 The lack of melanin "is clearly affecting its overall (color) development throughout the body. The melanin is not completely turned off," Bates said.
Terry Ptak said they saw both the white and the lighter sparrow in their yard last week, after fledglings from one of their five birdhouses left the nest.
Looking at the photos forwarded to her by a reporter, Fessett wasn't sure which type the white bird is. It may have a splotch of brown in its crown, she said. That would mean leucism.
Conventional wisdom says that birds with leucism have shorter life spans because without melanin, their feathers tend to wear out faster, Bates and Fessett said.
"A bird's protection is its camouflage and ability to fly. That total lack of pigment weakens the feather structure and their eyes are more susceptible and light sensitive," Fessett said.
"Any hiccup in their ability to be evaders of predators … it just makes their lives harder," she said.
Bates is not so sure if leucism will shorten either bird's lifespan. Plenty of bird species have all-white feathers and do fine, he said. Color variations in some bird species have been successful breeders that caused new variations in bird populations, he added.
Bates estimated what the wild populations of either albino or leucistic house sparrows might be based on the numbers found in the Field Museum's collection. He's never counted for leucistic specimens, but there are two albinos among the thousands in the museum's collection, he said.
For him, the big question for the Ptak birds is if the gene is recessive, if the birds will reproduce, and if the gene shows up in future offspring. "It could spread in a population. It would be interesting to see what happens with that," Bates said.
The Ptaks try to ensure the birds nesting in or migrating through their yard get the best survival chance available. "We try to help," Terry, who noted that his last name means "bird" in Polish, said.
The couple fill bird feeders and bird baths for songbirds, hummingbirds and orioles. Hummingbirds get sugar water without added coloring that they make fresh, and the orioles get grape jelly, he said. One bird feeder has many different species that visit it: chickadees, American goldfinches and house wrens among them, Terry said.
They'll watch the birds in their yards while drinking their morning coffee or tea. Their grandchildren get into watching the birds too, Terry said.
"It is fun to see it in nature and in front of you for free," he said.