After a sensational sophomore season – and missing her junior year because of the COVID-19 pandemic – Huntley pitcher Briana Bower found another gear.
The Red Raiders' super ace continued her dominance in the circle as a senior, hitting 69 mph with her fastball and smashing records along the way, to lead Huntley to a Class 4A state tournament third-place finish, the team's second state trophy in as many seasons after winning it all in 2019.
That she only had three seasons to put together arguably the best high school pitching career in McHenry County history is even more remarkable.
"We're fortunate we had three years to watch it," Huntley coach Mark Petryniec said. "I won't sit here and say I wish we had that fourth year because I think she almost became the player she was because they took something away from her."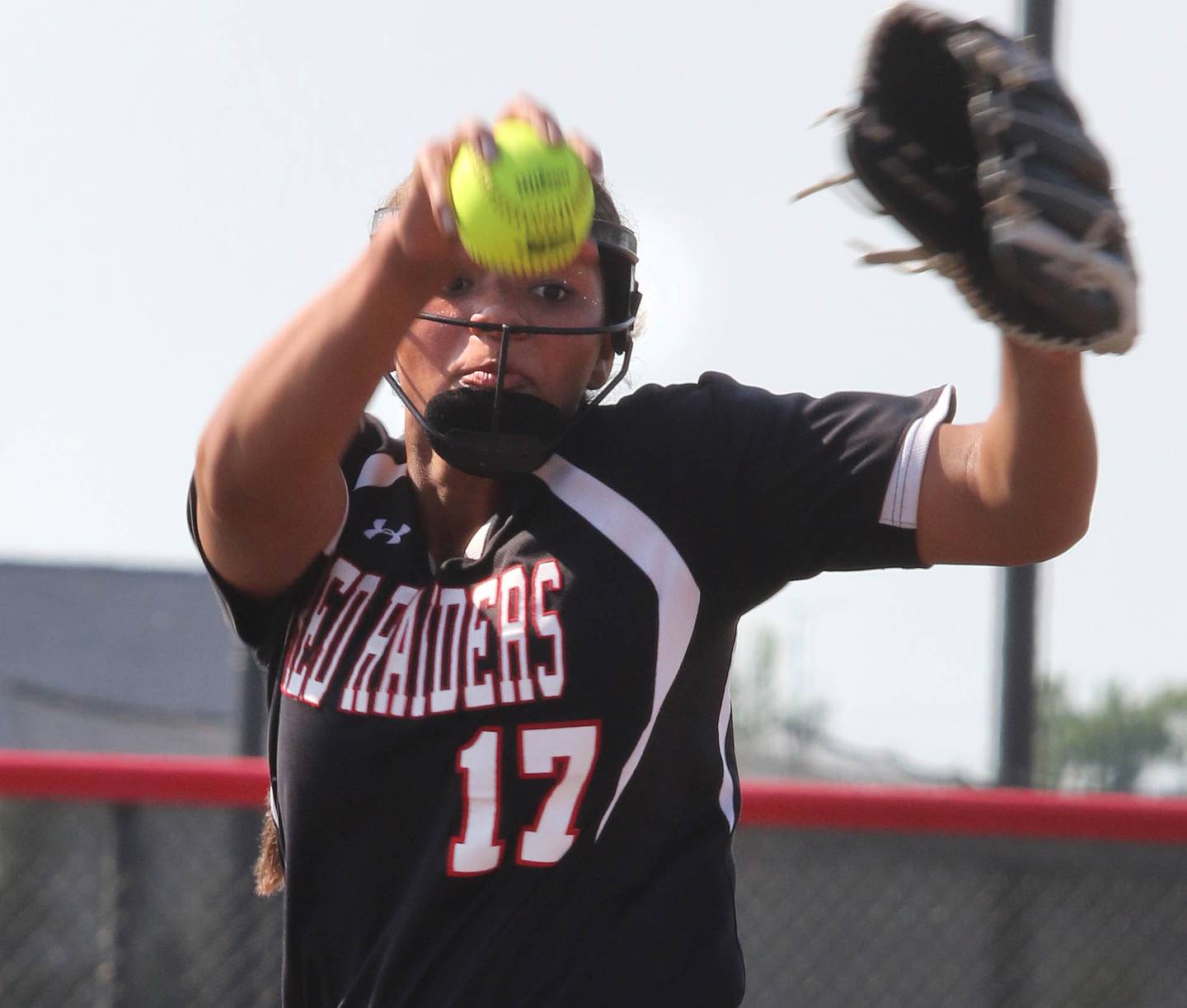 Bower finished her high school career with 922 strikeouts over three seasons, including a school- and area-record 460 strikeouts this past season. She set and broke the team's single-game strikeout record multiple times throughout her career, including games of 20, 25 and 28 strikeouts as a senior.
Her 31 wins in 2021 led all pitchers in Illinois and are tied for 16th most in a season in state history, according to IHSA.org. Her 460 strikeouts are ninth most in state history, and she set the Class 4A state tournament record with 18 strikeouts against Minooka in the third-place game.
Bower also excelled at the plate. She tied Crystal Lake South junior catcher Alexis Pupillo for the area lead with 13 home runs, including a homer in her first at-bat of her final high school game, and drove in a team-high 42 runs with a .364 batting average.
For her career, Bower finished with a 65-14 record as a pitcher, earning two Fox Valley Conference titles, two sectional titles, three regional titles and the school's first state title. She will play next year at NCAA Division I Mississippi State.
For her efforts and accomplishments, Bower is the 2021 Northwest Herald Softball Player of the Year, as selected by the sports staff with input from area coaches. Bower also won the award in 2019. Northwest Herald sports writer Reanne Weil had a few questions for the Raiders ace after a remarkable three-year run.
What moment or game will you remember most from your senior year?
Bower: Definitely the Harlem game [for the Class 4A sectional championship]. After we were down, 1-0, for five innings, we had two outs and then we scored seven and won the game. I think that was pretty memorable.
Who is the most difficult batter to face in the Fox Valley Conference?
Bower: I'd have to say [Crystal Lake South junior catcher] Alexis Pupillo. She got close to taking one out on me, but she's a great hitter. I didn't strike her out, but I got her out on some ground balls. We were going head-to-head with home runs, so I think she was the best batter.
If you could have dinner with any three people, who would they be?
Bower: Chis Evans, Taylor Swift and Michael Jordan.
What personal accomplishment are you most proud of?
Bower: Going those 13 innings against Lemont (a 2-0 win and one-hitter). It was the longest game ever. I just did my job, and I think I got the highest strikeouts I've ever gotten in a game (28).
What's the better feeling? Hitting a go-ahead home run or throwing a no-hitter?
Bower: Definitely hitting a go-ahead home run because in order to win games, you have to score.
What is your favorite fast food?
Bower: I like Taco Bell and Raising Cane's. I like their chicken and their Cane's sauce.
If you could live anywhere in the world, where would it be?
Bower: I think I would want to live in Greece. I've seen pictures of it, and I want to go there for vacation, or maybe when I'm older. It's beautiful there.
What would be your walk-up song?
Bower: My teammates put on The Backyardigans' "Castaways" song for me as a walk-up song, so I'll go with that. I think they were just trying to be funny. Everybody got serious ones, and I got that one. I'll roll with it.
What's a sport that you are bad at?
Bower: Probably swimming. I don't like the deep end, and I must say I'm a bad swimmer.
Who is your funniest teammate?
Bower: I'm going to have to say (senior first baseman) Alex Kiriakopoulos. She's hilarious. She'll make our coaches laugh, she'll make our teammates laugh. Everything she says is funny. We're good friends, so I'd say Alex.
How do you prepare to start a game? Do you have any rituals or superstitions?
Bower: This year I would just blast music 30 minutes before and get ready, but the year before I would eat a McChicken. I listen to the team playlist, so it's just a bunch of "Today's Hits" and stuff like Olivia Rodrigo and pump-up music.
What is your favorite class in school?
Bower: I like history. I think it's pretty cool to learn about everything and the wars. It interests me.
Who was the toughest pitcher you faced this season?
Bower: I'd have to say the Marist pitcher [Boston College commit Abby Dunning]. Our first time we played her, she struck us out 18 times, but our last time, we played them we brought it down to about 13, so that's improvement.
What are you looking forward to most about Mississippi State?
Bower: I'm looking forward to making new friends and being out on my own and being independent. Just the college experience and the team. I'm looking forward to experiencing all of that.
What will you miss most about your time at Huntley?
Bower: There's a lot of things to miss. I'm going to miss our community. At the Barrington Supersectional, the guy who was taking attendance said there were 1,000 people there or something. I'm definitely going to miss the coaches. They always put their trust in me and respected me, and I respected them. We all had such great bonds and we all still talk, even our group chat is still rolling. I'm going to miss my teammates and the bonds we formed over the last two or three months. I'm going to miss that the most.