Richmond-Burton girls soccer coach Casey DeCaluwe has seen share of success in six seasons at the school.
The Rockets are 69-47 since DeCaluwe took over in 2015, and have won four regionals and two sectionals during that time.
This season, with a young, talented roster, the Rockets finished 14-3-3 and advanced to the Class 1A IC Catholic Supersectional, where they fell to Timothy Christian, the eventual state runner-up, 1-0.
For his team's success, DeCaluwe is the Northwest Herald Girls Soccer Coach of the Year, selected by the sports staff with input from area coaches. Cary-Grove's Ray Krystal, Crystal Lake Central's Sarah Fack and Burlington Central's Jessica Arneson all received support from their Fox Valley Conference colleagues as well.
DeCaluwe also took the honor in 2015, when the Rockets were 15-9-2 and won a Class 1A Sectional. This year's team won the Kishwaukee River Conference with a 10-0 mark.
DeCaluwe, who played at Mundelein and at Eastern Illinois University, answered a few questions from Northwest Herald sports writer Joe Stevenson about the season and soccer in general.
Who had the greatest influence on your coaching career?
DeCaluwe: My high school coach Chris Sell. He taught our teams that if we worked hard and kept to the process we would have success. I knew when I was in high school I wanted to coach at the high school level. I try to teach my teams these same lessons each season.
Who is the best speaker you have ever heard at a coaches' clinic?
DeCaluwe: Former NIU Head Coach Eric Luzzi. He ran camps for my boys and girls teams during the summer. Eric always gave me fresh ideas and quality training tips.
Is there a player on your team who really makes you laugh?
DeCaluwe: The whole team cracks me up. Rosie Felch and Amber Houle are two seniors who considered themselves part of the coaching staff always kept us in tune with this young group. With this being a brand new team, (due to last years season being canceled) it took the group quite a bit of time to understand the coaching staff and their sarcastic humor. When it started getting hot this season and players were wearing masks while playing, we could not tell if the team was ever smiling or enjoying themselves. In an attempt to lighten the mood, I went shopping and got squirt guns for the bench. This was just a tactic to keep the players smiling, laughing and keeping cool. The players, of course, then turned it back on the coaches and made sure we got soaked during every game. They got their greatest revenge soaking me after our sectional win against Willows Academy. This whole team was just a great group to be around.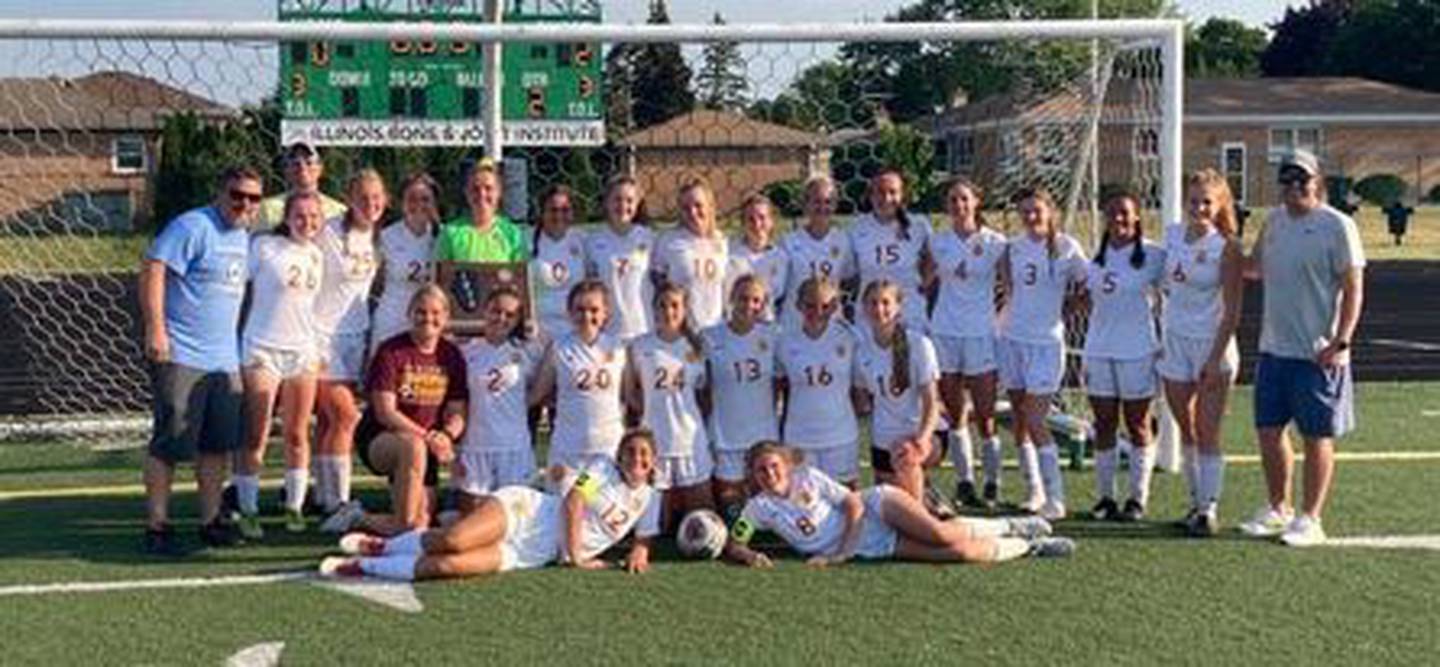 Do you have any rituals or superstitions before a game?
DeCaluwe: The same Rockets' game-day shirt. I do a lot of laundry during the season.
What would be your walk-up song if you played baseball?
DeCaluwe: Elton John's 'Rocket Man.'
What are three of your favorite sports movies?
DeCaluwe: "Tin Cup," "Rudy" and "Miracle."
What scares you?
DeCaluwe: Private schools in the supersectionals (R-B lost to Rock Island Alleman, 1-0, in a 2015 supersectional, and to Timothy Christian, 1-0, this year. All Class 1A state semifinal teams this season were private schools).
What do you like to do when you have some free time?
DeCaluwe: If I am not hanging out with family I am probably out on the golf course or watching sports.
What is one of your biggest pet peeves?
DeCaluwe: Teams scoring more than 10 goals in a game. It is not needed to win the game. Show the kids on the other side of the ball respect and possess the ball.
What is one stadium you haven't been to where you would like to see a game?
DeCaluwe: Manchester United at Old Trafford. I played in England during my collegiate career and got to see a match at Loftus Road between Fulham and Bolton. The atmosphere of a EPL game is absolutely fantastic and I would love to see a game at the 'Theatre of Dreams.'