WOODSTOCK – McHenry's Aubree Lundin was the No. 7 golfer on varsity three years ago and admittedly didn't know a lot about the sport.
On Wednesday, the Warriors senior held on tightly to the Fox Valley Conference championship trophy after her team was crowned conference champions at the FVC Tournament at Crystal Woods.
"It means everything to me," said Lundin, who tied for eighth with a 94. "I went from being No. 7 on varsity my first year ever playing golf and had no idea what I was doing. Now we're winning conference, so it really means everything to me."
Huntley fired a 377 as a team to beat McHenry (378) by one shot for the tournament title, but the Warriors came away with the overall conference championship based on their perfect record in duals. McHenry last won conference in 2003.
Prairie Ridge (387) was third, followed by Hampshire (392) and Crystal Lake Central co-op (395).
Hampshire senior Lily Farnam was the individual champion with an 86, followed by McHenry's Madison Donovan (87) and Prairie Ridge's Jenna Albanese (89), who were the only three golfers to shoot in the 80s. Central co-op's Delaney Medlyn and Huntley's Maddie Sloan tied for fourth with 91s.
Entering the season, Donovan, a junior, was unsure how the Warriors would fare.
Not only did McHenry go 12-0 in duals, it also shot a season-low 9-hole round of 168, which coach Sean Sterner said is the lowest score a team of his has shot in 10 years.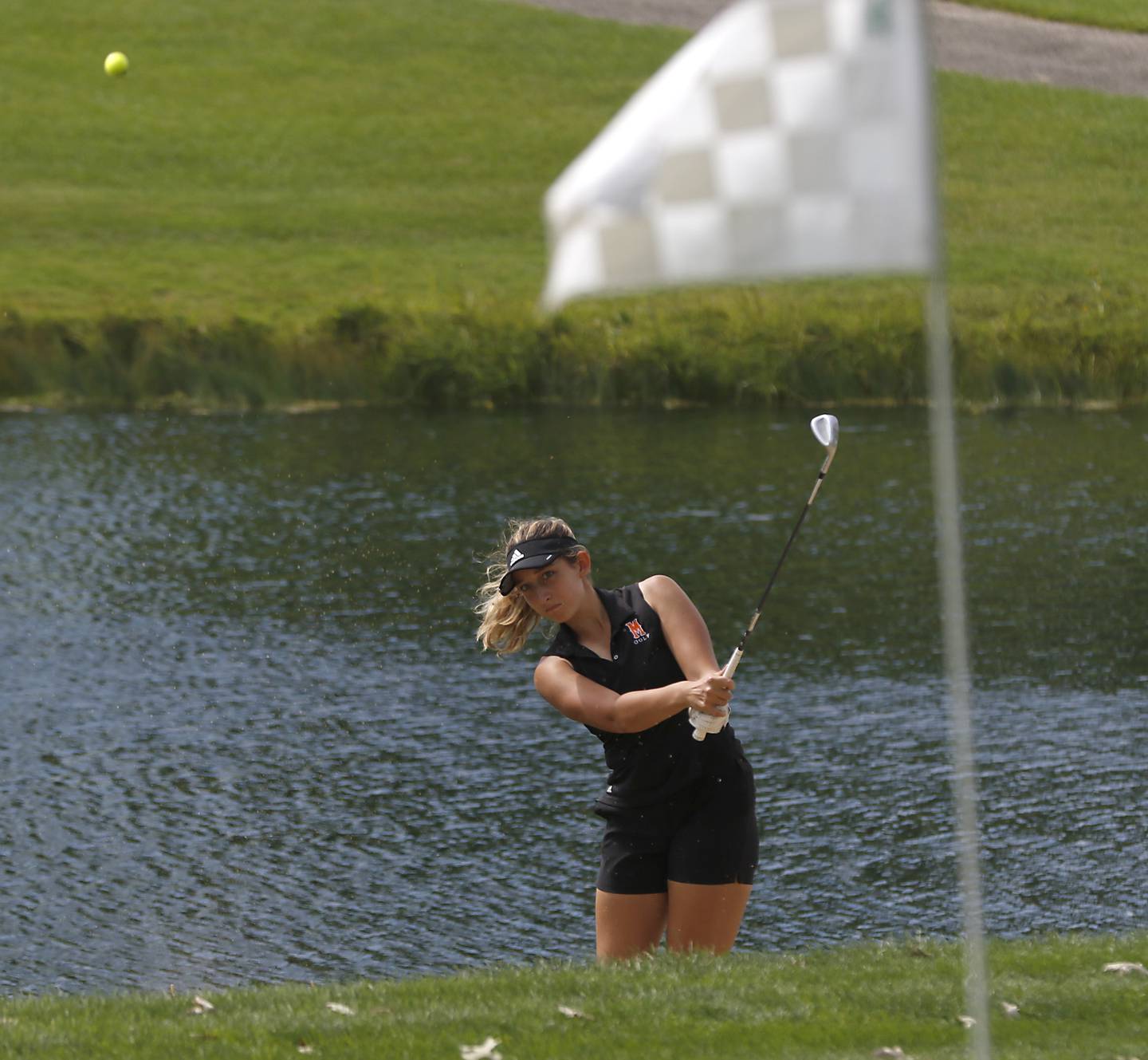 "It's honestly crazy, it was more than I was expecting," Donovan said of winning conference. "Going into this year, I didn't even think we were going to break 200. This team is a family, and I think that's what helps a lot. We all believe in each other. Our team motto is, 'Every shot counts,' and I think that's what we all did."
This year's tournament results could be tracked live on player's cell phones, but Lundin said she didn't take a peak at the leaderboard. Also scoring for McHenry on Wednesday were Jennifer Henry (97) and Kilynn Axelson (100).
"I personally was clueless at the scores because I knew [if I looked] I'd be so nervous," Lundin said. "It was such a relief. It was a, 'Really? We just did that?' "
Farnam held on for the tournament individual title with an 86, beating Donovan by one shot. Her winning round included a birdie on the par-3 No. 7, as well as seven pars.
The Whip-Purs senior said her short game was working well.
"A lot of people were scared because they just aerated all the greens, and that can be very tricky," Farnam said. "But I got here early, I kind of felt out the greens, and I went in confident. I went behind every putt and I was like, 'I'm going to make this putt,' and I think that saved me a lot."
Farnam said playing with Donovan and Medlyn was a lot of fun.
"We play all summer long together," Farnam said. "With them, it was very easy just because I know them and we can create easy conversation, and we're really good at lifting each other up. It's an amazing thing to have, you don't have that a lot in golf. They are two of the strongest competitors."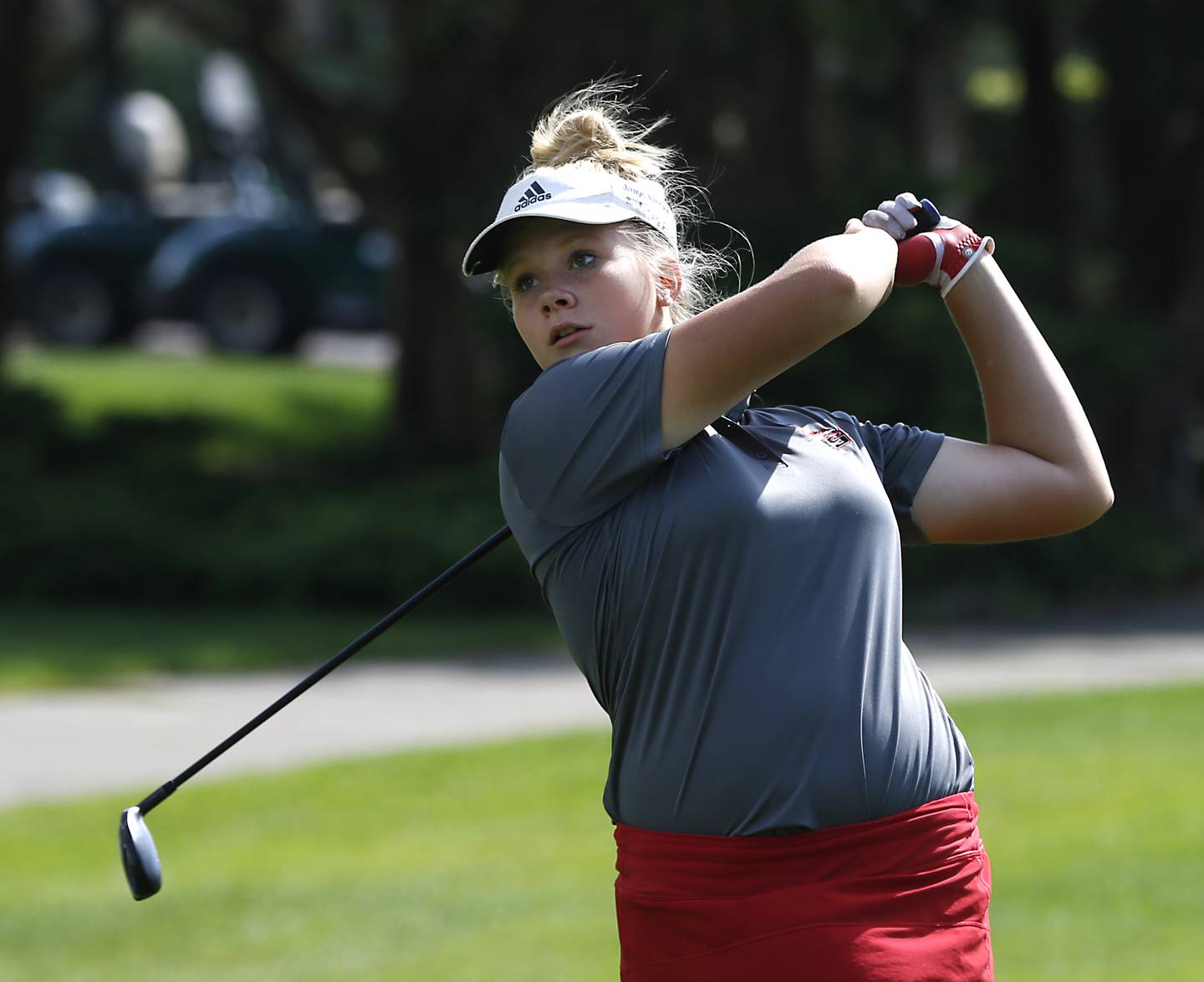 Huntley was led by Maddie Sloan (91), Aubrey Dingbaum (93), Kylie Szymczak (94) and Abby Panier (99).
The Red Raiders won the tournament for the third time in the past four seasons, although the overall conference championship just eluded them.
"It still means a lot," Sloan said. "It's something that we've done before and every time, it just feels great because everybody likes to win. Last year, I shot a 103 or something here. It was a lot better and exciting this year because I knew I could do better than last year.
"It was fun to improve. I really worked on just trying to straighten everything out, and I put more time in the game because I wanted to be better."
Hampshire's Kaylee Seo tied Dingbaum for sixth with a 93, Prairie Ridge's Abby Kay (94) tied for eighth, D-C's Magen Laas (96) took 11th, Prairie Ridge's Grace Mertel (98) was 13th, and Central co-op's Madeline Trannel (99) tied for 14th.
Fox Valley Conference Tournament
at Crystal Woods in Woodstock, par 72
Medalist: Lily Farnam (Hamp) 86
Team results: 1. Huntley 377, 2. *McHenry 378, 3. Prairie Ridge 387, 4. Hampshire 392, 5. Crystal Lake Central co-op 395, 6. Dundee-Crown 413, 7. Burlington Central 432, 8. Jacobs 498
Top-14 individuals: 1. Lily Farnam (Hamp) 86, 2. Madison Donovan (McH) 87, 3. Jenna Albanese (PR) 89, T4. Delaney Medlyn (CLC), Maddie Sloan (Hunt) 91, T6. Aubrey Dingbaum (Hunt), Kaylee Seo (Hamp) 93, T8. Aubree Lundin (McH), Abby Kay (PR), Kylie Szymczak (Hunt) 94, 11. Magen Laas (DC) 96, 12. Jennifer Henry (McH) 97, 13. Grace Mertel (PR) 98, T14. Abby Panier (Hunt), Madeline Trannel (CLC) 99
All-conference: 1. Madison Donovan (McH), 2. Lily Farnam (Hamp), 3. Jenna Albanese (PR), 4. Aubrey Dingbaum (Hunt), 5. Delaney Medlyn (CLC), 6. Aubree Lundin (McH), 7. Kaylee Seo (Hamp), 8. Magen Laas (DC), 9. Maddie Sloan (Hunt), 10. Abby Kay (PR), 11. Kilynn Axelson (McH), 12. Natalia Gusciora (BC), 13. Sophie Morawski (DC), 14. Madeline Trannel (CLC), 15. Abby Panier (Hunt), 16. Jennifer Henry (McH), 17. Kylie Szymczak (Hunt), 18. Rylee Rud (CLC)
*-Overall conference champion
Team scores
Huntley (377): Maddie Sloan 91, Aubrey Dingbaum 93, Kylie Szymczak 94, Abby Panier 99
McHenry (378): Madison Donovan 87, Aubree Lundin 94, Jennifer Henry 97, Kilynn Axelson 100
Prairie Ridge (387): Jenna Albanese 89, Abby Kay 94, Grace Mertel 98, Brooke Benjamin 106
Hampshire (392): Lily Farnam 86, Kaylee Seo 93, Jaina Farnam 106, Lorna Bachta 107
Crystal Lake Central co-op (395): Delaney Medlyn 91, Madeline Trannel 99, Rylee Rud 102, Addison Cleary 103
Dundee-Crown (413): Magen Laas 96, Sophie Morawski 102, Lydia Rodriguez 103, Sabrina Barrett 112
Burlington Central (432): Natalia Gusciora 104, Riya Gangavarapu 104, Ariana Riep 112, McKenna Berglind 112
Jacobs (498): Marley Skarosi 123, Emma Skarosi 124, Anya Piarowski 124, Kayla Doetsch 127