GRAYSLAKE – Prairie Ridge players gathered near the visitor's bench and wiped away tears as Deerfield celebrated a 68-36 win Tuesday in a Class 3A Grayslake Central Sectional semifinal.
The third-seeded Wolves, who secured their first regional title since 2014 a few days earlier in the same gym, saw their remarkable season come to an end. For those who had just played their final high school game together, it was especially bittersweet.
"I wouldn't have wanted to do it with any other people," said senior forward Kelly Gende, who posted 10 points and 10 rebounds in her final high school game. "They became my second family, my best friends.
"Everyday was like a competition, we grinded. We only wanted to get better."
[ Photos: Prairie Ridge faces Deerfield in the Class 3A Grayslake Central Sectional ]
Second-seeded Deerfield (26-5) moves on to meet top-seeded Carmel, a 49-43 winner against No. 4-seeded St. Viator in the night's first semifinal, in the championship game at 7 p.m. Thursday.
Prairie Ridge fourth-year coach Tim Taege took some time to reflect after Tuesday's season-ending loss. The Wolves finished an area-best 27-6 – a record that seemed far from possible not that long ago.
It also may or may not be the program's benchmark for most wins in a season. Those records have been impossible to find, Taege said.
"I didn't want them to have to end their season," said Taege, whose first team went 12-17 in 2018-19. "They left a legacy that I'll get to carry with as I continue to coach. They left their mark, and I'm proud to be a part of that. They play hard. I'm disappointed in the outcome, of course, but I'm not at all disappointed in my girls."
After scoring the game's first five points Tuesday, Prairie Ridge was unable to keep up with a talented and young Warriors group averaging 63 points a game. Deerfield led, 19-9, after the first quarter and, 27-15, at halftime.
Prairie Ridge cut Deerfield's lead to 30-23 with about five minutes left in the third quarter, but the Warriors responded by scoring the game's next 20 points. Freshman guard Aubrey Galvan had a game-high 20 and made five 3s, while junior Lexi Kerstein had 14 points and sophomore Kate Trella added nine.
Deerfield, the Central Suburban League Conference champions, has now eliminated three Fox Valley Conference teams (Crystal Lake South, Crystal Lake Central and Prairie Ridge) from the postseason.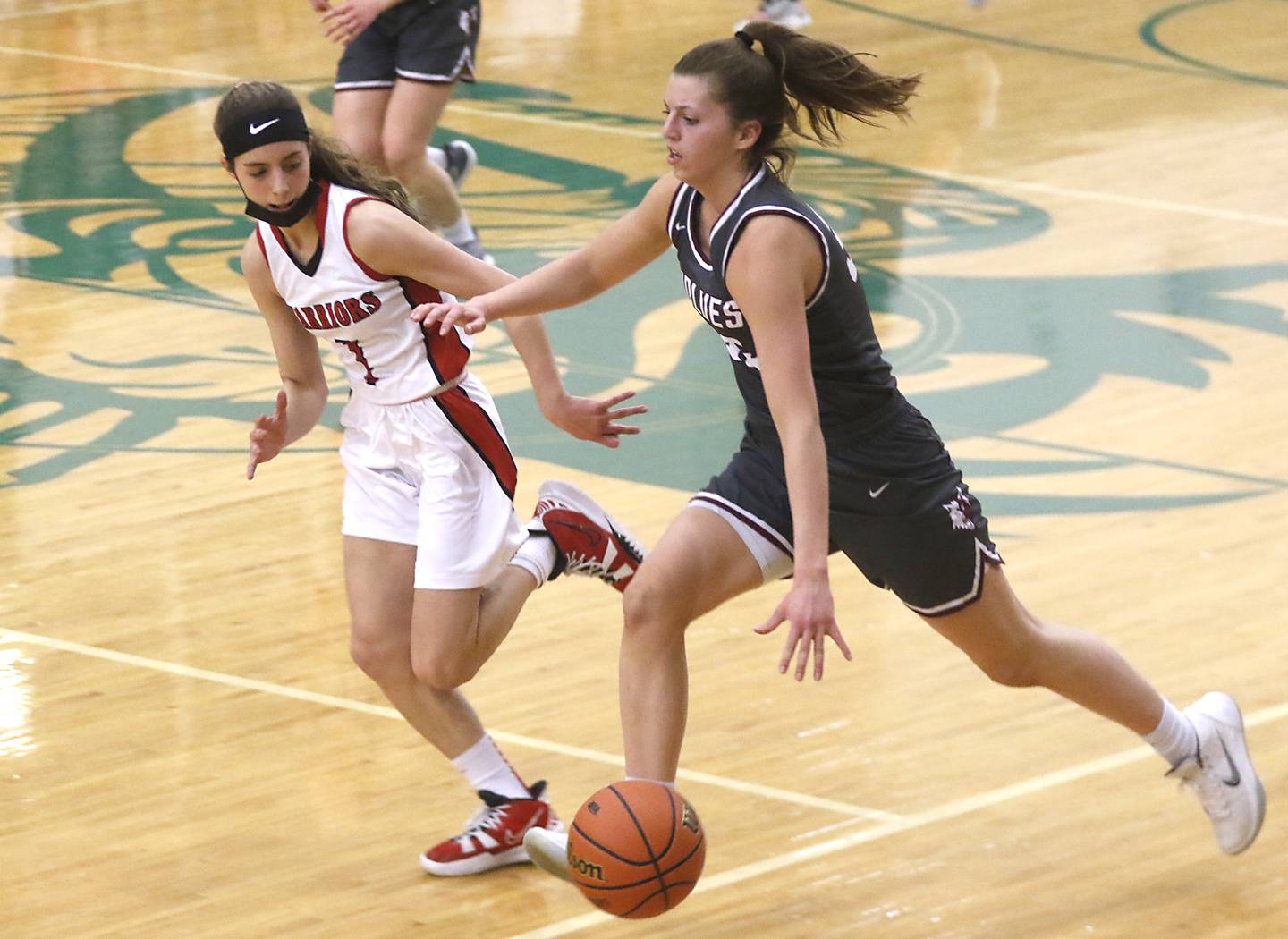 Prairie Ridge senior starter Karsen Karlblom, the program's all-time leading scorer and 3-point shooter, ended her four-year varsity career on Tuesday with a team-high 15 points, five steals and three assists.
She averaged 20 points in the three postseason games, scoring 21 in the regional final win over Cary-Grove on Thursday.
"The bond we had and how hard we played as a team, I never felt like we'd have this much chemistry and be this good," said Karlblom, who will play next year at NCAA Division III Hope College in Holland, Michigan. "We already got what we wanted with regionals, this was kind of a bonus game. I wish it didn't have to end like that, but we're going to be friends forever.
"We had a really good connection. I love them so much."
Senior point guard Elani Nanos, who Taege called the best point guard in the FVC this year, had six points and four steals. Senior Mackenzie Nelson came off the bench in the game's last moments and connected on a field goal and senior Amanda Mueller ended the game with a buzzer-beating 3.
Taege said Nelson and Mueller, along with senior Molly Wacaser, all chose to come back this season after not playing as juniors.
"I'm so grateful for all of them," Taege said. "I think this is is going to have a trickle effect. We're losing a lot of talented kids, we're not going to be the same team next year, but there will be a willingness because we've seen it and we've experienced it."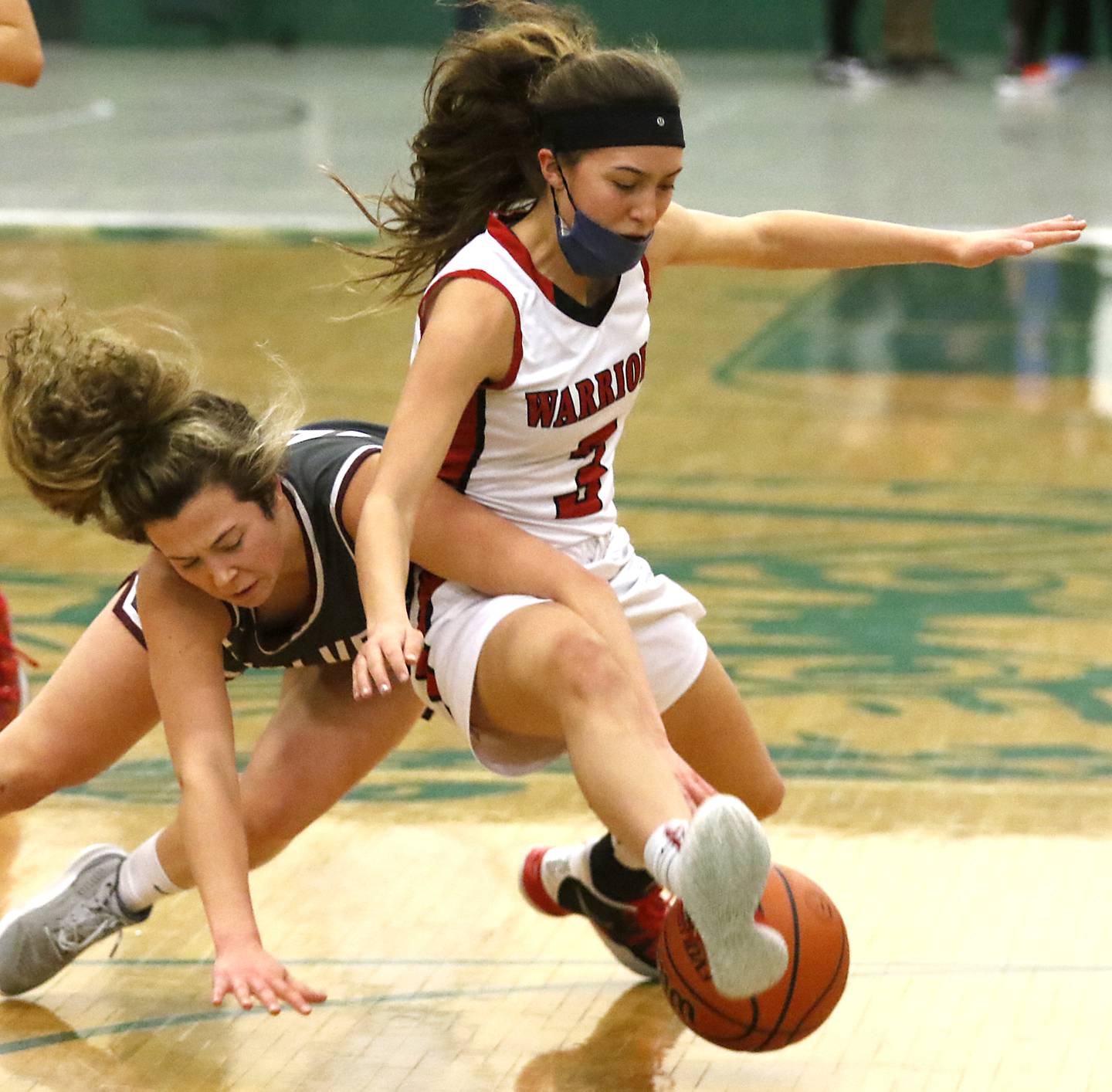 The Wolves made many memories throughout the course of the season, including handing FVC champion Huntley its only conference loss, winning an area-best 14 games in a row and winning the Northern Illinois Holiday Classic title for the first time.
Prairie Ridge will have a much different look next season with eight graduating seniors: Karlblom, Nanos, Gende, Vanessa Holtz, Nelson, Mueller, Wacaser and Breanna Pollack.
"Winning regionals was our dream," Nanos said. "I love my teammates, and I'm sad that it's over, but it's definitely an experience and a season I'll never forget. I'm so grateful for everyone on the team."