Huntley's girls basketball team suffered a big loss before the season started when junior Carley Faulkner, who played on varsity the past two years and was third on the team in scoring as a sophomore (8.2 points a game), was ruled out for the season with a torn ACL.
The Red Raiders finished runner-up to Burlington Central in the Fox Valley Conference last season, but, despite missing their 6-foot forward, are off to a strong start.
Huntley (4-1) started its conference schedule with a 53-38 win over Prairie Ridge, last season's FVC tournament fourth-place finisher, on Tuesday, adding to wins against Boylan, Palatine and St. Viator at the Dundee-Crown Thanksgiving Tournament.
Huntley junior guard Jessie Ozzauto and senior forward Jori Heard have provided the bulk of the scoring so far, while Heard, a softball standout pitcher committed to Valparaiso, is averaging a double-double. Junior guard Sammi Campanelli has been the team's go-to defender, and senior Nicole Flaherty, junior Morgan McCaughn and freshman Anna Campanelli have stepped up in their roles.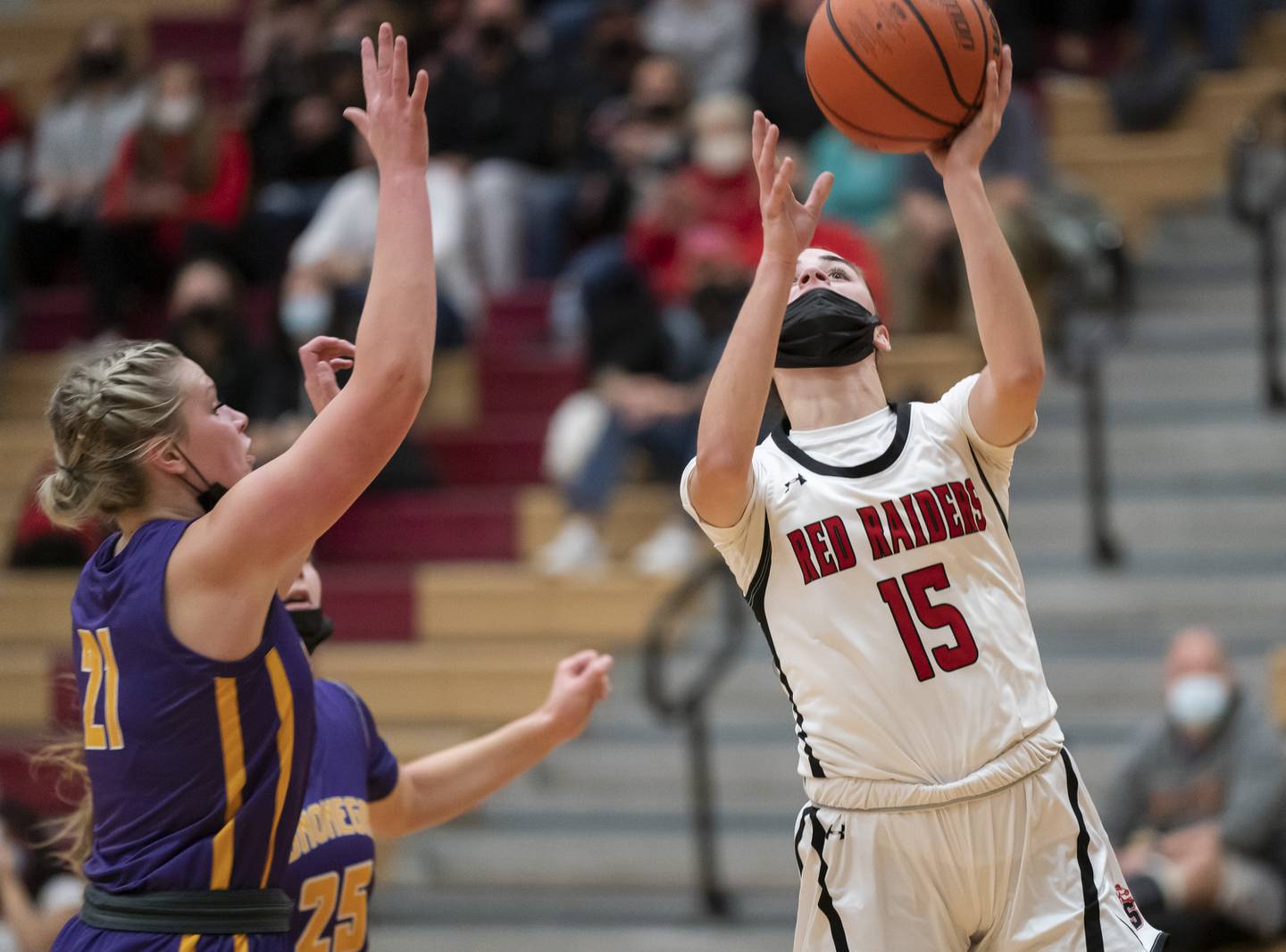 Huntley lost to Burlington, 52-46, in the conference championship game last year. The Raiders lost six to graduation, including three starters, but believe they are in the mix for the conference championship.
"The goal is to win conference," Sammi Campanelli said. "And I know we can do it. We believe we can do it. We're a talented team, and we have a lot of experience. We're working very hard this year to win [the FVC]."
Ozzauto said last season's COVID-19-shortened season proved to be a valuable experience for the returners.
"We just want to getter better each game and take it one [game] at a time," Ozzauto said. "Mentally, you've just got to stay strong because it's a long season, but we're all really tough. Last year taught us not to take anything for granted. We're ready."
Matchup problem: Crystal Lake South junior Kree Nunnally has led the Gators in scoring in every game this season and has been tough to stop for opposing defenses. She scored 22 points in a season-opening win against Streamwood and 21 points and 10 rebounds in a loss to Hononegah. On Tuesday, Nunnally had 13 points in a 43-38 FVC win over Dundee-Crown.
Gators coach Mark Mucha has been impressed with the way the junior guard has asserted herself offensively.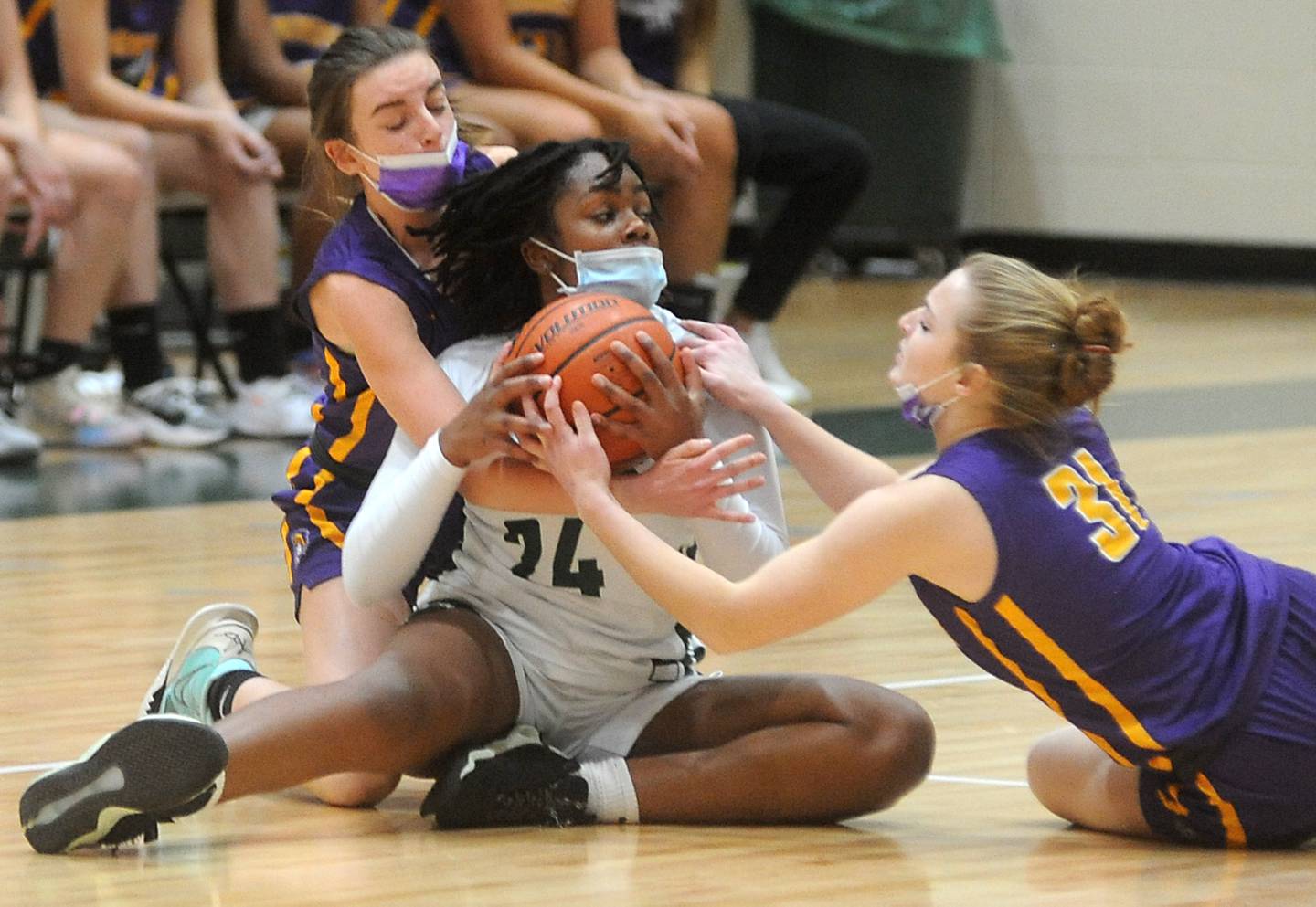 "She's able to facilitate baskets on her own, she's able to get other teammates involved, and she's truly going to be a matchup problem," Mucha said. "That's a credit to her hard work in the offseason and everything else she's done to be ready. She's a leader out there, and she's a good teammate, too."
Nunnally is one of two returning starters for South, along with senior forward Anna Wiggs. The Gators went 4-6 in FVC play during the COVID-19-shortened season and 8-10 the season before. Nunnally now sees herself in a bigger leadership role.
South is off to a 3-3 start.
"I think I've been playing petty good, but I could do a little more now and then," she said. "At the end of the day, I'm just doing whatever I can to help my team."
Searching for consistency: Prairie Ridge coach Tim Taege was happy with how his players responded after a slow first 16 minutes against Huntley. The Wolves made adjustments and scored 16 third-quarter points to get back in the game in an eventual loss.
"I'm proud of our kids," Taege said. "I'm not happy with that first half. The first half was poor, but they battled in the third, and I'll take that with me. This group's got a lot of experience. I've got three seniors combined to have 10 years of varsity basketball experience. We should compete with everyone on our schedule, and they need to start believing in that."
Senior guard Karsen Karlblom, last season's leading area scorer at 19.4 points a game, is averaging more than 20 points a game for the 3-2 Wolves. Prairie Ridge had a good finish to last season, something Taege hopes carries over.
"Karsen can score the basketball. That's a game changer," Taege said. "We just need other people to step up and trust themselves when she can't get it going, because teams are going to try and take Karsen away. Our juniors need to start playing with a little more poise, and that will come with experience. We've got the talent to do that."