Jennifer Heinberg has been a key to Marengo's winning formula in each of the past four years. Since her freshman season, Indians' teams have gone 76-27 overall and 40-4 in the Kishwaukee River Conference.
In her fourth and final season, Heinberg and the Indians ran through the KRC schedule without a loss, going 10-0 and winning the conference championship for the third consecutive year.
The 5-foot-8 guard with a sweet shot was first in the KRC in scoring at 18.2 points a game, adding 6 rebounds, 1.7 assists and 2.9 steals a game. She finished her stellar career with the fourth most points in program history and, with a full season of games, could have challenged for the Indians' all-time scoring record.
Marengo (10-1) outscored its KRC opponents by an average score of 51-24, suffering its only loss of the season to Prairie Ridge in a nonconference game.
For her accomplishments, Heinberg was selected as the 2021 Northwest Herald Girls Basketball Player of the Year by the sports staff with input from area coaches. Prairie Ridge's Karsen Karlblom and Cary-Grove's Emily Lukowski also were considered. Heinberg joins Marissa Knobloch (2019) and Sara Ettner Glakas (1997) as the most recent Girls Basketball Players of the Year from Marengo.
Among other career achievements, Heinberg fell one 3-pointer short of tying the program record, drilling 243 3s in four seasons, including a team-record 106 as a junior. She also is the best free-throw shooter in Indians' history with a 83.8% career mark. As a junior, she set the state record for most consecutive free throws made (49).
Sports writer Alex Kantecki recently spoke with Heinberg about playing in front of empty stands, her favorite high school memories, going undefeated in conference and more.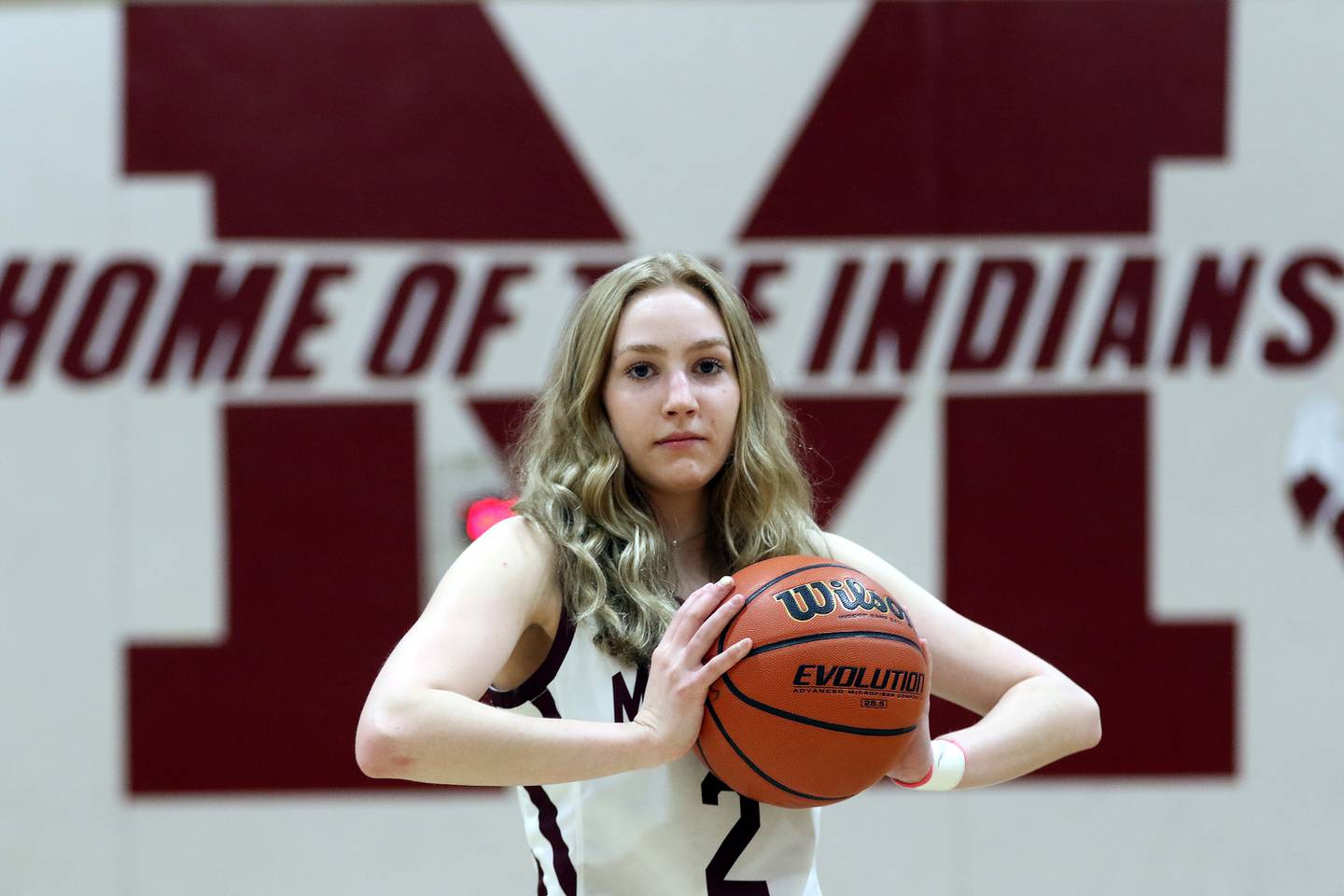 Who was the toughest player to guard in the Kishwaukee River Conference?
Heinberg: When Burlington Central was still in our conference, Elana Wells. And last season, I would say [Richmond-Burton graduate] Peyton Bannon was really good, because she always seemed to get like 50 points a game.
If you could play basketball anywhere in the country, where would it be?
Heinberg: I've always really liked Notre Dame, I don't know why. It would be really cool to play there.
What is one of your biggest pet peeves?
Heinberg: I hate when people chew with their mouths open.
What will you remember most about your senior season?
Heinberg: I guess just the chance to play because that was up in the air. I'm really glad we got to play the small amount that we did, and finishing with my two friends, Lilly [Johnson] and [Alexis Kunde]. We've been playing together since fourth grade, so that connection we have is really special. And finishing as conference champs. This was the first year Marengo has ever gone undefeated in conference before, which is really cool.
What was your favorite TV show as a kid?
Heinberg: "Drake & Josh."
What sport are you not good at?
Heinberg: Softball. I've never really tried it, but it would probably be hard to hit the ball.
Which teammates makes you laugh the most?
Heinberg: They're all really funny, but [Alexis Kunde] and [Lilly Johnson] just because they make the most jokes and they make everything fun.
Which teammate inspires you?
Heinberg: They all do, but I would say definitely Lilly Johnson for that one. I know she has a super busy schedule and a lot going on; she plays a lot of different sports, so her dedication and time toward that is inspiring.
What was your favorite game this season?
Heinberg: When we played Woodstock North the first time and won the conference championship. We played really well as a team and it was one of our best games of the season. It was cool to win [the KRC title] at home.
What is something about you that most people don't know?
Heinberg: I was born with red hair.
What is something that scares you?
Heinberg: My cat, Scraps. She is very mean and attacks everyone except my mom.
What are some of your favorite hobbies?
Heinberg: Spending time with my friends and family, going outside and going on hikes. And obviously sports. This spring I'm doing soccer for fun.
What is your most prized possession?
Heinberg: The basketball hoop my dad put up for me in our barn that I have practiced on every day since I was little.
Do you have any nicknames?
Heinberg: Yeah, I have a lot. There's Jen, Jenny and then sometimes my family calls me Jan. Ever since I was really little, I've been called Benni ... and for that one I have no clue. My grandparents still call me Benni.
What was the hardest part about this past season?
Heinberg: I'd say accepting the fact it will not be a normal season. Not having my whole family there and playing with an empty crowd. That was kind of bad. And we didn't have two of our starters from last year (Kierra Morris and Gracie Gentleman).
Who is your favorite teacher?
Heinberg: I would say Mr. Peters. He retired at the beginning of this year. He was an English teacher and always gave great advice. I liked the conversations we had in his class.
What's one game that sticks out in your memory?
Heinberg: Definitely the Burlington Central game from my freshman year for the conference title. I don't remember how much time was left, but I made a 3-point shot from the corner and it bounced around the rim like 10 times. Everybody still always talks about that. And my 1,000-[career-point] game [from junior season].
What will you remember most about your time at Marengo?
Heinberg: All of the connections with my teammates and coaches and the memories and accomplishments that we've made. Winning was cool, but the friendships and connections are what I value most.