Richmond-Burton's Brock Wood was forced, like most high school athletes, to cram a lot of sports into a relatively short amount of time this spring because of the COVID-19 pandemic.
Wood's spring was a little more hectic than most, however. The week before the final football game on April 23, Wood was working on three sports: football, baseball and wrestling, all at the same time.
With the wrestling season pushed back to the IHSA's new "summer" schedule, Wood had to wrestle through the baseball season.
The season wound up memorable for Wood, whose baseball team finished 25-6 and won a Class 2A regional title. The wrestling season ended even better for Wood, who defeated Braidwood-Reed Custer's Kody Marschner, 5-2, to win the Class 1A 220-pound division at the Illinois Wrestling Coaches and Officials Association Boys Open State Championships.
Wood is the Northwest Herald Male Athlete of the Year, voted on by the sports staff. The runner-up was Huntley's Alex Janke.
The Male and Female Athlete of the Year winners earn $2,500 for their school from Dr. Steven Rochell, a Crystal Lake orthopedic surgeon. The Rochell Foundation began donating for the Male and Female Athlete of the Year winners in 1993, bringing the total donations after this year to $145,000.
Wood was a Northwest Herald All-Area first-team selection in football and wrestling. In football, he helped the Rockets extend their winning streak to 20 games as they finished 6-0 in the abbreviated season.
Wood rushed for 561 yards and 10 touchdowns for the Rockets, who won the Class 4A state championship in 2019. He also had 79 tackles, one sack, two forced fumbles and 11 tackles for loss for a defense that had three shutouts and allowed only 21 points.
In wrestling, Wood finished 22-1. His brother Dalton was the 2019 Northwest Herald Football Player of the Year and runner-up for Male Athlete of the Year.
Wood is the second junior to win the honor, joining Cary-Grove's Tyler Pennington in 2016. The rules were changed beginning that year so the award did not have to go to a senior.
Other former Male Athlete of the Year winners from R-B were Chris Steadman (1989), Donovan Moore (2003) and Jack Dechow (2012).
Wood answered these questions from Northwest Herald sports writer Joe Stevenson about his productive and busy few months.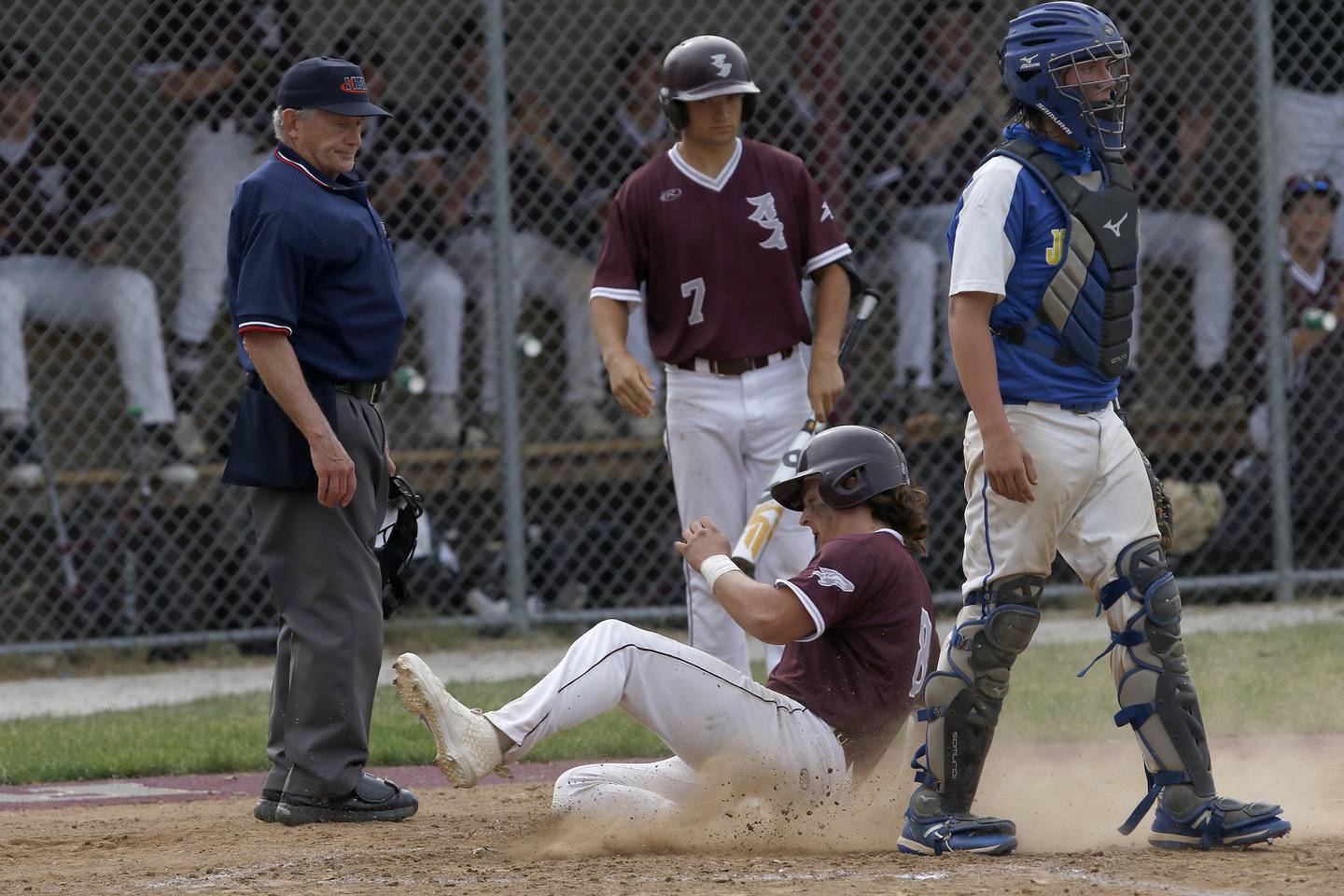 What will you remember most about these past few months?
Wood: The one big thing I will remember and take away from the last couple of months is knowing if you work hard, you will be able to capture what you want in life. Between being named (Class 4A) honorable mention All-State in football and winning a state title in wrestling, a lot of good things have come from the last couple of months. I also really enjoy working with all of my teammates. Each sport is a different group of friends.
How do you play baseball and wrestle during the same season?
Wood: This year was a challenge to do wrestling and baseball. Thankfully, [wrestling] coach [Tony] Nelson and [baseball] coach [Mike] Giese worked out a schedule that allowed me to play baseball and wrestling. On Mondays, Wednesdays, Fridays and Saturdays, I played baseball, and then on Tuesdays and Thursdays I competed in wrestling if the other team had a guy my size. Practices were hard to come by this year for both sports. I would have wrestling practices before every home game for baseball with Jordan Blanton. For baseball practices, I would go to as many practices as I could, and I would go work with my dad on our own.
What is it like working with Jordan Blanton, a three-time state champion at R-B?
Wood: Jordan has had a huge impact in my life. For about a year I have been going to Relentless Training Center and working with him and the other coaches. He has helped me so much in the wrestling room this year. He took time out of his personal/work time to come wrestle with me throughout the season. Being able to work with someone that has that much knowledge of a sport has really pushed me over the edge on the mat this year.
You're sporting a nice flow now with the hair. When did you make that decision to let it go?
Wood: This past year during the stay-at-home order the place I got my haircuts closed down, so it was either go back to my buzz cut or let it grow. Once I let it grow, I realized that I really like long hair, so now the flow will be the new hairstyle for me.
What is your most prized possession?
Wood: If I was asked this question a couple months ago, I would have said my state championship ring for football, but now it would be between my ring and my state title bracket for wrestling.
What would be your walk-up song for baseball?
Wood: I would pick "Enter Sandman" by Metallica.
What's one of your biggest pet peeves?
Wood: Someone who drives way under the speed limit.
What is your best sports fashion tip?
Wood: When it comes to sports fashion it gets a little difficult. Each sport has its own kind of fashion, but I normally go all white wrist tape, shoes, tights and good hair.
What are three of your favorite sports movies?
Wood: "The Sandlot," "Little Giants" and "The Waterboy."
If you were to have a sandwich named in your honor, what would be on it and what would it be called?
Wood: What I would create would be a footlong sub bun with steak, meatballs, American cheese, green peppers and some BBQ sauce. I would call it "Woody's Delight."
Who is the most famous person you have taken a picture with?
Wood: Jordan Blanton and Mickey Mouse.
What is a movie line you and your teammates like to use repeatedly?
Wood: I like to say, "If you ain't first, you're last" from "Talladega Nights: The Legend of Ricky Bobby." My whole family likes to quote that movie, but that one is my favorite.
If they allowed touchdown celebrations in high school, what would you do with your teammates?
Wood: I would to "The Runway" with my teammates, like Baker Mayfield (does).
What's your favorite wild animal?
Wood: Polar bears, because they are big, strong animals that look nice but can get serious.
What celebrity would you most like to hang with for a day?
Wood: It would be really cool to be able to hang with Andrew Flair [fisherman with a YouTube channel "Flair"].