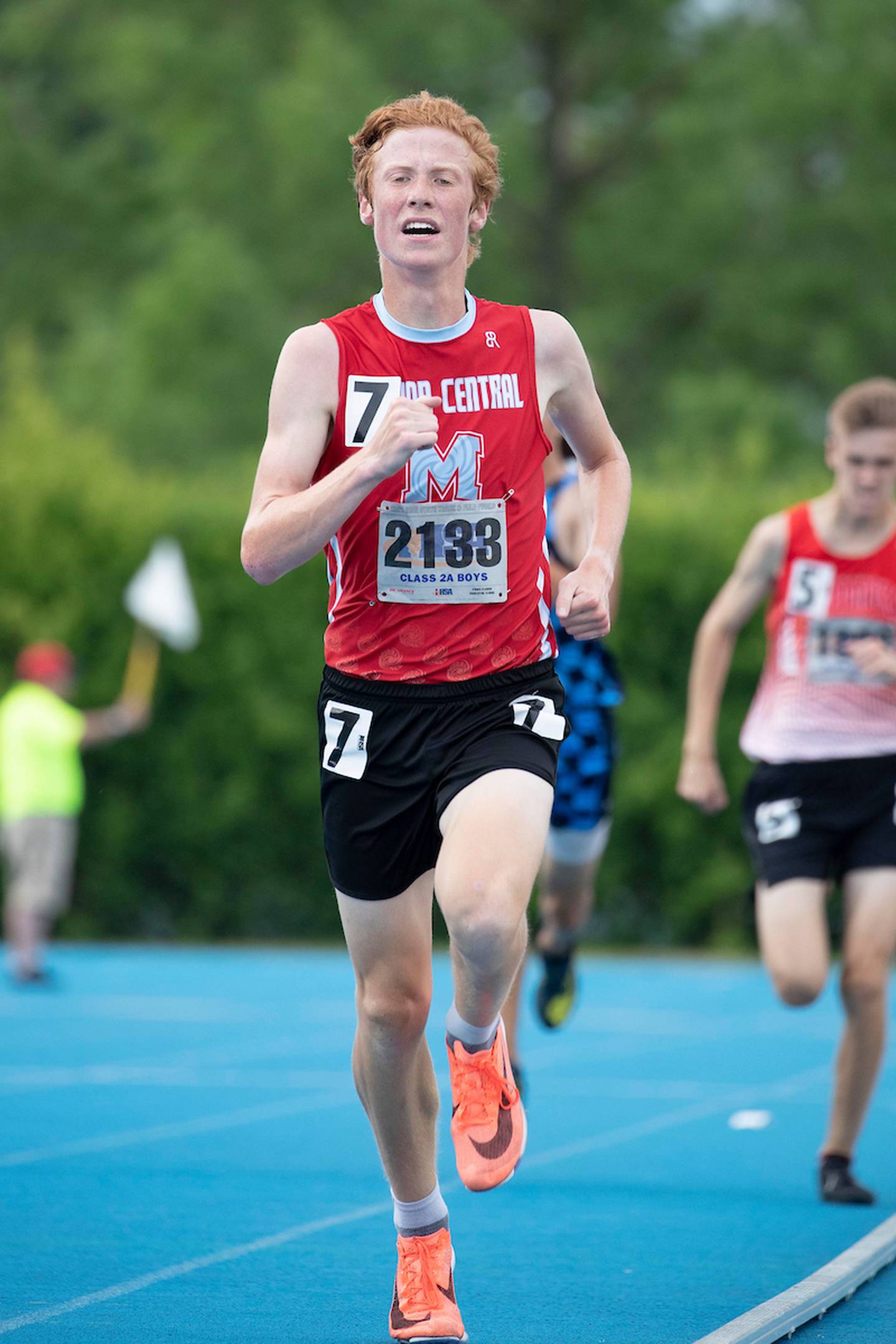 CHARLESTON – Marian Central senior Peter Walsdorf hoped for a little more, while realizing, given the mid-90-degree heat and the competition, that his two distance medals was a pretty fair accomplishment.
Walsdorf closed out his career Friday at the Class 2A Boys Track and Field State Meet with a fifth-place finish in the 3,200 meters and a ninth in the 1,600 at Eastern Illinois University's O'Brien Stadium.
Walsdorf hung with the top group through most of the 3,200 before falling back slightly in the last lap. He came back about two hours later to earn another medal with his ninth-place finish in the 1,600.
Burlington Central thrower Jake Borman won the shot put and took fifth in the discus, helping the Rockets to a fifth-place team finish with 39 points. Zac Schmidt was second in the 400 and anchored Burlington's runner-up 4x400 relay team with Jacoby Haynes, Leighton Dietz and Nolan Milas.
Dietz, Javarius Foreman, John Huaracha and Schmidt took fourth in the 4x800 relay.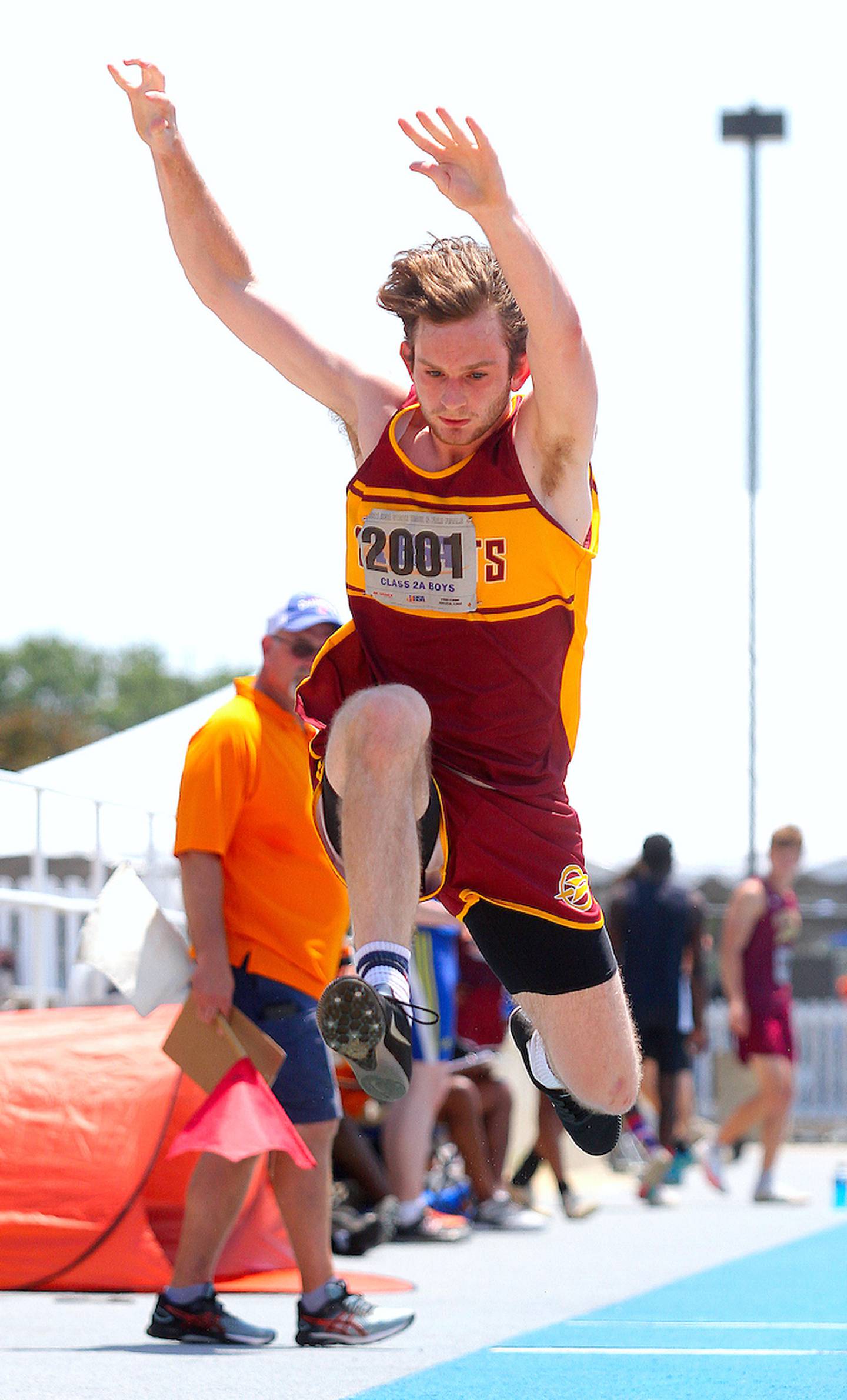 Richmond-Burton senior Josh Leslie took eighth in the triple jump for the other local medal.
Walsdorf mainly wanted to compete with the top runners all the way to the end of the 3,200.
"I couldn't finish, that's been the story of the season," Walsdorf said. "(The 3,200) was tough. It was pretty brutal. We didn't go out fast. I think the guys all knew they were going for a win, not a time.
"It's not terrible, not quite what I wanted, but definitely not a bad day."
The IHSA moved the running events in the meet back three hours, from 2 to 5 p.m., seeking some relief for athletes in the oppressive heat.
Walsdorf ran 9:31.15 in the 3,200, 15 seconds faster than his sectional time. His 4:26.08 in the 1,600 was slightly faster than his sectional mark.
"We'll take it," said Walsdorf, who will run at Kansas. "Maybe not the best time, but maybe not the worst. It could have been better, but I finished strong. That's really all I could ask for."
Borman woke up feeling horrible on Friday, but felt much better after his 54-7 throw on his final attempt in the shot put vaulted him from third to first place. He is Burlington Central's first boys state champion since Lucas Ege won the 300 intermediate hurdles in 2014.
"Out of bed, I felt like a ghost," said Borman, who will throw at Illinois State University. "Once I got here it was, 'Get after it, I only get one shot at this.' I play football and have a pretty good competitive side to me. Just really dig deep and get after it.
"This is my last high school competition and I wanted to go out on a good note. Get in there, rip it and your results will show."
Borman was thrilled to win state in front of his grandfather Jim Entwistle, one of his biggest supporters and a former throws coach for Olympian Brian Oldfield.
Schmidt narrowly missed a state title in the 400 when Eureka's Aden Sears nudged him out with a 42.29. Schmidt finished in 49.42.
"I was so close to first, but I'm still happy with how I ran both races," Schmidt said. "I knew I gave it everything I had. That was the best I could do. I'm excited for my team too."
Haynes led off the race and handed to Dietz before any other team in the finals, although in Lane 9, he could not see that.
"I didn't know we were in first until I handed off and heard it (on the stadium P.A. system)," Haynes said. "I'm a senior, it was my last race, I was going to give it my all, regardless of what place we were going in."
Burlington was seeded eighth from sectionals going into the 4x400.
"This one, I knew my boys had it," Schmidt said. "It's a good feeling. Eureka is pretty good, man. I was happy with the results for sure."
Leslie shocked himself by jumping more than a foot better than his personal record, going 42-3 to take eighth in the triple jump.
"I was very surprised, I didn't expect to place in anything," said Leslie, who had three jumps better than his previous career best. "I was very, very happy. "Today it was just a better mental state. I figured I have nothing to lose, it's the last time I'll ever be doing this.
"That can be a huge thing. I don't know of anything I was doing physically to make it better. I just knew I could push farther than I had been doing."
Class 2A Boys Track and Field State Meet
Local Results
4x800 relay: 4. Burington Central (Leighton Dietz, Javarius Foreman, John Huaracha, Zac Schmidt) 8:14.12.
4x100 relay: 20. Burlington Central (Jacoby Haynes, Nick Sperkowski, Alec Zuccaria, Kyle Schmidt) 45.62.
3,200 meters: 5. Peter Walsdorf (Marian Central) 9:31.15, 8. Yusuf Baig (BC) 9:43.38.
110 high hurdles: 16. Josh Leslie (RB) 15.82.
4x200 relay: 12. Richmond-Burton (Landon Jacoby, Sean Rockwell, Tristan Rockwell, Jack Verdoni) 1:32.05.
400 meters: 2. Zac Schmidt (BC) 49.42, 11. Haynes (BC) 51.00.
300 int. hurdles: 12. Jack Duenas (Woodstock North) 41.03.
1,600 meters: 9. Walsdorf (MC) 4:26.08, 12. Baig (BC) 4:32.21.
4x400 relay: 2. Burlington Central (Haynes, Dietz, Milas, Z. Schmidt) 3:25.50, 13. Richmond-Burton (T. Rockwell, S. Rockwell, Jacoby, Verdoni) 3:31.60.
Shot put: 1. Jake Borman (BC) 54-7, 13. Jonah Pace (Marengo) 46-5.
Discus: 5. Borman (BC) 155-9.25, 17. Jacob McConnell (WN) 124-4.5.
High jump: 15. Jack Novelle (Woodstock) 5-11, James Kaunas (Johnsburg) no height.
Long jump: 21. T. Rockwell (RB) 18-10.
Triple jump: 8. Leslie (RB) 42-3.5, 14. Kaunas (Jbg) 39-10.75.
Pole vault: 22. Jeremy Kleberg (MC) 11-7, Landan Creighton (WN) no height.