Jackson Schuetzle knows there is much work to be done on the tennis court – honing his stroke, trying to increase his serve velocity, tweaking new shots, maintaining his fitness.
Yet the Crystal Lake South senior can do none of that right now.
Schuetzle, normally a torrent of activity, must take it easy, rest and hope. A serious diagnosis in November has put the Gators' star tennis player's high school season in serious doubt.
Schuetzle felt sharp pain in his lower back while serving or hitting overhead shots. Tests and scans revealed a stress fracture on his L5 vertebra, and his orthopedic surgeon prescribed that Schuetzle remain inactive for six months in hopes his 18-year-old body can heal itself.
It was not what the third-place player in last year's Class 1A state tournament wanted to hear, but he's trying his best to remain positive.
"I'm holding up. I'm doing my best because that's all I can do is mentally try to stay with it," Schuetzle said. "I've gotten over the it [stinks] to be injured and everything. I'm just in the process of staying the same mentally as I would be if I wasn't injured, but it's kind of been hard. I'm staying in there and not getting down."
The inactivity does not suit Schuetzle well at all, although he is finding other vehicles with which to channel his competitiveness.
Schuetzle is one of the top students in his class, with a 4.875 weighted GPA. His 1,540 SAT score puts him in the 99% range. He competes with South's robotics, ACES (academic challenges) and math teams.
"It's really boring," Schuetzle said of being inactive. "When you don't do much besides school and tennis, and tennis gets taken away, it was like, 'Who am I? I'm so boring. I have nothing to do.'
"I've been doing other extracurricular stuff, like I'm on the robotics team, so I'm doing a lot of that now. We better have the best robot in the whole state by the time we're done."
The coaches' kid
Schuetzle was likely destined to be an athlete. His father, Ralph, was Cary-Grove's 1980 Male Athlete of the Year, and his mother, Amanda, was a tennis star for the Trojans.
Ralph was C-G's boys basketball coach for nine seasons and now assists as the boys freshman coach. Amanda is the Trojans' girls and boys tennis coach.
Jackson Schuetzle was playing in a USTA tournament in Indianapolis in November when he first experienced some back pain. It only occurred when he hit serves or overhead shots, but it was sharp and different from other muscle soreness he had ever felt.
A few days later, the Schuetzles realized there was something wrong. After an MRI and CT scan were done, the diagnosis was a bone edema caused by a stress fracture. An edema is an accumulation of excessive fluid in related structures of bone marrow.
The CT scan revealed a full fracture on the right side of Schuetzle's L5 vetebra. The good news, Amanda Schuetzle said, was it was only on one side. The bad news was the six months of rest, which takes Jackson into late May, well into the high school season.
"We were pretty shocked about the results, to be honest," Amanda Schuetzle said. "No pain, except for serving, that's not a full fracture. We'll have to see what happens.
"The total healing rate of this is 65%. That's what frightens me. It really is a hit to not have his senior year. For him not to be able to have his dream of playing in college would be rough."
Mr. Positive
Amanda Schuetzle considers her son a "really positive kid," one who does a good job dealing with circumstances by controlling what he can.
To that, Jackson Schuetzle is not ready to write off his senior season just yet.
"There's a chance," he said. "If I can [play this season], I definitely will take that opportunity. This summer I think I'll definitely be able to play. I think there's a pretty good chance I can be back for the summer to prepare. That's going to be really crucial for college tennis. For the high school season, we'll see where we're at."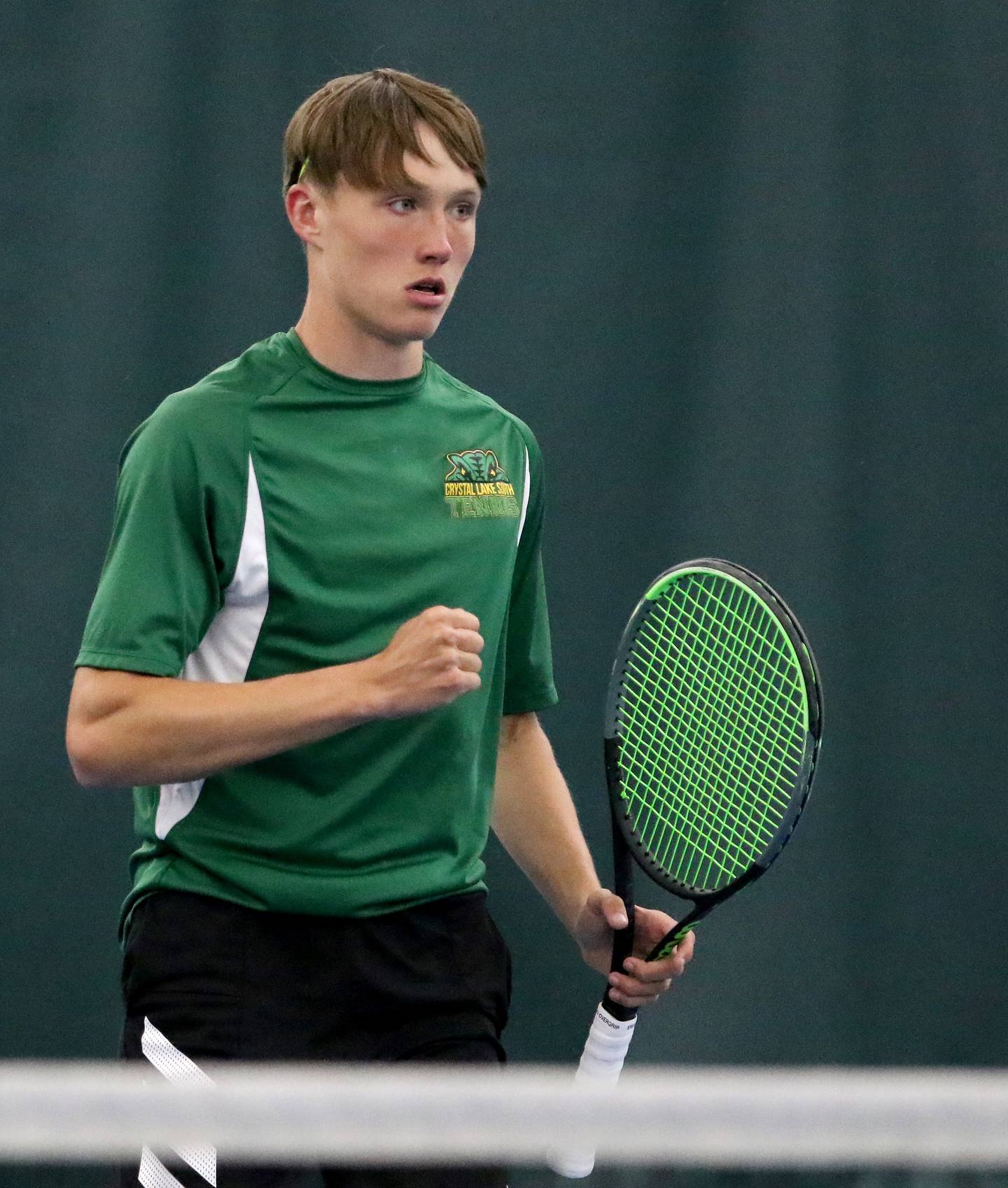 Schuetzle plans on playing at NCAA Division III Case Western Reserve, outside of Cleveland, next year. Case Western is a prestigious academic school with a strong computer science program. Amanda Schuetzle said Case's tennis program ranks among the top 70 in the nation, regardless of division.
"He will not be starting there anytime soon," Amanda Schuetzle said. "He'll play, they have many boys on the team, but he will not be in the starting lineup. He loves the coach [Todd Wojtkowski]. He's a tough coach and really pushes them. And he likes the opportunities from going there."
Dealing with disappointment
Jackson Schuetzle was a Northwest Herald All-Area first-team selection after taking third at the Class 1A state tournament and finishing 32-5. He hoped to battle Jacobs' Thomas Nelson, the defending Fox Valley Conference champion, this spring, which now may not happen.
"I didn't have the strongest response [to the initial diagnosis] because I'm not that type of person when the moment hits to be emotional," he said. "After a week or so, it built up and I was really sad because, not only was I possibly going to miss my high school season, but I wouldn't get to play and prepare as much for college as I would. I made that decision [for Case Western] right before I got hurt.
"It was really disappointing when I first heard, but I've gotten over it."
Normally, Schuetzle would be hitting with teammates at Forest View Fitness and Racquet Club in Arlington Heights or at Lake Geneva Racquet Club.
Instead, he focuses on his classes and his academic teams. And he waits, hoping his 18-year-old body can take great care of itself. There is no physical therapy because any little movements can disrupt the healing process.
The Schuetzles hope to have another scan done at three months. That could provide more optimism if they can see the vertebra is healing.
"I told him, 'This is the hardest thing he's ever gone through in his entire life,' " Amanda Schuetzle said. "I said, 'As your mom, it's horrible watching you go through this and knowing your pain and frustration. But you're alive and healthy. There are people who have it way worse than you do.' "