The early part of Mackenzie Aldridge's cross country career at Eastern Illinois experienced some interruptions because of injuries.
"That's kind of been our hiccup along the way," EIU head coach Erin Howarth said.
Aldridge, a Crystal Lake South graduate, opened her senior season Sept. 1 in impressive fashion with the individual title in EIU's Walt Crawford Open 5-kilometer race. Aldridge's winning time of 18 minutes, 9.2 seconds was 15 seconds ahead of the second-place finisher and almost 20 seconds faster than her previous personal record.
"It was a huge PR for her," Howarth said. "It's been a long time coming. We're pretty happy with where she's at, and her confidence is pretty high."
Aldridge earned first-team All-Ohio Valley Conference cross country honors last fall and first-team honors in the spring outdoor track season in the 10K.
"She's just continuing her awesomeness from the spring," Howarth said. "She knows that she's never been in this position before physically."
Thanks to her good health, Aldridge's possibilities this season are boundless.
"She wants to give herself a chance to win conference, and she wants to give herself a chance to be knocking at the door of [NCAA] all-region," Howarth said. "She certainly has the potential."
On Sept. 5, she earned OVC Female Runner of the Week honors.
Last season, she placed 137th at the NCAA regional in 22:14.4 over 6 kilometers. Taking part in big races and running near the front of the pack in invitational meets has given Aldridge the realization that she is fitting right in.
"She doesn't want to be in the limelight," Howarth said. "Even at the front of a race sometimes, it's 'Do I belong here?' It's been fun to see her grow in that area. It's all new to her, but the development mentally and physically from freshman year to now has been fantastic."
Aldridge's victorious time at the EIU meet is almost 40 seconds faster than the second-fast time among all OVC runners this season.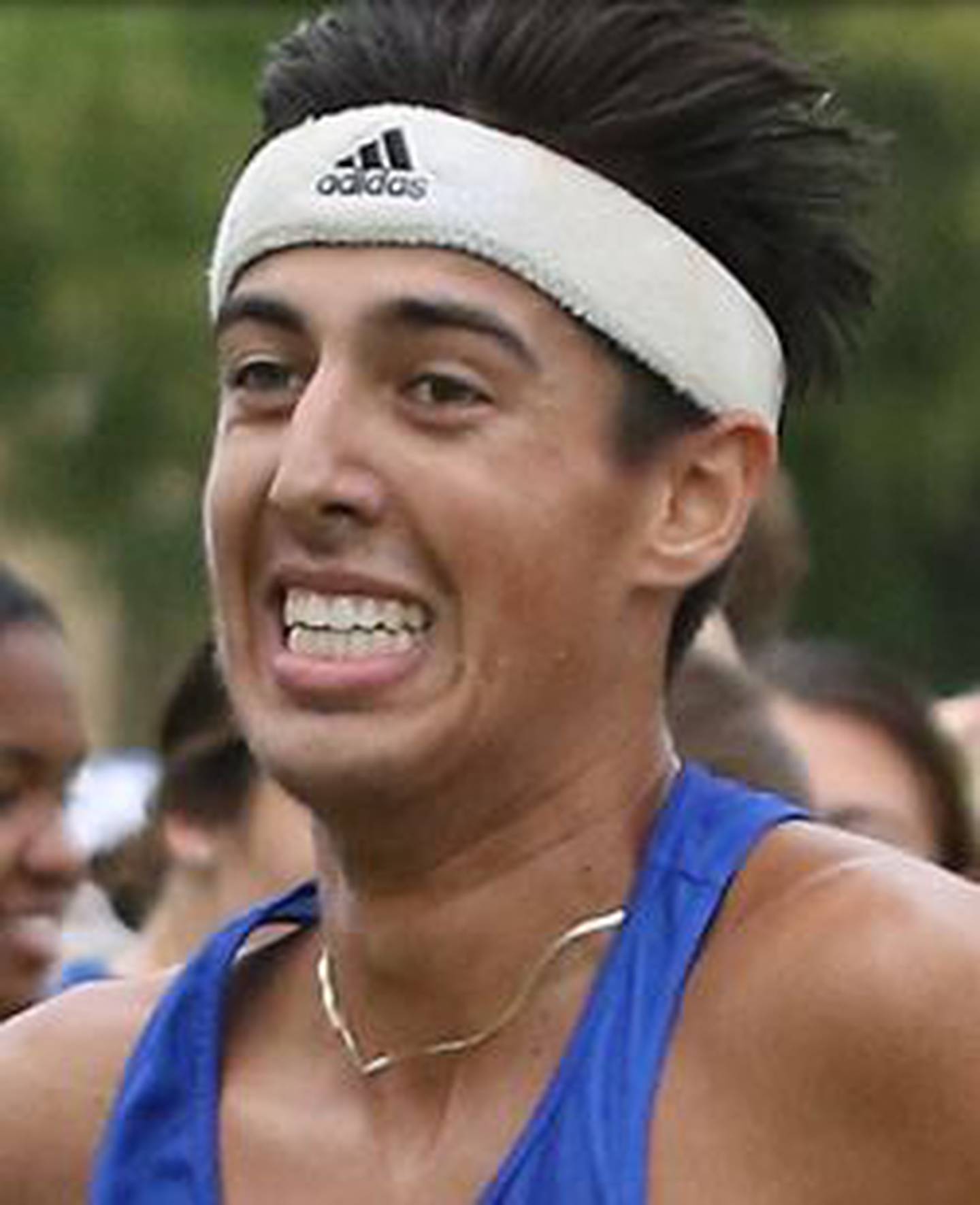 In the men's race Sept. 1, Dundee-Crown graduate Adam Swanson was the individual champion for EIU.
A fifth-year senior, Swanson won the 8K men's race in 25:01.8, which was 6 seconds faster than the second-place finisher.
Swanson's biggest highlights at Eastern have been on the track. He's a six-time All-OVC honoree in the indoor and outdoor seasons, highlighted by being an honorable mention All-American in the outdoor 800.
"He's realized, 'I can be great at this. I just have to be a little more brave early on and a little more aggressive [at the start of races],'" Howarth said. "He realizes he can be at the front of any race we're in all season."
Swanson's 8K time ranks No. 1 in the Ohio Valley Conference by almost 30 seconds, which is evidence that he could end the season at the nation's biggest race.
"There's no reason why he can't give himself a shot to make nationals," he said.
Huskies earn win No. 1 for Parys: Prairie Ridge grad Sondra Parys guided the Northern Illinois women's volleyball team to the first win of her head coaching career Sept. 1, a 3-2 victory against North Carolina-Wilmington.
Parys took over the NIU job in December after a five-year stint as an assistant coach at Loyola University Chicago.
The Huskies (1-8) play in the Northern Iowa tournament this weekend before starting Mid-American Conference play next week against Bowling Green.
On Aug. 26, NIU set a Convocation Center volleyball attendance record when 1,468 fans attended the team's 3-1 loss to Illinois.
Otto aces records: Setter Jayden Otto (Prairie Ridge) recently achieved two milestones as a fifth-year college volleyball player.
A graduate student at D-II Palm Beach Atlantic University in Florida, Otto set a school record with 68 assists in a 3-2 loss last weekend against Wheeling University.
On Sept. 1, she surpassed 3,000 career assists with a 27-assist effort in a 3-0 win against Shepherd University. Otto, who is in her second season at Palm Beach Atlantic, began her career at D-I Eastern Michigan.
This week, she ranks 30th nationally with 10.19 assists per set. Otto ranks second on the team with nine service aces for the Sailfish (4-3).
Dubuque leader: Richmond-Burton grad Dalton Wood, a junior defensive back at D-III Dubuque, is the team's leading tackler (16) after two games.
The junior had 12 tackles, an interception and three pass breakups in a 28-28 loss Sept. 2 against Wittenberg.
Sophomore linebacker Brock Wood, Dalton's brother, has four tackles, including one tackle for loss this season.
Barry Bottino writes about local college athletes for the Northwest Herald. Write to him at barryoncampus@hotmail.com and follow @BarryOnCampus on Twitter.