McHENRY – Crystal Lake Central freshman Hadley Ferrero entered her first Fox Valley Conference Cross Country Meet with modest goals.
"Just go out and have fun and try to stay up with the pack," Ferrero said.
It turned out the pack was trying, unsuccessfully, to stay with her.
Ferrero covered the 3-mile course at McHenry Township Park in 17:56.03 to win by 16 seconds over Crystal Lake South's Bella Gonzalez, the two-time defending FVC champion.
Gonzalez led the Gators to their first FVC Meet team title since 2013 in second place.
In the boys race, Burlington Central's Yusuf Baig won in 15:25.35, 32 seconds ahead of Prairie Ridge's Will Gelon.
Hampshire, led by fourth-place Aidan Gonzalez, took the team title with 59 points, three ahead of Jacobs. Cary-Grove's Ian Barnes took third and Crystal Lake Central's Danny Hamill was fifth.
Ferrero bolted to the front of the pack and ran by herself most of the race, slightly ahead of Gonzalez, who was a bit ahead of Cary-Grove's Jocelyn Onstot (third), Huntley's Breanna Burak (fourth), McHenry's Danielle Jensen (fifth) and South's Abby Machesky (sixth).
Prairie Ridge's Rachel Soukup, who is battling a slight hip injury, was held out of the meet in hopes she will be ready for the regional and sectional coming up. Soukup would have been another contender in the race.
"It was really fun. I really enjoyed the course," Ferrero said. "It's just really exciting and a great opportunity."
Ferrero has lost only one varsity race, the Palatine Invitational, a meet with some of the state's top Class 3A teams where she was 17th.
"We talked about spots (on the course) to go and she picked her spots and ran," Tigers coach Brett Willhoit said. "For a freshman, she's running incredibly savvy and smart. There's a lot of phenomenal girls in our conference. It wasn't like a good runner pulling away from a bunch of mediocre runners. There's a lot of great runners out there."
Gonzalez did not get a third individual FVC title, but enjoyed the team title with the Gators for the first time. South was disappointed by not winning last year's FVC Meet after going unbeaten during the dual meet season.
Behind Gonzalez and Machesky, Addie Frisch (11th), Colette Bacidore (15th) and Gianna Pinta (18th) were South's other scoring runners. South finished with 52 points, Jacobs was second with 66, with Crystal Lake Central (72) and Huntley (82) next.
"I'm so proud of all of them," Gonzalez said. "Last year was super tough. Our conference (race) wasn't where we were during the season, but we really came back and did amazing.
"We sometimes struggle with confidence. We made sure we were confident because we put in all the work. We could have done it last year as well. Having our confidence up really, really helped."
Gators coach Ken Greenfield held back Machesky and Frisch early in the season after because of injuries over the summer. South looked like a team ready to make its third consecutive trip to the Class 2A State Meet in three weeks.
"Hopefully we never stay where we're at," Greenfield said. "I'm super pleased with their progression. They've done everything the right way, they've worked hard. They're such good runners. I kind of hoped and thought they would get there. It's good to see them clicking."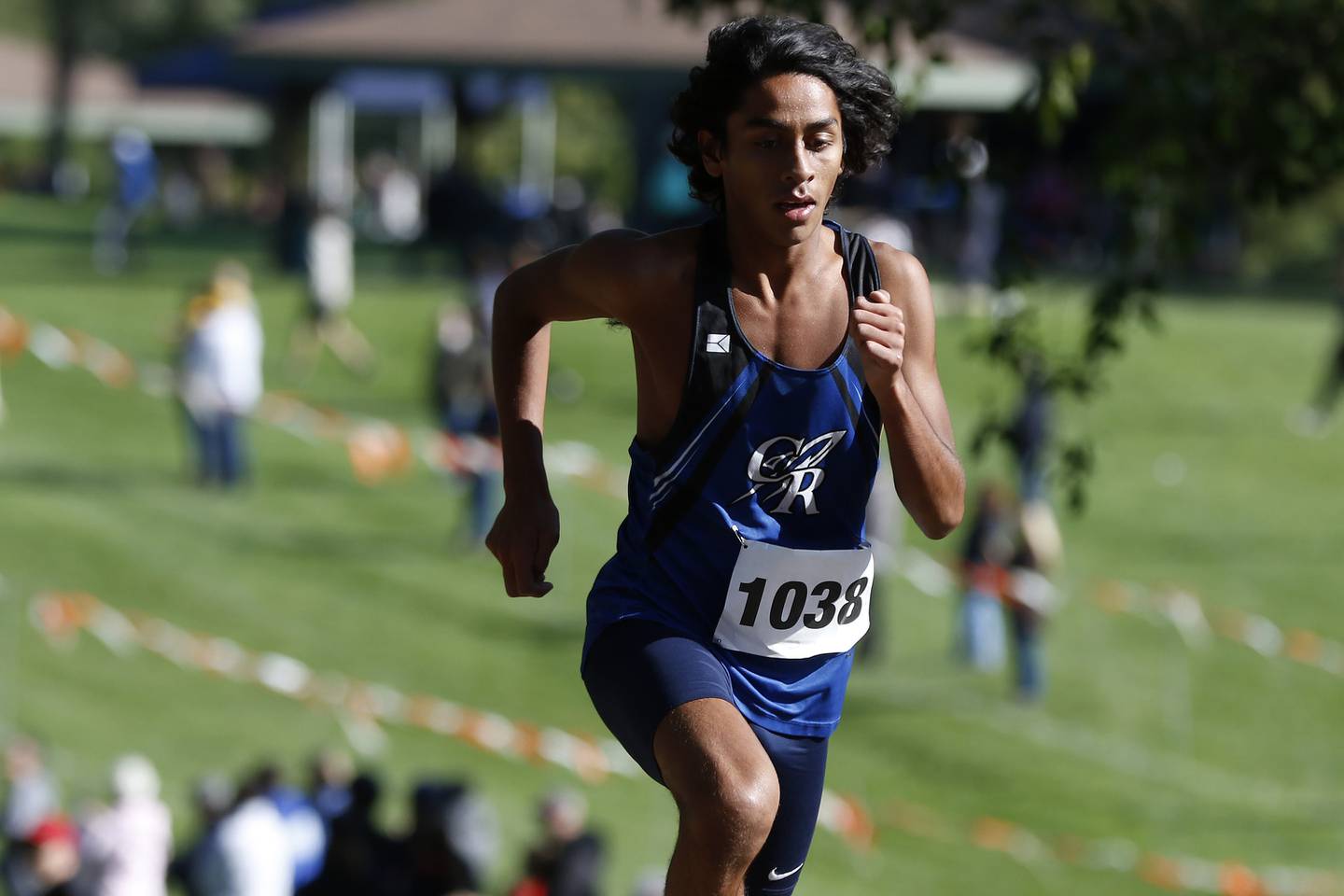 Gelon, a sophomore, tried to keep up with Baig early in the race, but the Rockets senior kept widening his lead.
"I feel really good," Baig said. "Every race I'm progressing very well coming into the state series and I want people to know I can contend for that (2A) state title this year.
"I wanted to take it out hard. That's my goal for the rest of the races. I want to be a leader and not sit back. Take these races out hard and be able to run alone. I'm feeling more confident. My goal for the rest of the season is to win every race."
Baig has three second-place finishes this season. Limestone's Wilson Georges was the only Class 2A runner to beat him.
Hampshire's boys won their first FVC Meet title in school history. Behind Jacobs at 62 points were Prairie Ridge (90) and Huntley (96).
"It was just crazy," Aidan Gonzalez said. "I kept telling everyone (on the team) we have so much to prove. We've been putting in so much work. I could do my best, I'm the top runner, but I knew they would do their best too. We just trusted each other.
"I finished and looked back and there was a huge swarm of runners and I saw my teammates passing all of them. I love them so much."
The first Whip-Pur he saw was Sebastian Abreu, who moved up to ninth place in the final 200 meters. Owen Cuplin (12th), Jason Schmidt (15th) and Henry Nangle (19th) were not far behind Abreu.
"Our guys knew they had this in them going into the beginning of the season," Whips coach Ryan Hollister said. "Sebastian made a big difference and Henry really stepped it up as our No. 5 guy and keeping a tight pack.
"They were freshmen and sophomores when their track season got canceled in 2020. I sent them an email, telling them, 'This is tough, but you have to find it in yourself to train for this. You have the ability in a couple years to take home a conference championship.' Ever since that their dedication and focus has just been unbelievable."
Fox Valley Conference Meet
Girls Results
Team scores: 1. Crystal Lake South 52, 2. Jacobs 66, 3. Crystal Lake Central 72, 4. Huntley 82, 5. McHenry 144, 6. Cary-Grove 159, 7. Prairie Ridge 164, 8. Burlington Central 174, 9. Hampshire 249, 10. Dundee-Crown 274.
Top 21 individuals (All-FVC honors): 1. Hadley Ferrero (CLC) 17:56.03, 2. Bella Gonzalez (CLS) 18:12.17, 3. Jocelyn Onstot (C-G) 18:16.07, 4. Breanna Burak (Hunt) 18:17.23, 5. Danielle Jensen (McH) 18:20.04, 6. Abby Machesky (CLS) 18:24.01, 7. Molly Allen (Hunt) 18:58.34, 8. Kelly Carpenter (Jac) 19:09.17, 9. Bailey Schwartz (Jac) 19:110.54, 10. Alyssa Moore (McH) 19:12.79, 11. Addie Frisch (CLS) 19:17.40, 12. Brittney Burak (Hunt) 19:30.15, 13. Elisabeth Kania (Jac) 19:36.88, 14. Annie Ferrero (CLC) 19:37.58, 15. Colette Bacidore (CLS) 19:38.61, 16. Ella Tamburrino (Jac) 19:40.55, 17. Brynn Matthaei (CLC) 19:44.05, 18. Gianna Pinta (CLS) 19:47.52, 19. Emme Macke (CLC) 19:54.24, 20. Avery Mason (Jac) 19:58.30, 21. Addison Bechler (CLC) 20:02.80.
Boys Results
Team scores: 1. Hampshire 59, 2. Jacobs 62, 3. Prairie Ridge 90, 4. Huntley 96, 5. Cary-Grove 107, 6. Crystal Lake Central 136, 7. Burlington Central 164, 8. McHenry 215, 9. Dundee-Crown 244, 10. Crystal Lake South had incomplete team.
Top 21 individuals (All-FVC honors): 1. Yusuf Baig (BC) 15:25.35, 2. Will Gelon (PR) 15:57.70, 3. Ian Barnes (C-G) 16:06.11, 4. Aidan Gonzalez (Hamp) 16:11.56, 5. Danny Hamill (CLC) 16:19.00, 6. Alec Melendez (Jac) 17:23.43, 7. Aidan DeMuth (Jac) 16:25.64, 8. Tommy Nitz (Hunt) 16:28.27, 9. Sebastian Abreu (Hamp) 16:31.45, 10. Mitch Ruffin (Jac) 16:36.25, 11. Ian Mahon (PR) 16:39.30, 12. Owen Cuplin (Hamp) 16:45.78, 13. Luke Grubbs (Hunt) 16:46.04, 14. Adam Lakeman (Jac) 16:48.64, 15. Jason Schmidt (Hamp) 16:50.29, 16. James Grant (C-G) 16:50.46, 17. Doug Martin (McH) 16:51.22, 18. Ryan Kries (BC) 16:51.85, 19. Henry Nangle (Hamp) 16:52.60, 20. Chase Porsche (Hunt) 16:52.91, 21. Jackson Hopkins (CLC) 16:53.11.