Alden-Hebron's most well-known giant is gone.
Bill Schulz, the 6-foot-10 1/2 center from Alden-Hebron's 1952 boys basketball state championship team, died at age 86 on Thursday in Waukegan.
Schulz was one of four remaining starters from the Giants' championship team who was still alive. Twins Paul and Phil Judson and Ken Spooner are still living from that famed starting five.
The other starter, Don Wilbrandt, died in 1998.
A-H was the smallest school to ever win the IHSA Boys Basketball State Tournament in the one-class system, with 98 students.
Schulz, a junior on the 1952 team, went on to play at Northwestern, where he faced the Judson twins, who played at Illinois.
"He was a great guy," Phil Judson said. "He made the difference with our team. He was a force in the middle."
A few years before the state title season, Alden and Hebron consolidated, which brought Schulz to the same high school as the others.
When A-H coach Russ Ahearn saw the big farm kid walking the hallway in overalls and a flannel shirt, he saw the potential. He was the final piece to the championship team that the Giants needed.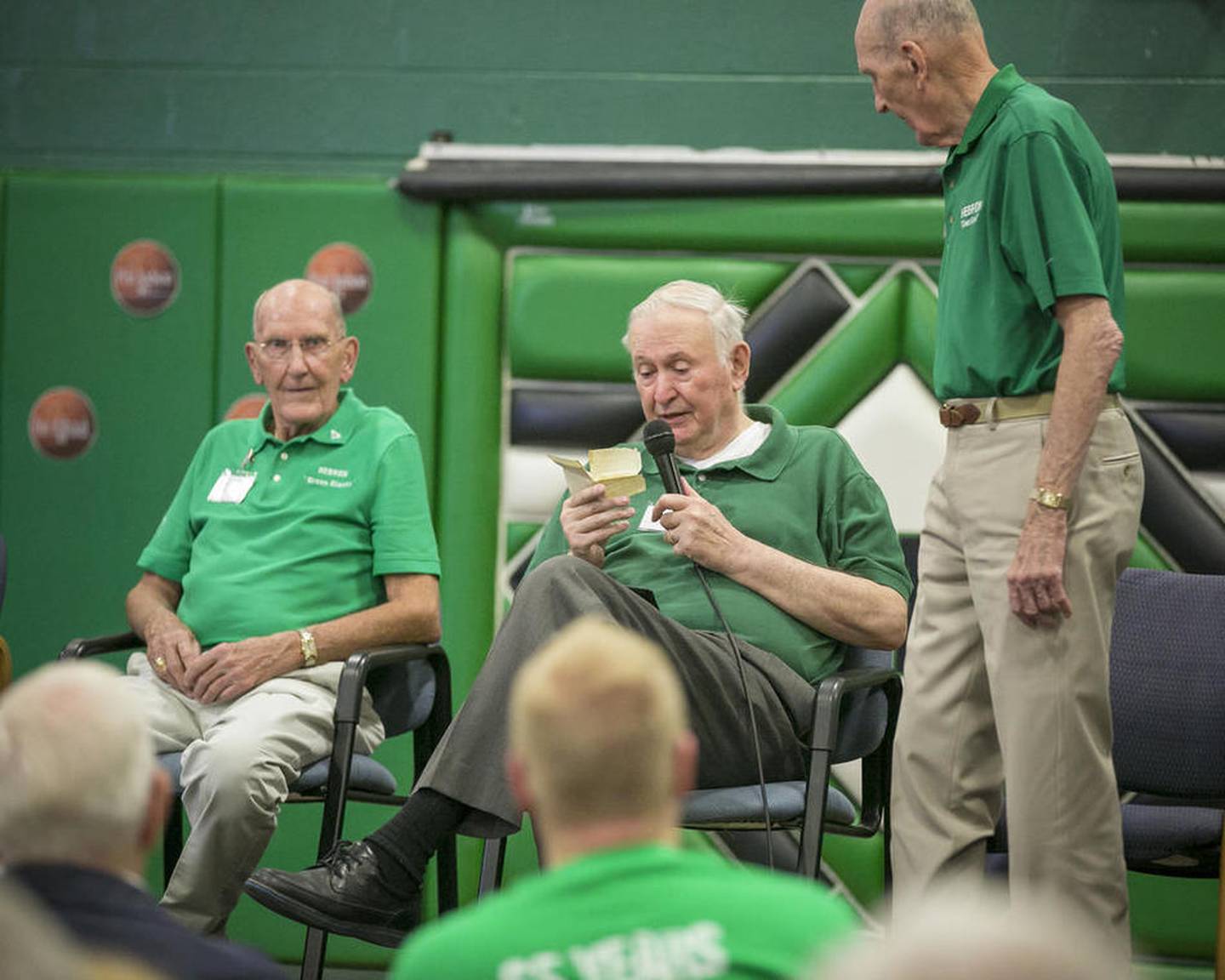 After Schulz's sophomore season, Ahearn penned a famous list of "Recommendations for Bill Schulz. The very minimum if he wants to become a polished ball player by Nov. 1951."
Through the years at A-H anniversary celebrations, Schulz would pull out his wallet and produce that very list, tattered and taped together, that Ahearn had written for him. He carried it until his death.
Ahearn encouraged Schulz to jump rope, do 50 fingertip pushups, 100 jumping jacks, sprints, shooting and ballhandling drills, and various other exercises every day to promote coordination and conditioning.
Ahearn also told Schulz he could come to the gym any evening at 6:30 and shoot.
The Giants were not an underdog that season. They were ranked No. 1 most of the season and usually played on the road, where they would pack any gymnasium like a barnstorming professional team.
A-H finished 35-1 and beat Quincy, 64-59, in overtime, for the state championship.
THE LIST
Here is the list that A-H coach Russ Ahearn wrote for center Bill Schulz to help him become a better basketball player.
Recommendations for Bill Schulz
The very minimum if he wants to become a polished ball player by Nov. 1951
1. Jump rope – 5 minutes per day — jump on toes.
2. 50 pushups – done on fingers – 10 at a time.
3. 100 jumping jacks – 20 at a time – for coordination.
4. Drag dribble – 5 minutes for footwork.
5. Ball handling – ball around body, between legs.
6. Rebound for 5 minutes with rim covered.
7. Shoot like a forward from side & in front. 2-handed high (kiss style).
8. Right and left pivot shots – 5 minutes.
9. Get down and take starts like a sprinter, say to yourself, "On your mark, get set, go!" and see how fast you can get away. – Run at top speed for about 50 yards – 10 times a day – 3 or 4 sprints at a time.
10. Hang around our regulars from last year – Paul Judson, Phil Judson, Don Wilbrandt, Bill Thayer & Ken Spooner. Learn to think the way they do – adopt their splendid habits.
11. Continue to be a splendi gentleman & win the sportsmanship award when you are a senior or a junior.
12. Do not imitate any players of the past – They are individuals – so are you – Be yourself & help your brothers learn the game.
13. Shoot an unlimited time every day – Be a scorer.
14. Squeeze a ball in either hand.
15. Matching exercise with another center – 5 minutes.
16. Come up to the gymnasium every day this summer & shoot in the gym or any evening from 6:30 on.
17. Eat good solid foods.
18. Convince your brother that he'll be a good player when his is a junior & senior.
19. Start drive/step with either foot – take a big step back & shoot.
20. Observe all training rules.
21. Get a lot of sleep.
22. Set your scoring aim at a 20 point average next year.
Mr. Ahearn – Coach