JOLIET – Crystal Lake South righthander Ysen Useni relied on his right arm to work out of a couple situations with runners in scoring positions.
On other occasions, the Gators senior let Washington batters put the ball in play and relied on his teammates.
For five innings, Useni battled Washington righty Easton Harris in a tight game. The thing was, Useni found a way.
"In that situation I knew I needed to let the hitter hit the ball and I trusted my defense to make the plays behind me," Useni said.
Eventually, Useni's pitch count mounted and he left, and Washington added one more run for a 2-1 victory Saturday in the Class 3A third-place game at Joliet's Duly Health and Care Field.
The two pitchers, who will compete in the Missouri Valley Conference next year (Useni at Illinois-Chicago and Harris at Bradley) did not disappoint.
After South (19-15) lost to Nazareth, 16-3, in Friday's semifinal, it was a more South-like performance in the season finale. The Gators struggled with only two hits, but Useni, James Allie and Johnathon Carlson, a senior who coach Brian Bogda brought in for the last out, kept the Panthers (35-6) in check for the most part.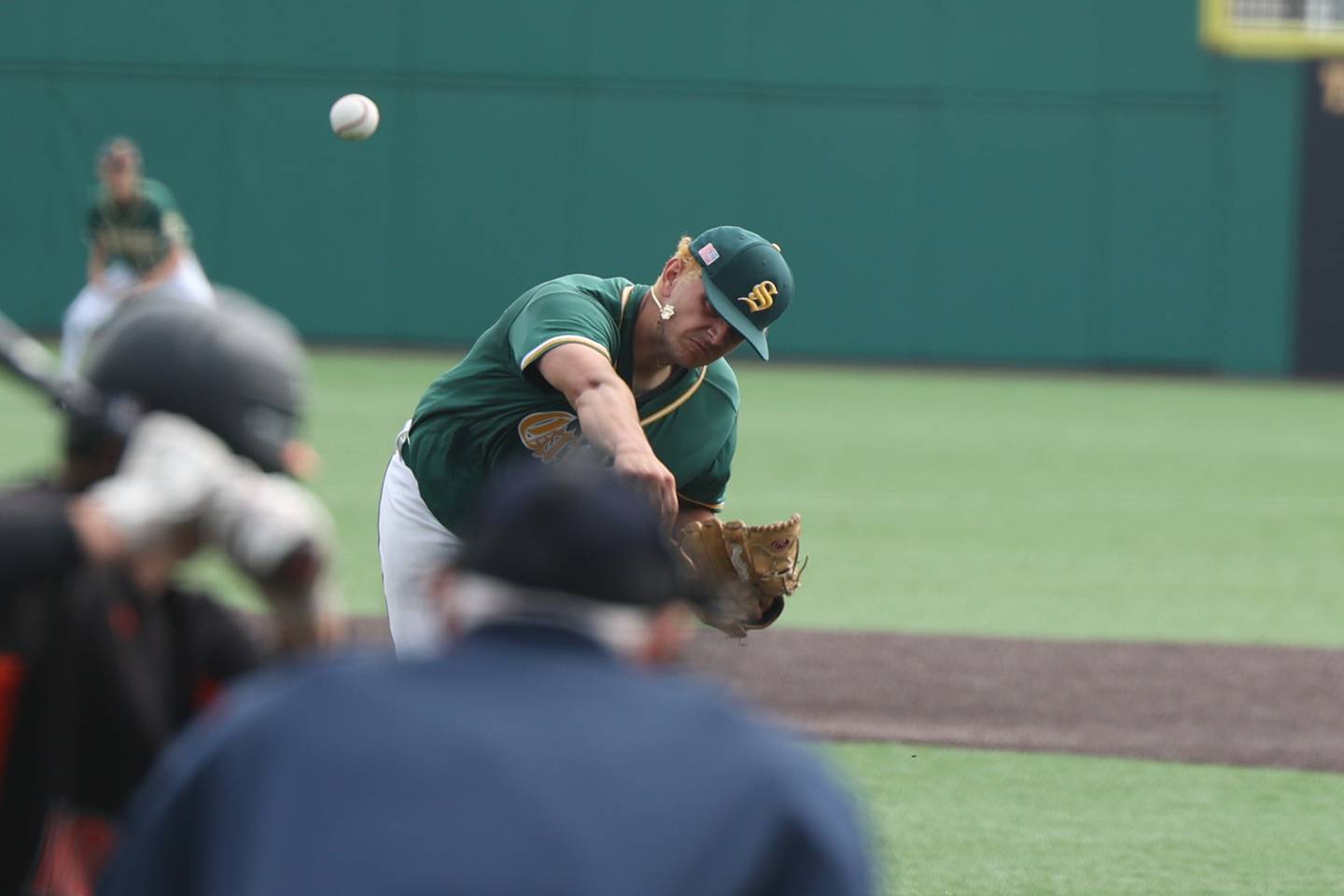 "Ysen filled up the zone. He got eight strikeouts, he limited them on the bases and pitched out of some jams," Bogda said. "He finished with 100 strikeouts for the year, which is pretty cool. He gave us a chance to win. I'm proud of everybody.
"(Harris) mixed speeds real well and attacked the zone. He's a Division I arm for a reason. He did a nice job today. Ysen was there with him inning for inning. They got a few more hits than we did."
Washington scored when leadoff man Jack Limas ripped a hard shot down the third-base line into the left-field corner and rounded the bases for an inside-the-park homer. That was all the Panthers got off of Useni, who finished with 104 pitches and allowed four hits.
Harris enjoyed locking up with Useni in a low-scoring affair.
"Useni's a great pitcher. He showed that early, he had good stuff today," Harris said. "His fastball was popping. He had a great curveball and a good changeup. There was no room for error. Luckily enough we scratched two off and that's all we needed."
Useni (6-foot-3, 220 pounds) committed to UIC as a sophomore during 2020, when the high school season was wiped out by the COVID-19 pandemic. He was limited to 13 innings as a junior with an arm and a knee issue.
This season, Useni finished at 5-3, with a 2.15 ERA and 100 strikeouts in 57 innings.
"The most important thing was getting to actually play with these guys and getting to know everyone way better," Useni said. "Getting this far with teammates and growing as a family."
Useni was unscored on in his first two postseason games, stretching his scoreless string to 22 innings over four appearances. Fenwick scored against him in Monday's Schaumburg Boomers Supersectional, but Useni was closer to his previous postseason form in his final high school game.
"Last year was tough, I wanted to show what I could do really bad," Useni said. "What I've shown is a representation of all the coaches I've had in my life. They've taught me to be tough out there, no matter what the situation is, trust your teammates and believe in myself to execute pitches and just love for the game."