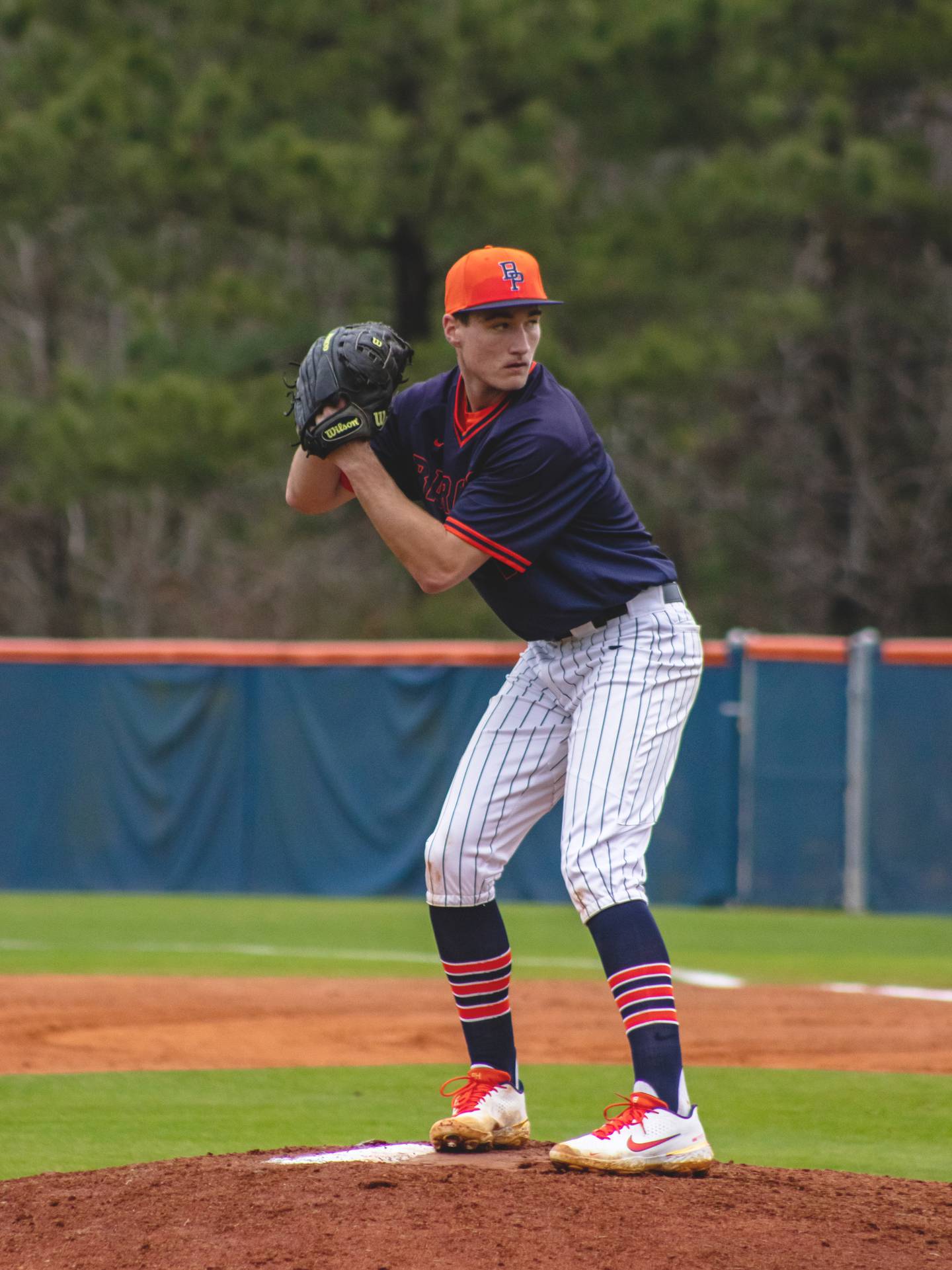 Prairie Ridge graduate Benjamin Harris doesn't care if he is called Ben or Benjamin. He doesn't even mind his new nickname, thanks to folks in Bluefield, West Virginia, this summer.
"Our announcer calls me 'Benny the Jet,'" he said with a laugh.
Harris has earned another moniker this summer he didn't expect: Appalachian League All-Star.
After a strong first half of the season as a pitcher for the Bluefield Ridge Runners, Harris (2-0, 1.75 ERA) started the July 27 All-Star Game for the East team.
A summer circuit for college players, the Appalachian League features athletes from schools in the Southeastern, Atlantic Coast, Pac-12, Big 12 and Mid-American conferences, among others. Harris is among a small group of NAIA players, having just finished his second season at Brewton-Parker College in South Georgia.
"I was really surprised at what I accomplished competing against the best of the best," said Harris, who plays left field on the days he's not pitching. "My [pitching] philosophy is just to attack the zone, to show my best stuff out there and just compete."
Although he gave up two runs in his inning of work during the All-Star Game – a 6-6 tie won by the West in a deciding home run derby – Harris appreciated the opportunity on a big stage.
"It was pretty fun," he said of the game in Pulaski, Virginia. "There was a lot of people. That was the biggest crowd [3,402] that I've ever played in front of. I had to control myself and just breathe."
Harris has left plenty of hitters breathless during his career. In 36 innings this summer, he has 47 strikeouts. During the spring season at Brewton-Parker, he fanned 144 batters in 94 1/3 innings, which was the second-highest total in NAIA and the second-best season for a pitcher in the history of the Southern States Athletic Conference.
"I wouldn't say I'm a strikeout guy," said Harris, who throws a four-seam fastball, two-seam sinker, changeup and spiked curveball. "I'm just a big competitor. My out pitch is my changeup. That's probably the best pitch in my arsenal. I have a pretty good feel with the ball in my hand on the changeup."
Harris is working this summer on refining his four pitches and getting more movement out of them.
After playing first base and right field at Brewton-Parker, batting .339 in the spring with 10 home runs and 39 RBIs, his summer assignment has been in left field.
"At first, I was really confused when they put me out there," he said. "I was really nervous. But I'm more comfortable out there now."
In 31 games as a hitter, Harris is batting .245 with 22 RBIs, seven doubles and four homers. And he has a perfect fielding percentage.
While playing against athletes from schools in well-known college towns such as Tempe, Athens, Stillwater and Berkeley, he explains his school from a different perspective.
"I just say it's three hours away from Atlanta," he said of Brewton-Parker, where his older brother Ryan serves as the team's associate head coach. "It's very South Georgia, nothing around. It's insane seeing people from SEC schools, ACC schools and playing with them and competing against them."
The Appalachian League is being played in 10 former minor league cities that were left without teams when Major League Baseball contracted the minors. As an MLB/USA Baseball partner league, the Appalachian is a showcase for potential future professional players.
"I've always wanted to play professionally," Harris said. "Getting my name out there is getting me one step closer to my dream."
"It's probably the biggest highlight of my career," he said of his Appalachian League experience. "It means a lot. I'll never forget this summer."
Vohasek makes 2 watch lists: McHenry East grad Ray Vohasek – a senior defensive tackle who started all 11 games last season for North Carolina – was named July 27 to the 2021 Outland Trophy and Bronko Nagurski Trophy watch lists.
The Outland honors the top interior lineman on offense or defense in college football. The Nagurski is awarded to the top defensive player in the nation.
Vohasek earned All-Atlantic Coast Conference honorable mention honors after tying for the team lead with seven tackles for loss while compiling 3.5 sacks and 29 total tackles.
Top-notch fullback: Illinois State senior fullback Tim McCloyn was named to the preseason All-Missouri Valley Football Conference honorable mention team last month.
A Huntley graduate, McCloyn scored his first career touchdown during the spring Football Championship Subdivision season. He is a three-year starter who previously paved the way for 2020 NFL rookie sensation James Robinson during his career with the Redbirds.
• Barry Bottino writes about local college athletes for the Northwest Herald. Write to him at barryoncampus@hotmail.com and follow @BarryOnCampus on Twitter.