Name: Gabby Wire
School: Crystal Lake South, senior
Sport: Volleyball
Why she was selected: Wire had 17 kills, including the final two points, and 10 digs in a 25-22, 19-25, 25-23 Fox Valley Conference win against McHenry, and nine kills and 12 digs in a 25-17, 29-27 FVC victory against Cary-Grove. Over the weekend, the senior outside hitter led the Gators (16-6) to a 4-1 record at the Prospect Invite, collecting 37 kills, 23 digs and 11 aces in five matches.
For her performance, Wire was selected as the Northwest Herald Athlete of the Week in an online vote. Here is her Q&A with sports writer Alex Kantecki.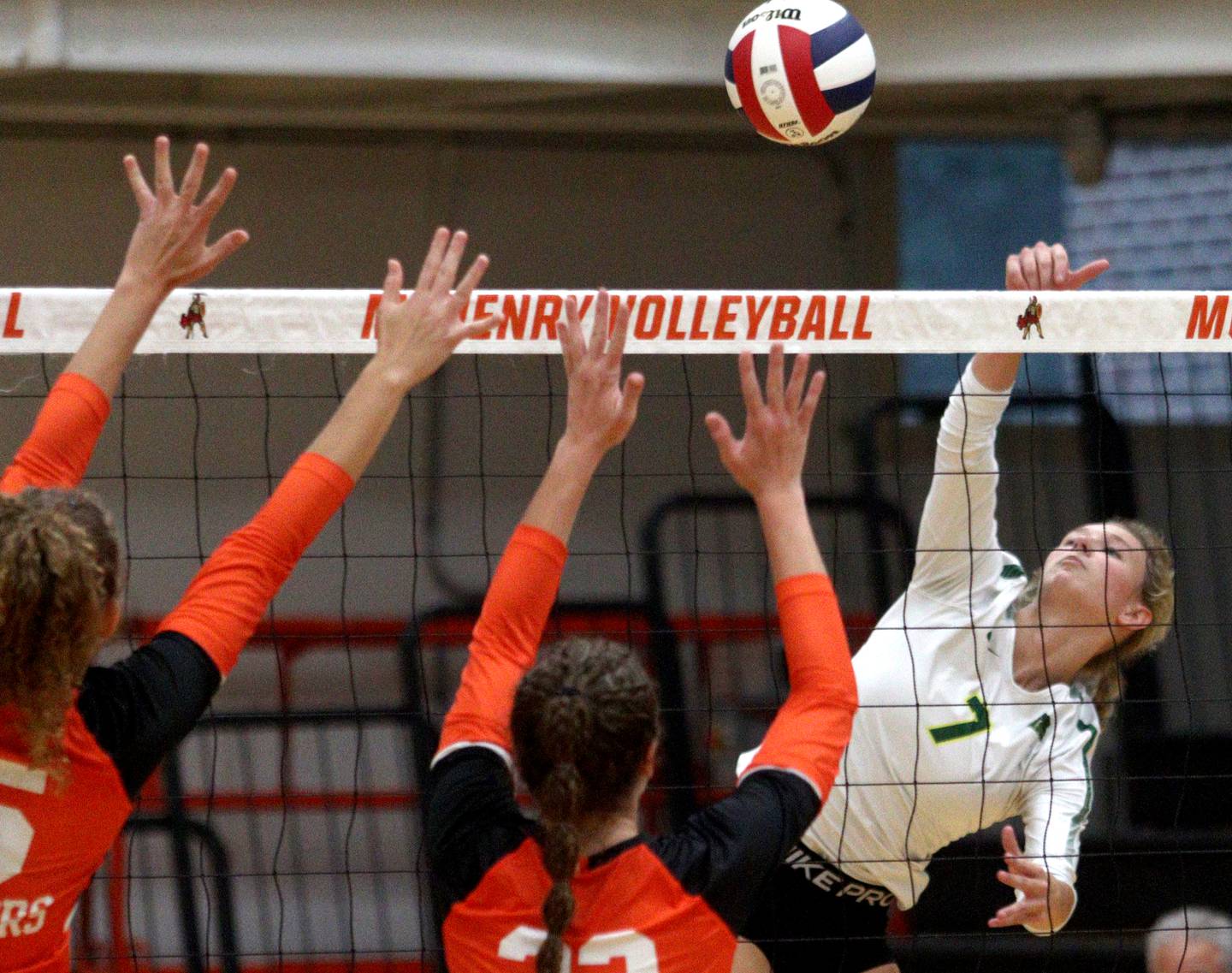 What is your most memorable moment playing volleyball?
Wire: My most memorable moment playing volleyball would have to be when my sister made the varsity high school team. We always stuck by each other at tryouts. As a four-year varsity player, it was really cool to see my sister doing what I did my freshman year. My sister is my best friend. Being able to witness her success in the gym and to see how excited she was, it was honestly my favorite volleyball experience. I am so lucky I get to play with my sister for my last high school season.
What is it like playing with your sister?
Wire: I can't even explain how much I love getting to play with my sister. We are both extremely competitive and have always wanted to compete with each other since the first day we both could hold a volleyball. Bobbi was always working on her volleyball skills and preparing herself for the tryouts, hoping that maybe we would be able to do this and actually get the opportunity to play on the same team together for my last season. When it actually became a reality, Bobbi called our parents as soon as the tryouts ended, and our whole family had a little celebration.
What have been the highlights for you and your team so far?
Wire: I think the start of the season was pretty good. The reason I say pretty good is because we are all talented players, but I felt we hadn't reached our full potential yet. Throughout this season so far, our team has improved so much already due to the dedication we put into practice and our work ethic. We are still continuing to push ourselves to be better.
Who is your favorite professional athlete?
Wire: Michael Jordan. I personally believe he is the best athlete to walk this earth. His story is so inspiring to me, and that's what makes him my favorite. My whole family watched "The Last Dance" together and were so moved. He is just such an amazing player in all ways. From his amazing mindset, to his amazing physical skills, he is just the best!
What's a song on your playlist most people would be surprised is there?
Wire: "Blind" by Korn. My guy best friend, who is now my boyfriend, first introduced this song to me. I love hard rock like Metallica and love certain heavy metal songs. I like this type of music when I'm preparing for volleyball games and getting myself in the zone.
Who is your funniest teammate, and why?
Wire: I don't think I could choose the funniest teammate, because our whole team is filled with goofballs. We have Logan Georgy making animal noises and singing her heart out to our practice playlist almost every practice. We also have Olivia Apt, Grace Meyer and Morgan Johnson always joking in general, and especially with my sister about being a freshman.
What is your favorite fast food?
Wire: Culver's. From their amazing butter burgers to their amazing ice cream dessert, you cannot go wrong. The cheese curds are to die for. Culver's is my favorite place to go after games and practices.
What other sports did you play growing up?
Wire: When I was young, my main sport was softball. I grew out of it, and it wasn't really my thing. My dad is the head baseball coach for Barrington, so I was always around the game growing up, and I was actually kind of good for my age. I learned that volleyball was my thing. I love how fast paced the game is; softball was too slow for me. I also love the adrenaline rush you get from the volleyball court. There is something so unique and special about that court that brings me so much joy and excitement.
What is your most prized possession?
Wire: My most prized possession is 100% my family. Without my family, I wouldn't be near where I am today in my life. I live with my parents and my three beautiful siblings, Bobbi, Shaelyn and Preston. They have all impacted my life so much. My parents are so supportive and have helped me so incredibly much. I not only learn from my parents, but I learn from my siblings. My whole family means so much to me, and I don't know what I would do without them.