CRYSTAL LAKE – Prairie Ridge's girls gymnastics team looks different this season.
A lot different.
Gracie Willis graduated and competes at Air Force. Paige Magel and Thea Scheuer switched from Crystal Lake Gymnastics Training Center to another gym and are competing in club.
Gabby Riley, a senior at Cary-Grove, is the main competitor back from the defending state champion team which won the title by almost two points.
"We're rebuilding, which is OK," Wolves coach Lexi Redmond said. "I'll take it. We're still having fun. It's about sportsmanship and having these girls do something they love together."
Prairie Ridge, a co-op that draws gymnasts from C-G, Crystal Lake Central, Crystal Lake South and Prairie Ridge, has been a force in high school gymnastics over the past 10 years. The Wolves have five state team titles since 2015.
Willis tied for the all-around state title last year with DeKalb's Maddy Keys; Riley won the all-around as a freshman in 2020. The COVID-19 pandemic wiped out the 2021 IHSA gymnastics season.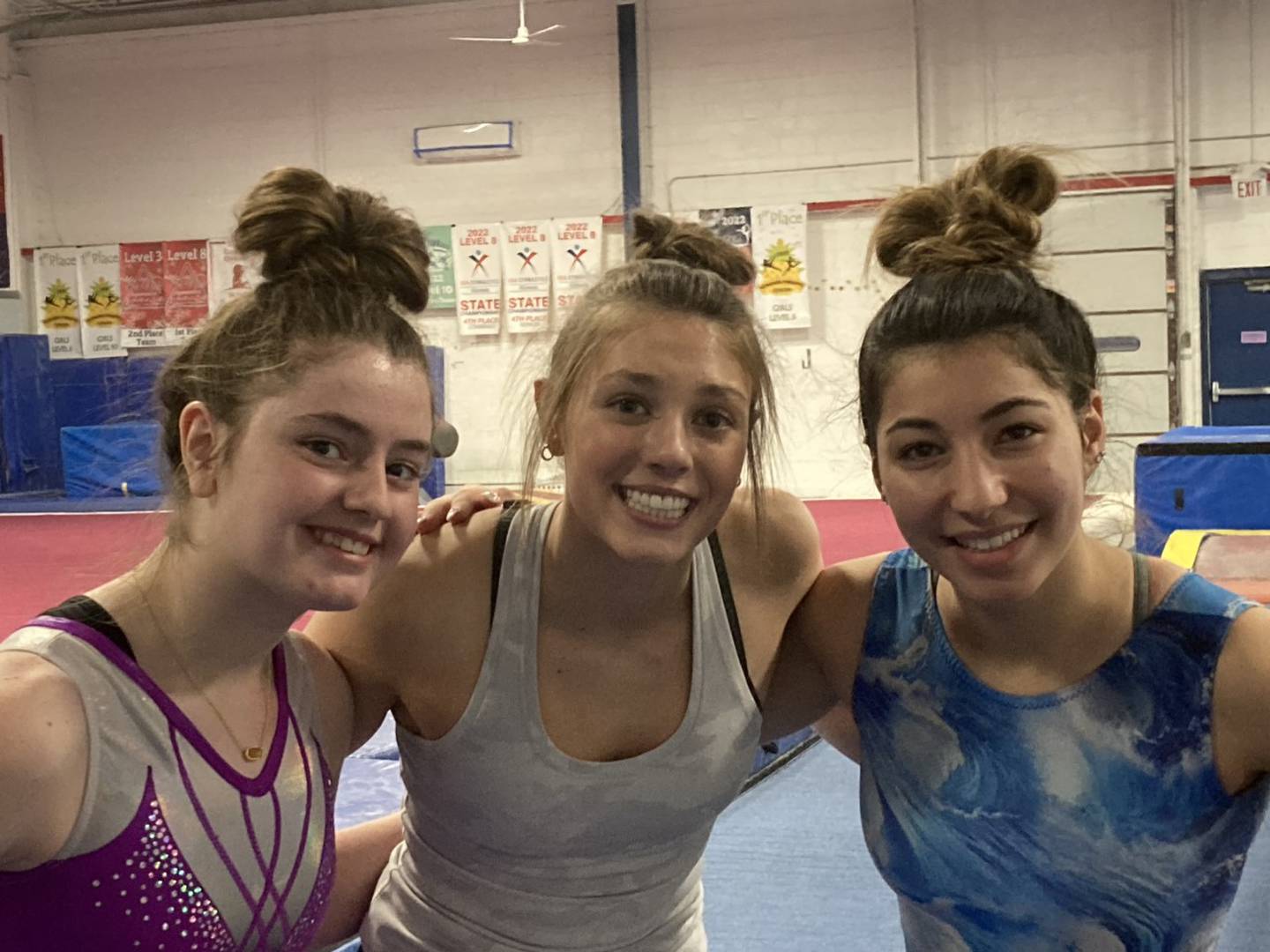 Now, the postseason focus will be more on individual achievement, with Riley, who signed with NCAA Division I Kent State in November, C-G classmate Delaney Wells and Central sophomore Maria Kakish as the top performers. Riley is a Level 10 club gymnast, Wells and Kakish are Level 9s.
The IHSA postseason starts for Prairie Ridge on Tuesday, Jan. 31 at the New Trier Regional. The Stevenson Sectional will be held Wednesday, Feb. 8 and the IHSA State Meet is Friday, Feb. 17 and Saturday, Feb. 18 at Palatine High School.
The IHSA seeds teams through the sectional by their average meet scores. Prairie Ridge is seeded 11th in the Stevenson Sectional at 130.667.
"We've come a long way and we're really close," Riley said. "We've really bonded with each other. We help each other get through our routines and support each other."
Redmond mentioned how the team enjoys high school gymnastics because the IHSA series promotes more of the team aspect than club.
"Our team's still pretty good, and we're all really supportive," Kakish said. "It's really fun still. We lost a lot of our seniors, but it's supposed to be for fun."
Riley finished fourth in the all-around last year and shared the floor exercise title with Willis. She is thrilled to have her college plans solidified.
"I feel pretty good. It's a lot less stressful now that I've signed with a school," Riley said. "I feel like I can focus on my skills and not cleaning up routines and not worry about getting skills and getting to a college.
"I really liked the coaches and the atmosphere [at Kent State]. They were very much like my old coaches, like Lee [Battaglia] and them. The girls were so nice and so sweet."
Battaglia formerly owned CLGTC and coached Prairie Ridge. The Prairie Ridge gymnasts trained at CLGTC and also competed there in club. Battaglia, who coached the Wolves state championship team in 2020, sold the gym to Redmond and retired. Redmond coached last year's state champs.
Redmond sees big things again for Riley.
"I have very high expectations for her. I'm hoping we get at least three of four events first and all-around first," Redmond said. "She had a mishap on beam and vault [last year]. She's more confident and solid than I've seen."
There are more opportunities for other gymnasts now, especially Kakish and Wells.
"I hope we all stick together and cheer each other on and just keep our positive energy through the end of the season," Wells said. "I like where I'm at. I've competed a lot more this year and improved a lot of my skills."
Kakish also feels good about her routines.
"I just want to do the best that I can for myself," Kakish said. "I want to do well and work hard. I'm pretty solid. I'm doing really well this year.
"I want everyone to be healthy and have fun."
Prairie Ridge co-op roster
Cary-Grove: Zoe Kennedy, sr.; Gabby Riley, sr.; Delaney Wells, sr.
Crystal Lake Central: Maria Kakish, so.; Lily Letak, so.; Eva Yentsch, sr. (injured).
Crystal Lake South: Addison Nabielec, fr.
Prairie Ridge: Anna D'Antonio, jr. (injured); Michelle Miniewicz, fr.; Alexis Vallee, sr.