Finding a good fit with her volleyball teammates and coaches at Northern Illinois happened quickly for Sammi Lockwood before the season.
The junior middle blocker, who transferred from Notre Dame, also discovered she fit well in the Huskies' starting lineup last weekend. Lockwood, a Prairie Ridge graduate, piled up 25 kills and seven blocks as NIU went 2-1 in the season-opening Huskie Invitational in DeKalb.
"It felt really good to be a pretty prominent player and to help my team get those two wins," Lockwood said. "As a transfer, it could have been really tough jelling with the team on and off the court. They've made it super easy and really fun."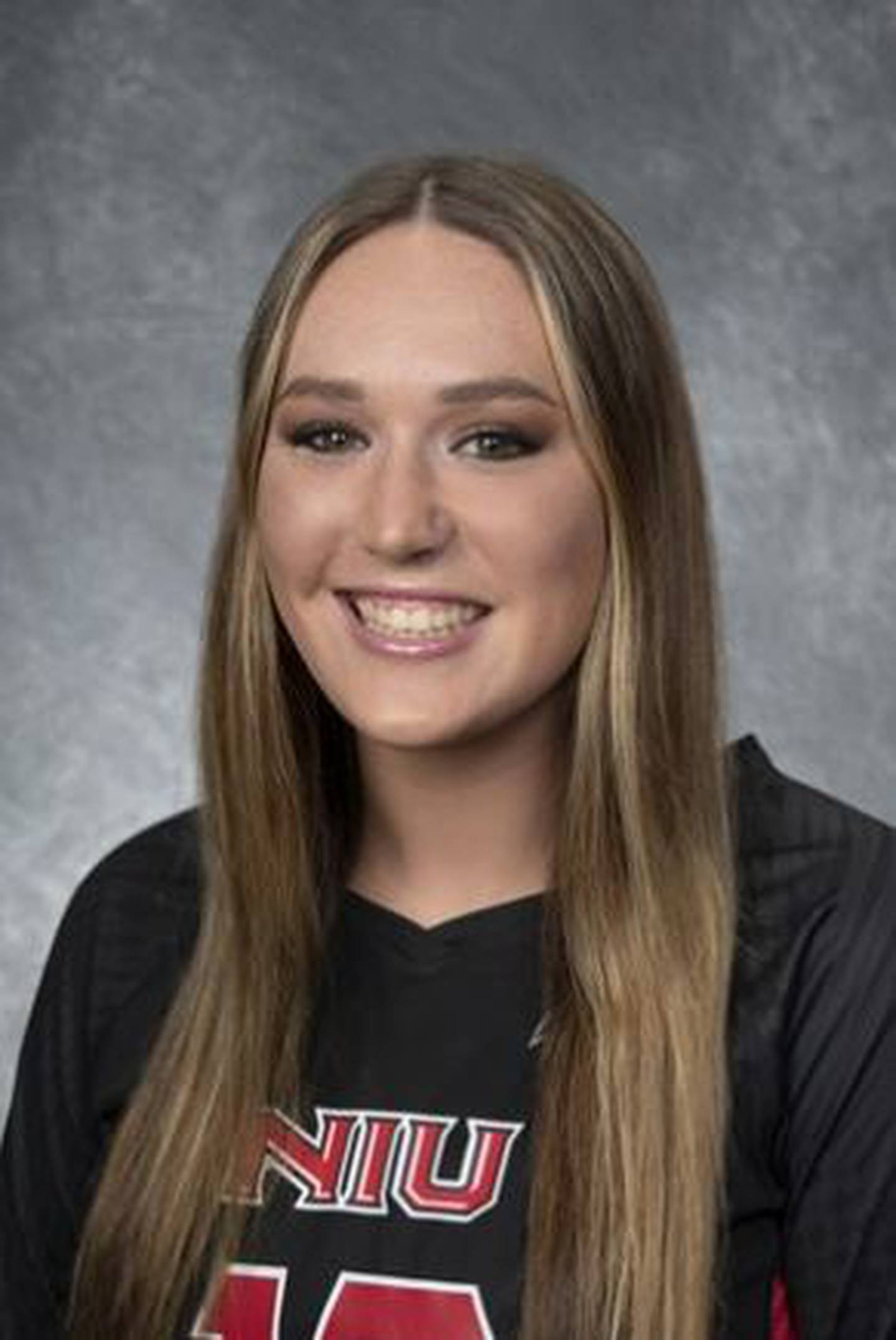 The 6-foot-3 Lockwood had eight kills and a season-best three blocks in NIU's 3-0 sweep to start the season against the New Jersey Institute of Technology before the team's 3-0 loss to South Dakota State.
The Huskies rebounded to beat UIC, 3-0, with Lockwood posting a season-high 10 kills and two blocks.
"I was proud of how we turned it around after the South Dakota State game, to playing as well as we did in the UIC game," she said. "That's the team that we are."
NIU's play this season has been strengthened by Lockwood and her roommate, fellow transfer Emily Dykes, a 6-foot junior middle blocker/outside hitter from Radford College.
"That brings a big presence at the net that will help us a lot," said Lockwood, who played in four games during two seasons at Notre Dame. "My mindset coming here was to play a role in our ultimate goal of winning the Mid-American Conference."
Lockwood said she spent plenty of time on her attack during the offseason.
"I think that's been paying off," she said.
Through three games at NIU, Lockwood leads the team with a .471 attack percentage and ranks second for the Huskies with 2.78 kills per set.
"It was a really fun weekend overall," she said. "It's been cool and fun playing with all the girls here."
Carolina milestone: McHenry East grad Ray Vohasek had two tackles for North Carolina's football team last weekend while starting his 25th career game for the Tar Heels, which ranks second on the current roster. Carolina defeated Florida A&M, 56-24, in its season opener.
A fixture at nose tackle for the past three seasons, Vohasek started 13 games a year ago for UNC, when he earned honorable mention All-Atlantic Coast Conference honors for the second year in a row.
Palm Beach powerhouse: The Palm Beach Atlantic University volleyball offense has gotten a boost this season from graduate transfer setter Jayden Otto (Prairie Ridge).
After playing four years at Eastern Michigan, Otto is starting at NCAA Division II Palm Beach and averaging a team-best 9.38 assists per set. She posted 48 assists in a 3-1 victory Aug. 26 against Shippensburg in the Tony Banner Invitational in Clarion, Pennsylvania.
The Sailfish (3-1) were selected to finish fifth in a preseason poll of league coaches in the 11-team Sunshine State Conference.
Go-getter at Gannon: Crystal Lake Central grad Madde Blake is averaging 3.0 kills per set, the second most on the team for D-II Gannon University (3-0) in Pennsylvania.
Blake, a junior outside hitter, and the Golden Knights are ranked No. 17 this week in the American Volleyball Coaches Association national poll. She had a season-best 11 kills and 10 digs in a victory last weekend against Grand Valley State.
Winning at Winona: The D-II Winona (Minnesota) State women's soccer team has started its season 2-0 thanks to junior Reanne Weil (Prairie Ridge).
Weil scored the team's first goal of the season Aug. 26 in a 3-0 victory against Nebraska-Kearney. She has started both games on defense for the Warriors. Last season, Weil played in 17 games for Winona and scored one goal on six shots.
Super setter: Georgia State sophomore volleyball setter Jenna Brown (Dundee-Crown) is averaging a career-best 6.92 assists per set this season for the D-I Panthers (0-3).
She posted a career-best 35 assists Aug. 26 against Auburn and 31 assists a day later against Belmont in GSU's Panther Invitational in Atlanta.
• Barry Bottino writes about local college athletes for the Northwest Herald. Write to him at barryoncampus@hotmail.com and follow @BarryOnCampus on Twitter.