Fire Bar & Grill in Crystal Lake is a good place to visit when you are looking for a change of pace.
It has evolved somewhat during the pandemic, altering the focus from a music venue to feature its vast menu. It additionally has a happy hour, bingo, karaoke, and daily food specials.
Fire also bills itself as a sports bar, with more than 30 televisions. With so many TVs, one might worry about sensory overload, but that wasn't the case during our visit. Rather than blasting the play-by-play from one of the night's big games, as witnessed at many sports bars, Fire played 1970s classic rock at a sensible level, allowing each table of guests to have a conversation. This was appreciated.
What brought us to Fire was the food. The menu is huge and prices are reasonable. The food offerings feature 13 appetizers ($6.49 to $11.99), from Santa Fe Egg Rolls to Baked Goat Cheese Marinara; salads ($6.49 to $10.99); pizzas, thin crust ($9.99 to $20.99), hand tossed ($11.99 to $22.99) and an 18-inch stadium size ($20.99 to $27.99); calzones; wings; burgers ($8.49 to $10.49); wraps and sandwiches ($9.99 to $10.49); and entrees ($10.49 to $12.99).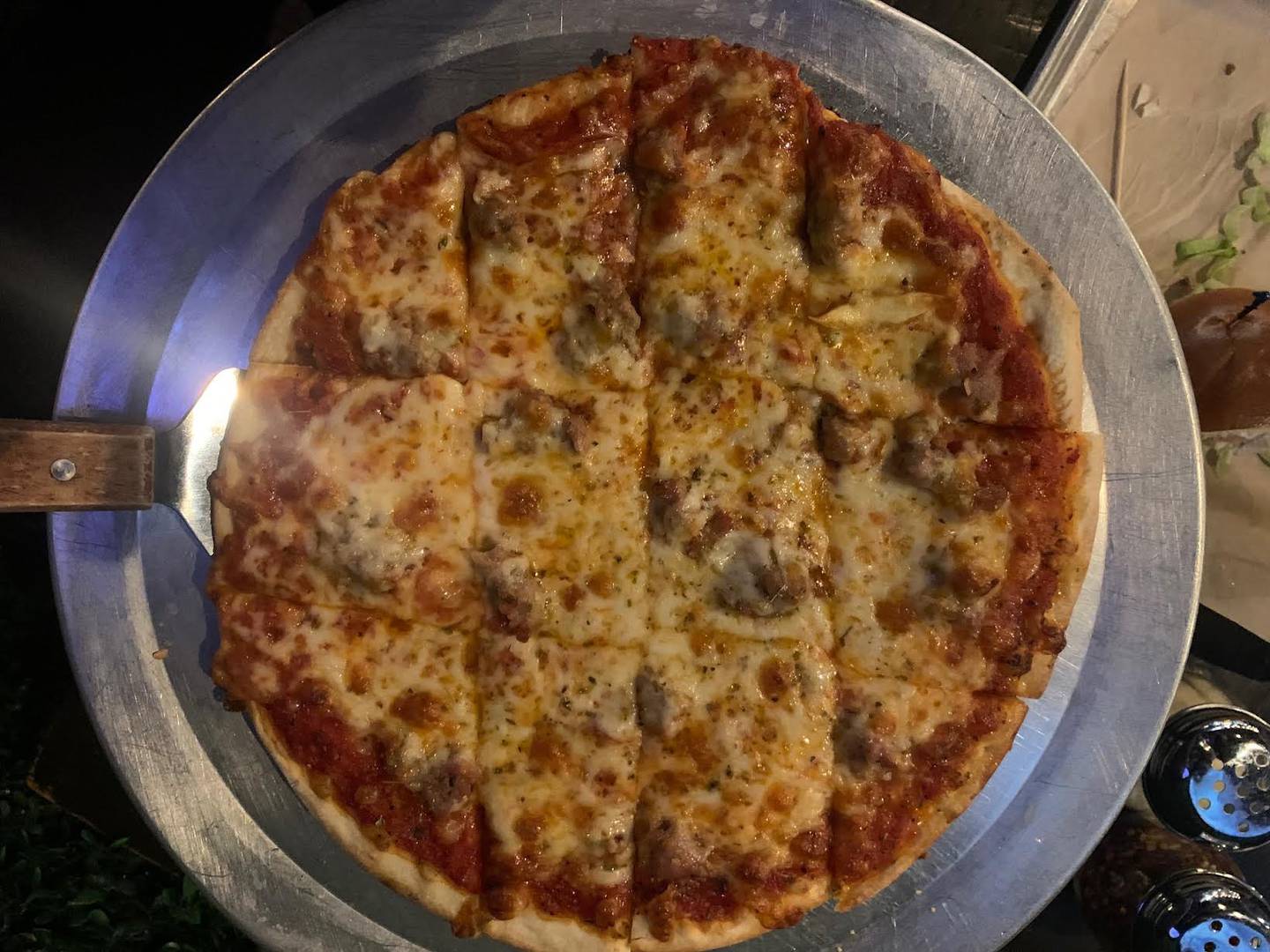 Our party was in a sampling mood. We started with a small, thin-crust pizza with cheese and Italian sausage. Because we like the cheese on our pizza to be browned, we ordered it well done. The pizza arrived exactly as we'd requested. It reminded us of a Chicago-style tavern pizza in taste and look, as it was cut in squares. The pizza had a crispy crust, along with flavorful sauce, and the sausage was bold. This was a very good pizza.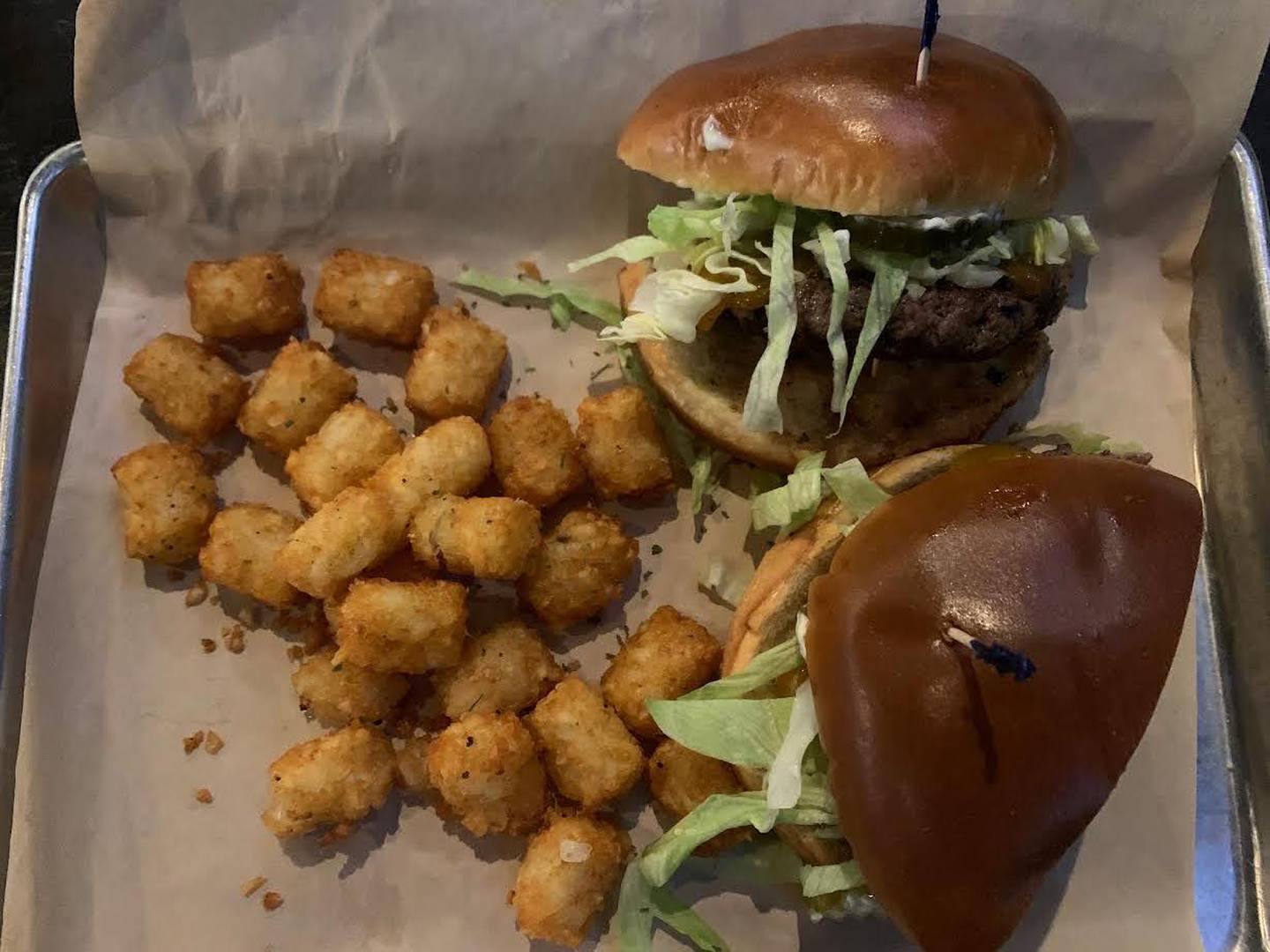 Next was a cheddar cheeseburger. Fire's burgers are a half-pound of "100% USDA Choice fresh Black Angus Beef." The burger, accompanied by lettuce, tomato and mayo, was thick, juicy and cooked to our liking. Side offerings include fries, tater tots, rice or a house salad. We chose the tots, which were crunchy on the outside and soft on the inside.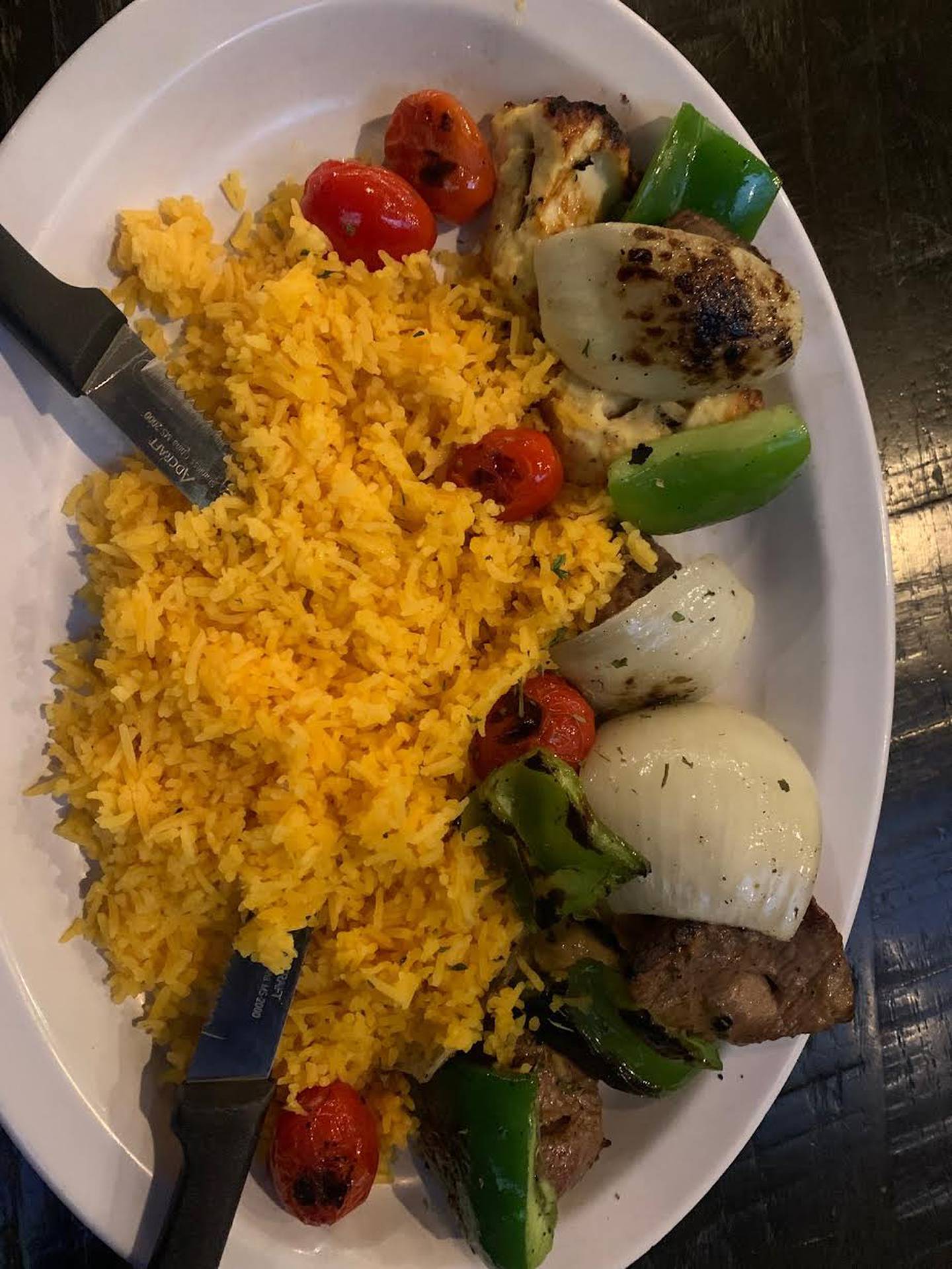 Finally, we selected the Combo Kabob Plate, an entree of two skewers of marinated steak and chicken cutlets flame-grilled with tomatoes, onions and green peppers, and accompanied by yellow rice. Our server, who recommended the kabobs, told us the dish is a family recipe. The steak and chicken were tender, and the marinade was a nice mix for the meat and vegetables. This dish was a great find.
Fire Bar & Grill is a welcoming and fun neighborhood restaurant with good food and a variety of offerings for groups seeking a lot of options.
• The Mystery Diner is an employee at the Northwest Herald. The diner's identity is not revealed to the restaurant staff before or during the meal. The Mystery Diner visits a different restaurant and then reports on the experience. If the Mystery Diner cannot recommend the establishment, we will not publish a story.
IF YOU GO
WHAT: Fire Bar & Grill
WHERE: 435 Angela Lane, Crystal Lake
PHONE: 815-459-3473
INFORMATION: www.firebarparty.com