Entering Uncle Jerry's Pizza Company in Cary is an experience. You don't know where to look first.
There's the horseshoe bar in the middle of the place with a TV that's showing the latest game. There is a soon-to-open Vito's Deli sub station to the right of the bar. Across from the bar is a full-service butcher shop, Orchard Prime Meats & Wine Shoppe. Across from Orchard Prime Meats is a large freezer with prepared meals, sausages and fish. And in the middle is Uncle Jerry's Pizza Company's dining room.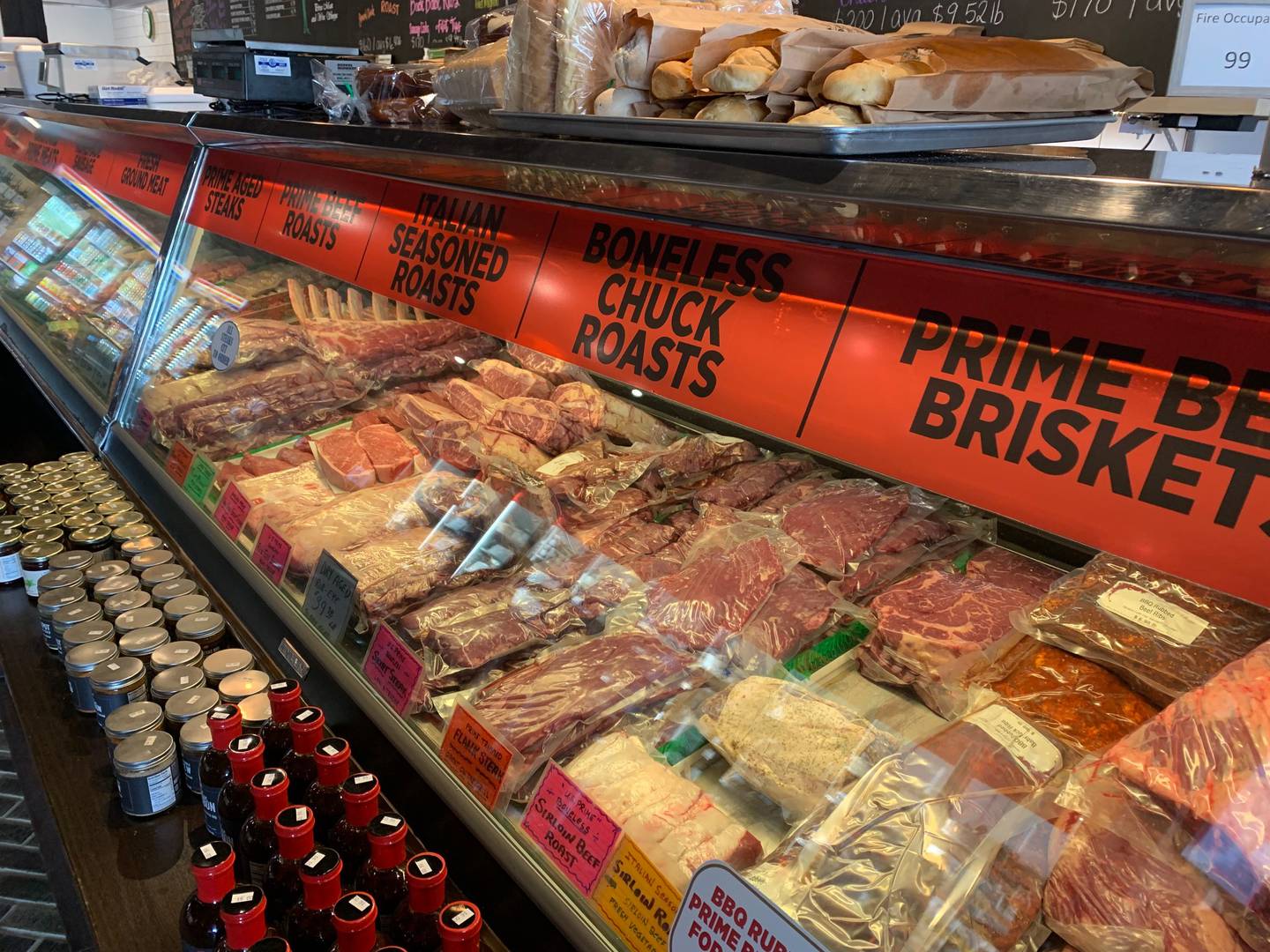 Yes, there is a lot going on inside, and we were there at lunch recently for the homemade pizza, which is what Uncle Jerry's is all about.
The Chicago pan pizza comes in two sizes: 9 inches (starting at $12.95) and 14 inches (starting at $20.95), with a variety of toppings you can choose from, as well as a list of four specialty pizzas (Uncle Jerry's Classic Sausage; Veggie Special; Spontaneous Spinach and The Goat; and the Spontaneous Spinach – with a touch of goat cheese). That's it, pizza, pizza and nothing but pizza on this menu.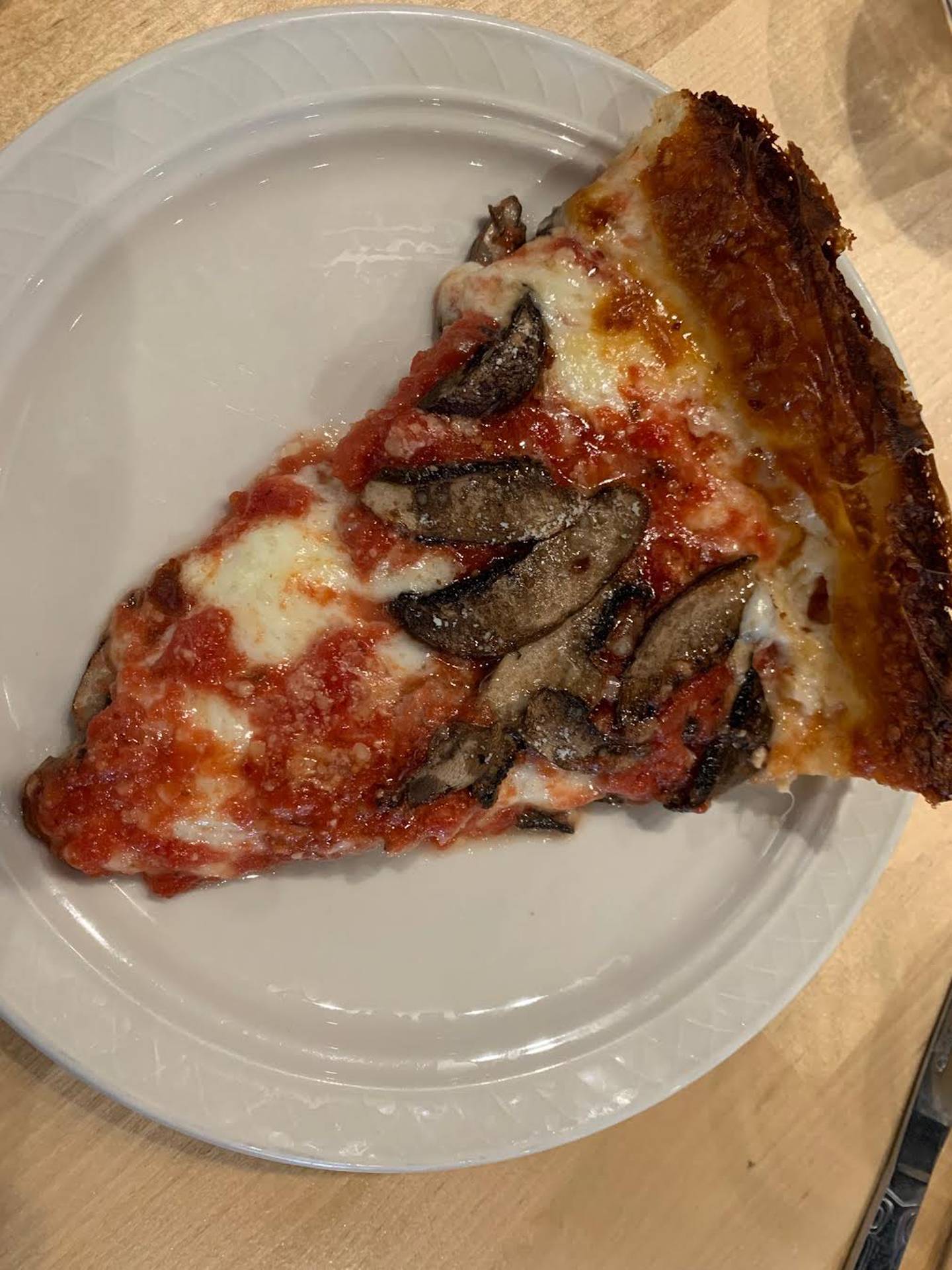 The drink offerings include a variety of wines by the glass or bottle, and a list of about 40 beers, from domestics to imports to local craft beers.
We ordered a 14-inch sausage and mushroom pizza ($26.55) and a 9-inch Spontaneous Spinach ($15.05). Because it's Chicago pan style, which takes longer to bake, and we had asked for our pizzas to be cooked well-done, we were warned it would take a while for our order to arrive. That was fine with us, because we took advantage of the extra time to look over the butcher's offerings. We already were thinking about what to take home to make for that night's dinner.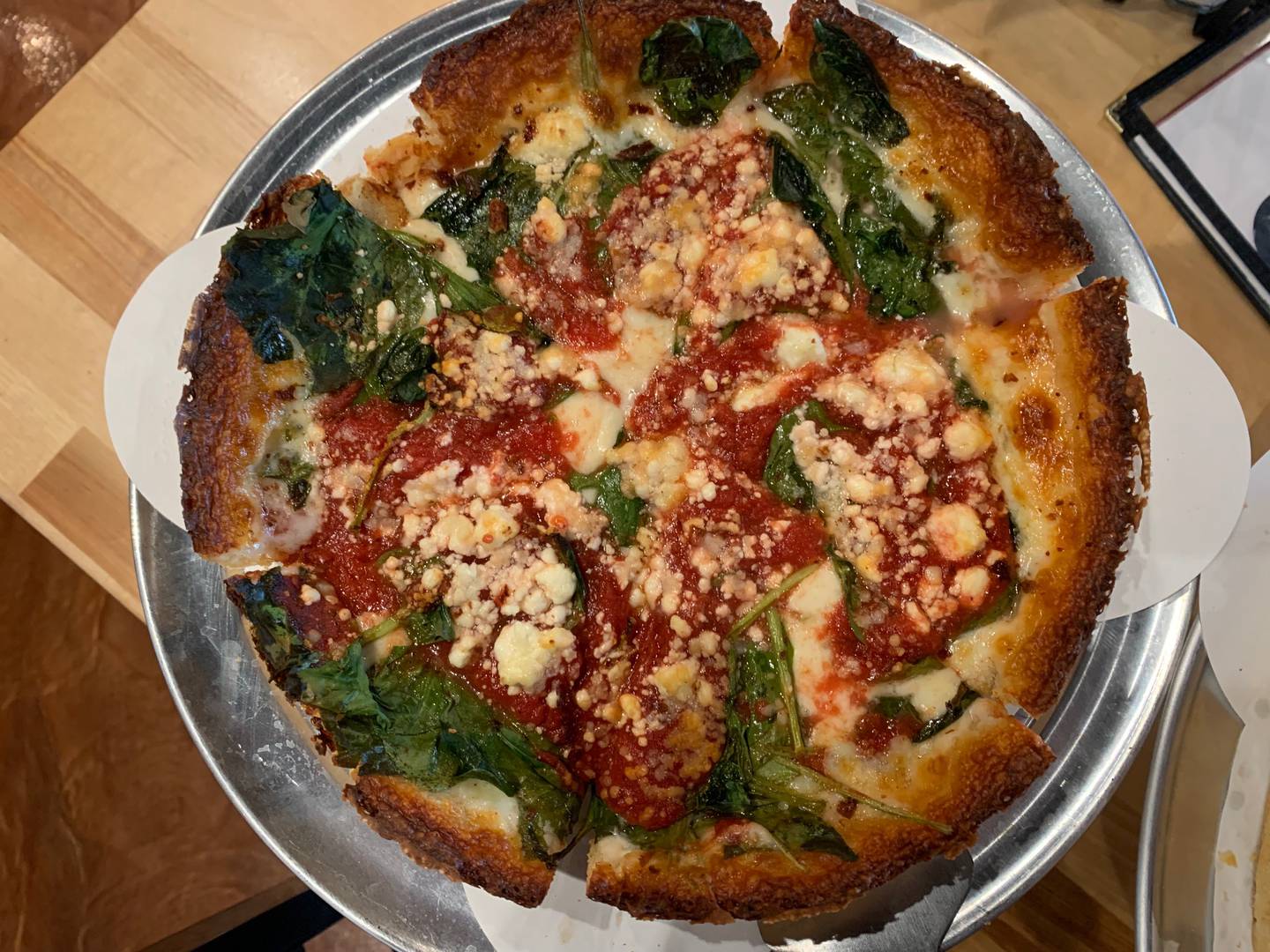 When the pizzas arrived, we were ready. The pies looked wonderful, and were cooked just the way we like them, with the cheese a nice bubbly brown and the crust crispy. The sausage-mushroom pizza was tasty, with fresh mushrooms and homemade sausage, which had a bold flavor. There was a good mix of each topping.
The Spontaneous Spinach was unique, with fresh tomato, spinach and cheeses. The colors gave it appetizing appeal, and the taste was fresh and distinct.
We ate both pizzas with a knife and fork, as the pan style has a thicker and crunchier crust.
After our lunch, we stepped over to the Orchard Prime Meats & Wine Shoppe to select something for us to cook for dinner. Orchard is one of the top butcher shops in the region, with nice-looking beef, pork and chicken options. We picked up blue cheese burgers, twice-baked potatoes, and an interesting jar of pepper jelly.
How was dinner at home? Well, it was good, but that's a discussion for another time.
• The Mystery Diner is an employee at the Northwest Herald. The diner's identity is not revealed to the restaurant staff before or during the meal. If the Mystery Diner cannot recommend the establishment, we will not publish a story.
IF YOU GO
WHAT: Uncle Jerry's Pizza Company
WHERE: 133 W. Main St., Cary
PHONE: 224-888-8663
INFORMATION: www.facebook.com/unclejerryspizzacompany