Paramount's Copley Theatre in Aurora has opened the second season of its BOLD Series with the Pulitzer Prize- and Tony Award-winning rock musical "Next to Normal." And one thing it sure ain't is ordinary! With book and lyrics written by Brian Yorkey, and music by Tom Kitt, it's an electrifying and heart-wrenching, immersive, hard-hitting musical drama that focuses on mental illness and its devastating effects on a suburban family.
Directed by always creative Paramount favorite Jim Corti (the Paramount's artistic director who never fails to deliver), this is an astounding production. Corti heads up the collaborative team with another Paramount favorite, musical director Kory Danielson. Excitingly, the original full orchestration is performed by a magnificent six-piece chamber orchestra, conducted by Celia Villacres, who is visible only to the cast by a screen hanging above Aisle Two's entrance.
The set is simple and functional: interlocking multiple levels of blond wood (think Jenga) designed by Michelle Lilly. Corti's blocking and use of the set is ingenious; the actors also use the aisles and the front of the audience area, and are responsible for bringing out set pieces and props. Cat Wilson's lighting and Eric Backus' terrific sound design complement the action, and the contemporary costume design by Yvonne Miranda, and choreography by Lexie Bailey are perfectly suited to this production.
The two-act musical begins with the captivating "Just Another Day," which serves to introduce all the characters. And although you may not go home humming any of the songs, those lyrics will captivate and immerse you. Hear Diana's "I Miss the Mountains" or the duets "How Could I Ever Forget?" and "Maybe," and you'll understand. There are 39 songs, but as there is little dialogue, "Next to Normal " moves at a fast and comprehensible pace as the story of Diana Goodman and her family evolves. Beyond the major theme of the trauma of mental illness and treatments, issues of loss, acceptance, truth and the meaning of family are considered.
The Canadian actor Brent Carver has said there are three requirements for good acting: courage, confidence and compassion. The phenomenal six-actor ensemble of "Next to Normal" easily meets those three requirements. And it is difficult to highlight any one of them, as they are all stellar with powerful voices.
Donna Louden is the mother, Diana; Louden dazzles with her passion and rawness as she projects her character's bipolar illness and delusions. "I don't know the things I don't know" – "it only hurts when I feel." She conveys what it feels like to die alive. Louden is seductive with her vocals and her portrayal of mental illness, the fear of loss and the depression with unresolved loss. She is just simply mesmerizing.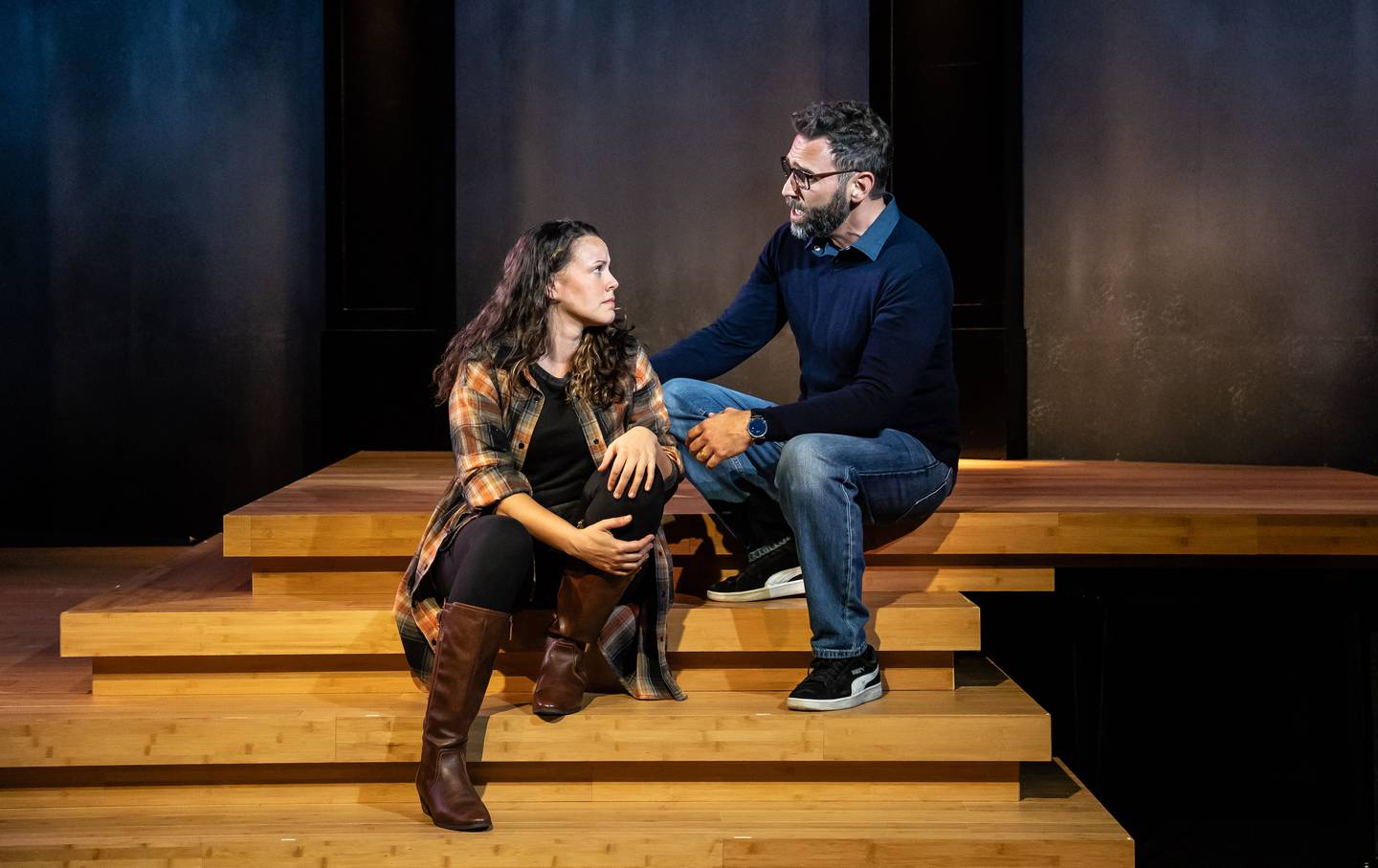 Barry DeBois is the father, Dan, the realistic representation of a family in chaos. You truly empathize for this brave man who didn't leave, and you truly believe when he sings "all my fears sit inside, waiting to be heard, it's just a slower suicide." DeBois is a stalwart and brilliant actor.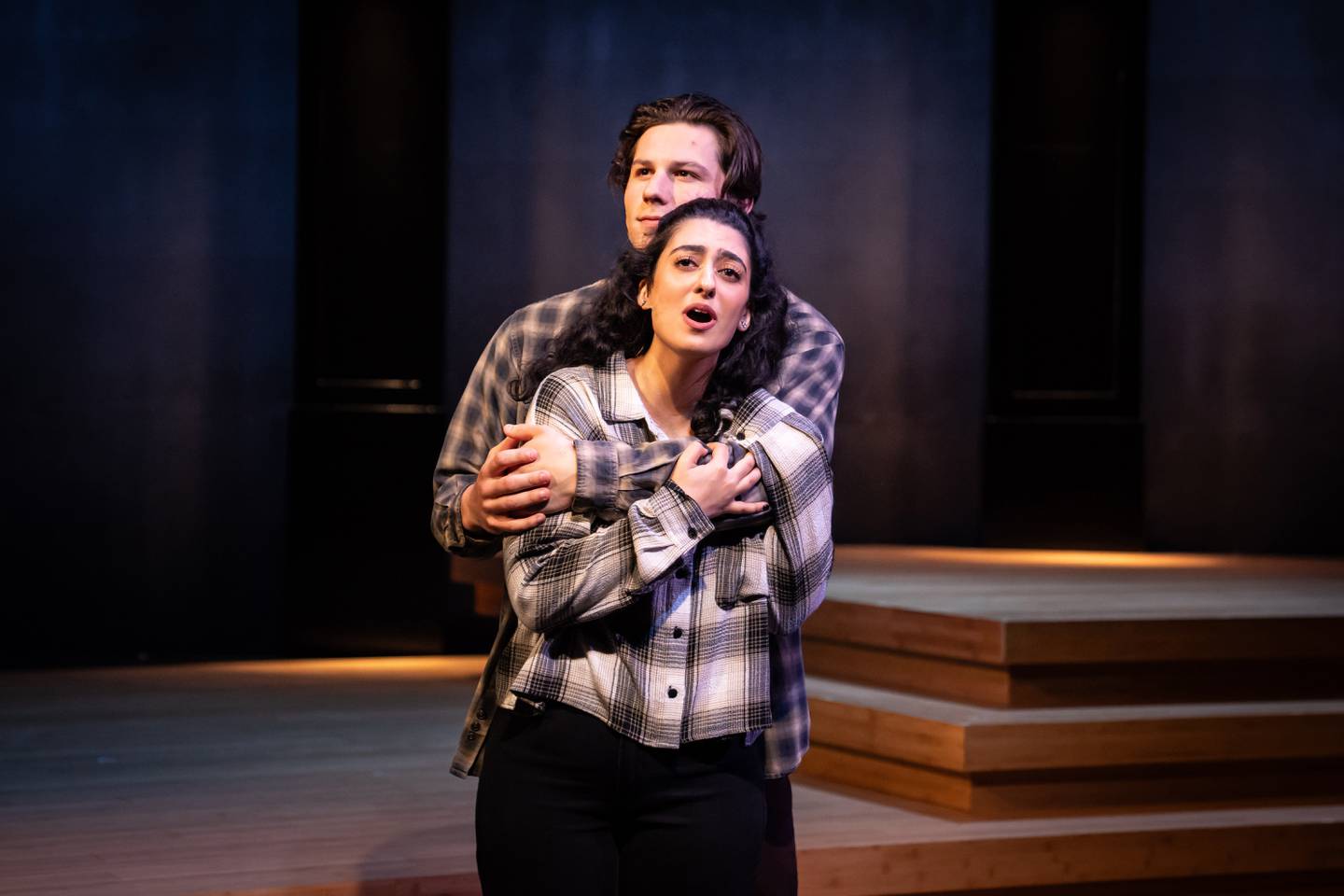 Angel Alzeidan portrays Natalie, the 16-year-old caught between her parents' marriage and her rapid descent into trauma, embarrassment and drugs. If anyone ever fulfilled a description of "a girl full of anger and hope," it's Alzeidan. You feel her pain at being the "invisible girl."
Jake Ziman's Gabe is engrossing, incandescent and moving. He possesses a huge and luxuriant voice, especially evident in "I'm Alive," which goes from a celebratory affirmation of life to predation, and the duet with DeBois, "I Am the One." Ziman has the gift of hypnotic expression.
Some of the comic relief is provided by Jake DiMaggio Lopez as Natalie's boyfriend, Henry, the persistent average guy hero, and Devin DeSantis as the rock star psychotherapist and savior, Dr. Madden. (DeSantis also serves as dance captain and intimacy captain.)
Lopez and DeSantis are more than crucial to the plot development, as well as serving as catalysts. Both are exceptional, charismatic actors. I appreciated the sensitivity of Lopez's and DeBois' characters, with Henry mirroring Dan in not being able to walk away. He stays as devoted to Natalie as Dan is to Diana – illustrated in the very moving song "Why Stay?" And DeSantis' Dr. Madden is always the compassionate authority figure. Thankfully, the chemistry between these six is intensely believable.
Stephen Sondheim once famously stated, "I can bring the audience to tears, but the actors make them fall." Cheers and a standing ovation from a full house met this cast even before the finale ended – and I saw the tears through my own.
[Note to readers: The musical contains mature language, recreational drug use and mental health topics. It launches the three-part BOLD Series, with packages starting at $75, and continues with the recent Broadway hit "What the Constitution Means to Me" and Tennessee Williams' "A Streetcar Named Desire."]
• Regina Belt-Daniels is a retired Reading Recovery and special education teacher; she has been involved with the theater since the age of 7, and continues her love of acting and directing. When not traveling with her husband, she can be found onstage, backstage, in the audience, serving on a board or writing a review in a theater somewhere.
IF YOU GO
WHAT: "Next to Normal" musical
WHERE: Paramount Theatre's intimate new Copley Theatre, 8 E. Galena Blvd., Aurora
WHEN: Wednesday through Sunday until Sept. 3
COST: $40 to $55
INFORMATION: 630-896-6666, info@paramountarts.com, paramountaurora.com