In November 1996, director Walter Bobbie brought "Chicago" back to life on Broadway. It had a fantastic impact on the theater world. The production featured Ann Reinking's faithful recreation of much of Bob Fosse's original choreography, and went on to win six Tony Awards, including Best Direction, Best Choreography and Best Musical Revival.
A lot has changed since 1996. We've had five presidents since then. Both the Cubs and White Sox have won the World Series. You wouldn't have been able to read this review on your phone in 1996.
Yet, that 1996 Bobbie and Reinking vision of "Chicago" still is going strong both on Broadway and on tour. The 25th Anniversary Tour, featuring Tania Nardini's recreation of Bobbie's direction and Gary Chryst's recreation of Reinking's choreography, plays at CIBC Theatre through Jan. 29 as part of Broadway in Chicago. That original vision is painstakingly maintained by resident director and assistant choreographer Camden Loeser.
What you have in store once the lights go down is just like being at the Richard Rodgers Theatre in 1996, with the exception that you're actually in the great city of Chicago, which only adds to the humor of this musical-theater tribute to getting away with murder. A vaudeville in two acts, you could say.
"Chicago" was the baby of legendary choreographer and director Bob Fosse, who also wrote the book with Fred Ebb. You even can hear his influence in the music and lyrics by John Kander and Ebb.
The story is based on a 1926 satirical play of the same name by Maurine Dallas Watkins. Although completely fiction, the inspiration came from two murder cases Watkins covered while a Chicago reporter. Fosse, of course, added his own twists.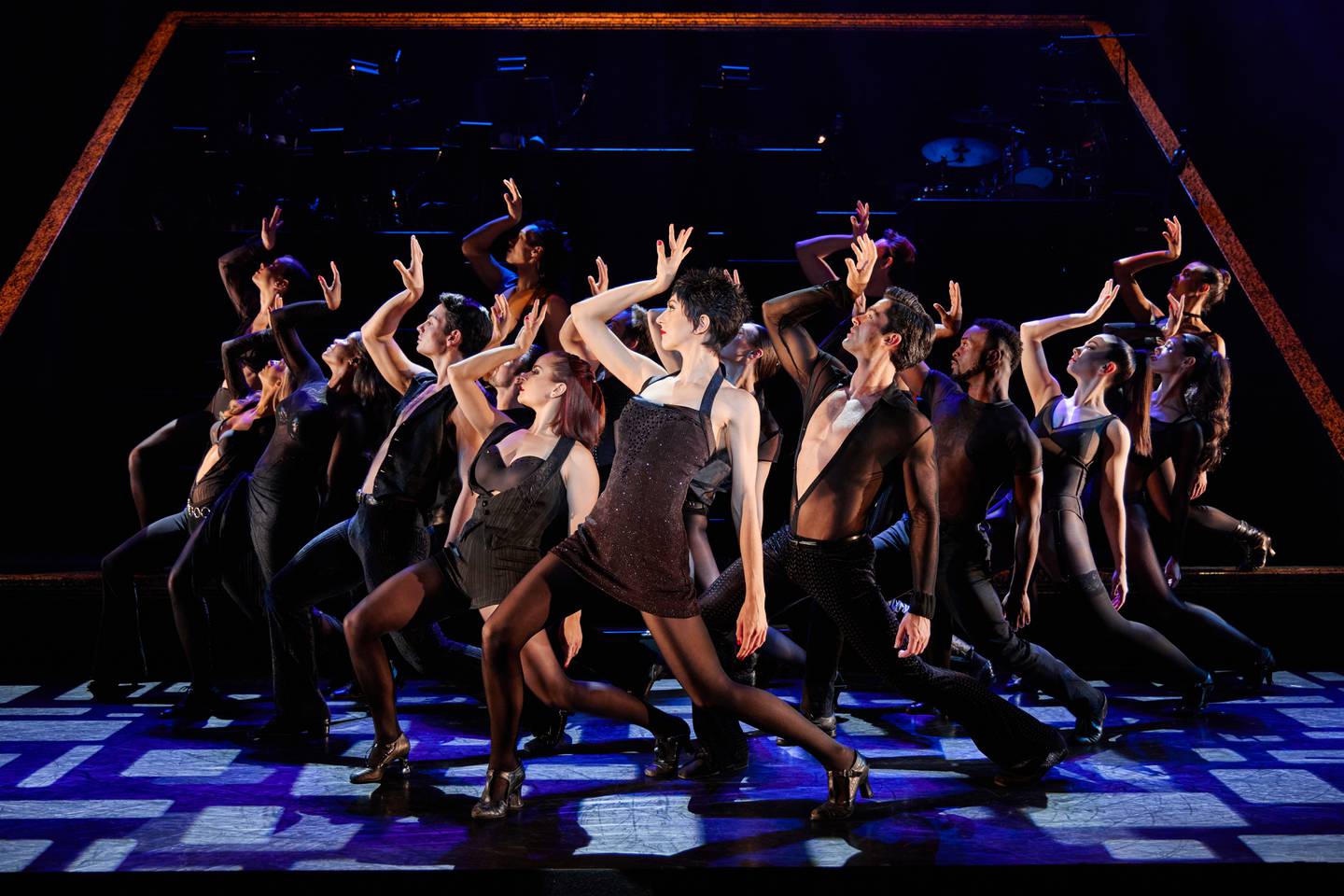 The musical features two leading ladies: Roxie Hart and Velma Kelly – both in prison facing trial for murder. In Roxie's case, she killed her lover when he tried to end their affair. Velma stands accused of killing her husband and her sister after finding them in bed together.
Both ladies are represented by the expensive – but "worth it if you want to be found innocent" – attorney Billy Flynn. As they await trial, Velma and Roxie are guests of the Cook County Jail, lorded over by larger-than-life Matron "Mama" Morton.
The musical features such delights as "All That Jazz," "We Both Reached for the Gun," "Mister Cellophane" and "Razzle Dazzle." The orchestra's all out jam on the entr'acte after intermission alone is worth the trip to the city.
There is little in terms of set for this mounting of "Chicago." Most of the stage is taken up by the orchestra, as conducted by an impassioned Cameron Blake Kinnear, who interacts with characters from time to time. This breaking of the fourth wall is part of the show's overall charm.
Nor are there a lot of fancy costume changes. Most of the performers wear a single, sexually suggestive costume for much of the show.
The focus is on dance. One of the things that always stood out in Bob Fosse choreography was the intricacy of the movements and the details. It's not just a bunch of actors doing jazz squares, these are real dancers displaying why they are the elite in the industry.
Another hypnotically impressive thing about Reinking's choreography, like Fosse originally, is that different things happen all over the stage at any one moment. You could watch a number 10 times and still know there are more details to discover.
The show starts with a chair and a hat alone in the spotlight – a tribute to the show's late creator. Then, dancer Sammy Tuchman comes out and delivers a brief, sultry monologue setting the stage for an evening of Fosse.
When Fosse premiered his production of "Chicago" on Broadway in 1975, Chita Rivera played Velma, and Gwen Verdon played Roxie. In the 1996 revival, Bebe Neuwirth was Velma, and Reinking was Roxie.
Logan Floyd and Katie Frieden may not have the household name recognition of their famous predecessors yet, but they have every bit as much talent. With these two leading the cast, and a terrific ensemble of dancers, "Chicago" is a high-speed train on the track to bliss.
Although not a dance role, silver-tongued lawyer Billy Flynn is a cream of a part. Usually, the role of Billy is played as a refined smooth operator. Jeff Brooks adds a bit of Chicago pseudo-hoodlum tough guy to his personality. His Billy still can smooth talk in the courtroom, but in private he has a more rough-and-tumble disposition. Brooks is utterly captivating. He's got a great voice, he's a strong actor, and he has a twinkle in his eye that you just can't teach.
Also in for a little spotlight stealing is the joyfully endearing Brian Kalinowski as Roxie's hopelessly love-bound pushover of a husband Amos. His rendition of "Mr. Cellophane" about always being overlooked is a showstopper.
As Matron "Mama" Morton, "America's Got Talent" semifinalist Christina Wells shows off a great set of pipes with her delivery of "When You're Good to Mama." The role is a prime one, and Wells lives up to the challenge with gusto.
G.A. James also does a spectacular job as reporter Mary Sunshine. The surprise is worth the wait.
But, at the end of the day, this mounting of "Chicago" is all about the dance. And what evocative dance it is – executed with near superhuman precision and synchronicity. Leading the charge are Floyd and Frieden, two amazing dancers throughout the show, and brought to a pinnacle with "Hot Honey Rag."
In terms of song and dance, the ensemble is every bit as gifted as the leading players. In fact, this national tour is a gift to theater lovers and, in particular, to those who harbor a fancy for the revolutionary style of dance popularized by Fosse.
• Rikki Lee Travolta has appeared throughout the country as a theatrical headliner. He continues to make select film and stage appearances, and is an award-winning writer (www.RikkiLeeTravolta.com).
IF YOU GO
WHAT: "Chicago" musical
WHERE: CIBC Theatre, 18 W. Monroe St., Chicago
WHEN: Through Jan. 29, daily except Jan. 23
INFORMATION: www.BroadwayinChicago.com, 312-977-1700