In 1863, the Civil War is still raging. New York City's Five Points area is the part of Manhattan considered to be the first slum in America. Irish immigrants and escaped or free-born Black Americans are intermingling at a bar where many customers are fugitives, drunks and prostitutes. This is the setting for the new Broadway in Chicago production, "Paradise Square," and if you're looking for that next big Tony Award-winning musical before it hits Broadway, head to "Paradise." It's that good.
The opening number, which shares its name with the title of the show and bar, quickly introduces us to the main characters: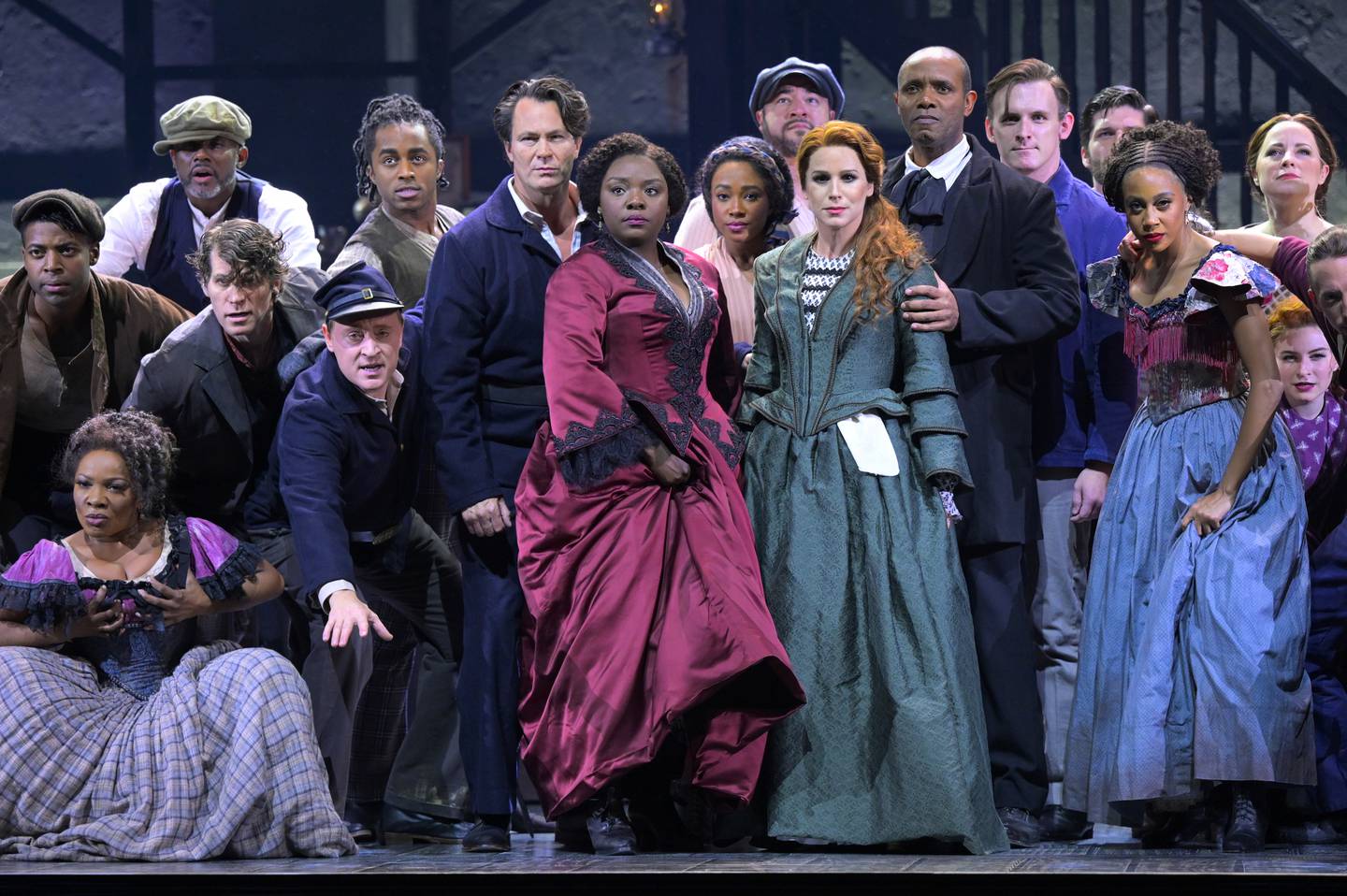 The Black owner of the bar is Nelly O'Brien (past Tony Award nominee Joaquina Kalukango), whose late father was a slave. According to the lyrics, Paradise Square is "a little bit of Eden" in that part of New York.
Nelly's Irish husband is Willie (Matt Bogart), captain of the Fighting 69th infantry, who's ready to head back to war but will definitely miss his wife.
Annie Lewis (Chilina Kennedy) is Willie's sister, who helps Nelly run Paradise Square, and isn't afraid to speak her mind.
The love of Annie's life is her Black husband, the Rev. Samuel Jacob Lewis (Nathaniel Stampley), who we soon will find out is willing to assist slaves who've made their way to New York via the Underground Railroad.
Kalukango is clearly the star here – she can project to the last Nederlander Theatre balcony row when she's singing, and there are few performers I've seen who can bring an audience to their feet before the end of the show. Kalukango did it with the Act II showstopper, "Let It Burn," powerfully delivering an emotional message at a climactic moment in the story. Mark my words: Kalukango will get another Tony nomination in 2022 for this performance, and will be a prime contender for the actual award.
Other key characters who propel the plot include: Annie's nephew, Owen (A.J. Shively), a new immigrant from Ireland whose dance ability ultimately may help him avoid fighting in the war; political boss Frederic Tiggens (John Dossett), who fears that Nelly's bar and its diverse patrons could oust him from power; Fighting 69th infantry unit member "Lucky" Mike Quinlan (Kevin Dennis), whose loyalties change when he returns from battle; escaped slave Joe (Sidney DuPont) – renamed Washington Henry by Samuel – who's been separated from his girlfriend during the Underground Railroad journey, and who needs a place to stay until she arrives; and a new singer/songwriter/piano player at the bar, Milton Moore (Jacob Fishel), who may have renamed himself.
Why should you hightail it to this "Paradise?" Let's start with the music, which provides something for everyone – a sarcastic self-declaration by Annie when her husband thinks an Underground Railroad visit is too dangerous for her to accompany him ("Gentle Annie") to a joyous dance competition at the bar ("Ring, Ring the Banjo") to a character stoking the fires of rebellion ("One Match and One Man") to the love of Nelly and Willie from the day they met ("Larry's Goodbye"). A 14-person orchestra playing 31 different instruments, led by music supervisor/conductor Jason Howland, who composed the score with the help of lyricists Nathan Tysen and Masi Asare, provides all the accompaniment this talented cast deserves.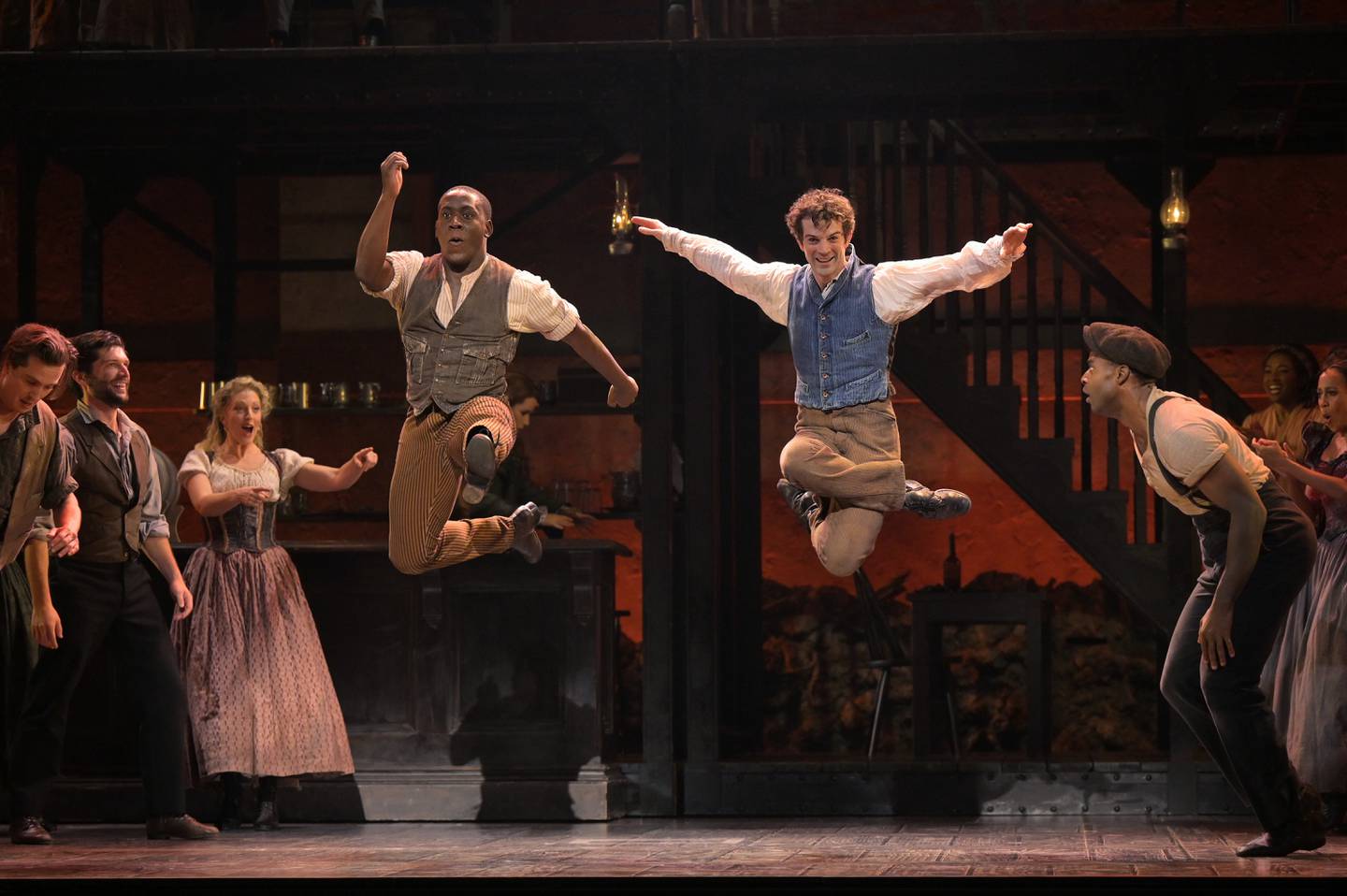 Speaking of that cast, two-time Tony nominee Moisés Kaufman, the director of "Paradise Square," has brought out believable emotions/performances from every one of them. And the amazing dances you'll see throughout the show should earn another Tony nomination for two-time Tony Award winner Bill T. Jones. I haven't seen such a variety of dance styles in a non-revue musical in an awfully long time.
In summary, the phrase "a rare and special lot" is used by Nelly to describe the people at Paradise Square. This musical for adults, with a backdrop of the life-changing war and Draft Riots, is both rare and special. So bring your vaccination card and wear your mask – Broadway in Chicago requires both to keep us all safe – and enjoy this slice of "Paradise."
• Paul Lockwood is an enthusiastic singer, frequent local theater actor (including Theatre 121′s Storybook Players repertory group), Grace Lutheran Church (Woodstock) and Toastmasters member, occasional theater reviewer, columnist, and past president of TownSquare Players.
IF YOU GO
WHAT: "Paradise Square"
WHERE: James M. Nederlander Theatre, 24 W. Randolph St., Chicago
WHEN: Tuesday through Sunday performances (except Thanksgiving) through Dec. 5
INFORMATION: 800-775-2000, ticketmaster.com