A woman sentenced to life in prison last year for killing a 23-year-old Harvard woman, leaving her body in a cornfield in Raymond Wisconsin in 1999, claimed inadequate defense and a "failure to explore" link to similar death of an Illinois woman, court records show.
Linda Sue La Roche, 68, formerly known as Linda Sue Johnson, who appeared virtually in Racine County court Monday from prison, is appealing her conviction of first-degree intentional homicide and hiding the body of Peggy Lynn Johnson-Schroeder.
Johnson-Schroeder's remains were found July 21, 1999, and went unidentified for 20 years. The community in Racine County buried her as Jane Doe. In 2019, after a call was made by an anonymous tipster, her true identity was discovered, and so was her killer's, authorities have said.
Johnson-Schroeder, whom police said was cognitively impaired, had worked for La Roche as a live-in nanny from 1994 to 1999. The two had met at a clinic where La Roche worked shortly after Johnson-Schroeder's mother died from AIDS in 1994.
La Roche, who formerly lived in Lakemoor and Bull Valley, made a living as a nurse and owned a business that cared for jail inmates.
The woman, 19 at the time, initially was taken in by La Roche under the guise of helping with La Roche's five children. During the trial, La Roche's children and ex-husband said she began to physically abuse Johnson-Schroeder, slapped her often, once stabbed her with a pitchfork and made her sleep in a crawl space, until one day she disappeared.
A man walking his dog along a rural road discovered her tortured remains. Her body was buried in a Racine County cemetery under a headstone that read "Jane Doe" for 20 years. In March 2020, Johnson-Schroeder received a proper burial, next to her mother in Belvidere and with a headstone inscribed with her name.
In a Racine County courtroom Monday La Roche's attorney, Laura Walker, said she was seeking documents from the state related to an investigation into the death of Mary Kate Sunderlin. Sunderlin, whose body was found with similar injuries as Johnson-Schroeder's, was discovered in December 1999, about six months after Johnson-Schroeder was found.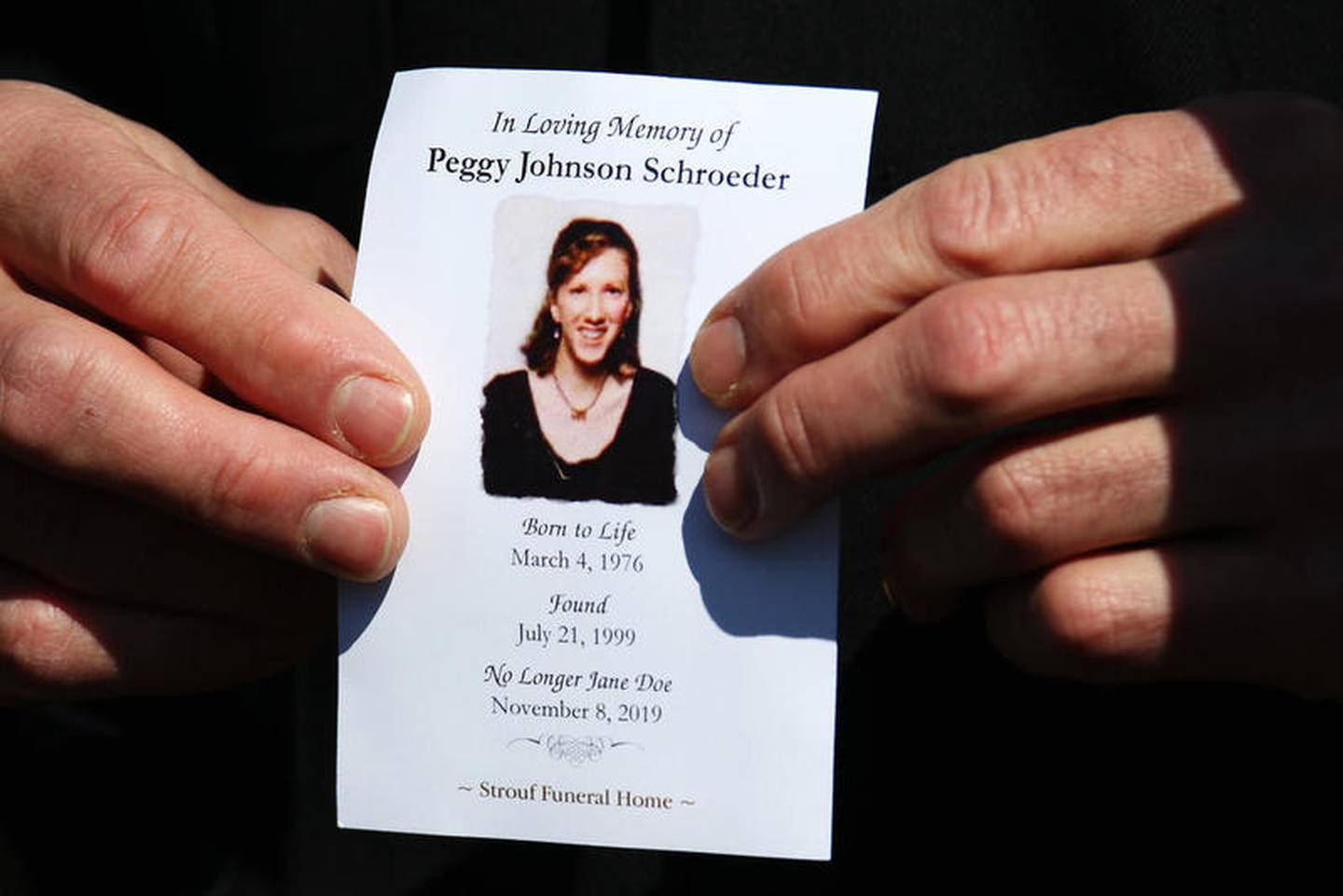 "Trial counsel was ineffective for failing to explore a similar murder occurring in Illinois around the time of [Johnson-Schroeder's] murder and failing to file a third party liability motion," Walker said in her motion.
Sunderlin was a mentally challenged woman who lived in Illinois and disappeared on Sept. 4, 1999, according to the motion.
It was initially thought Sunderlin was the victim of an "unnamed duo" committing fraud against disabled individuals and she had been sold into sex trafficking, according to the motion. An arrest and conviction were made in the case but later overturned on appeal. The case remains unsolved.
"Sunderlin also appeared to have suffered extensive and sustained torture over a period of time, as she had various injuries in different stages of healing," Walker said in the motion. "She was malnourished and her body was found dumped in a field. It was estimated the body had been there no more than 12 hours similar to the instant case."
Another woman "also appeared to have suffered extensive and sustained torture over a period of time, as she had various injuries in different stages of healing."

—  Laura Walker, defense attorney for Linda Sue La Roche
Outside of court Monday, Assistant District Attorney Diane Donohoo said she has no doubt La Roche is the person who killed Johnson-Schroeder. During the investigation, she combed through a binder of other cases that was 3 inches thick and said she doesn't "see anything" pointing to another killer.
The only question Donohoo does still have is "who else may have known something."
La Roche's motion also alleges that defense attorneys failed to investigate and introduce expert testimony concerning the cause of death and timeframe. She also alleges they failed to "properly cross-examine" the state's witnesses which included La Roche's children and ex-husband.
The motion also said Johnson-Schroeder had unidentified DNA under her fingernails.
Calling this a "circumstantial case" with no eyewitnesses, Walker said the doctor who provided a manner, cause and timeline of Johnson-Schroeder's death was not challenged by the defense or by a defense expert.
Virginia "Ginny" Schroeder Proffitt of Marengo, Johnson-Schroeder's aunt who attended Monday's hearing, said she has been trying to "move on" this past year, though some days are difficult.
"Every once in a while, memories will show up on Facebook and I will scroll through them and go through the videos and it comes back to me," she said. "But I think the hardest part is to forget about the pictures we have seen [during trial] and what [La Roche] had done to her. That's the biggest thing."
Authorities said Johnson-Schroeder's face and entire body showed "a lot of bruising," road rash-like abrasions, burns and lacerations. Her body had been branded. An autopsy showed she had four lacerations to her scalp caused by blunt force trauma and she was "slightly malnourished."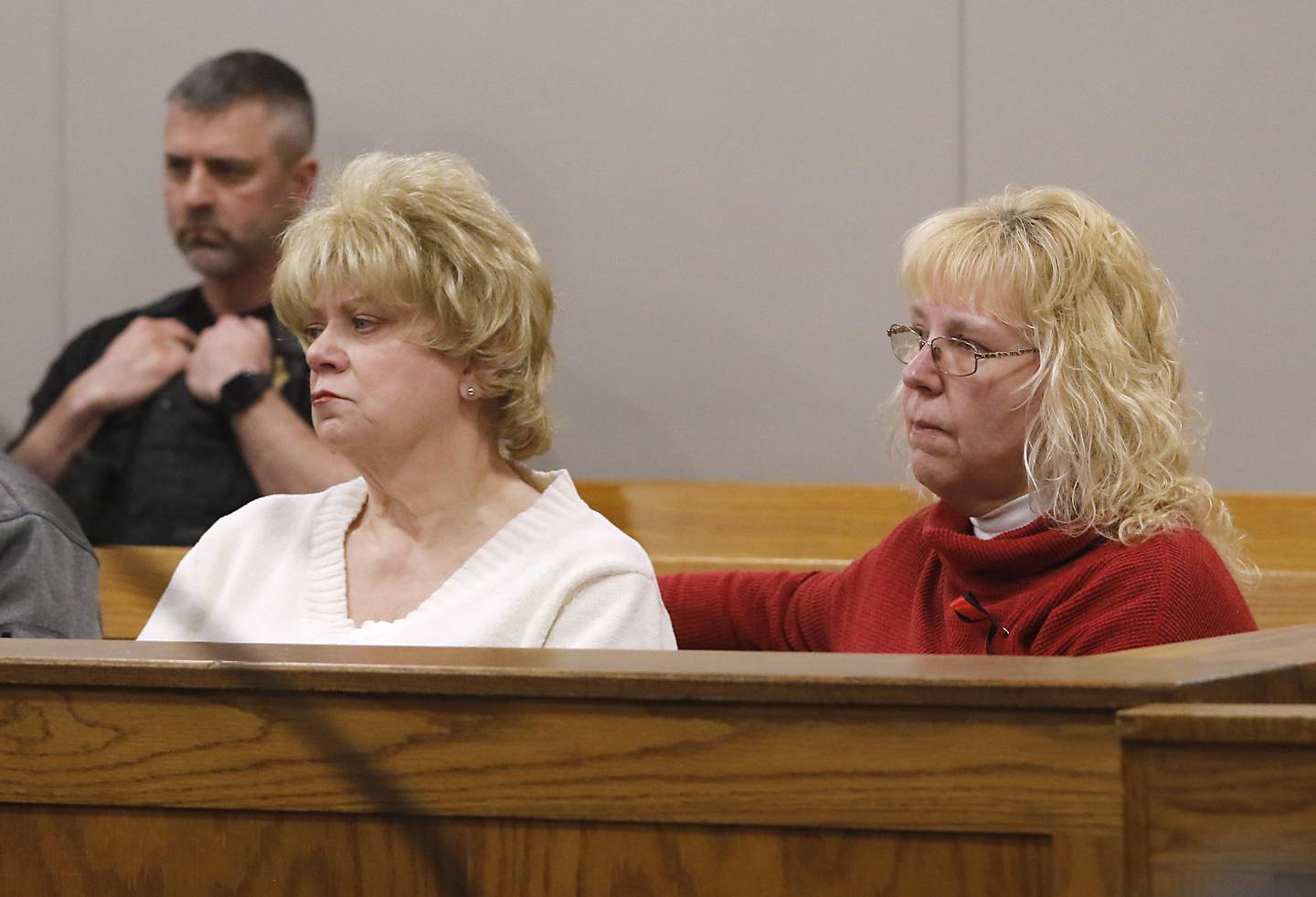 Among other wounds and injuries, Johnson's ear had a "penetrating 45-degree incised wound from a sharp object," her nose was broken, she had a split lip and lacerations inside her mouth and her throat had injuries consistent with scalding, according to the criminal complaint.
La Roche was arrested and charged in Johnson-Schroeder's killing after a "concerned citizen" in Florida, where La Roche was living, made a call to police, according to the charging document filed in Racine County. The caller said La Roche was telling people she had killed someone in Illinois where she lived with her then-husband and five children.
La Roche also made a confession to an inmate in a Florida jail where she was being held for driving under the influence of alcohol, prosecutors have said.
However, during the investigation, La Roche said on the day she last saw Johnson-Schroeder, she had dropped her off in Wisconsin at a gas station and thought she was being picked up by a friend, according to trial testimony.
Attorneys are due back in court Aug. 7. La Roche is expected to be in the courtroom when Walker argues for the state to turn over all trial notes related to her case.